DISCOVER THE GLAMOROUS LIFESTYLE
A sanctuary that brings a lifetime of grandeur. Soothed by the tranquil coastline while enlivened by infinite urban glamour. Facilities you can enjoy any time of the day, any day of the week. A personal space that lets you live large, in the company of other refined individuals. Extravagance amplified, only at Dalvey Haus.
See the sparkle in your eyes, golden glow on your skin. Feel the serenity of Dalvey Haus By KOP Limited bring forth a crystal-clear mind and dazzling smile. Set against Balinese resort landscape are picturesque waterscapes, exotic greenery and pampering wellness amenities. Enjoy the holiday of a lifetime, for an infinity. The condo will be a beautiful sight with clean lines and contemporary design combining to create the most seamless synergy between nature and urban living.
Continued with Floor Plans to find your favourite unit and booking a showflat viewing.
Dalvey Haus SITE PLAN 总平面图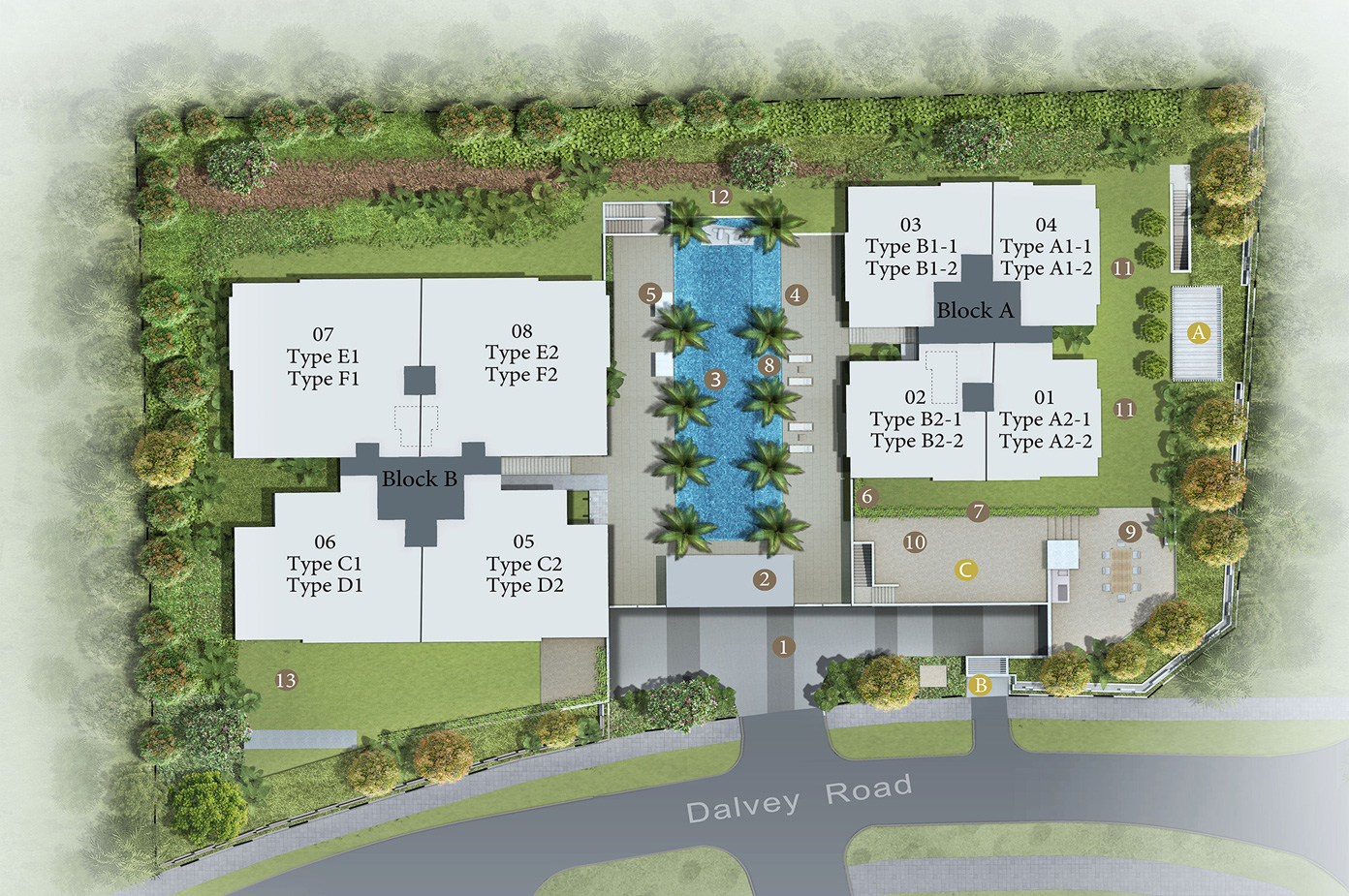 ---
Dalvey Haus Facilities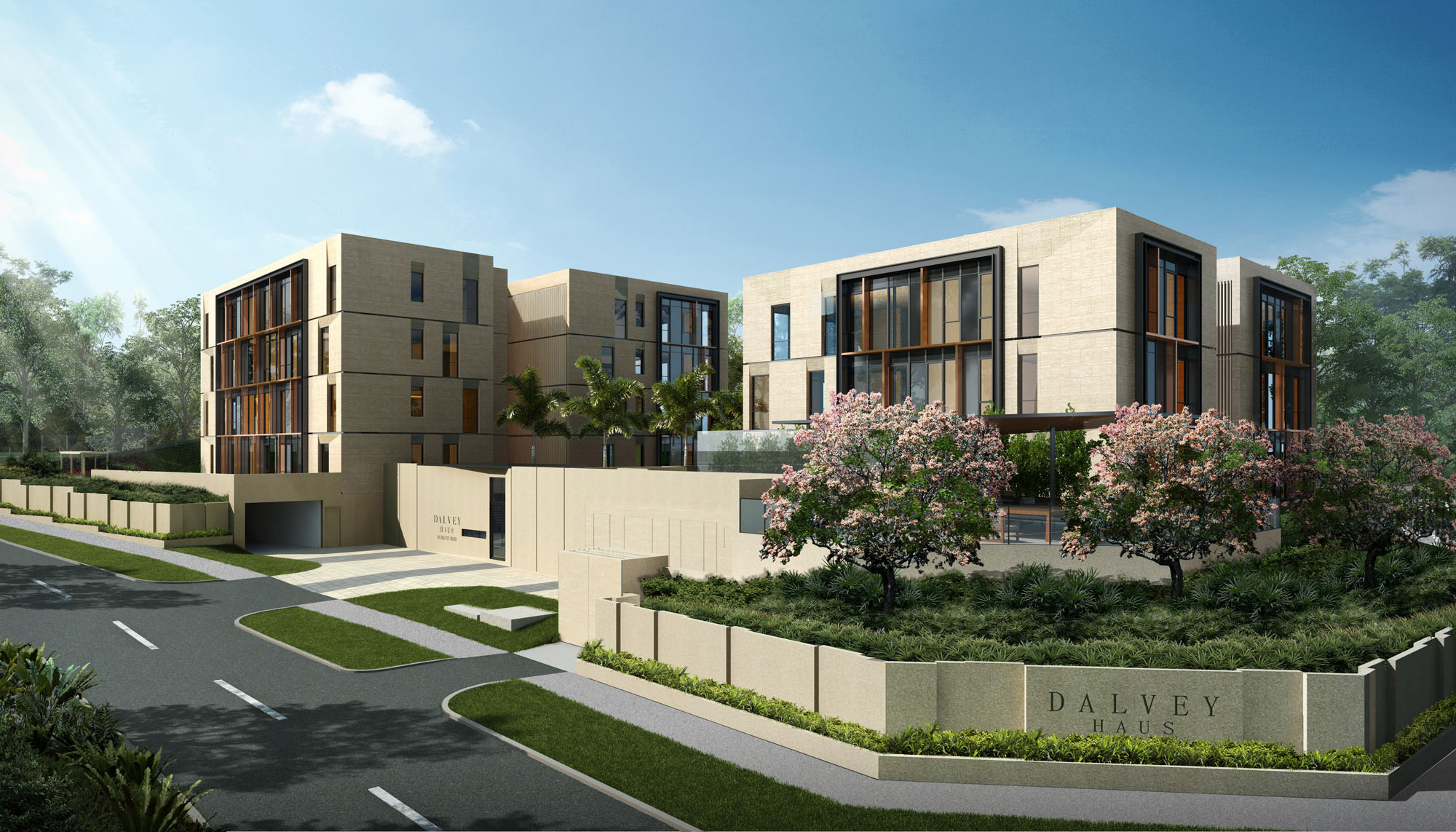 Artfully Curated For The Discerning
When you desire a life that flows above the mundane, you want a living space that does the same. On this oasis of grandeur, you will instinctively recognize that well-crafted quality and beauty live here too. Pair that with exceptional service and you have an outstanding home that truly delivers. For when it comes to having your desires met, nothing comes close to the personalized attention of KOP's award-winning hospitality arm, curated for Dalvey Haus to provide residents with top-level concierge services.
---
Come Home To Refined Luxury
First impressions are everything. The sublime sequence of stately exteriors gives Dalvey Haus a modern urban gallery aesthetic. After all, it is a repository of carefully planned spaces, settings and experiences. Exuding tranquility and tropical lushness, this exquisite freehold habitat in a low-rise GCB enclave is all about elegance where elegance pervades.
高雅庄重的外立面极致有序的排列着,赋予了 Dalvey Haus 现代都市画廊般的美,足以将让您对她一见钟情。这是一处精心规划并结合了生活设施和极致体验的空间。她充满了热带的绿意葱葱,无处不散发着宁静、高雅的气息。这座位于优质洋房(GCB)区域内、可拥有永久产权的低楼层别墅,将是您的精致住所。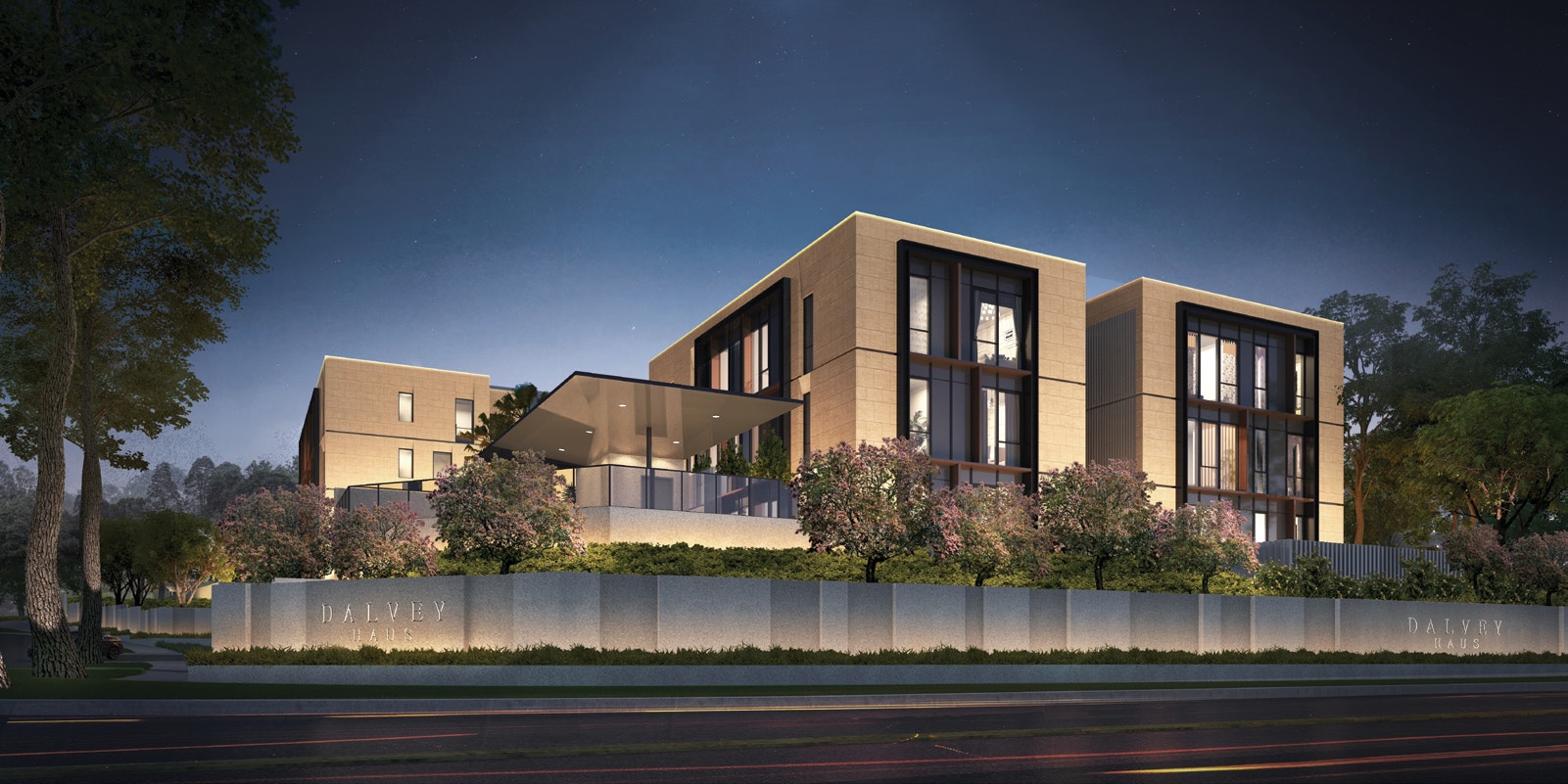 ---
For Every Passion And Occasion
The central oasis is like an exquisite members-only resort club for the discerning 27 homeowners. The pool sparkles beautifully, cabanas exude five-star appeal, and the well-appointed gym inspires trending workouts. At the BBQ Pavilion, elegance and function blend perfectly so you can host cozy gatherings and smashing celebrations
这片位于国际都市中央的绿洲是为您及其他27位业主专属打造的菁英会员俱乐部。这里的泳池波光粼粼,池边小木屋散发着五星级的魅力,设备齐全的健身房将激发您无限的运动热情;设计风格高雅、功能完善的烧烤区,能协助您完美地举办家庭聚餐以及各类庆典活动。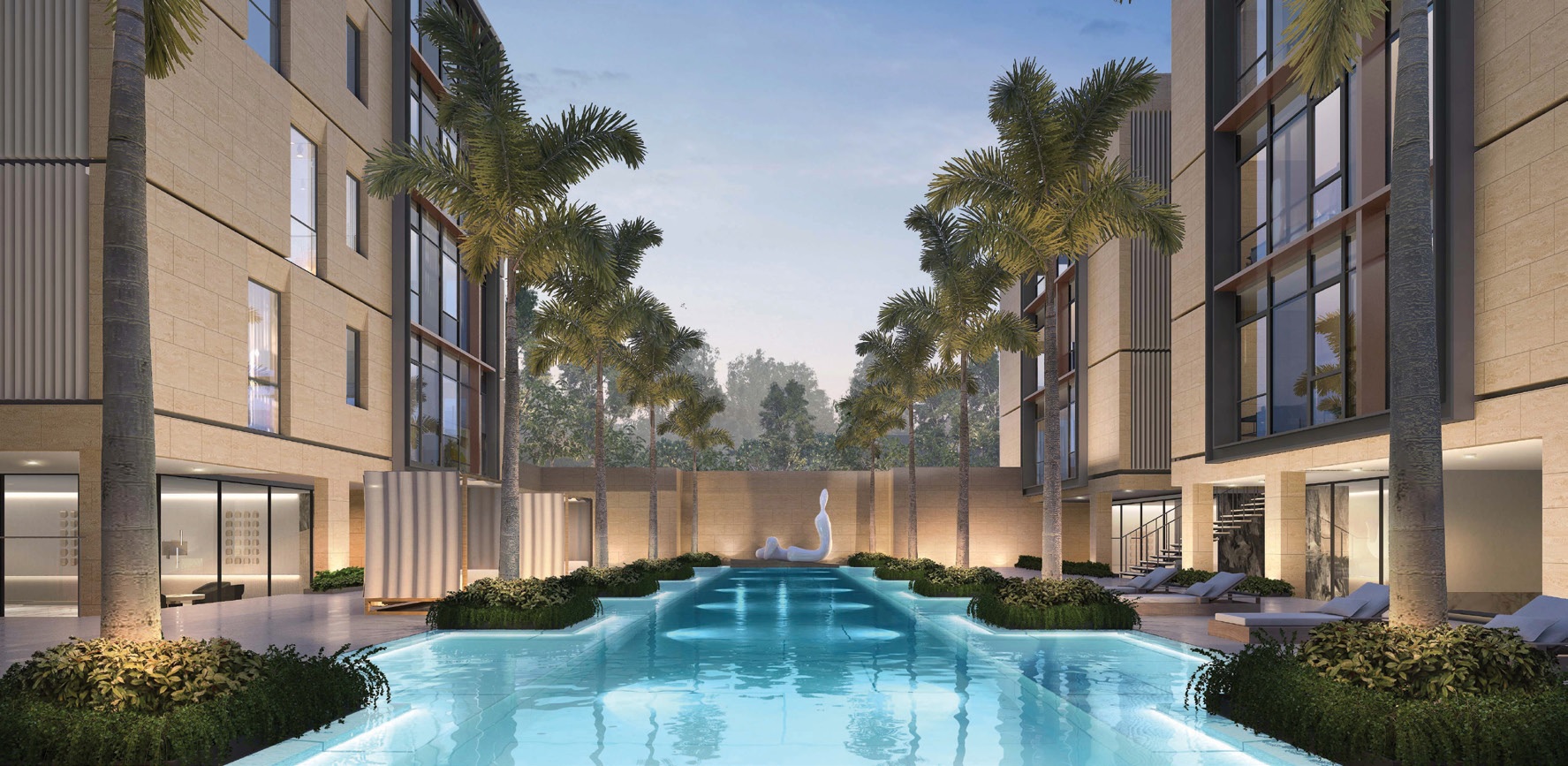 ---
Dalvey Haus is a showcase of high-end architecture. Design schemes are elegantly simple, thoughtful and there is a pervasive sense of craft and quality to every item that you touch and see.
---
Grand Living Spaces Speak Volumes
It's all about spatial drama. Designed with a home entertainer in mind, the grandest of rooms impress with its double ceiling height while the accompanying large windows are invitations to marvel at serene outside views. An intimate dining area with a generously roomy kitchen is no doubt a welcoming space for guests to gather around.
在这里,每天都仿佛上演着一场关于空间结构运用的舞台剧。考慮到家庭居住的娱乐性,别墅中最大房间的天花板高度是普通房间的两倍。巨型玻璃的设计让室外宁静的美景直接映入眼帘,带来绝美的视觉冲击。私密的用餐区与独立厨房毗邻,是您访客的最佳聚集地。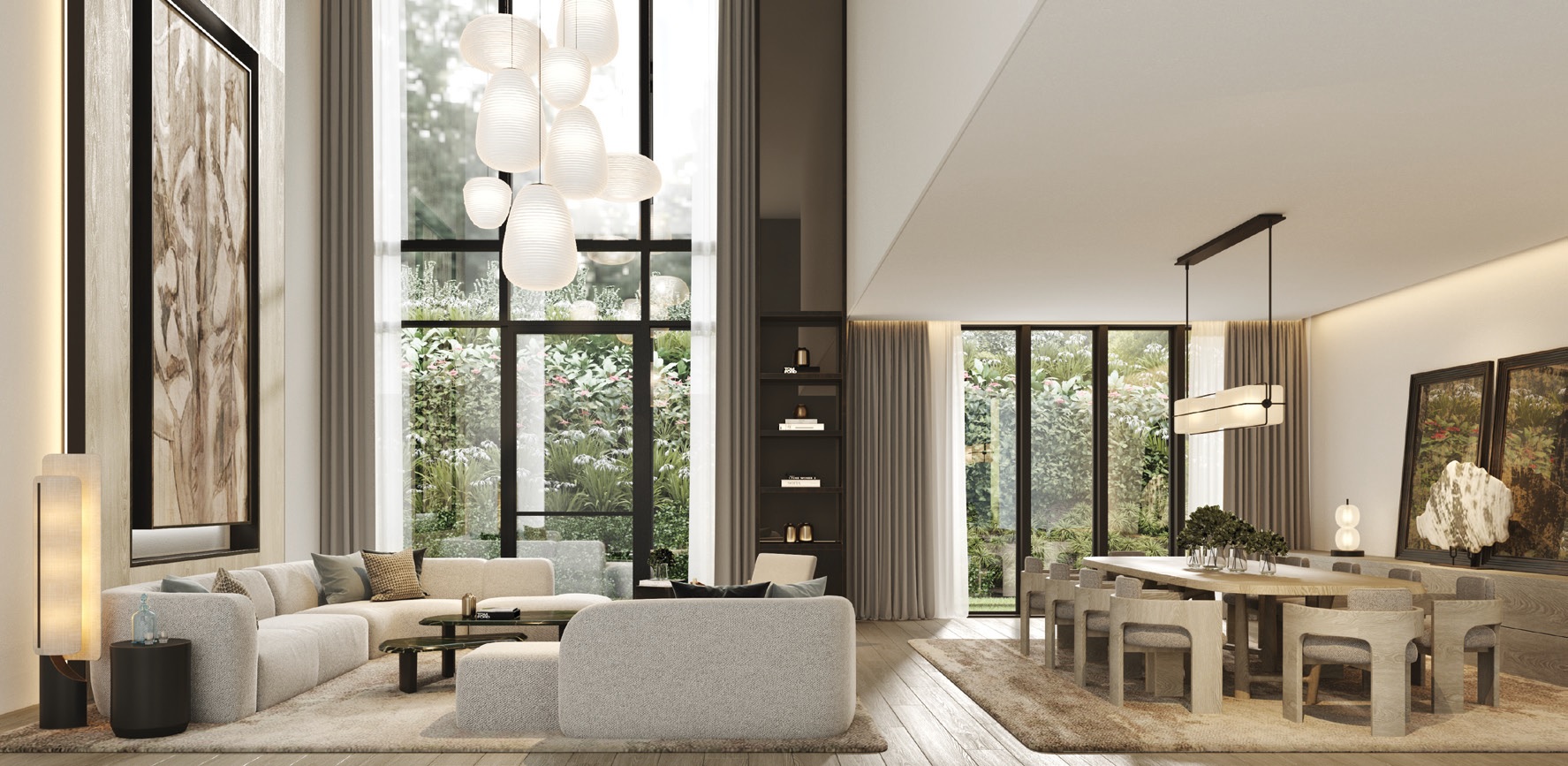 ---
以享尽奢华的方式开启并结束您的每一天。别墅的每一个房间都充满了丰富、迷人的细节设计:宽敞的定制衣橱、温暖的整体色调、光滑的脚底瓷砖、套房内的独立浴室均配备了双盥洗池。我们的贴心设计让您的生活奢华当道、舒适依旧。