Jervois Mansion - Every Experience An Exquisite Surprise
Jervois Mansion have been constructed in such a way that the apartments include five linked courtyards. Architects designed with a suitable offset space among units in mind, these open landscaped areas are home to well-designed community facilities as well as distinctive landscape elements. In each courtyard, one-story pavilions that follow the same architectural language are interrupted by a fountain. There will be a swimming pool which is positioned in the middle courtyard anchored on one end by the clubhouse. The pool's perimeter is defined by a dichotomy of straight and curved edges punctuated by a single island in the middle.
In contrast to the swimming pool's aquatic environment, the future resident can enjoy a large open lawn environment here. It is a natural playground for children, adults and the aged, to gather under the sun or the stars for informal games, picnics, outdoor cinema event, etc.. The fitness courtyard comprises an indoor gym, a yoga deck and meditation deck framing a curvaceous reflective pool. All of these magnificent landscape create a serene and relaxing living space for residents living here.
Jervois Mansions Floor Plans has already been updated. Check it out now!
Jervois Mansion Site Plan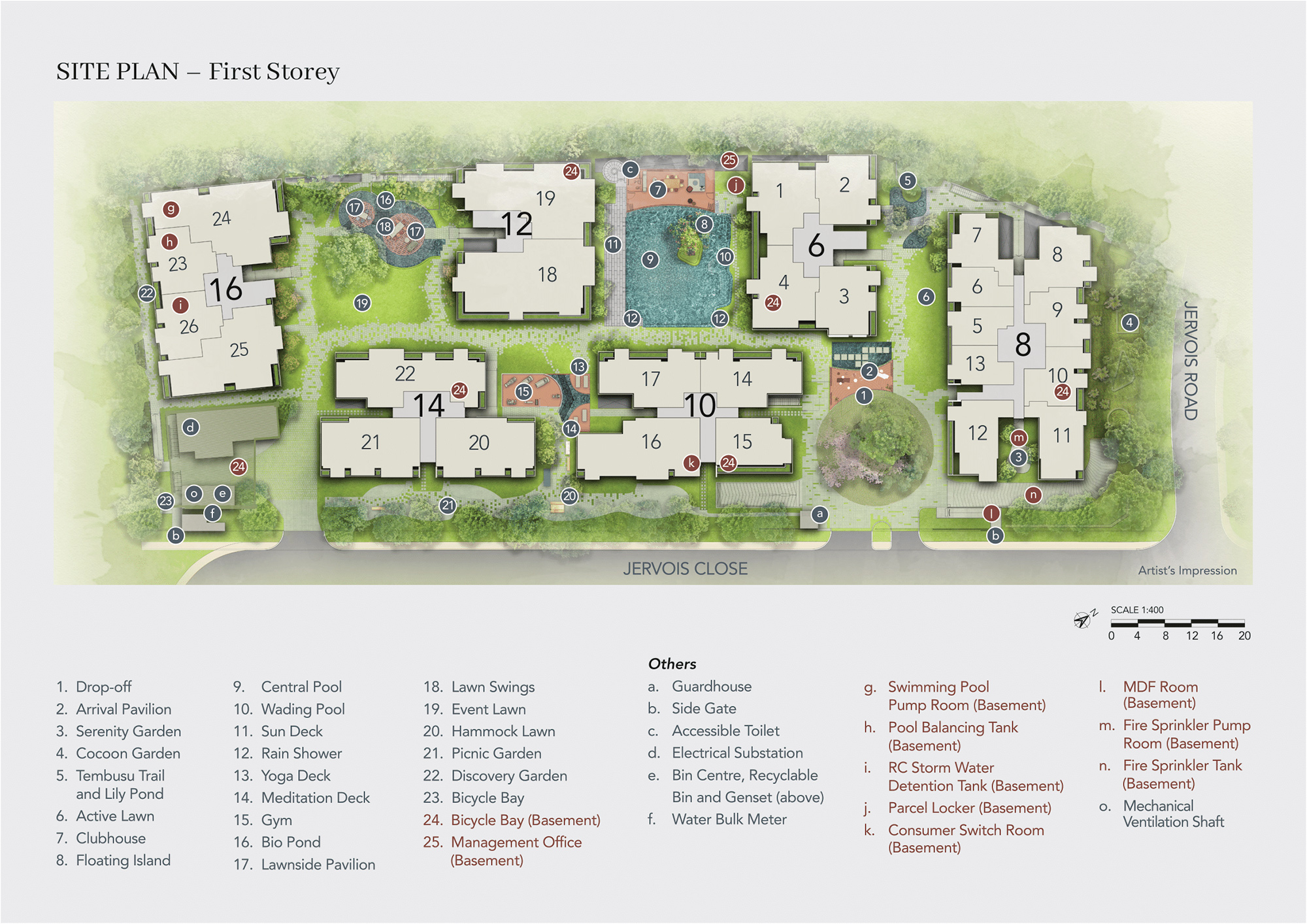 First Storey
1. Drop-off
2. Arrival Pavilion
3. Serenity Garden
4. Cocoon Garden
5. Tembusu Trail and Lily Pond
6. Active Lawn
7. Clubhouse
8. Floating Island
9. Central Pool
10. Wading Pool
11. Sun Deck
12. Rain Shower
13. Yoga Deck
14. Meditation Deck
15. Gym
16. Bio Pond
17. Lawnside Pavilion
18. Lawn Swings
19. Event Lawn
20. Hammock Lawn
21. Picnic Garden
22. Discovery Garden
23. Bicycle Bay
24. Bicycle Bay (Basement)
25. Management Office (Basement)
Other
a. Guardhouse
b. Side Gate
c. Accessible Toilet
d. Electrical Substation
e. Bin Centre, Recyclable Bin and Genset (above)
f. Water Bulk Meter
g. Swimming Pool Pump Room (Basement)
h. Pool Balancing Tank (Basement)
i. RC Storm Water Detention Tank (Basement)
j. Parcel Locker (Basement)
k. Consumer Switch Room (Basement)
l. MDF Room (Basement)
m. Fire Sprinkler Pump Room (Basement)
n. Fire Sprinkler Tank (Basement)
o. Mechanical Ventilation Shaft
Roof Terrace
Family Quarter
26. Alfresco Lounge
27. Spa with Lounge Seats
28. Rain Shower
29. Leisure Lawn
30. Tandem Swing
31. BBQ Pavilion
Sunrise Quarter
32. Suntanning Lawn
33. Hammock Lawn
34. Rocking Garden
Wilderness Quarter
35. Regenerative Woods
36. Little Hideout
37. Wilderness Spa
38. Rain Shower
Junior Quarter
39. Nature's Learning Station
40. Sandcastle Station
41. Foot Wash
42. Accessible Toilet
43. Creative Wall
44. Jump & Dunk Trampoline
45. Adventure Kid's Play Area
45a. Tree House
45b. Spiral Slide
45c. Climbing Wall
45d. Peek-a-boo Hole
Harvest Quarter
46. Community Urban Farm & Garden
47. Garden Shed
48. Harvest Workshop
49. Sundry Pavilion
50. Sundry Garden
Social Quarter
51. Work Pods
52. Outdoor Fitness Stations
53. Conference Suite
54. Social Spa
55. Rain Shower
56. Party Pavilion
57. Dipping Lounge
Jervois Mansion Facilities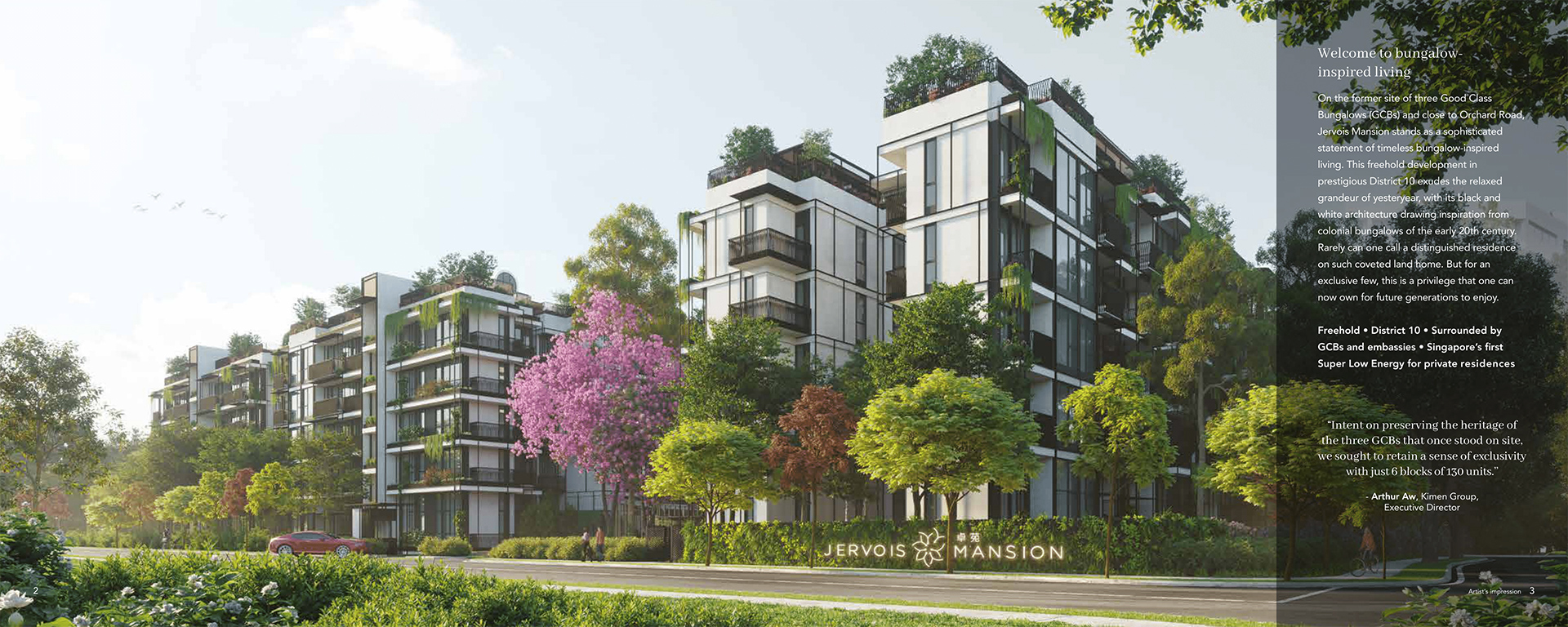 Welcome to bungalowinspired living
On the former site of three Good Class Bungalows (GCBs) and close to Orchard Road, Jervois Mansion stands as a sophisticated statement of timeless bungalow-inspired living. This freehold development in prestigious District 10 exudes the relaxed grandeur of yesteryear, with its black and white architecture drawing inspiration from colonial bungalows of the early 20th century. Rarely can one call a distinguished residence on such coveted land home. But for an exclusive few, this is a privilege that one can now own for future generations to enjoy.
Freehold • District 10 • Surrounded by GCBs and embassies • Singapore's first Super Low Energy for private residences
"Intent on preserving the heritage of the three GCBs that once stood on site, we sought to retain a sense of exclusivity with just 6 blocks of 130 units.'' - Arthur Aw, Kimen Group, Executive Director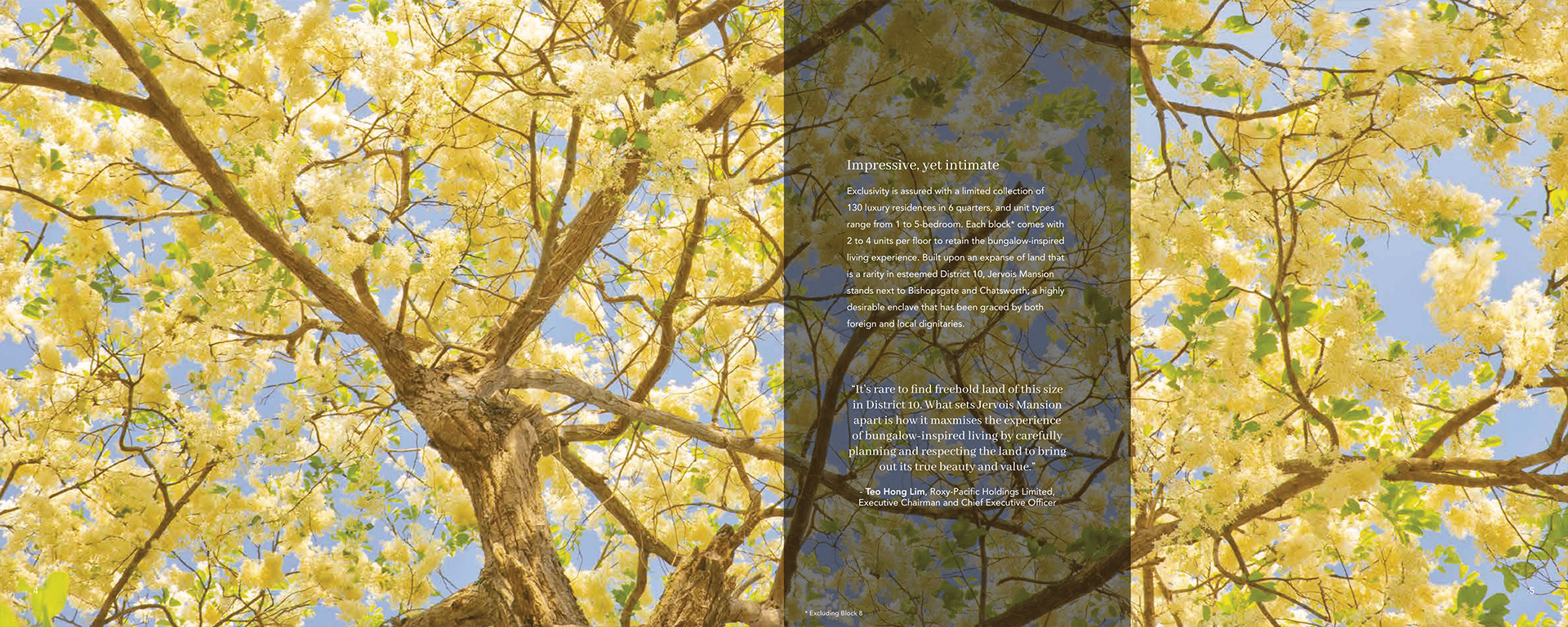 Impressive, yet intimate
Exclusivity is assured with a limited collection of 130 luxury residences in 6 quarters, and unit types range from 1 to 5-bedroom. Each block* comes with 2 to 4 units per floor to retain the bungalow-inspired living experience. Built upon an expanse of land that is a rarity in esteemed District 10, Jervois Mansion stands next to Bishopsgate and Chatsworth; a highly desirable enclave that has been graced by both foreign and local dignitaries
"It's rare to find freehold land of this size in District 10. What sets Jervois Mansion apart is how it maxmises the experience of bungalow-inspired living by carefully planning and respecting the land to bring out its true beauty and value." - Teo Hong Lim, Roxy-Pacific Holdings Limited, Executive Chairman and Chief Executive Officer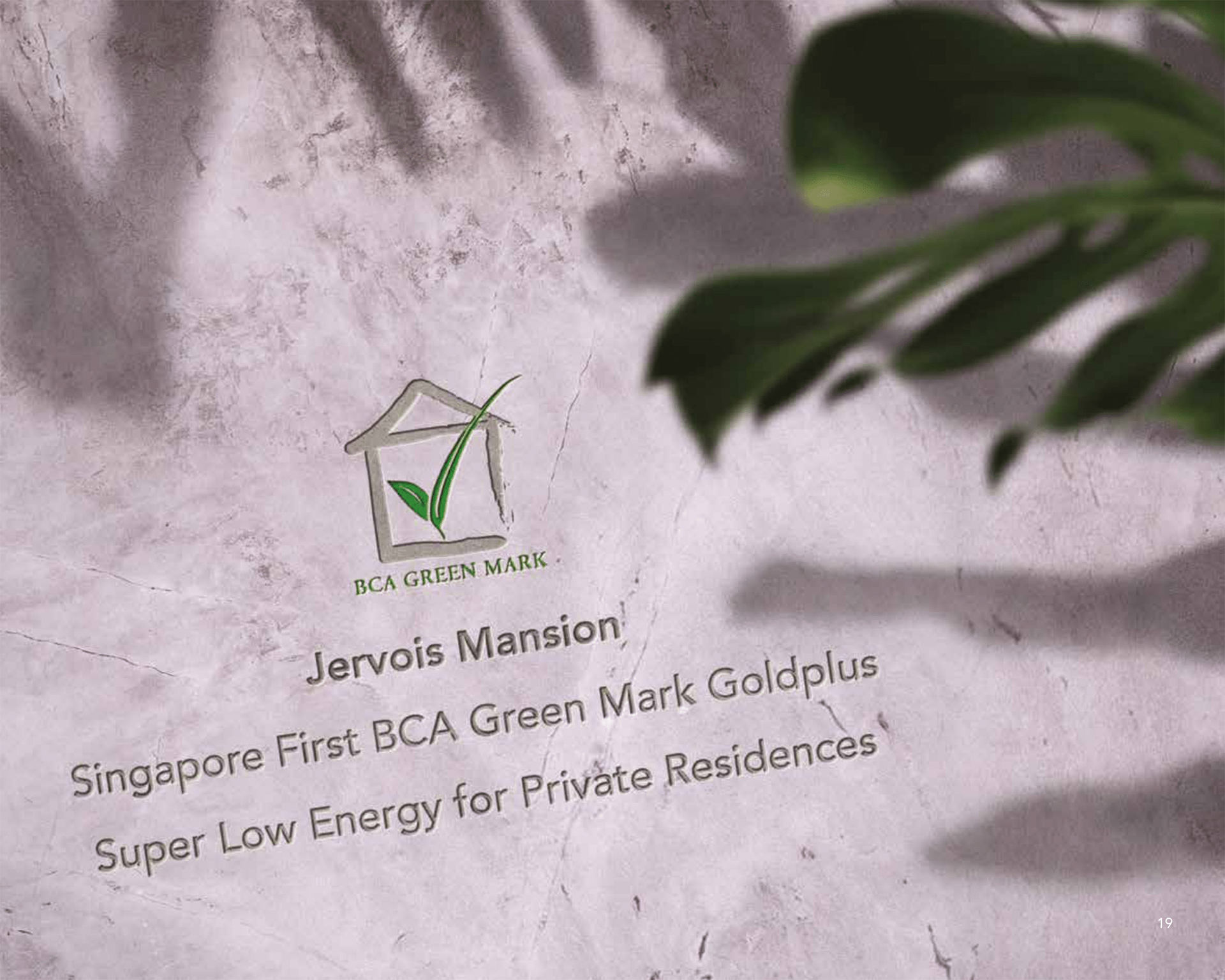 Features that benefit the environment and its people
Jervois Mansion is proud to be Singapore's first low-rise private residential development to receive the prestigious BCA Green Mark Goldplus Super Low Energy Residential Building. From air quality, energy consumption and natural sunlight, every aspect is carefully considered to promote a lifestyle that is healthy, green and smart.

Low-Emissivity Glass
Low-emissivity glass façade to help keep interiors cool while allowing natural light in and reducing air conditioning load.

High Cross-Ventilation
Classy metal grille entrance door designed through elaborate computer fluid dynamic studies to maximise cross-ventilation.

Passive Cooling
Extensive roof gardens to reduce heat gain and facilitate dissipation to your living quarters.

Energy Efficiency
Solar power energy and smart energy efficient systems for common facilities.

Water Efficiency
WELS tick rated tap and water fittings for all residences.

Environmentally Friendly
Low volatile organic compound paints used for their versatility and eco-friendly properties.

Green Materials
Certified green materials that are assessed against top-tier industry standards such as Sintered Stone in units, floor finishes in foyers, lift lobbies, pavilions and the club house.

Energy Efficient Lifts
Energy efficient lifts with variable voltage variable frequency (VVVF) drive to allow for low starting current during operation. Initiating sleep mode when not in use and lowering both ventilation and lighting power consumption.

Auto-Irrigation
Landscaping irrigated with automatic water irrigation system, fitted with rain sensors, and all water fittings will be at least 2 ticks WELS rating certified.
Kitchen appliances, sanitary fittings and floor materials* are all European manufactured and green-certified.
"With rising awareness and urgency to address global warming, we are seeing a new generation of homeowners expecting greener and more sustainable homes. Jervois Mansion is the fruit of labour of a team that has worked tirelessly to bring to life, a development that benefits both the environment and its community." - Tay Phay Ping, Building System & Diagnostics, Managing Director *Except engineered timber floor.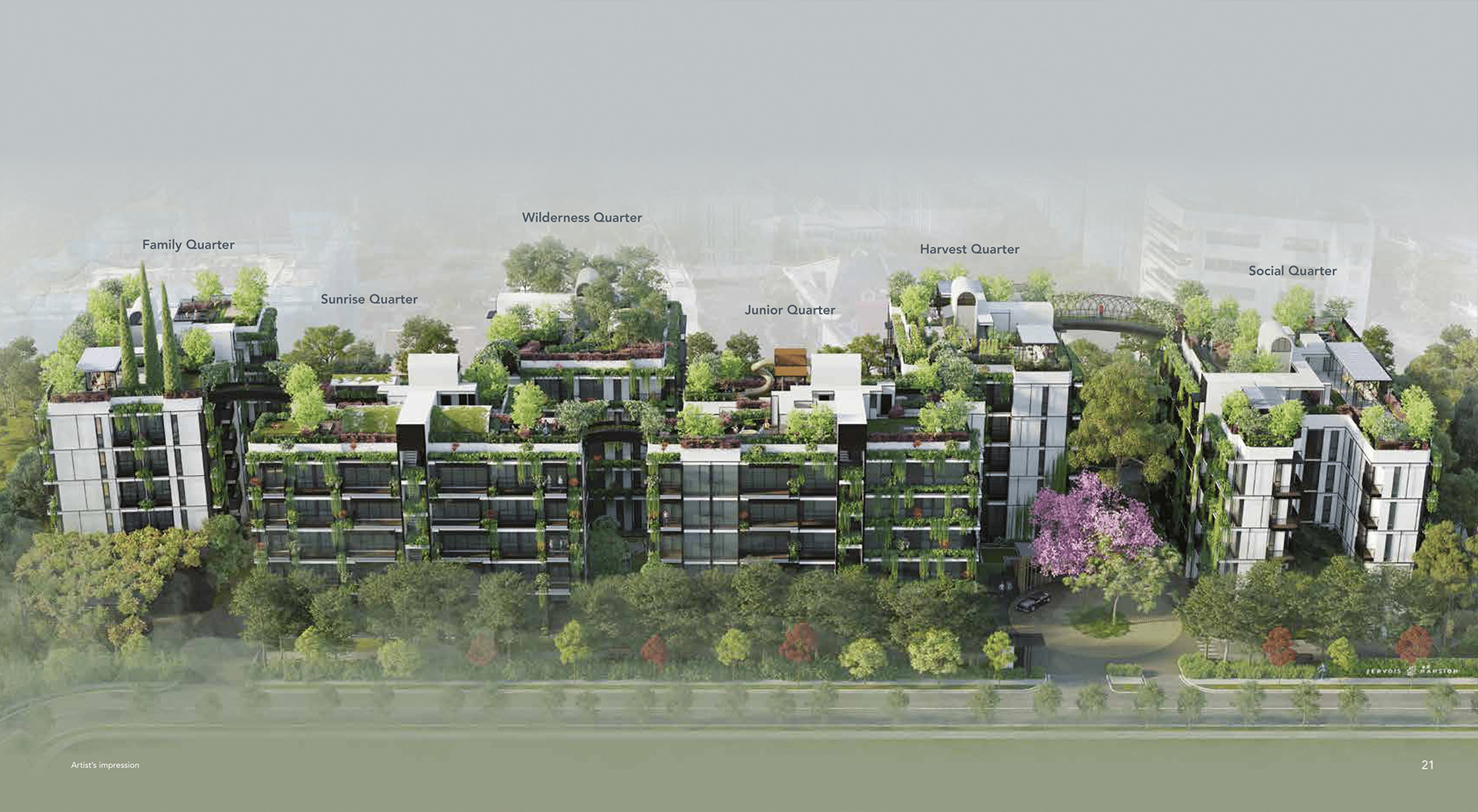 Connected by design, demarcated by purpose
Jervois Mansion's unprecedented innovative design sees six inter-connecting rooftop quarters that cater to a range of lifestyles. With each block* uniquely event-centric and available for private bookings through community apps.
Family Quarter
Strengthen family ties and enjoy every moment together.
Sunrise Quarter
Bask in the sun, or calm the weary senses with some yoga.
Social Quarter
Make new friends, widen your network, have a great time.
Junior Quarter
A thoughtful space complete with a trampoline, sandtable and nature worktop designated for the little ones to celebrate birthdays, holidays, or simply learn as they have fun.
Harvest Quarter
Foster neighbourly ties through the love for harvesting and sharing in the urban garden. Heavy laundry is easily sorted in the Sundry Garden that includes commercial-grade washer and dryer.
Wilderness Quarter
Embrace the magnificence of the Regenerative Woods. With limited human interference for one to learn and discover nature, a surprise could be waiting in the form of rare and exotic flowers.
Artistically yours
Art is prevalent throughout Jervois Mansion. When it appears even in the basement, you know that life here will be exceptional in every way. Photography artwork in the waiting area complements the tropical plants, while shafts of natural light from the skies above draw your eyes to a garden backdropped by an 80-metre linear cascade of foliage.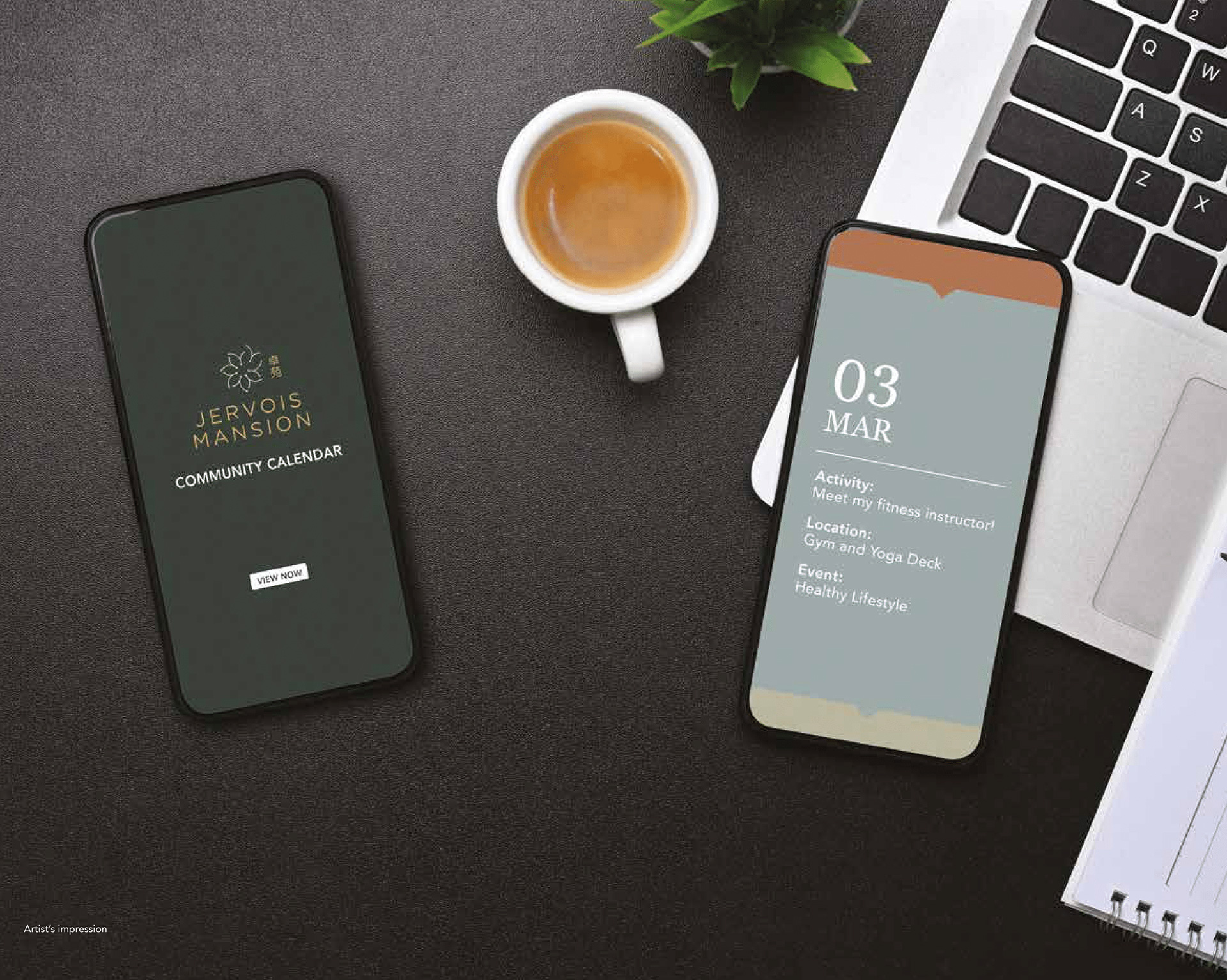 Activity: Catch the Lion Dance Show!
Location: Event Lawn
Event: Lunar New Year

Activity: Enjoy a romantic evening under the stars!
Location: Cocoon Garden
Event: Valentine's Day
Activity: Meet my fitness instructor!
Location: Gym and Yoga Deck
Event: Healthy Lifestyle

Activity: Lights out! Let's go glamping!
Location: Regenerative Woods
Event: Earth Day

Activity: Enjoy a game of lawn bowling!
Location: Active Lawn
Event: International Family Day

Activity: Time to explore the world of flora & wildlife
Location: Discovery Garden
Event: School Holidays

Activity: Community Yoga
Location: Sunrise Quarter
Event: Holidays

Activity: Harvest fruits and vegetables with Grandma!
Location: Community Urban Farm & Garden
Event: World Seniors Day

Activity: Play date with my friends at the Tree House!
Location: Junior Quarter
Event: September Break

Activity: Celebrations with my community
Location: Party Pavilion
Event: Oktoberfest

Activity: Birthday dinner with my friends!
Location: Clubhouse and Central Pool
Event: Birthday

Activity: Party around the Christmas tree!
Location: Family Quarter
Event: Christmas Caroling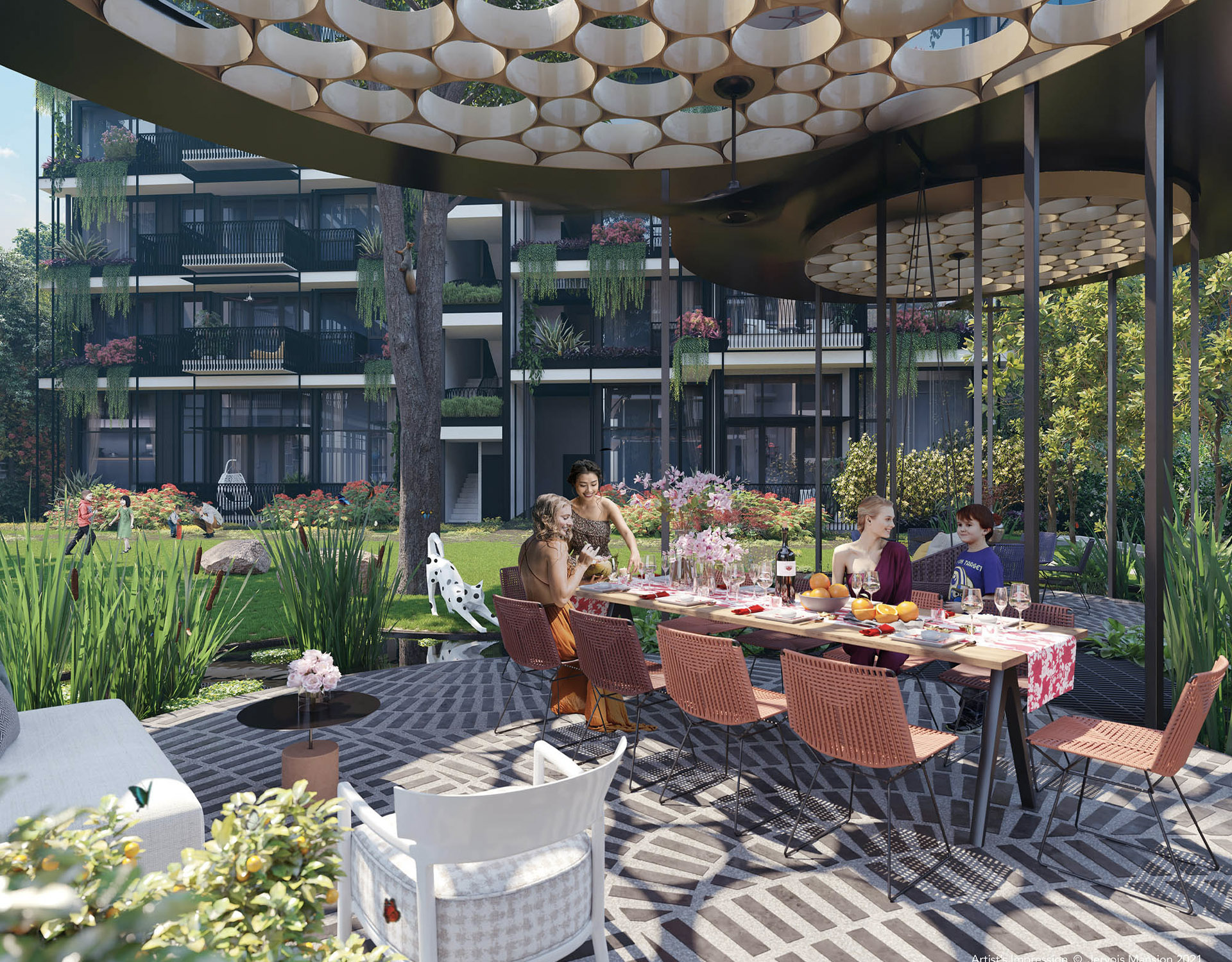 Space to roam
Be greeted by a wide expanse of open greenery, reminiscent of the large lawns in front of colonial bungalows. This is an ideal venue for large-scale alfresco events like lion dance performances, movies under the stars for the residents, or just a place for kids to run free. Pavilions by the lawn rise like islands in a pond teeming with life, and offer privacy for family gatherings.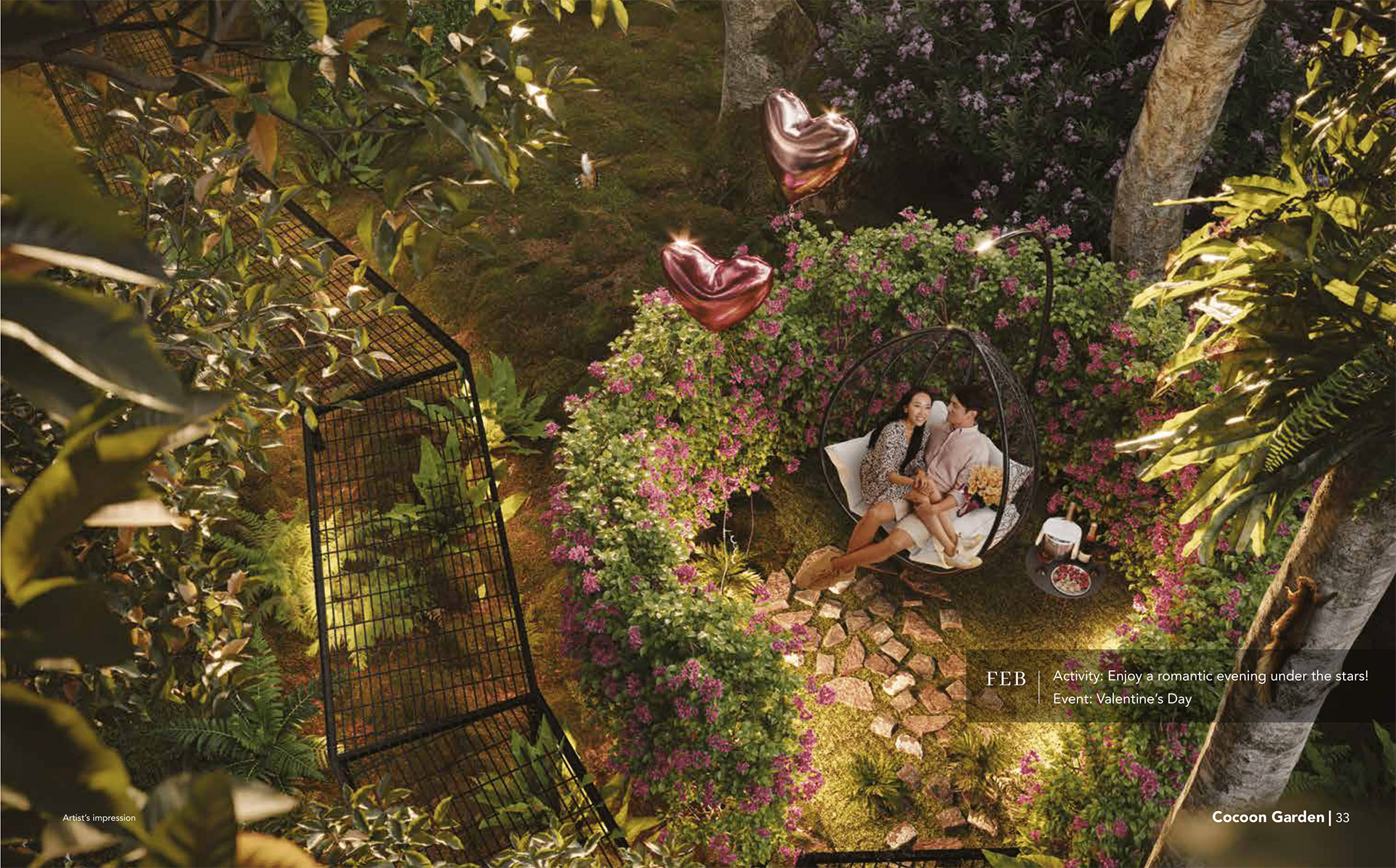 Privacy amidst serenity
Walk along the unique moss and fern-lined river and wander through the rich foliage as 3 cocoons of privacy come into view. An intimate space for two with the soothing sounds of flowing water for company.
While the vast grounds around Jervois Mansion are seemingly endless, little pockets of spaces are available where you can retreat into to enjoy private moments.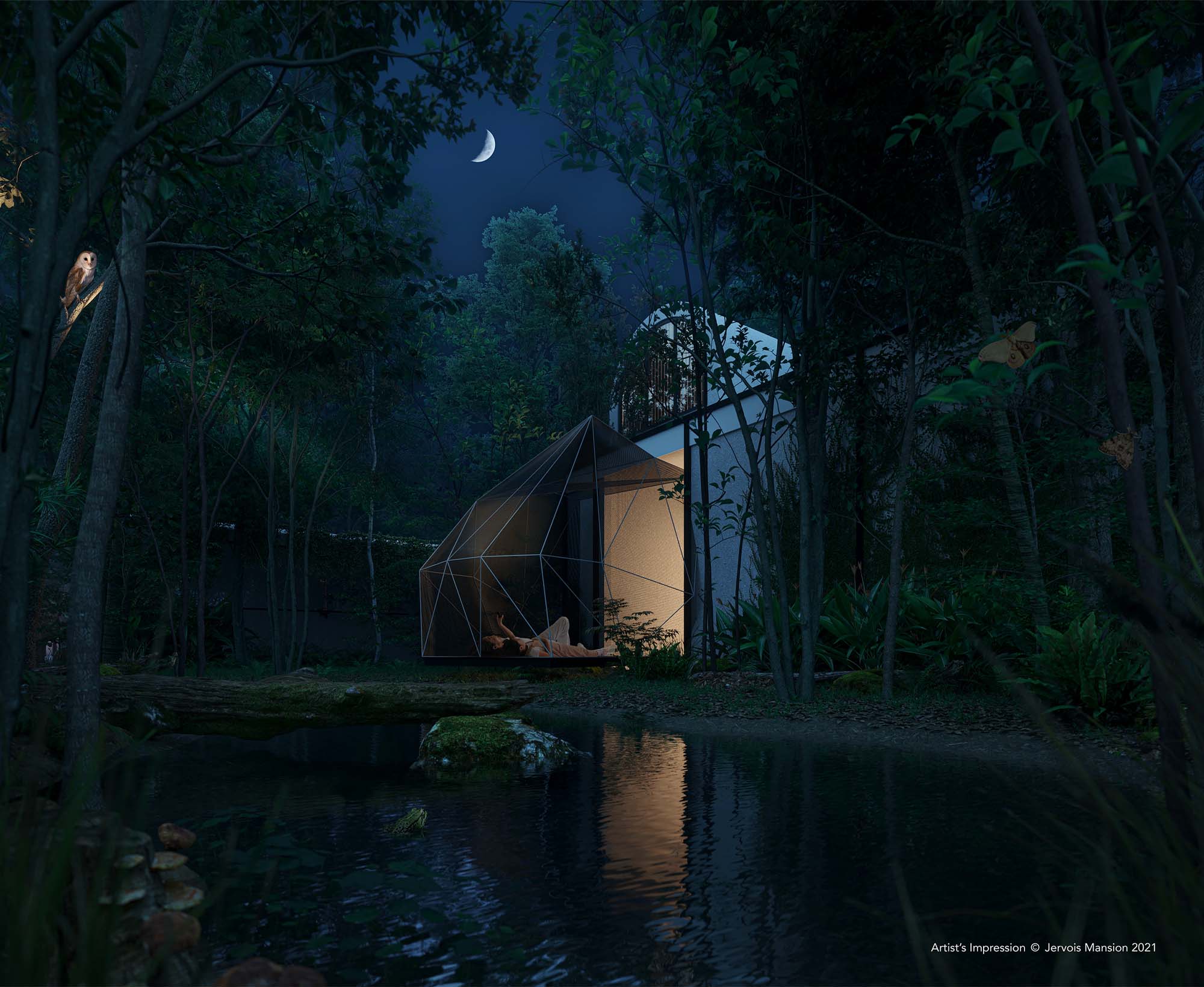 A home as much as a habitat
Up on the rooftop, discover a special nature plot as part of our eco-efforts to conserve and educate. An oasis of tropical forest is left untouched to flourish naturally, giving rise to the growth of rare exotic flowers. Once a month, you may step foot into this pristine habitat and appreciate what happens when nature takes its own course.
Celebrate Earth Day by switching off the lights and appreciating nature with a night of glamping in the little hideout. When the night skies are clear and the stars align, you may even spot an owl or two.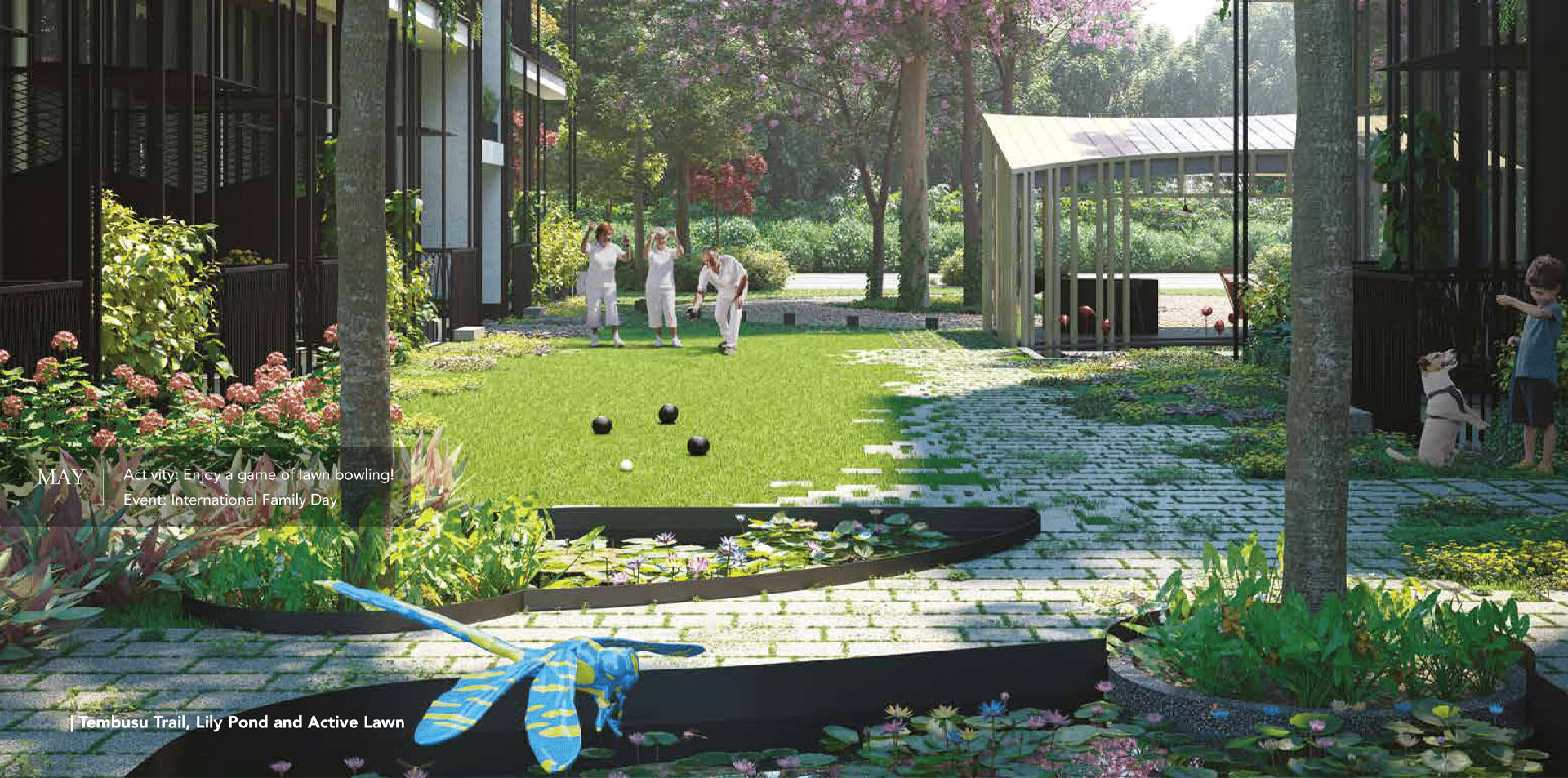 Beyond majestic, enchantment awaits
A promenade with majestic Tembusu Trees leads to an enchanting pond where unique water lilies reveal their glory in different colours. Come closer to the pond, and you will spot rainbow-coloured guppies swimming in the pond's crystal waters that is teeming with dainty dragonflies.
Another surprise awaits. At certain times of the year, the Tembusu trees bloom with white blossoms, forming a beautiful sight of green and white. The perfect spot for a game of lawn bowling.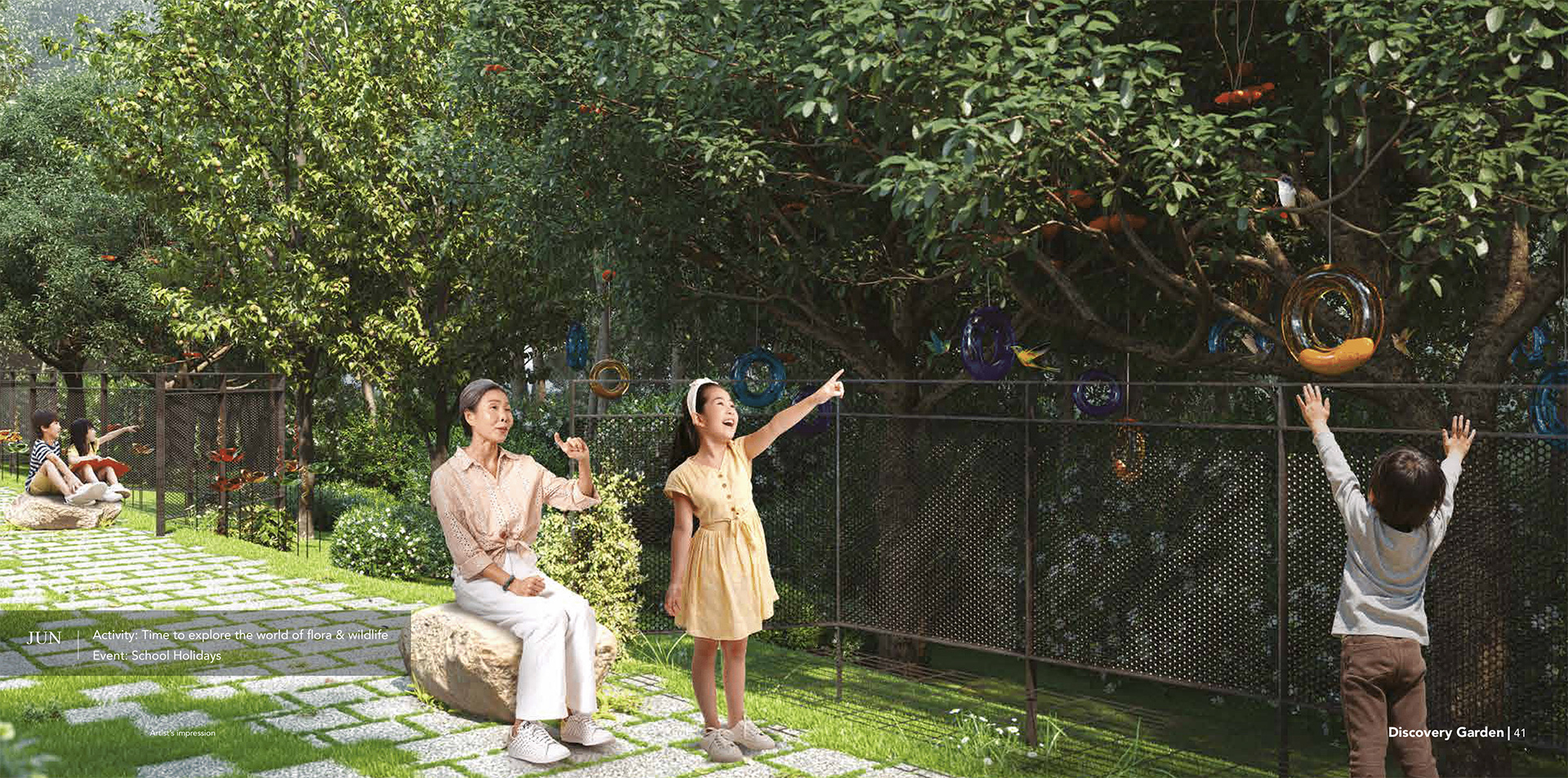 The living, breathing classroom
Be enthralled by a classroom that comes to life before your very eyes. Go ahead and soak it in, for Mother Nature is the gift that keeps on giving. And teaching.
The self-sustaining ecosystem within the development provides fresh air all year round, produces its own harvest, and presents learning opportunities in abundance. Fallen leaves, flower petals and dispersed seeds are like mini souvenirs. Embark on a scavenger hunt and turn these into a scrapbook of cherished memories, while keeping a lookout for the visiting hummingbirds and butterflies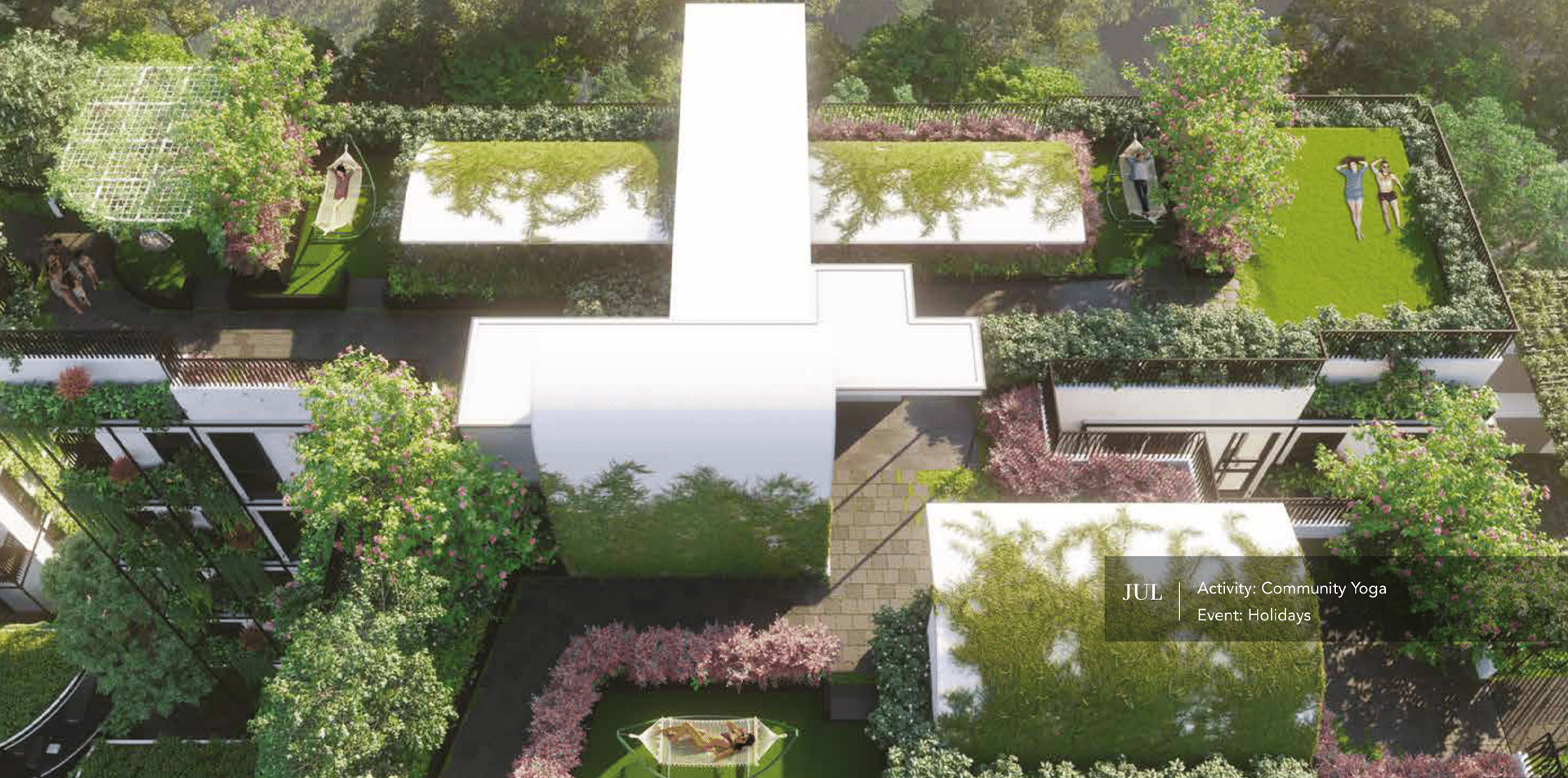 Nature, the best therapy
Relax and unwind is the mantra, as three swing baskets and a hammock sway gently along with the cool breezes of the wind. On lazy afternoons, let your thoughts wander and close your eyes for a second. With the warmth of the sun's rays and the therapeutic ambience, you would be forgiven for drifting off to sleep.
A grass lawn that accommodates up to six opens up atop the Sunrise Quarter. The ideal setting for a yoga or sun-tanning session with neighbours and friends.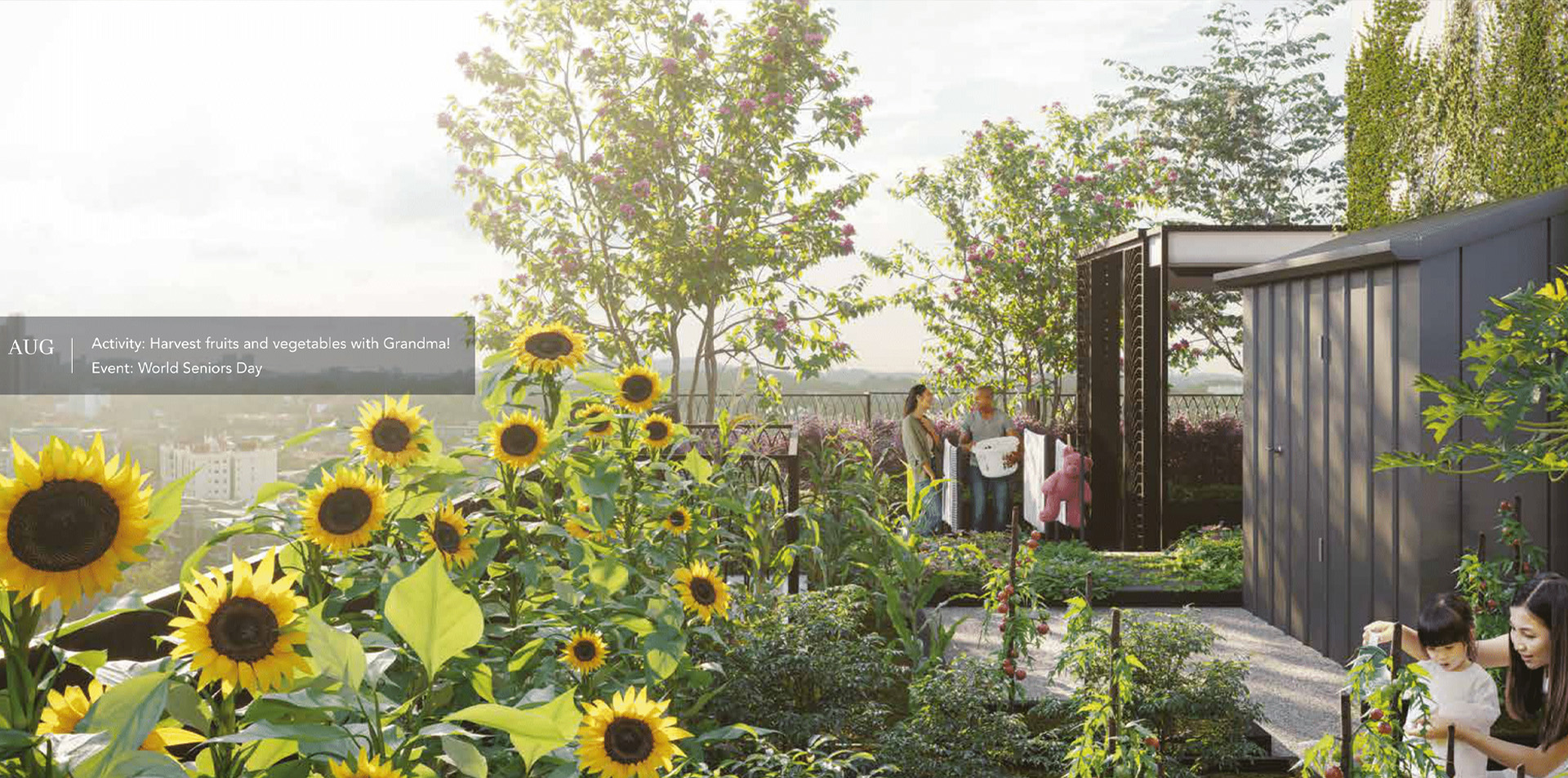 Growing the community spirit
Food always brings people closer. More so if it was grown by your very hands in this urban farming plot. Embark on eco-efforts like composting, and grow organic vegetables, medicinal herbs and a myriad of useful plants. Share harvests, gardening tips and foster closer bonds with your neighbours. An adjacent garden to sun your laundry also enhances the close-knit kampung-like ambience.
"The landscape is designed to flourish on its own, with minimal intervention. Just like in the great outdoors. Many of the organically-grown plants here are edible, medicinal or usable. You can even farm or harvest and use nature as a sustainable source of nourishment." - Mason Tan, Mace Studio, Sustenance Curator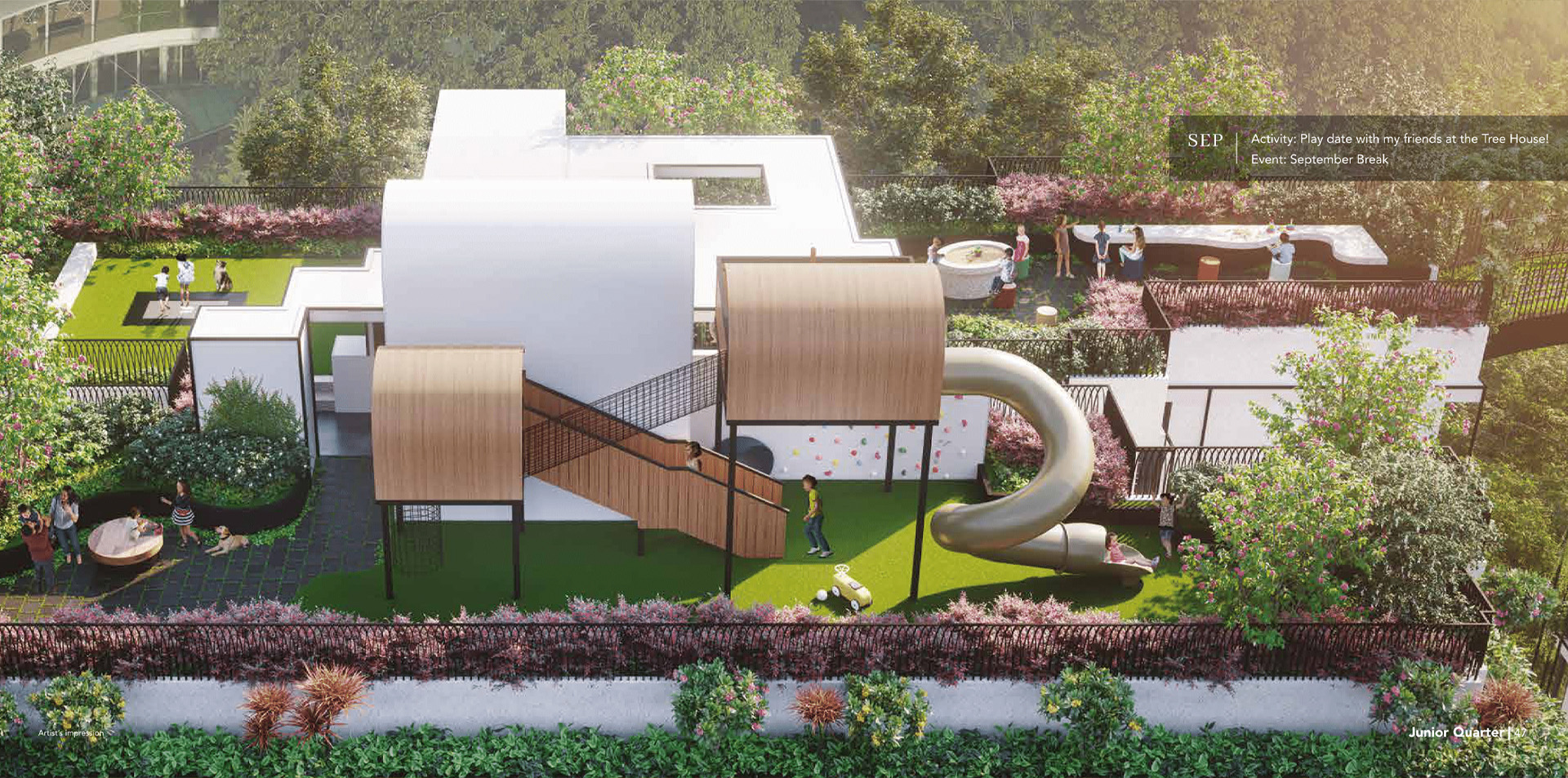 Where activity and creativity run free
Let the kids unleash their imagination as they play and learn in this interactive playground. Have a fun time exploring the Tree House. A game of Pictionary on the creative wall will hone their social and problem-solving skills. They can also expend their boundless energy at the fun Jump & Dunk Trampoline.
Celebrations on another level
Head up to the roof and prepare to elevate your event or Oktoberfest celebrations to greater heights. With a banquet table and ample seating for up to 20 guests, this rooftop pavilion brings together the sophistication of a garden party with the fun of a pool party. Take a dip in the pool, enjoy new company. After all, every lasting relationship started with a warm handshake or friendly greeting.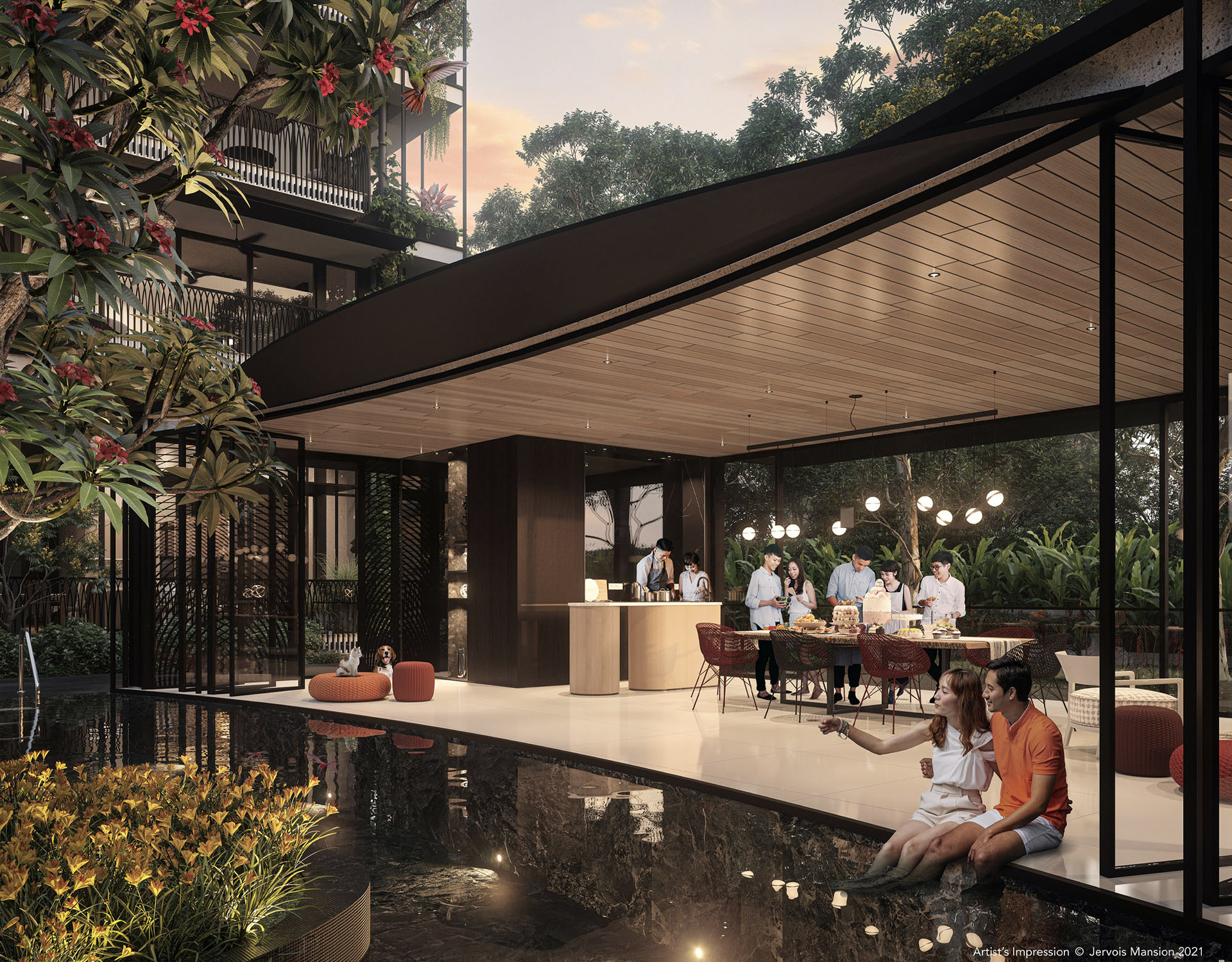 Indulgences in the center of it all
The grand Clubhouse draws inspiration from the verandah, a distinctive feature of colonial bungalows. Anchoring one end of the resplendent pool, the Clubhouse could be fully opened to take in the beauty of the outdoors, just like a verandah. Or fully enclosed for you to enjoy your event, birthday celebrations or private dinners with family and friends in cool air-conditioned comfort. With its shimmering waters and the surrounding greenery and flowering plants, the pool area evokes the luxury of a private island resort. On days when you feel slightly competitive, challenge yourself against the static power jets integrated into the pool.
Neighbours; An extension of family
A meal over barbequed meat and ice-cold beer sounds good. A feast with neighbours who are like an extended family, even better. The BBQ Pavilion sets the mood for alfresco family meals or light-hearted community gatherings. Come Christmas, three conical trees will be spruced up in dazzling finery as the Jervois Mansion community comes together. Filling the rooftop with Christmas carols and festive cheer.
Jervois Mansion Interior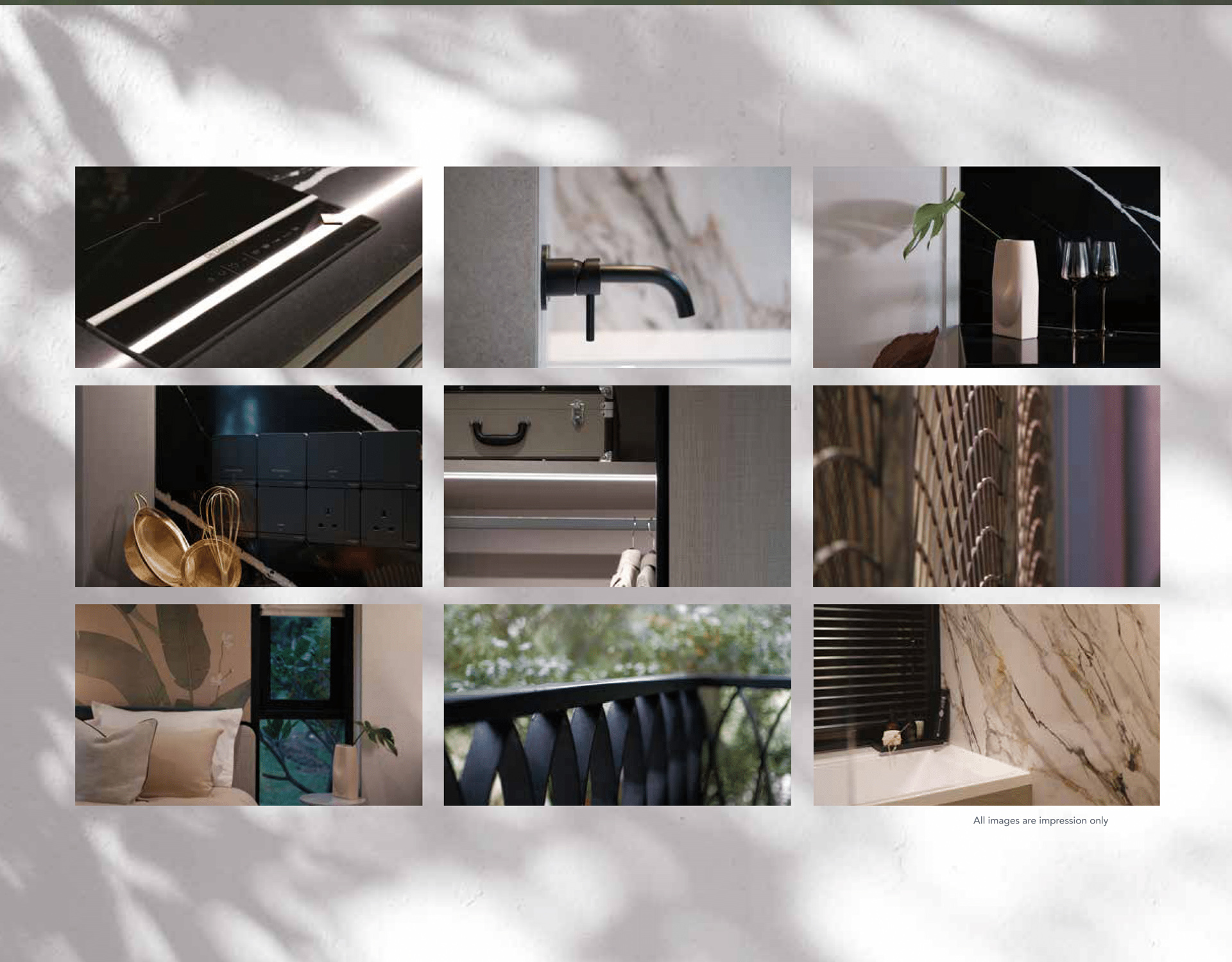 The seven design principles
Prompt Instinctive Connectivity
Each space is carefully demarcated yet attuned for a seamless flow. Be it a transition from human-to-human interaction, or connection between man and nature.
Harmonise Design & Functionality
One of the beauties of Jervois Mansion is the elaborate thought process behind every design element that blends elegant form and function for a flawless end-product.
Instigate Experiences in Everyday
Distinctive zones that are both an opportunity and experience for individuals and the community culminate in a unique living environment.
Immerse Through Framed Views
Every perspective around the development is intentionally framed to capture Mother Nature in all her glory.
Instill Exclusivity Within Inclusivity
Throughout the vast grounds, pockets of privacy are ever-present for residents to enjoy the little, intimate moments.
Complemented by Fine Finishing Touches
Subtle details, refined textures, and meticulously curated materials are the intricate layers that weave the Jervois Mansion legacy together.
Nurture A Regenerative Environment
Elaborate and well-thought-out space planning that integrates landscape ecology with architecture to foster a sustainable environment.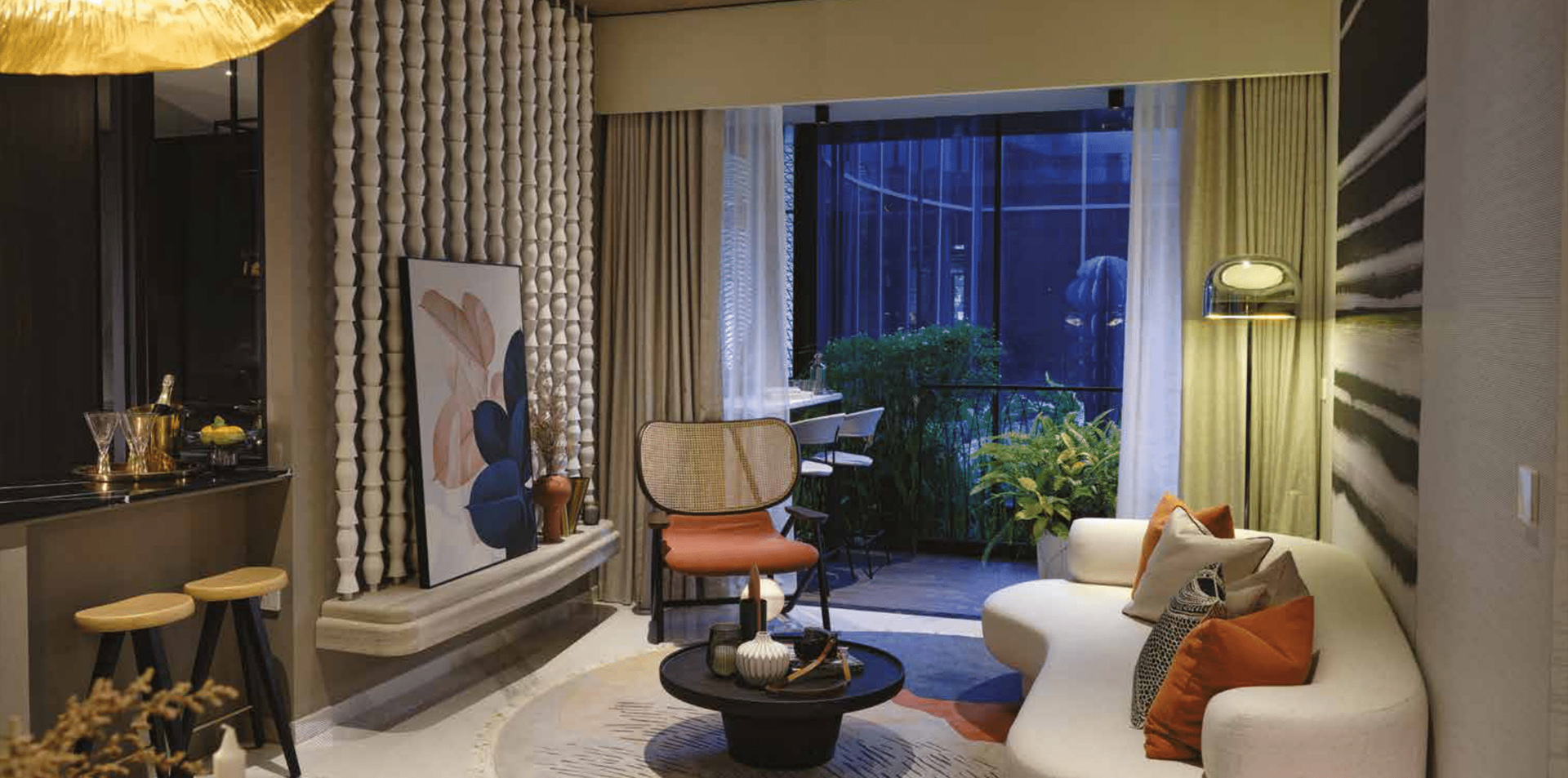 Inviting nature home
High ceilings and natural ventilation evoke a bungalow-living feel, while your gracious living room overlooks tropical blooms and thriving courtyards that serve as a natural veil. Enabling you to enjoy the great outdoors and a framed view of nature, without compromise on privacy.
"Elegant and refined, the interior design presents a fresh take on colonial-style architecture for the modern homeowner." - Gwen Tan, Studio iF, Director
All ground floor units come with 4.57 m high ceiling with structure strengthening where appropriate, allowing buyers to expand their space with furniture deck/loft of up to 5 sqm.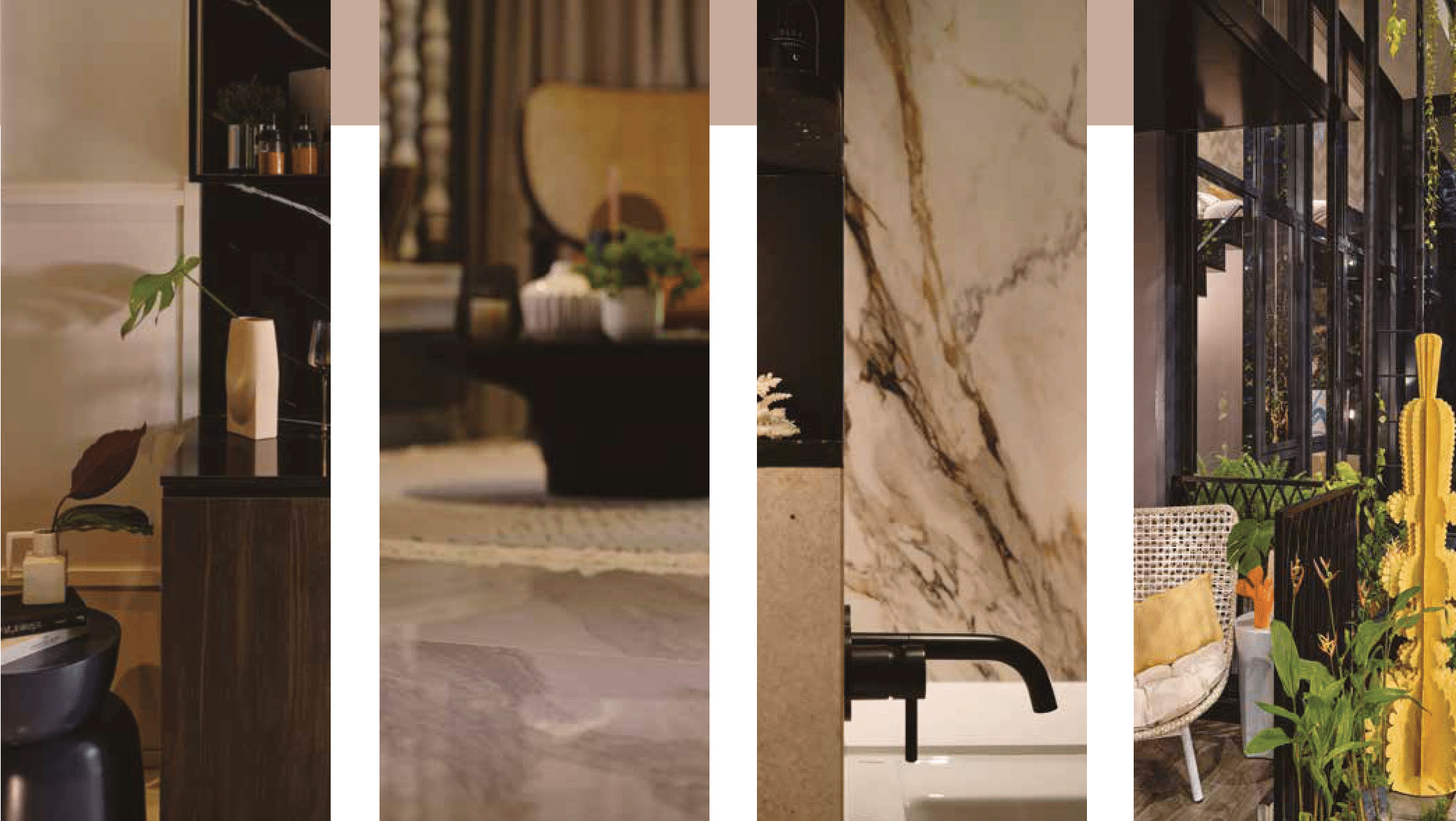 The look and feel of luxury
Inspired by the rich heritage of colonial architecture, the finest materials are reinterpreted and refined into designs for modern luxury living. A calming palette of elegance throughout serves as a fine balance with nature's vivid colours that are reflected in an exquisite blend of patterns and textures.
As part of our extensive eco-efforts, green products like Sintered stones are used in place of marble.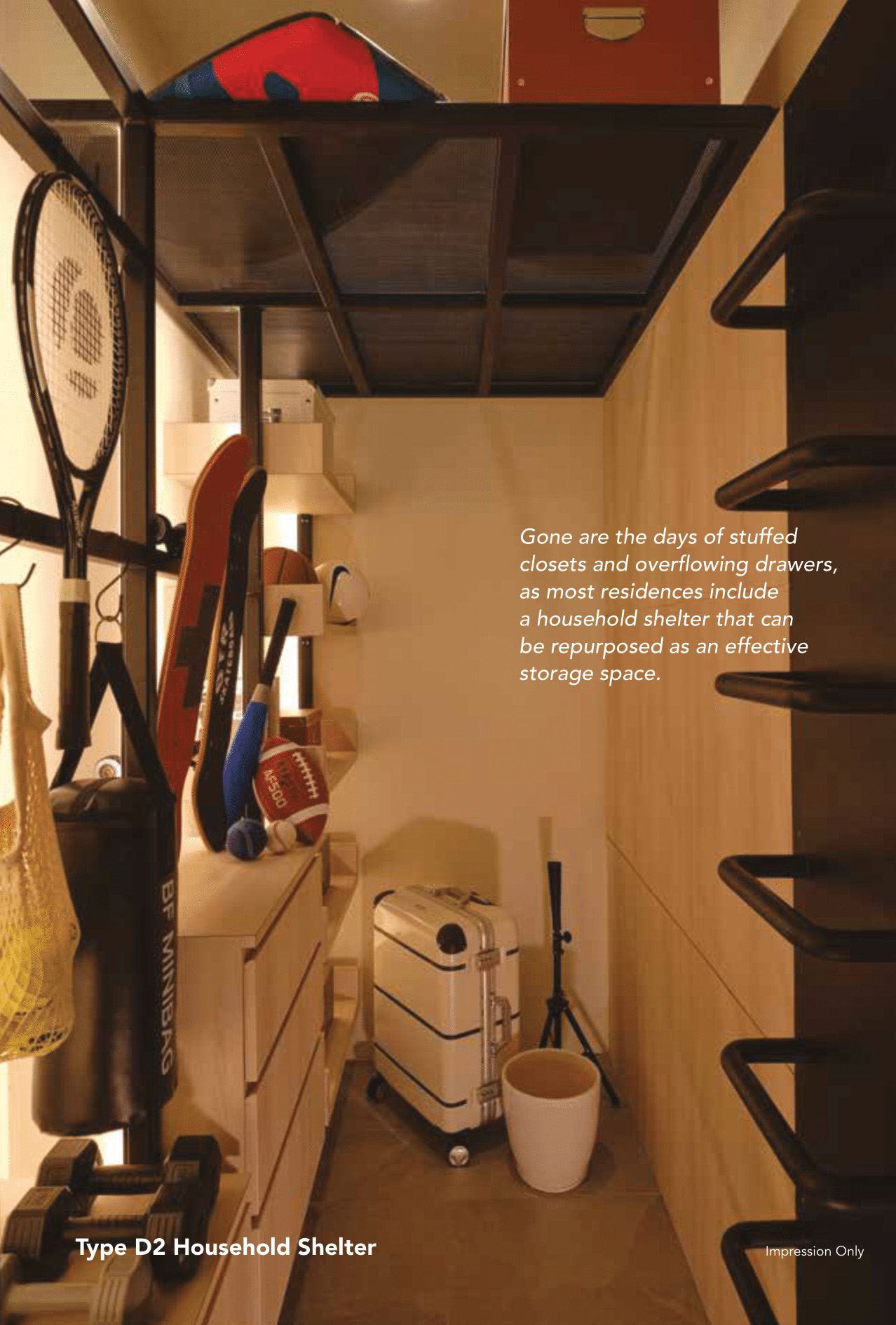 Gone are the days of stuffed closets and overflowing drawers, as most residences include a household shelter that can be repurposed as an effective storage space.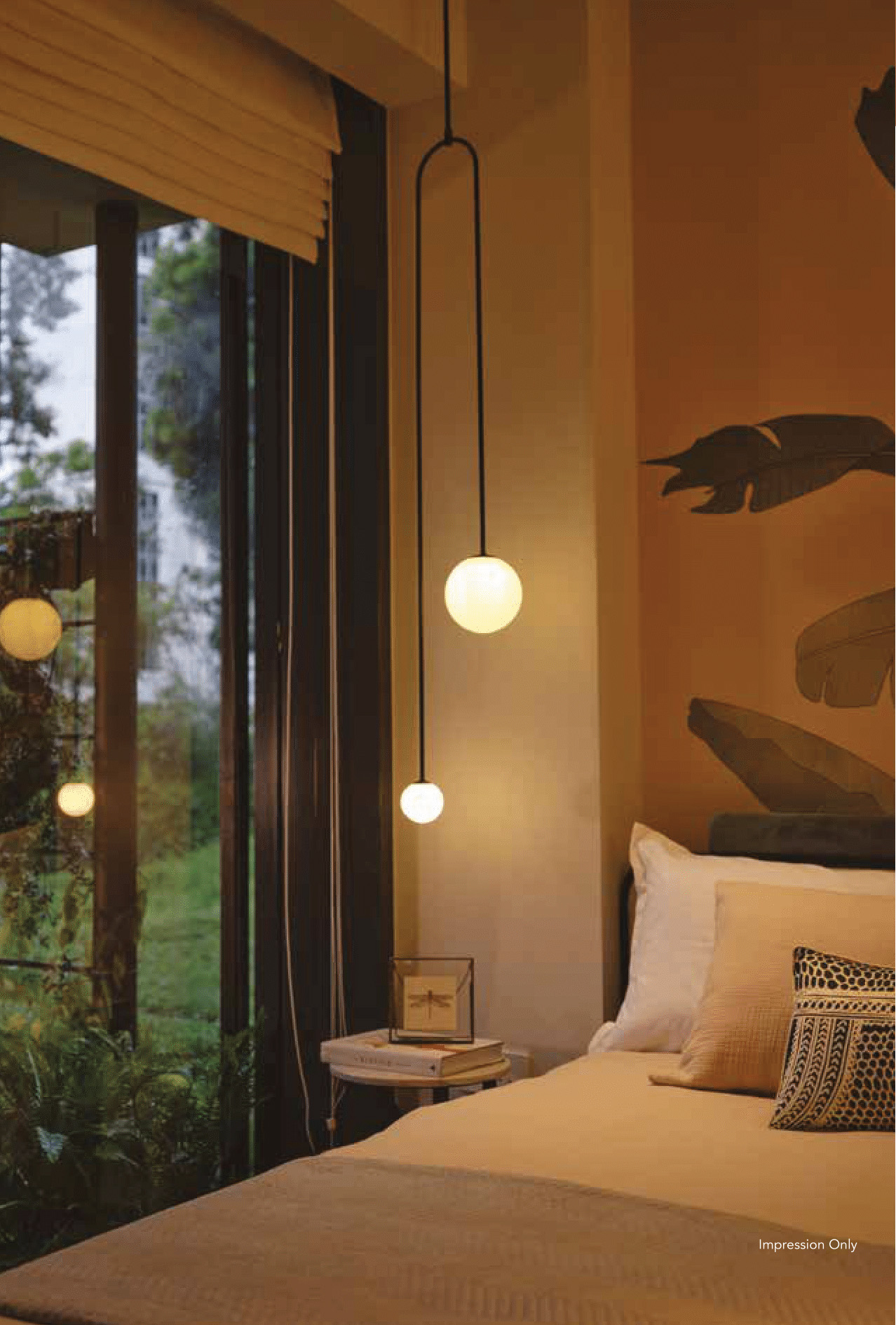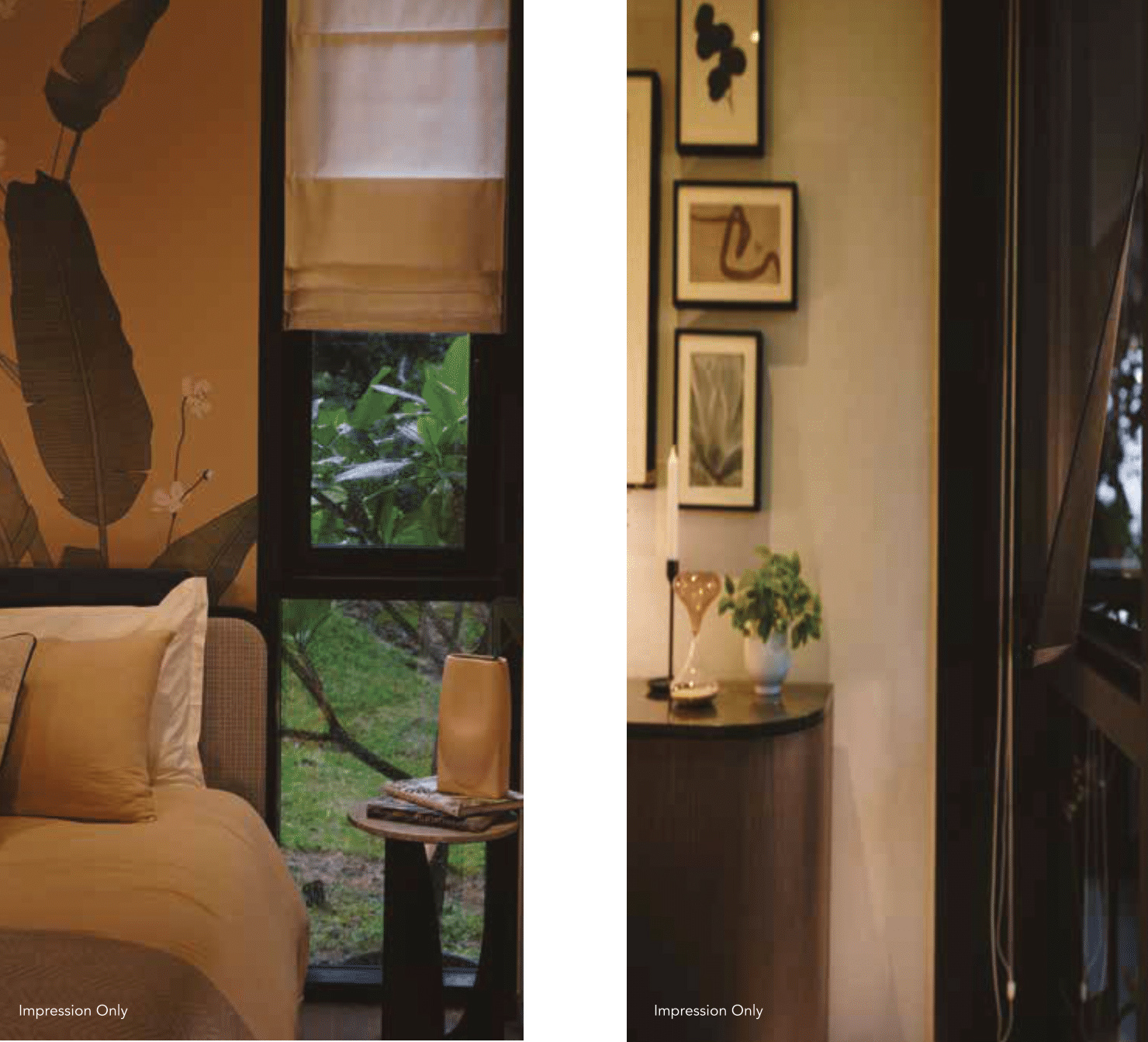 Immerse in nature through framed views. Window systems are designed for owners to fit mosquito nettings seamlessly while curtain wall systems are designed with pelmet spaces that accommodate more curtains or usable space.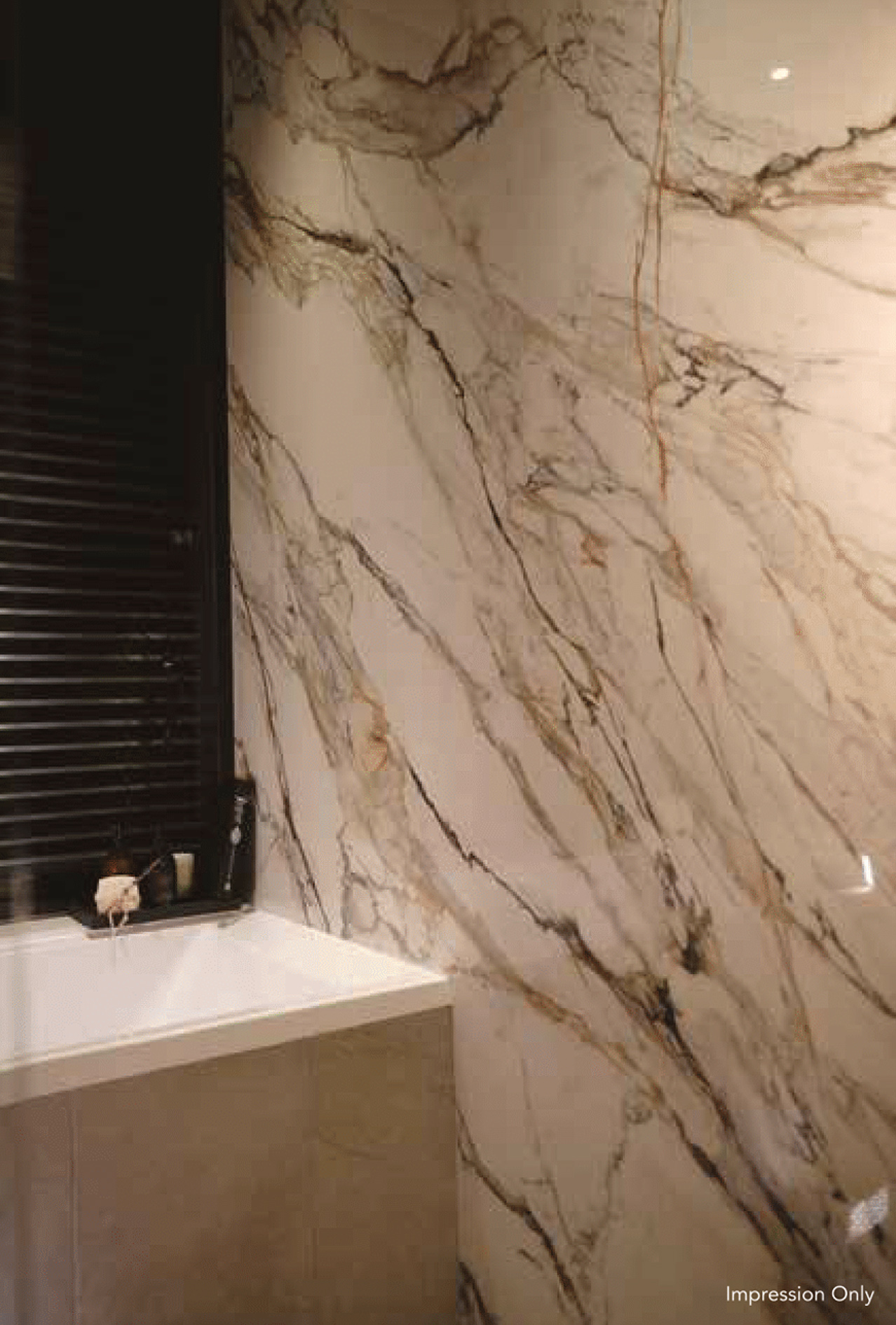 An elegant slab of Sintered stone, with natural vein variations, is the focal point of every master bath. Instinctively drawing eyes to its beauty and texture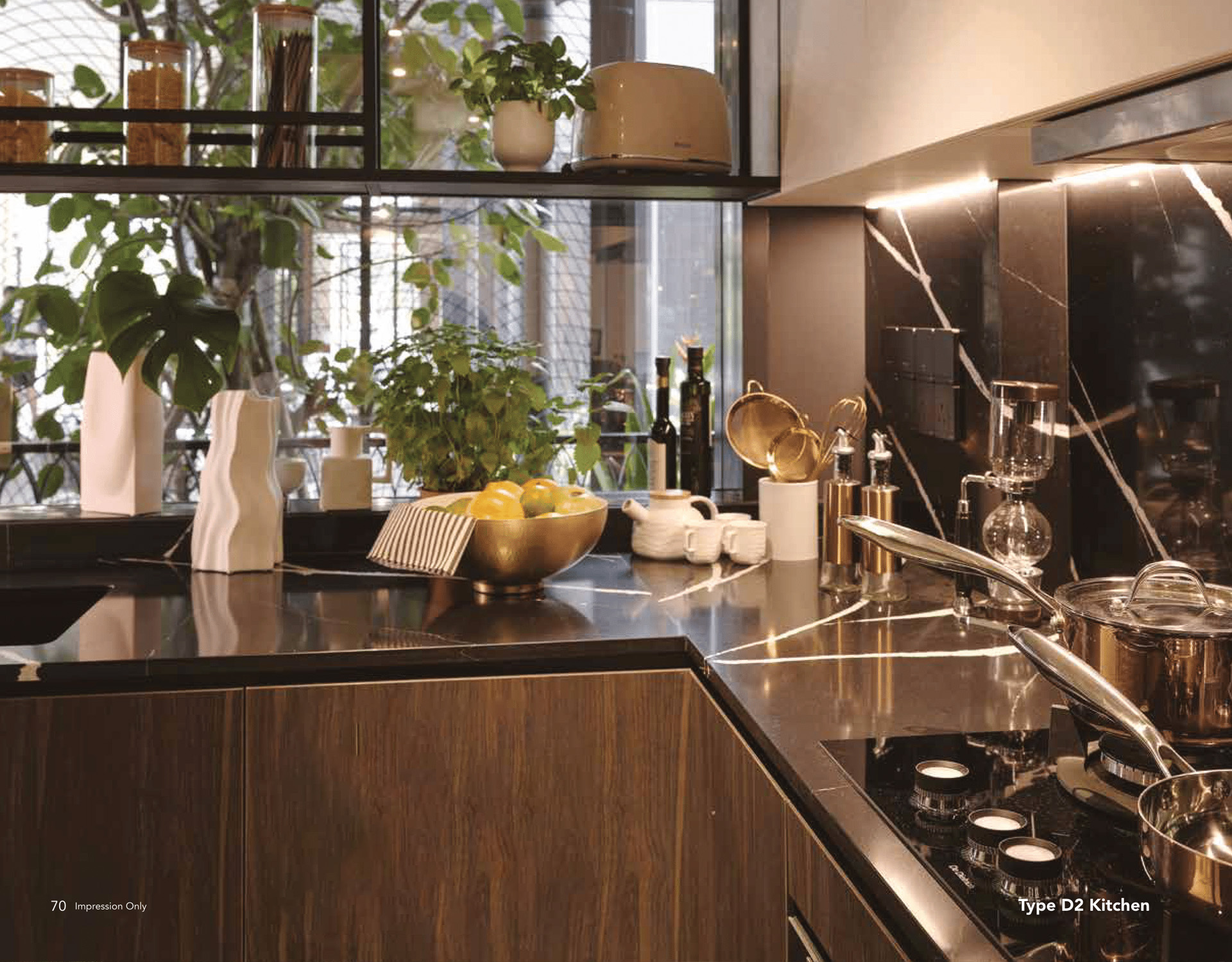 Beauty and quality all around each and every residence is accessorised with designer fittings from some of the world's top European brands.
Discover beauty in the finest of details, where every fitting is chosen for its quality, reliability and how its individual design contributes to the entire aesthetic of your home.
The Premium Collection
For the privileged few, may we present two exclusive blocks of residences befitting of your discerning tastes. Embrace the indulgence of superior living space around, and take delight in the array of appliances that are furnished to accommodate your every lifestyle need. The Premium Collection comprises of just two blocks, with no more than three residences on each floor for utmost exclusivity. While select units also enjoy private lift access.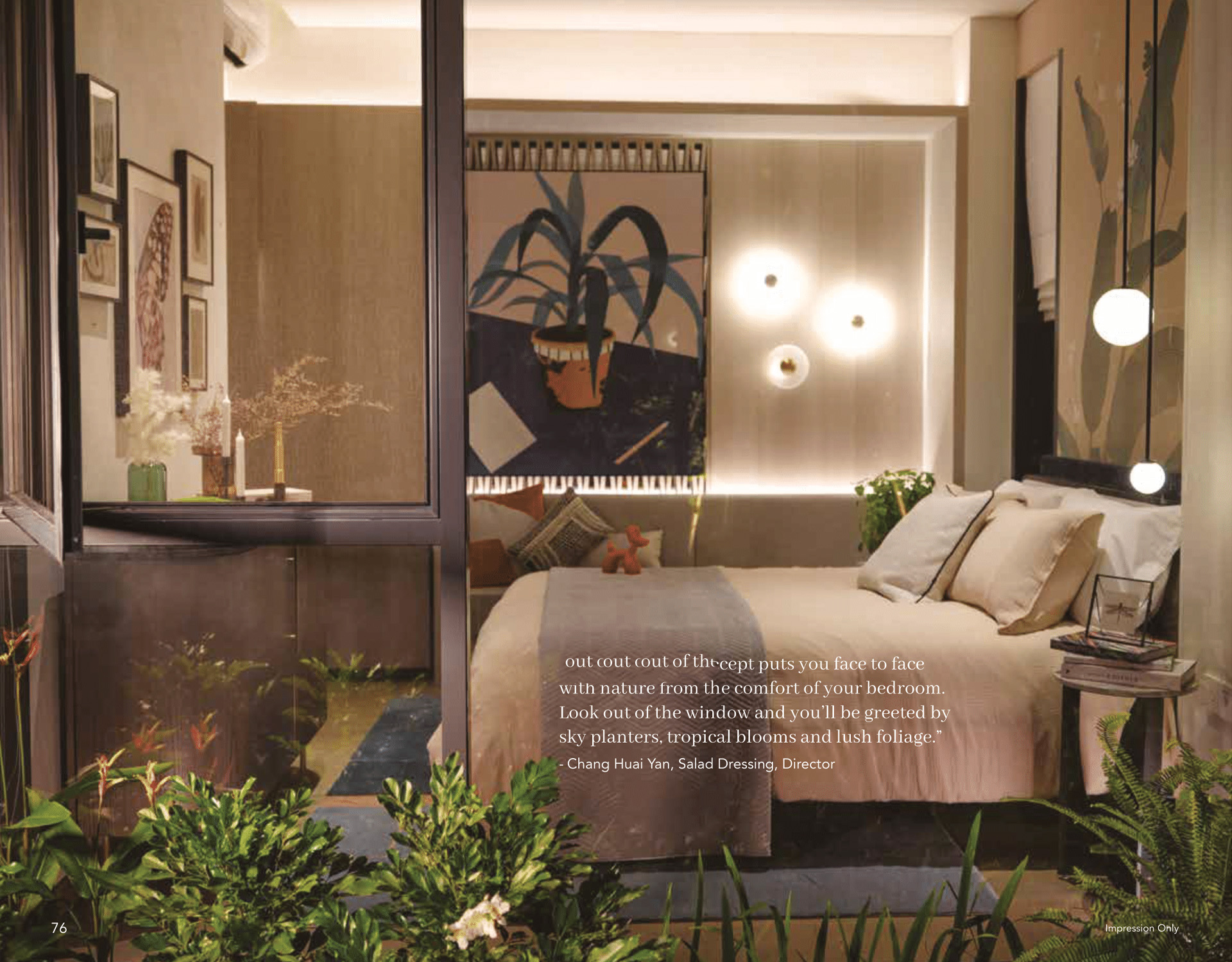 Life is an art, and art enhances your living experience here in Jervois Mansion. Art pops up in unexpected places.
This elevates the journey you experience from the moment you arrive, to the moment you step into your home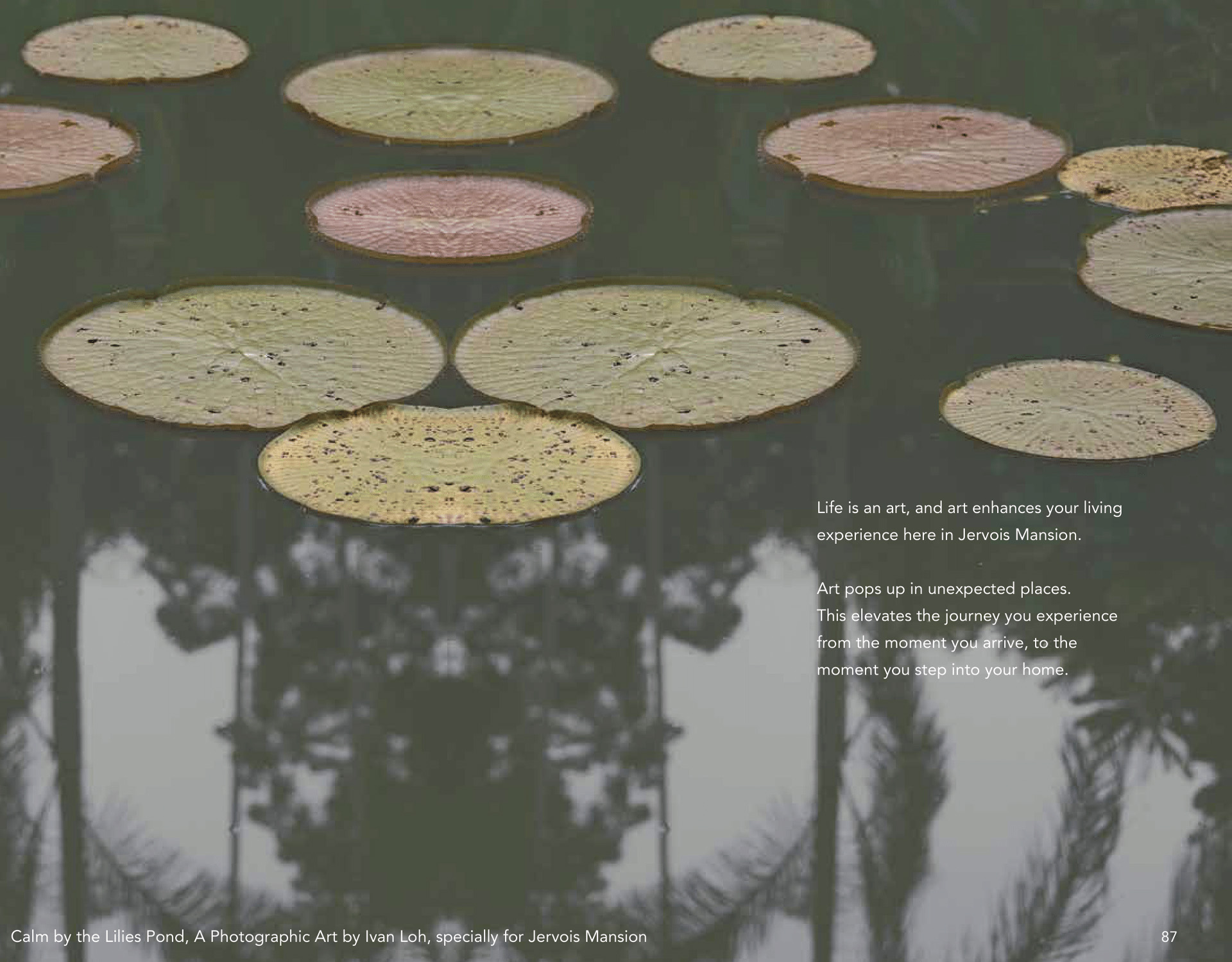 Sustainability for life
Experience the eco-luxury lifestyle at Jervois Mansion. A sustenance curation programme* has been developed specifically for you and everyone here. Look forward to conservation, education and appreciation activities for your whole family
Home of the future
Jervois Mansion is future-ready with a whole suite of smart home features and myriad community services via our E-Concierge.
Smart Home

Smart Home System Hub
A central hub is provided for future ease of integration with your own choice of smart apps and home appliances.
Smart Air-conditioning
Switch on or off, or set the room to the right temperature remotely.

Smart Digital Lock
Quick, safe keyless entry for enhanced safety and added peace of mind.
E-Concierge

Smart Reservation
Check availability, book facilities, and gain contactless entry into facilities.

Smart Parcel Locker
Receive parcel collection alerts and collect your parcels anytime from secure lockers.

Smart Doorbell
View arriving guests remotely from the security and comfort of your home.

Smart Verification
Pre-register your guests and receive QR invitations for ease of security verification and entry.

Sustainability for life
Experience the eco-luxury lifestyle at Jervois Mansion. A sustenance curation programme* has been developed specifically for you and everyone here. Look forward to conservation, education and appreciation activities for your whole family

Activities

Foraging walks
Fish feeding
Bird feeding
Glamping
Stargazing

Classes

Farm-to-table cooking
Arts and craft
Flower arrangement
Terrarium-making
Outdoor fitness/yoga
Ecology education
Gardening

Events

Event planning for special occasions
Special flowering/plant appreciation
Holiday celebrations