The situation of Juniper Hill can access all parts of Singapore thanks to the development's well connectivity. It takes about 750m to Stevens MRT from the development. People live in residents can also take a walk to Newton Food Centre which is just nearby Newton MRT only 1 stop away or 1.3km. 
Driving to the Central Business District (CBD) takes only 20 minutes while moving to Orchard Shopping District is 10 minutes drive. Travel to various parts of the island via road is a breeze since residents have linked to the Pan Island Expressway.
If you want to keep your whole family together at Juniper Hill, don't hesitate more, connect with Sale Person now to be consultant particular. Be the 1st to receive 1st hand info about this extravagant iconic project via Contact Us. Now, continue go with Juniper Hill Facilities.
Juniper Hill Location Map
Located at 39 Ewe Boon Road, Juniper Hill is nestled on higher ground within the exclusive Bukit Timah-Tanglin enclave. Within the freehold development, beautiful landscaped gardens across various levels create an elegant living experience immersed in nature.

---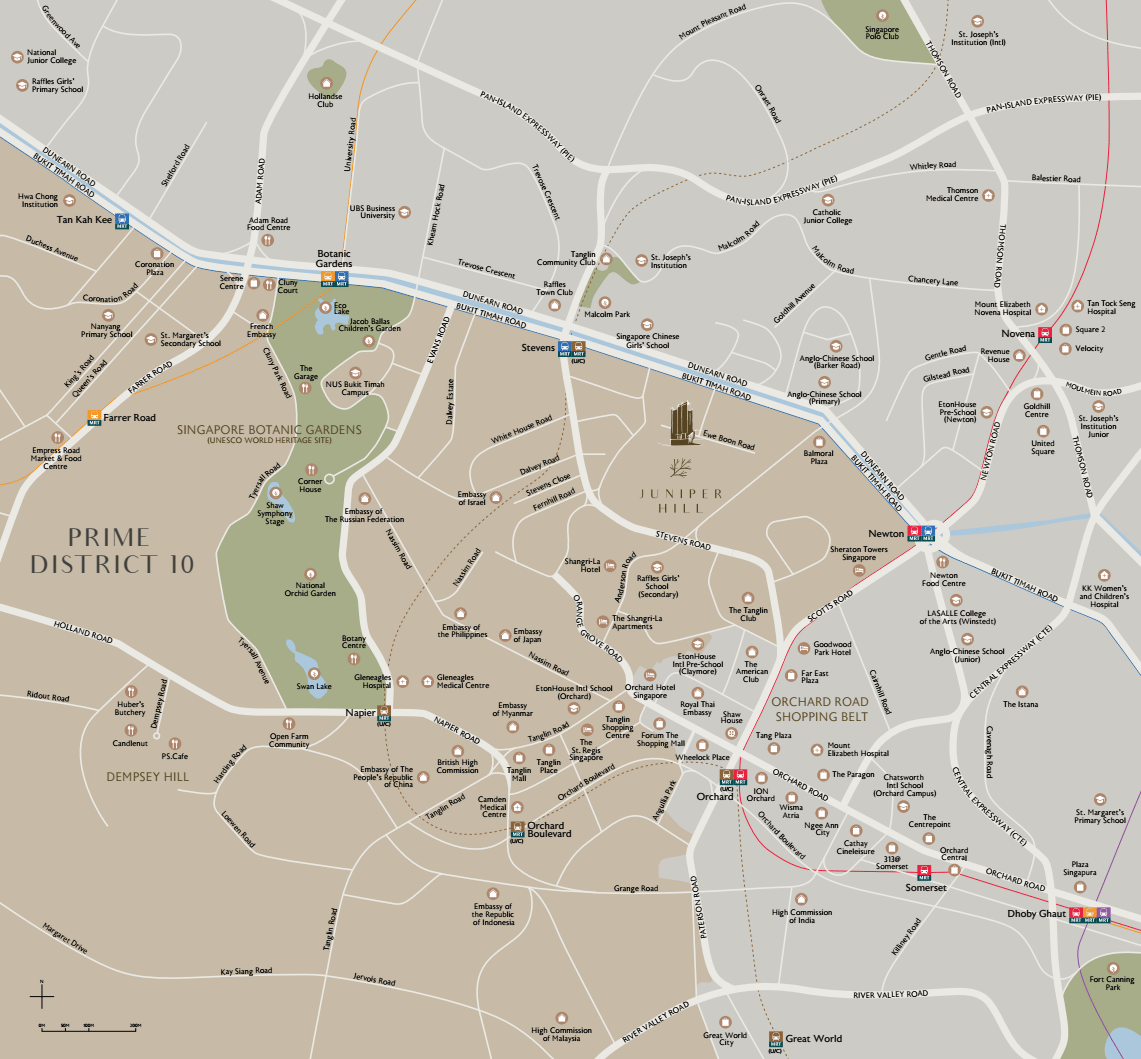 ---
REPUTABLE INSTITUTIONS
Some of Singapore's most reputable schools are within 1 kilometer of Juniper Hill, including Anglo-Chinese School (Barker Road), Singapore Chinese Girls' School, Raffles Girls' School, and St. Joseph's Institution.
---
BE IMMERSED IN NATURE
Just a stone's throw away from Juniper Hill is the country's first UNESCO World Heritage Site, the Singapore Botanic Gardens. This historic park in the heart of the city sprawls across 82 hectares of lush, open grounds, providing ample opportunities for all to spend time with nature.
---
CONNECTIVITY
Juniper Hill is within walking distance to Stevens MRT Station, part of the Downtown Line and a future interchange for the upcoming Thomson-East Coast Line in 2021. From there, it is a direct and easy connection to the Central Business District and Marina Bay Sands.
---
MINUTES TO ORCHARD ROAD
Juniper Hill is a 5-minute drive to Orchard Road, which will undergo rejuvenation as Singapore's premier lifestyle destination. When unveiled, the world-famous shopping belt will boast new lifestyle experiences beyond retail and F&B to include arts, cultural and entertainment events, as well as more green spaces.
---
EVERYDAY CONVENIENCES
Everyday conveniences can be found all around Juniper Hill. From casual eateries and the nearby Newton Food Centre to neighborhood bakeries, cafes, ice-cream parlors, and supermarkets, a host of nearby amenities make life here easy and welcoming.
---
A PERFECT WEEKEND
The leafy and tranquil Bukit Timah-Tanglin enclave is also home to some of Singapore's beloved and charming hangout spots. Bring the little ones for a fun day out, visit the art galleries at Dempsey Hill, or catch up with friends at the Singapore Botanic Gardens.
Do you want the best place to be your home? Nowhere rather than Juniper Hill New Condo at the junction of Awe Boon Rd and Bukit Timah Rd in District 10. It is the development that all of amenities and facilities packed in doorstep your condo.
Excellent Accessibility
Bukit Timah area is one of the best accommodation in Singapore that a ray of social utilities will be served Juniper Hill Residents as well as for the neighborhood area. Which site enable to linked the center of the city easily. Additionally, Juniper Hill nearby Newton MRT Station, Stevens MRT Station and the Orchard MRT Station. From the residents, it just a few minutes to access commercial hub, market, local buses.
---
Well-connect with Education Institutions
Educational for the children is one of main concern with the parent when they seek a new home. However, if you choose Juniper Hill, you don't need to worry about this problem because of surrounding the residence are top-quality schools that you definitely like.
The school is also just some minutes walking from the condo which ranges from primary, secondary to junior college. In need, the transportation cost will be reduced due to the short distance away.
---
Good-place to shopping & dining
If you are a shopaholic that Juniper hill exact is a place for you. Because the location is next to a large shopping mall. Various events will be organised in the area so that the place becomes exciting and noisy.
When you would like to go restaurant to dining with your friend or your family, there are plenty of sites around Bukit Timah you can visit. Furthermore, you don't need to go far to access your favorite cuisine. If you live in Juniper hill New Condo sure that you have memorable experience dining in a classy restaurant.