19 Nassim is situated at Nassim Hill nearby Napier Road and Holland Road, district 10. Live in the condo, the residents can enjoy various notable food centers, restaurants and shopping plazas along the Orchard Center. Perfect for expatriates who are looking for tranquility location, fresh air as well as full of amenities.
Sits right at the place called Retail Haven of Singapore. 19 Nassim D10 provides good amenities serviced for all kinds of people. From the condo, the residents easily connect with ION Orchard MRT, Napier MRT Station, Orchard Boulevard MRT in a short time. Some remarkable places for necessary needed everyone can find at Orchard Shopping Belt, Tanglin Mall, Camden Medical Center, Gleneagles Hospital.
The Nassim Location Map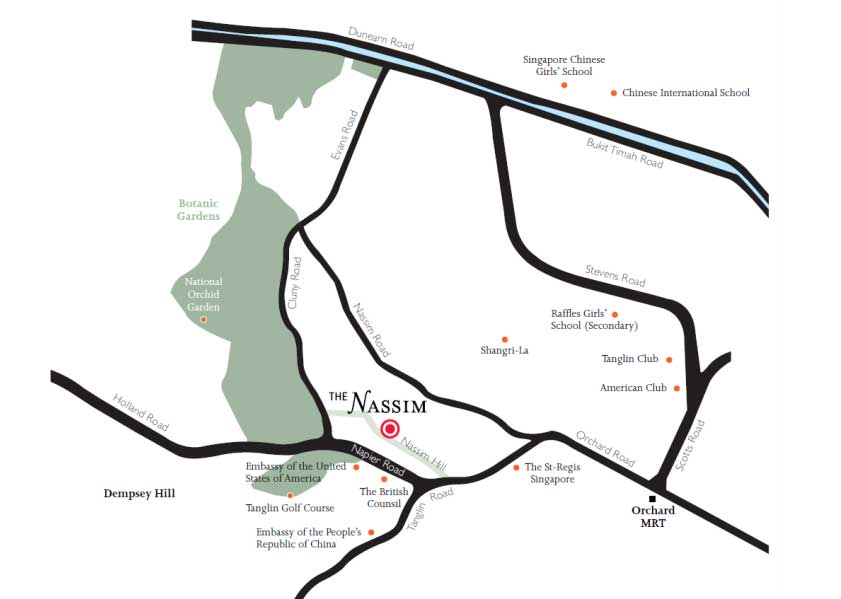 ---
A Piece of History
Singapore, early 20th century
Singapore, on the cusp of the twentieth century, was a cosmopolitan society seemingly on the edge of even greater things. Swept by a heady tide of prosperity. Malayan tin was booming. The rubber revolution brewing. And oil, who would have imagined, was a fairly fledgling commodity. For many of her leading citizens then, whether he be a member of the colonial administration, a man of commerce, a professional held in high regard, or the notso-modest tuan besars (lit. "Big Lords"), the Black & White house represented the beau-ideal of a gentle man's docile in Singapore.
---
The Road To An Ideal Home
At the turn of the twentieth century, the colonial administration commissioned a small selection of Black & White houses along Nassim Road. These houses, intended for colonial administrators of the highest ranks, would set the precedence for the residential architecture of the island's wealthy elite.

---
Both Sides Of Paradise
More than a century later, Nassim Hill remains undoubtedly the most sought-residential address in Singapore. Nestled within a lush tropical enclave, the whispers of Traveller's palm and the scent of morning dew would have anyone forget the conveniences of a city life (along Orchard Road) are but a pleasant stroll always.
---
Prime Location
Located at the beginning of Tanglin Road and Orchard Road, Nassim Hill is just a turn of corner from the famous shopping belt of Singapore.

---