New condo launches: Blossoms By The Park (Parcel A) was awarded to EL Development for $320.1 million
.
El Development submitted the highest bid for the new launch condo - Blossoms By The Park (Parcel A) at $320.1 million or $1,246 per square foot per lot (psf ppr). Spanning 7,957.3 m2, the 99-year leased land has a maximum gross floor area (GFA) of 23,872 m2. It is expected to provide 265 housing units with a retail size of 800 m2 at GFA.
The Urban Redevelopment Authority (URA) has announced that the tender for the new launch condo at Slim Barracks Rise has been awarded to EL Development and Gao Xiuhua, after they submitted the highest bids. for locations.
EL Development Pte Ltd is a real estate development and investment company based in Singapore. This new launch condo was originally a small business unit belonging to one of Singapore's leading builders, Evan Lim & Co. Pte Ltd and was incorporated as a separate company in 2007. Since then, the company has undertaken various real estate development and redevelopment projects ranging from private land sales and sites. government land sale website.
If you are interested in this new launch condo, discover more about Blossoms By The Park's project details here to be among the first to know about exclusive project news and information!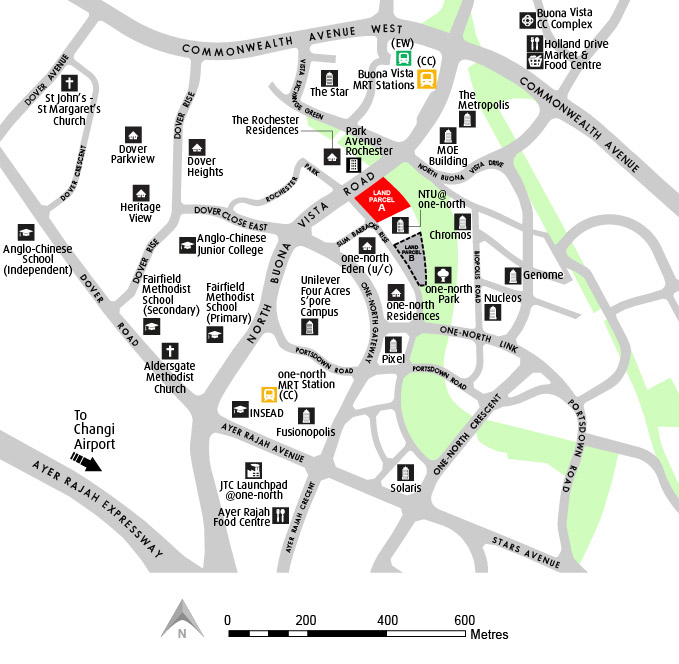 New launch condo: Blossoms By The Park location map
New launch condo: Blossoms By The Park with its strategic location and convenient connections
This new launch condo, Blossoms By The Park and retail area is nestled to the north, at the corner of North Buona Vista and Slim Barracks Rise. This is one of the best locations among residential areas here, about 260 meters or 4 minutes walk from Buona Vista MRT Interchange. It is also within walking distance of One-North subway station on the Circle Line.
This is quite a pleasant environment and is located right next to the greenery of One North Park at its back. (Hence the name.) The park is quite large, 16 hectares wide, including 13 parcels of land running along the length of one-North.
However, Blossoms at one-North is not far from downtown. This is an RCR (Rest of Central Area) location, a 15-minute drive from Orchard Road and the central financial district. The commercial space on the ground floor of the project will provide dining and retail options for residents. This commercial space will also enhance the overall value of the project, as such retail space often costs more than the premises.
In addition, Gao Xiu Hua, who is said to be the wife of the Chairman of Kingsford Development, made the highest bid of 162.4 million USD or 1,210 USD/m2 for Land B. The 5,936.6 square meter plot of land included. with a maximum GFA of 12,467 square meters and a lease term of 99 years. It is expected to bring 140 private houses with retail size of 400 m2 at GFA.
The new launch condo is being developed by EL Development Pte Ltd. Acquired the land in a GLS (government sale of land) that attracted 10 bids by closing the bid on September 28, 2021.
For more latest news on New Launch Condo and don't forget to follow our website and get the chance to live in these amazing luxury residences!