New condo projects: Reasons to invest in Sky Eden @ Bedok (Former Bedok Point)
.
New condo projects in Singapore in the past five years have received great attention from investors as well as home buyers. We can see the change from building styles and more diverse construction themes. One of them is the rebuilding from the old Bedok Point project into a new residential-commercial area - Sky Eden @ Bedok located on New Upper Changi Road, District 16 of Singapore. Specifically, it will be redeveloped into a residential project with commercial spaces on the ground floor. Tucked away in Bedok Town Centre, this upcoming project will be just a few minutes' walk from Bedok Metro Station and Bus Station. With Bedok Shopping Center directly above the integrated transport hub and Heartbeat @ Bedok nearby, future residents can enjoy the rich cultural history of the neighborhood and easy access to amenities modern.
If you are interested in this new condo project, discover more about Sky Eden @ Bedok Details here to be among the first to know about exclusive project news and information!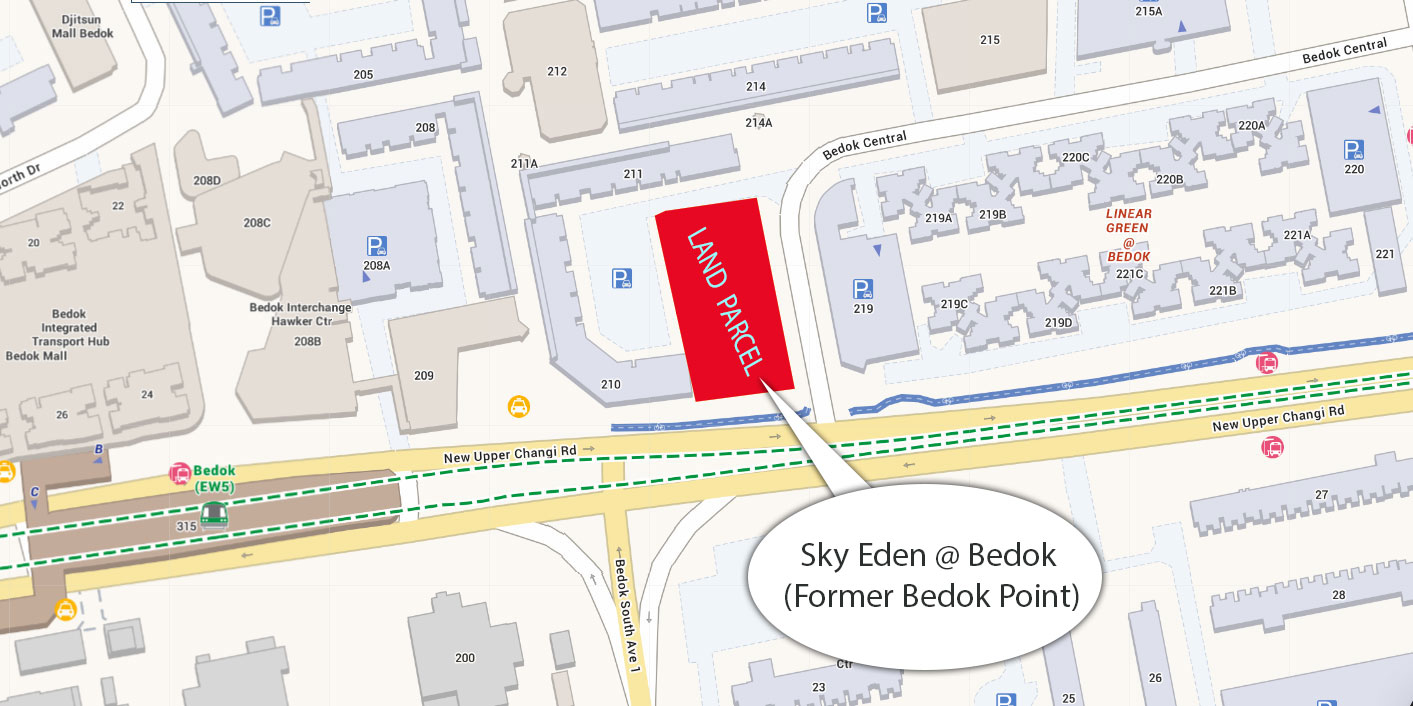 New condo projects: Reasons to invest in Sky Eden @ Bedok (Former Bedok Point)
Sky Eden - Enjoy the unparalleled one-stop convenience of one of the hot new condo projects
As new condo projects with an impressive location, Sky Eden @ Bedok is located inside Bedok Town Centre, just a few minutes' walk from Bedok MRT Station and Bus Station. Future residents will be able to experience the neighborhood's rich cultural past and enjoy easy access to modern amenities with Bedok Shopping Center directly above the integrated transit hub and Heartbeat @ Bedok near there.
One of the attractions of new condo projects is the convenient connection, when your accommodation is located right next to the traffic center, going to Sky Eden is just a snap. The unparalleled ease of having an efficient network of buses, taxis, and East-West metro lines is appreciated by residents. Sky Eden is a 15-minute drive from Singapore's Central Business District and is easily accessible via the Pan Island Expressway and East Coast Park Road. Restaurants, banks, supermarkets, sports stadiums, kindergartens and libraries (Heartbeat @ Bedok) are just a few of the important facilities. Nature enthusiasts will enjoy the recreation areas at the East Coast and Bedok Reservoir, while frequent travelers will appreciate Changi Airport and Jewel Changi Airport, all just three train stops away.
Residents of Eden @ Bedok can get all their basic needs under just a few levels. You won't have to drive far from home to replenish food, buy toys for your child, update your clothes or buy gadgets because there are so many great shopping establishments nearby. With shopping malls and retail centers around such as Bedok Mall, Djitsun Mall Bedok, Bedok Sheng Siong, Bedok Shopping Complex, Bedok Town Center and East Village just a short walk away, you'll be spoiled for choice. . There are many options, each containing different things under one roof, meaning that a great shopping experience awaits you right in your neighbourhood.
In addition, retail centers provide important services such as banking and are excellent entertainment and dining venues. These include popular cafes, fast food restaurants and restaurants offering local and foreign cuisines in a quiet setting. Fengshan Primary School, Red Swastika School Opera Estate School, Ping Wei High School, Anglican High School and Temasek College are among the educational institutions in the vicinity.
Pay attention to receive latest news on newly launched real estate, don't forget to follow our website to discover more exciting information waiting for you!