New launch condo: Discover the convenient connection of Atlassia right away along Joo Chiat Place
.
The much-anticipated new launch condo in 2022, Atlassia is a newly launched apartment complex at Joo Chiat Place in District 15. It will consist of a row of nine rare conservation townhouses and a five-story block . There will be a total of 31 residential units and 8 commercial units on the first floor. A project of preserved townhouses in the original 1930s art deco style, this project is located in predominantly low-rise grounds in the world's glamorous Joo Chiat Estate. old, Singapore's first Heritage Town. In the conservation area, it is surrounded by many preserved shops. Joo Chiat is a venue that exudes laid-back charm while showcasing the 'modern kampung' lifestyle, which is especially precious in this fast-paced era. Especially, it is located in a quiet area of ​​Joo Chiat.
With attractive value for long-term investment, this is a new launch condo that you should not miss. Want to know more interesting details of this project, check out all the latest information about Atlassia here!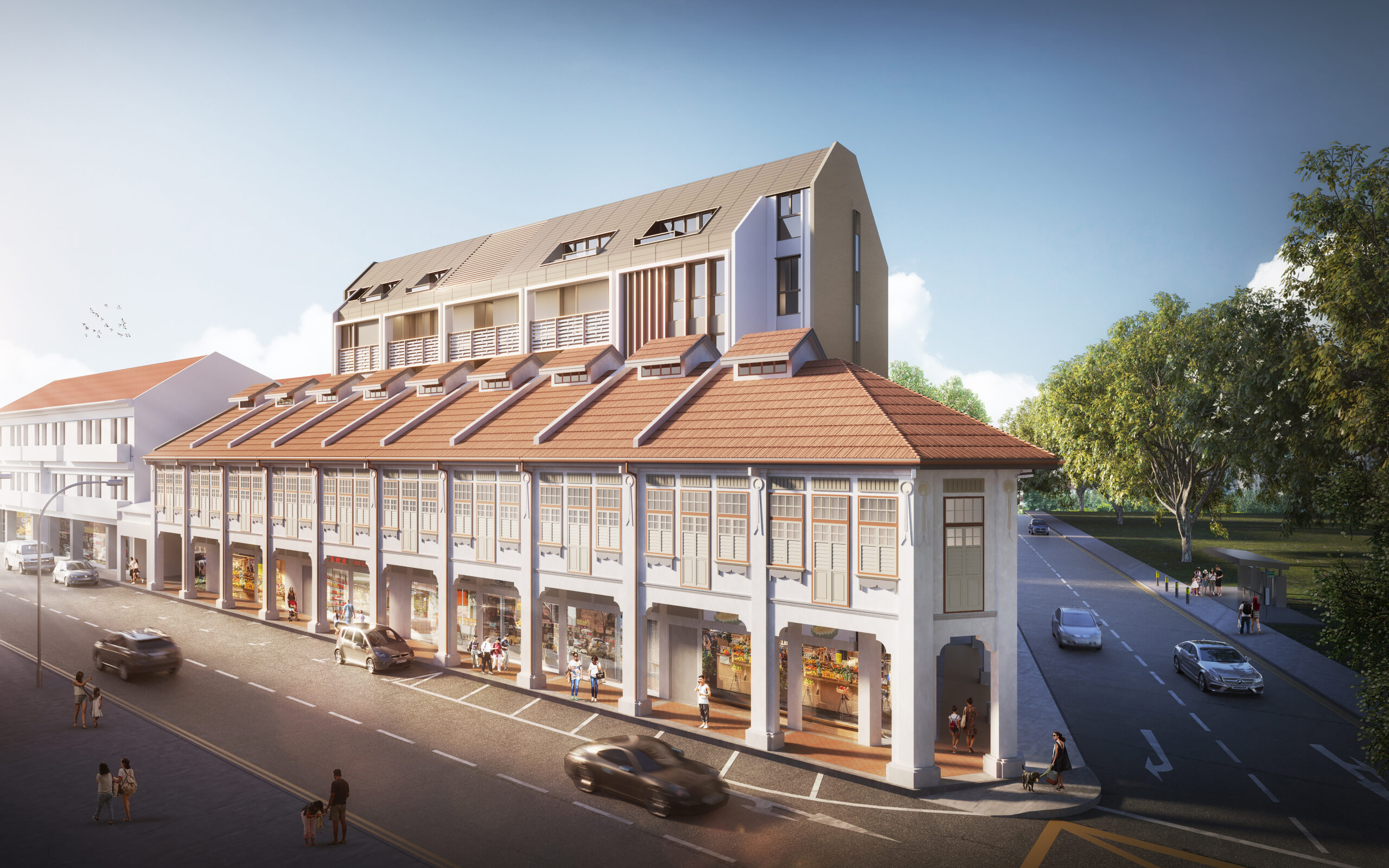 New launch condo: Atlassia Condo with shophouse design combining classic and modern (Perspective image of the project).
New launch condo - Atlassia Condo owns a location with convenient connections, especially shopping needs just a few steps away.
Located in District 15, Atlassia Condo is in the heart of a potential growth District that is quickly becoming one of Singapore's top districts, along with Districts 9, 10 and 11. But District 15 also has the power special appeal and relaxed appeal, will give you a chance to escape from the hectic work life. District 15 also has a rich cultural heritage. Enjoy shopping at Atlassia with Katong, Katong V, i12 Katong, PLQ Mall, KINEX and Parkway Parade Shopping Malls nearby. This project is the redevelopment of a row of old townhouses. There will be commercial space including 8 boutiques and restaurants, on your doorstep. If it still doesn't satisfy your craving, you can find dozens of gorgeous restaurants tucked away in refurbished shops. The bustling street life and culinary scene will leave you satisfied and full.
For public or private transport, Atlassia Residences will offer residents unmatched convenience, as it is strategically connected to major highways such as the East-Coast Parkway Expressway. (ECP), Kallang-Paya Lebar Expressway (KPE) and also Pan-Island Expressway (PIE). Atlassia is a short 10-minute drive from the Central Business District (CBD) and a 14-minute drive from Changi Airport. For those using public transport, it's a short 8-minute walk to Eunos Subway Station, which is a transit station. Eunos is just one stop from Paya Lebar metro station, where residents can transfer to the Circle line and reach the city center in less than 20 minutes.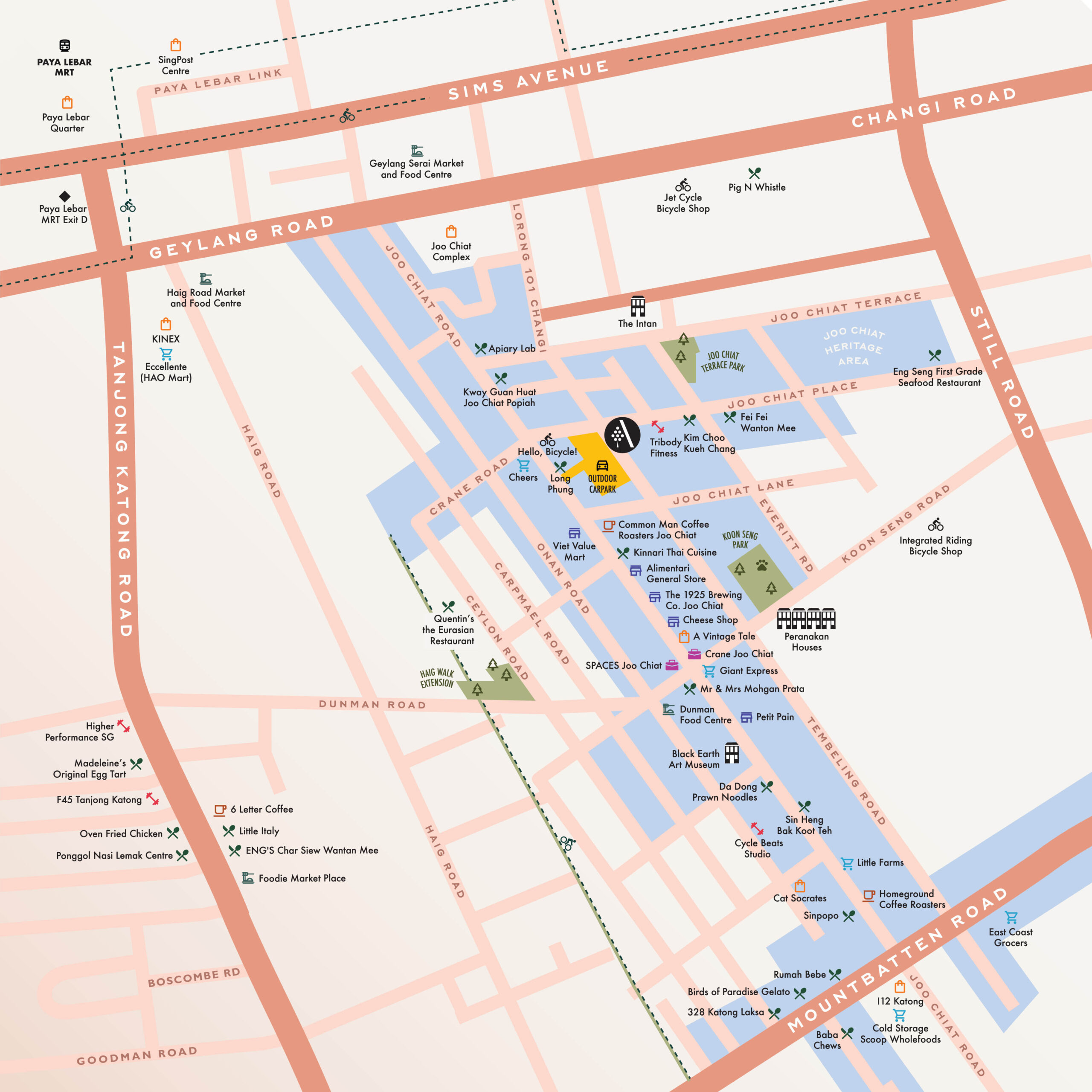 New launch condo: Atlassian Condo - Neighborhood Map (miniature map image - approximate distance).
Get more latest news about new launch properties for sale and don't forget to follow our website and get your chance to live in these amazing residences filled with luxury!