New Launches News: CDL puts in top bid for Champions Way GLS site at $904 psf ppr
.
Singapore New Launches - Two government land sale (GLS) sites at Lentor Central and Champions Way closed their tenders on Sept 12. The Champions Way site, which can accommodate 350 units, received six bids. The highest bid of $294.889 million or $904 psf per plot ratio (psf ppr) came from City Developments Limited (CDL), which was 8.3% more than the second-highest bid from TID, a joint venture between the Hong Leong Group and Mitsui Fudosan.
This New Launch Condominium site is the first non-executive condominium (EC) GLS tender in Woodlands since 2011, when Parc Rosewood, a 689-unit project, was sold for $367 psf ppr. CDL said the site will replenish its landbank and create a new icon in Woodlands, which is undergoing rejuvenation plans. The site attracted more interest from developers than the Lentor Central site, which only had two bids. However, the bids for the Champions Way site varied widely, with CDL's bid being 45% higher than the lowest bid from Innova Investments Limited. This may indicate the different risk assessments of the developers for the area.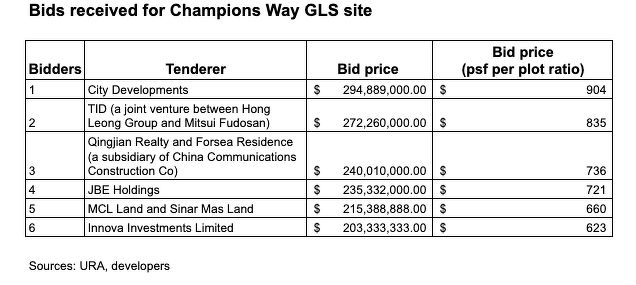 CDL says the site will replenish its landbank, ensuring a stable launch pipeline. "It has been over a decade since a private residential project was launched in Woodlands, so this is a rare opportunity to create a vibrant and sustainable icon alongside the government's rejuvenation plans," remarks Sherman Kwek, CDL group CEO.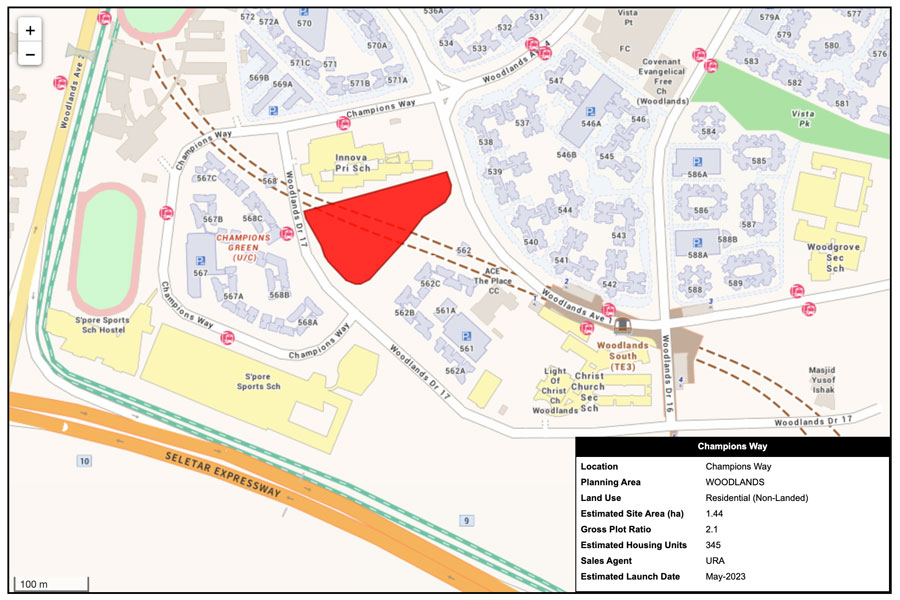 New Launch Condos in 2023 are expected to offer a variety of options for home buyers and investors, ranging from freehold to leasehold, from core central to outside central, and from affordable to luxurious. Checking out New Launch Condos here!
Nonetheless, she points out the large disparity between the top bid and the lowest bid received for Champions Way, with CDL's bid 45% higher than Innova Investments Limited's $203.33 million ($623 psf ppr). "In particular, we note that several of the bids are on the low side at below $750 psf ppr – which may indicate developers' assessment of risks in the locale," she observes.
The New Property Launch will benefit from the growth of the Woodlands Regional Centre, the demand from Woodlands residents, and the proximity to the Woodlands South MRT Station on the Cross Island Line. The future project at the site could sell for above $1,900 psf, setting a new price record for new launches in Woodlands.
Adapt from EdgeProp
For more latest news on New Condo Launches and don't forget to follow our website and get the chance to live in these amazing luxury residences!