Perfect Ten - new launch condo by CK Asset Holdings sold 12 units on launch day
.
Perfect Ten - a new launch condo developed by real estate group CK Asset Holdings, one of the leading companies has launched for sale despite Property cooling measures taking effect in December. This new launch condo sold 12 units, of which 8 two-bedroom and four three-bedroom units were sold. Most homebuyers are Singaporeans. The current average price of the project is estimated at around $3,200 psf.
The developer of this new launch condo - CK Asset Holdings announced that they will be rolling out a 5% "one-time discount" program for weekend buyers. According to Mr. Francis Wong, Director of Real Estate Business Development (Singapore), a member of CK Asset Holdings, this can create favorable conditions in making buyer decisions in view of the new cooling measures. According to the latest developer report, after a 5% discount on select units, 2nd floor (lower floor) apartments have dropped by around $200, from $3,200 psf to $3,040 psf, in then, and starting prices for a 19th-floor (high-rise) unit start at $3,437 psf, instead of $3,618 psf before measures are in place.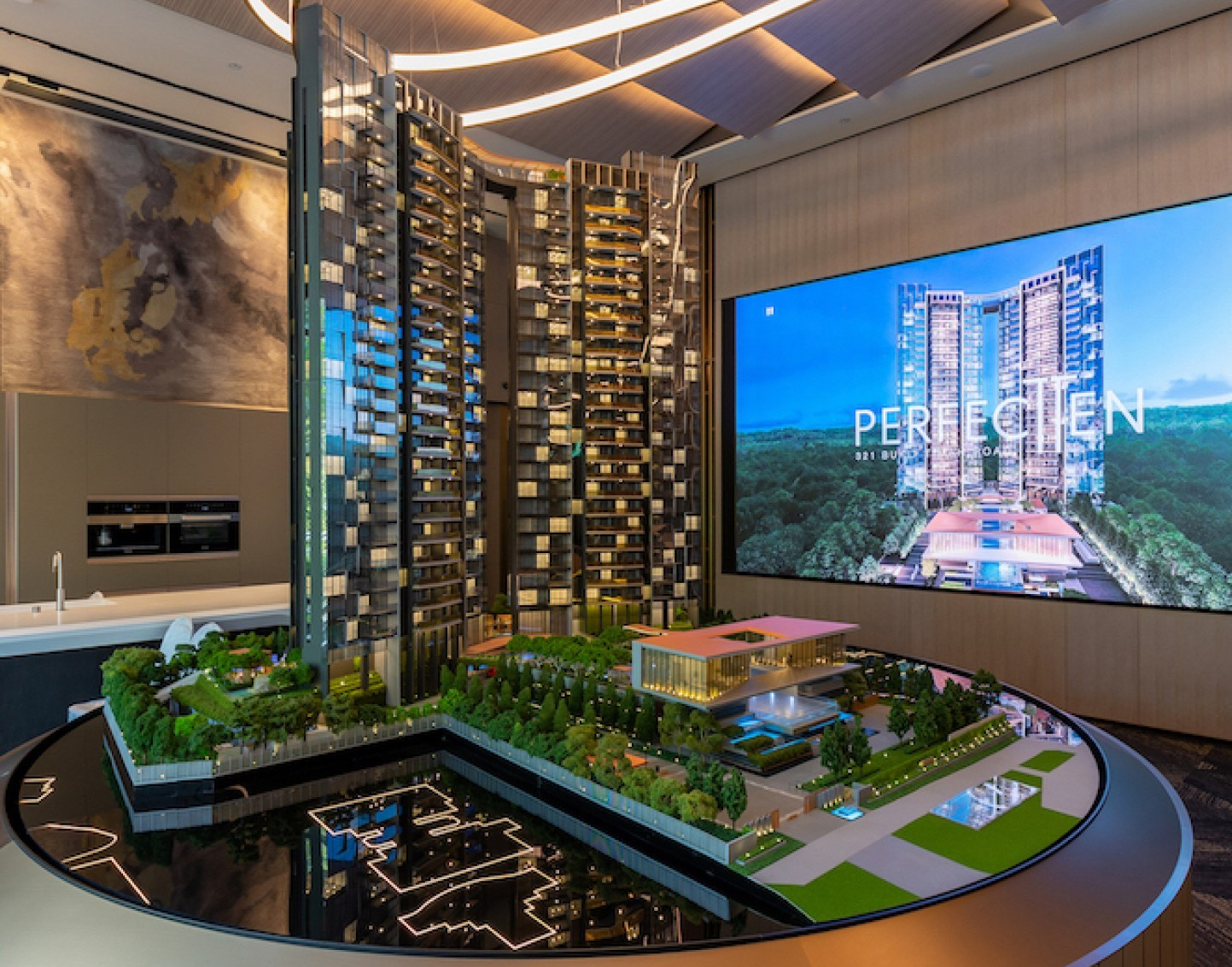 New launch condo at Bukit Timah - Perfect Ten Sales Gallery
Perfect Ten is a new launch condo located in Singapore's Bukit Timah luxury residential area in District 10, offering a total of 230 residential units with a mix of 2 and 3 bedroom apartments. The project's 2-bedroom apartments range in size from 753 sqft to 797 sqft, while the 3-bedroom units range in size from 1227 sqft to 1281 sqft. According to Mark Yip, CEO of Huttons Asia, the Perfect Ten is still setting a benchmark price above $3,000 psf in the Bukit Timah region even with a lower initial launch price.
This is a very commendable sale on launch day when the cooling measures were just put in place about 4 days ago. According to Mr. Yip, most residential projects have been pushed back after draconian property cooling measures but Perfect Ten has not. Thanks to the developer's good reputation, the number of buyers continues to grow. In general, this is a good sales result. Currently, Perfect Ten is cooperating with 4 general marketing agents to be appointed for the project, which are ERA, Huttons, OrangeTee & Tie and PropNex.
Opinions and assessments of experts about the new launch condo sales - Perfect Ten
According to Dominic Lee, PropNex luxury team leader, Perfect Ten sales were within his predictions. This is one of the projects launched in the most high-end segment in the market. Mr. Lee said Perfect Ten includes two private elevators serving each of the 88 three-bedroom apartments, the master bathroom will come with a fridge for women's cosmetics and music streamed via Bluetooth. This is something that has never been offered in other condominium projects. With the convenience of the project when future residents no longer have to wait for the elevator with 2 private elevators, it is a huge benefit. This new launch condo overlooks Bukit Timah and the city area. With the architecture that will become iconic, future residents will feel great driving along Bukit Timah in the future.
The Perfect Ten's lower sales are just a common "sensational reaction" to real estate cooling measures, according to real estate consultants and agents. Lee said that the number of unsold houses in inventory is very low at about 15,000 units. Nicholas Mak, lead researcher at ERA Realty, agrees. Homebuyers may be sitting on the sidelines assessing the situation. That's just a pause, according to Mak, even first-time buyers need to talk to their banker to see how the Total Debt Ratio (TDSR) will affect their loans. TDSR has been tightened from 60% to 55%. ERA's Mak adds that there is still good demand for luxury properties, especially since they are well located, beautifully designed and come with the latest features.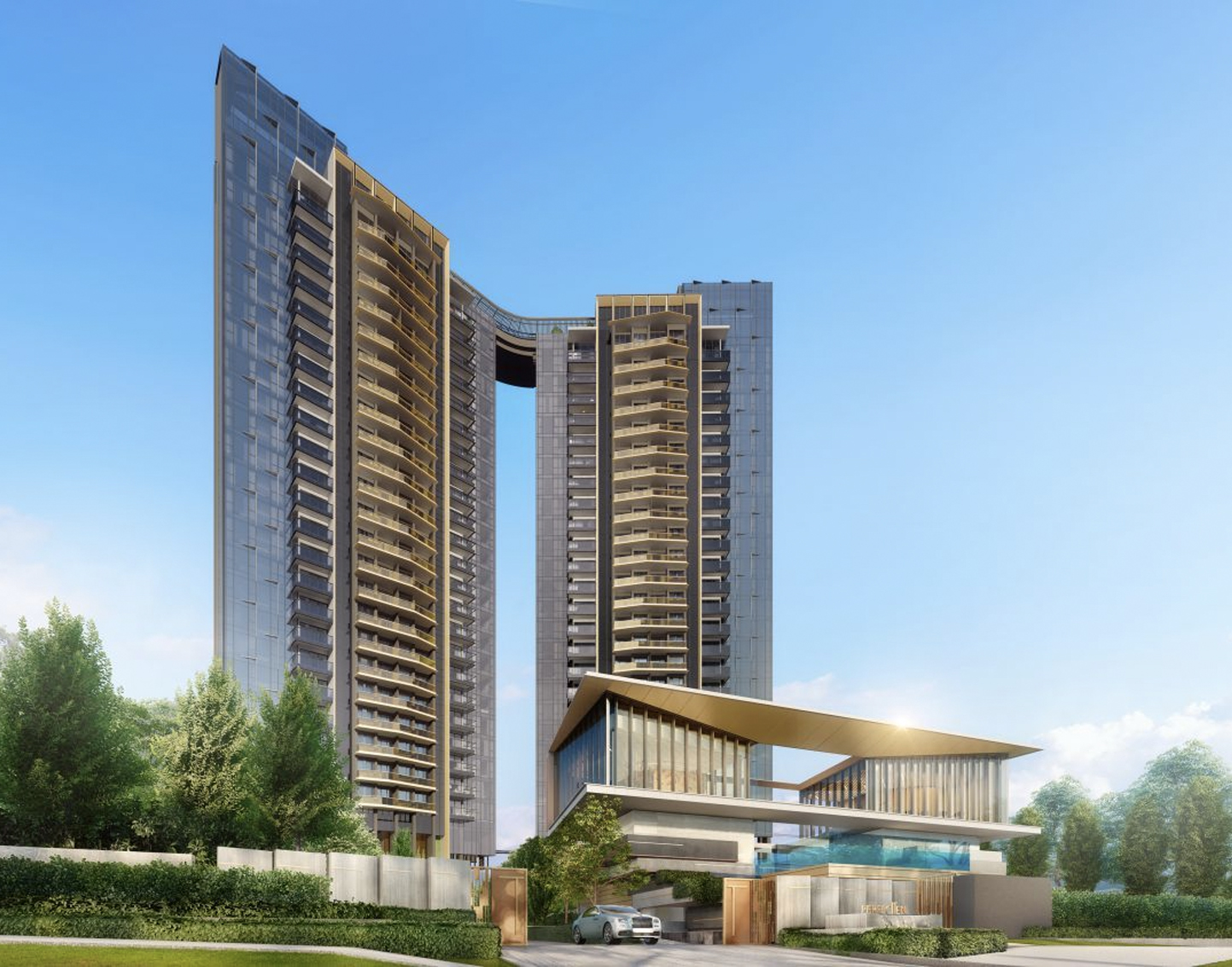 Perfect Ten - new launch condo by CK Asset Holdings sold 12 units on launch day
For more latest news about new launch condo developments, don't forget to follow our website and sign up with your details below avail of great discount deals when you buy your very own unit!