Review of Amber Sea: Expected New Private Home In East Coast
.
Be one of expected new private home in East Coast, Amber Sea (formerly Amber Glades site) is a new freehold condominium being developed by a subsidiary of Far East. This project is developed on a 40,917 square foot (sq ft) site with a total potential floor area of 114,568 square feet. The project's redevelopment is expected to be completed in 2023, with a single 22-storey block comprising 132 one- to four-bedroom units (410-1626 sqft), villas duplex (2,638 sq ft) and penthouse with a private parking (4,050 sq ft).
If you are interested in new private homes in the D15 - East Coast / Marine Parade area, take a look at the new projects here, maybe you will find the right apartment for your needs.
Amber Park is an impressively connected new launch condo just 8 minutes from East Coast Park, 11 minutes to Downtown and 14 minutes to Changi Airport via major highways East Coast Parkway, Kallang-Paya Lebar Expressway and Pan Island Expressway. Future residents will enjoy absolute connectivity via numerous buses to all other points of the island. Especially the launch of an MRT under construction - Tanjong Katong MRT station, and it is only 7 minutes walk from Amber Sea. The station is expected to be completed in 2024 and is part of the Thomson East Coast Line (TEL).
Positive environment and good learning conditions are always the concern of many parents. Amber Sea is also surrounded by elite schools such as Tanjong Katong Primary School, Tanjong Katong Girls' School (820m), Tanjong Katong High School (850m), Chung Cheng High School (main) (1.1km) , Tao Nan School (1.3km) and Dunman High School (1.9km).
Comparison Amber Sea - new private home with others in the same area
Previously, the Far East Organization acquired the Amber Sea site through a semi-collective bid. They paid S$118.12 million for this 40,917 sq ft free-standing parcel, with a potential GFA (Gross Floor Area) of 114,568 sq ft. Thus, including the S$4 million development fee, the land cost would amount to $1,066 per square foot per lot (PSF PPR).
Reportedly, the nearby Amber Park is being sold for around SGD$2,500 PSF, with the Meyer Mansion at around $2.6xx PSF, it's possible that Amber Sea's price at its VIP Preview could be around the same.

The comparison between Amber Sea - new private home with Nyon and Coastline Residences. Source: Internet.
Recently, Amber Sea has also provided prices for each type of apartment. One-Bedroom units (398-409sf) start at $1,100,000 / $2,700 psf. With 2 Bedroom 603-624sf priced from $1,600,000 / $2,550 psf and 2 Bedroom Premium 614-840sf priced from $1,700,000 / $2,600 psf. Finally, there is the 3 Bedroom unit, the largest area 1109-1216sf priced from $2,900,000 / $2,600 psf and the 4 Bedroom & Penthouse unit prices are yet to be announced.
In addition, a number of others new private home in the vicinity including Nyon and Coastline Residences are attractively priced, both freehold project due to be completed in 2022. The median price here is $2,455 psf and $2,475 psf, respectively.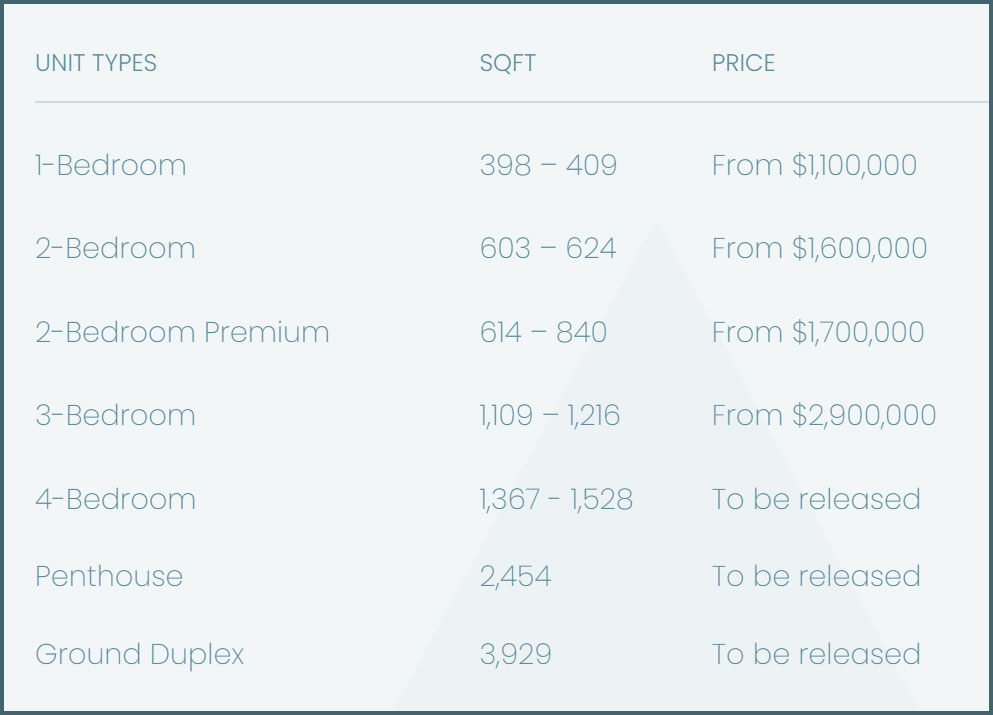 The indicative guide prices for Amber sea units (prices are still being updated). Source: Internet.
Far East Organization understands the District 15 market very well. It has not only developed a number of surrounding condominiums such as Silversea, The Seawind, The Cape, and The Shore Residences, but even hotel projects such as Village Hotel Katong.
We are always up to date with the latest news on the real estate market in Singapore, if you want more news, please check out the new articles here!