North Gaia - Creating a good life inside
North Gaia is an upcoming project located at the Yishun Avenue site. The project will likely attract many buyers, especially HDB upgraders who are looking to convert from public housing to private residential real estate. Given the scarcity of new EC supply in the area, this upcoming 99-year rental should have good sales potential. It is known that this project is designed to bring you a space close to nature, each apartment is equipped with high-class furniture and equipment from reputable manufacturers.
North Gaia EC allows you to enjoy modernity combined with landscape elements close to nature, so that you can relax your mind and body in the most optimal way. Future residents will enjoy the unique and poetic hilltop landscape with sweeping views of the surrounding surroundings, and the architectural style brings modern life into this lush green forest setting. Designed with family in mind, this new apartment is built with elevated living space and open terrace ideal for recreational activities and community gatherings. The living and dining areas open onto the pool with sliding doors from maximum height, allowing activities to spill out into the large outdoor space.
North Gaia Condo with spaciousness comes with the lush green landscape. Your first encounter with the living space will remind you of a modern residential area with a higher-than-usual commitment to urban luxury living. Return home to nature and leave the stress of the day behind. The design of the entrance is reminiscent of a resort, with elements of nature and greenery. A wide range of thoughtfully curated facilities not only allow you to regenerate, rejuvenate and regain your sanity, but also create special moments for you.
North Gaia with its elegant interior is an unforgettable highlight. Take a look at Typical Unit Layouts and choose for yourself the most suitable house!
North Gaia Site Plan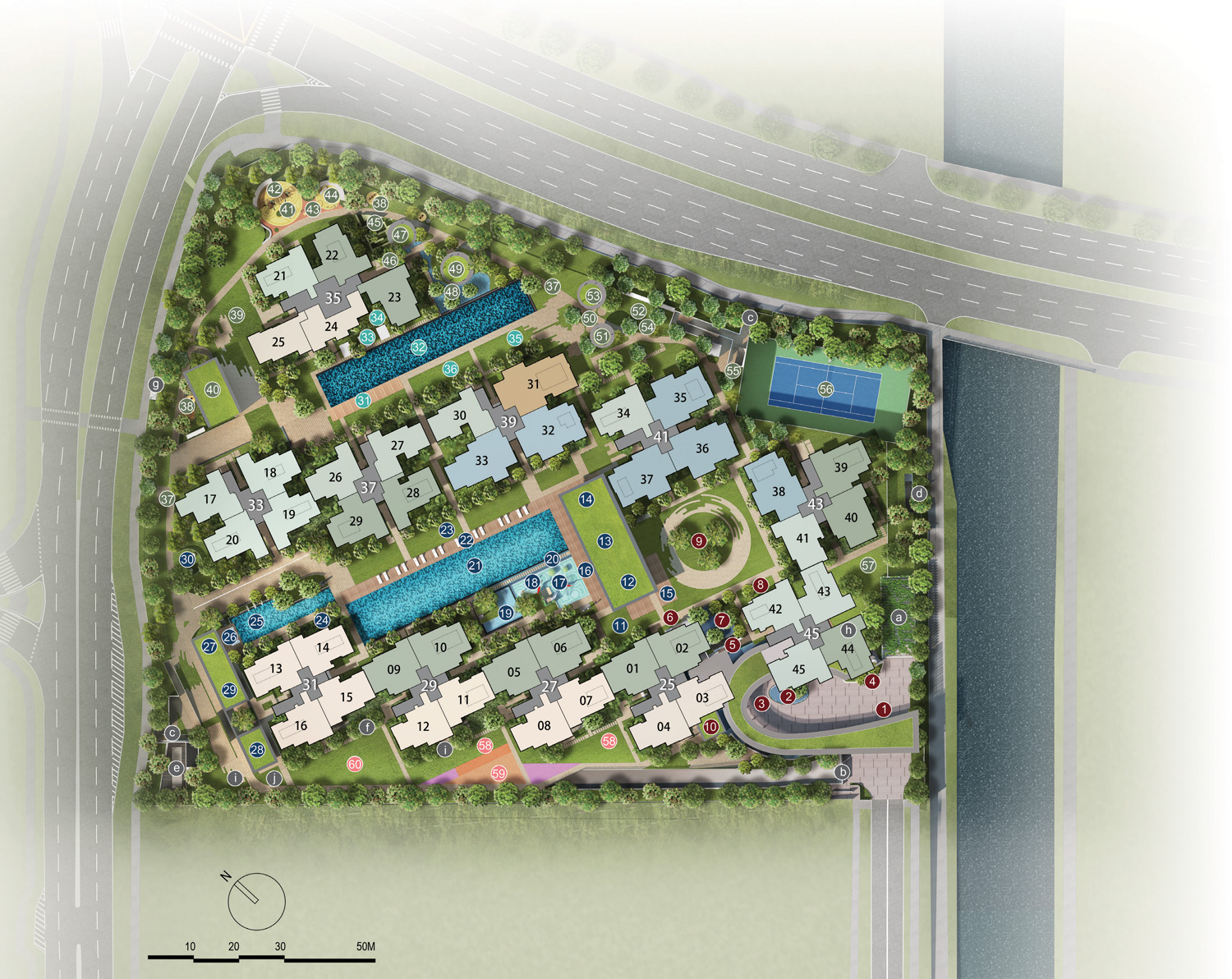 ---
A harmonious union of productivity and comfort
Work, study, play - there's a spot for everyone, whatever you're up to. With state-of-the-art facilities for work, entertainment, and more, you're never too far away from productivity.
Two 50m pools for workouts and leisure
Fitness begins at home
Be spoilt for choice with a myriad of amenities all around you. Play host to family and friends, work up a sweat, or just kick back, and enjoy the beauty around you. You deserve it.
For all the catch-ups and heart-to-hearts
Escape to serene spots of tranquility for those treasured moments with friends and family - take a breather and watch the world go by at your own pace
A private verdant sanctuary of your own
Intimate trails of light, sound, and wonder unite in the Firefly Garden, creating an community teeming with life. Explore nature at a pace of your own with footpaths and jogging trails bringing you closer to Mother Earth.
---
Smart Home: The unit will be supplied and installed with the following items ("SMART Home System"): a) Smart Home Gateway, b) Smart Voice Assistance, c) Air-Conditioning Control System. The make, model, brand, design and technology of the SMART Home System to be supplied and installed in the actual unit may differ from the above illustration and are subject to change. Terms and conditions apply. Buyers shall liaise with the smart home vendor instead of the developer to make all arrangements for the set up and configuration of, and for any queries, defects, maintenance and/or upgrade issues with the SMART Home System at buyers' own costs. Items/devices which are not listed above are not included in SMART Home System and may be purchased from the smart home vendor directly and installed at buyers' own costs after the handover of the unit.