Take a deep breath and feel a new energy at RV Altitude. With a total of about 29 unique facilities, the upcoming condo will be an unparalleled destination for the discerning home buyers.
Indulge your body at Swimming Pool, Buble Pool or Heated Pool. Lay down on the Pool Deck and relax both your body, mind and soul, make an exciting exercise in Aqua Gym with dumb-bell, ball, etc. RV Altitude condo meets your every need with beautiful facilities that will inspire you to be all that you can be. And Floor Plans is unbelievable for you, what are you waiting for? Get In Touch With Us, now!
RV Altitude's Site Plan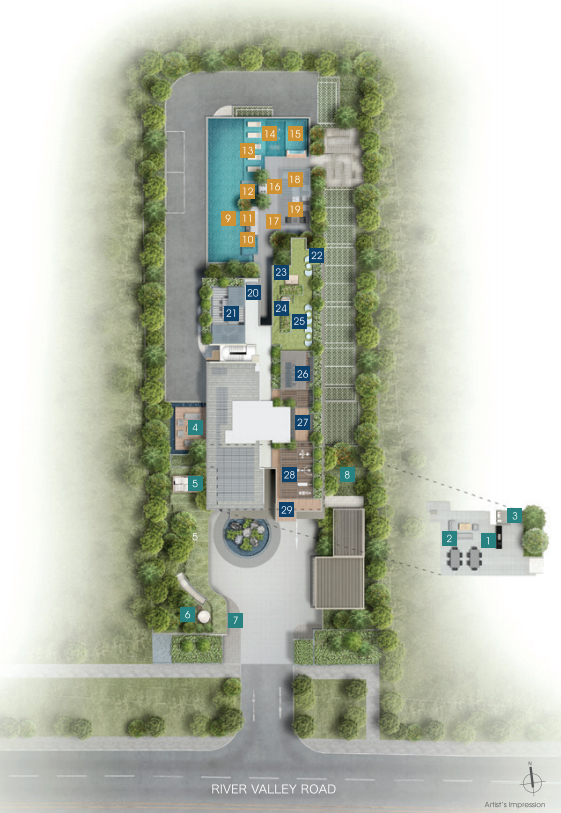 ---
A bespoke collection, uniquely curated to bring the world to you
Soaring 21 storeys high. RV Altitude contributes its beauty to the city skyline. A home that feels exclusively shaped for the crème de la crème, offering boundless magnificent views and a cluster of conveniences right at the heart of the city.
---
Be pampered by the private spaces where you can entertain your Love ones and friends on all occasions. Every space is carefully designed to meet your expectations.
---
The retreat deck: heated pool, aqua gym, swimming pool, pool lounge, dipping pool
---
Enjoy fresher air at the peak of RV Altitude amidst the thematic ambience of alpine. Be mesmerized by the magnificent views of the sunset against the picture-perfect city skyline.
---
A Home Uniquely Shaped Beyond Dimensions To Suit You
A uniquely curated collection to match your unparalleled lifestyle. An exclusive abode overlooking world-class neighbourliness. Live a life of ultimate luxury. You deserve it all.
---
A testing place could also be one that provides peace of mind where you can neatly store all your favourites in good storage spaces or wardrobes that blend beautifully into your elegance living spaces.
---