Sophia Regency Residences - Live in Splendour
Sophia Regency offers 38 exclusive units with 1-bedroom, 2-bedroom, and dual-key units across five levels. We put a lot of thought into space and materials to create the Sophia Regency project. It is a living work of art with quality appliances from top brands such as Miele and Blanco for the kitchen, Hansgrohe and Toto for the sanitary ware. Each unit also comes with smart home features that put convenience and security in your hands.
Sophia Regency is developed by reputable developers, take a look at developer to get more information.
BOOK FOR AN EXCLUSIVE
ACTUAL SHOW SUITES OF SOPHIA REGENCY VIEWING NOW
Sophia Regency Schematic Diagram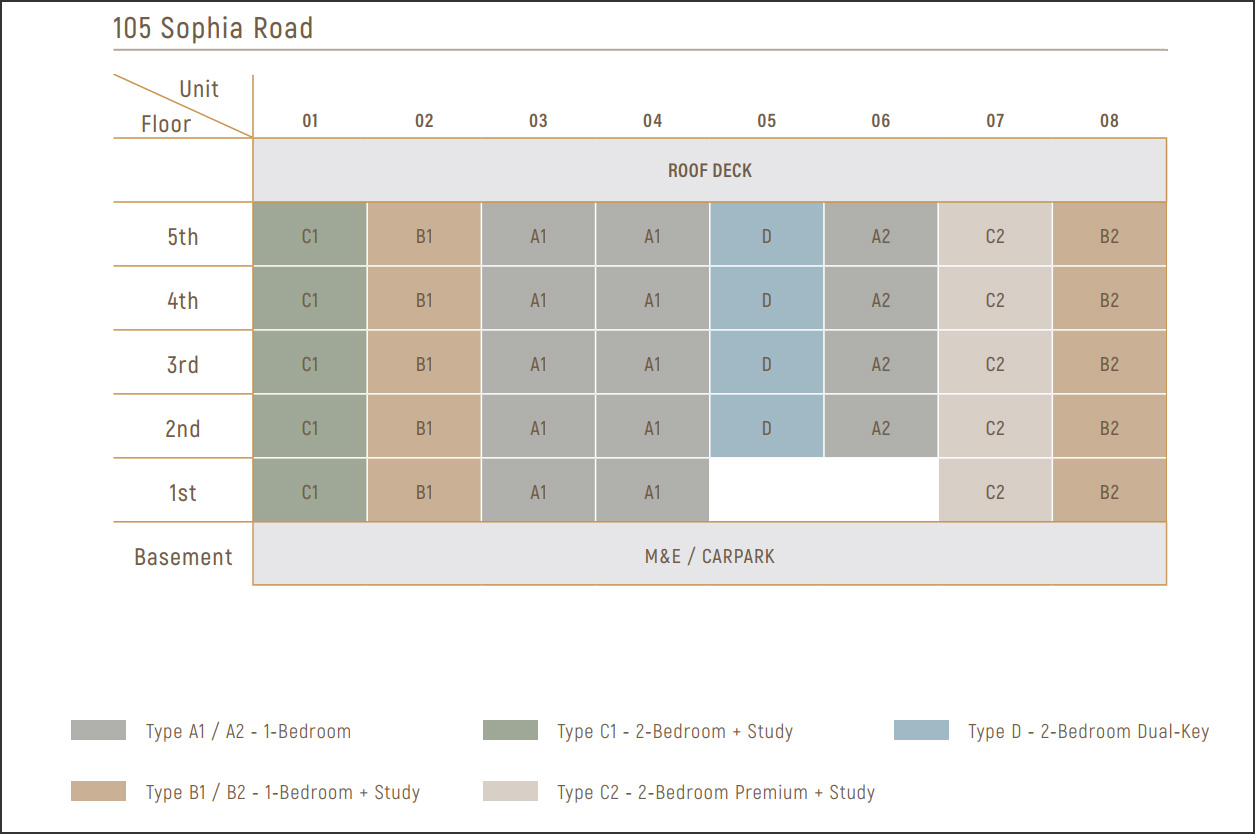 ---
Sophia Regency Floor Plans
1-Bedroom
---
1-Bedroom + Study
---
---
2-Bedroom Dual-Key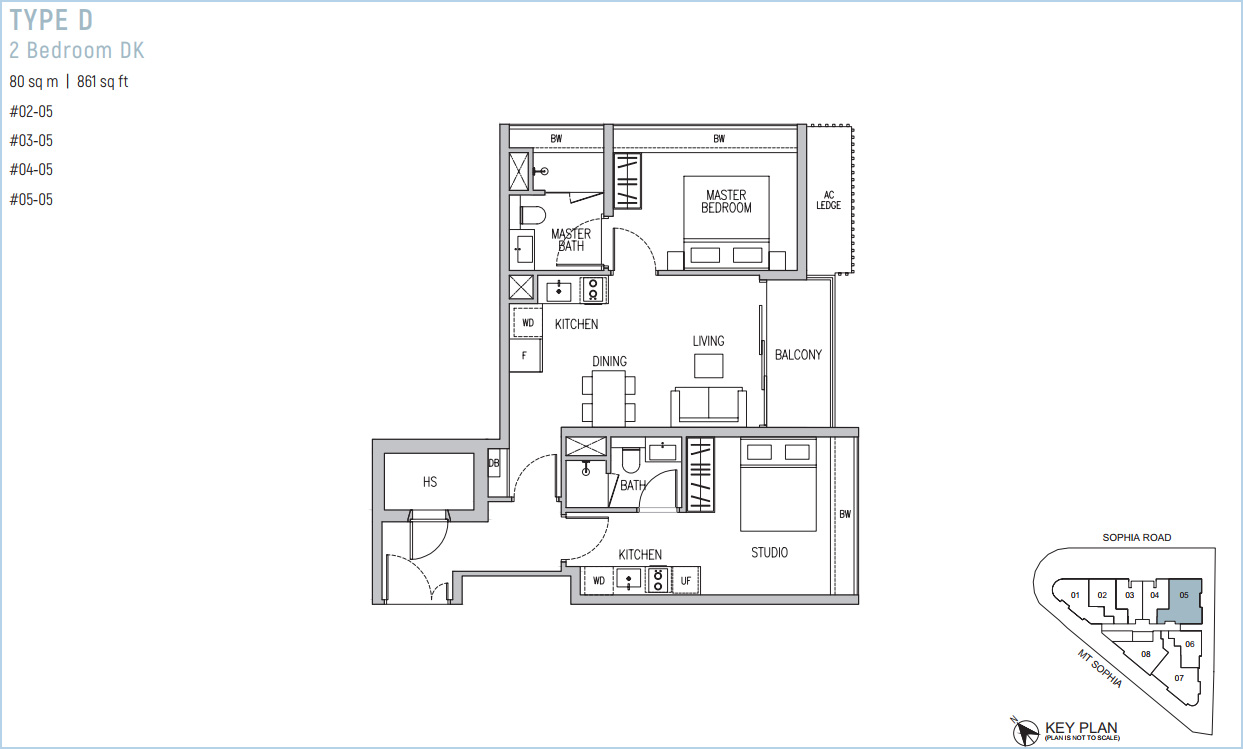 Type D
Approved Balcony Screen
OPERABLE SCREEN FOR BALCONY
1. The Balcony shall not be enclosed. Only approved balcony screens are to be used. For illustration of the approved balcony screen, please refer to illustration below.
2. Screen design is provided for aesthetic uniformity of the estate.
3. The owner is required to refer to the Management Corporation when formed for any additional details and/or installation.
4. Fixing detail by contractor, and fixing shall not damage waterproofing or existing structure.
5. Material shall be of aluminium with powder coated finish to match the colour of aluminium door/window frame.
6. Porosity and design of balcony screen shall allow natural ventilation at all times and is capable of being fully drawn open/closed.
7. Spacing of louvre to be uniform and total free opening shall not be less than 50% of the panel.
8. This drawing is for reference only. Owner shall verify all dimensions prior to commencement of work.
9. Drawing not to scale.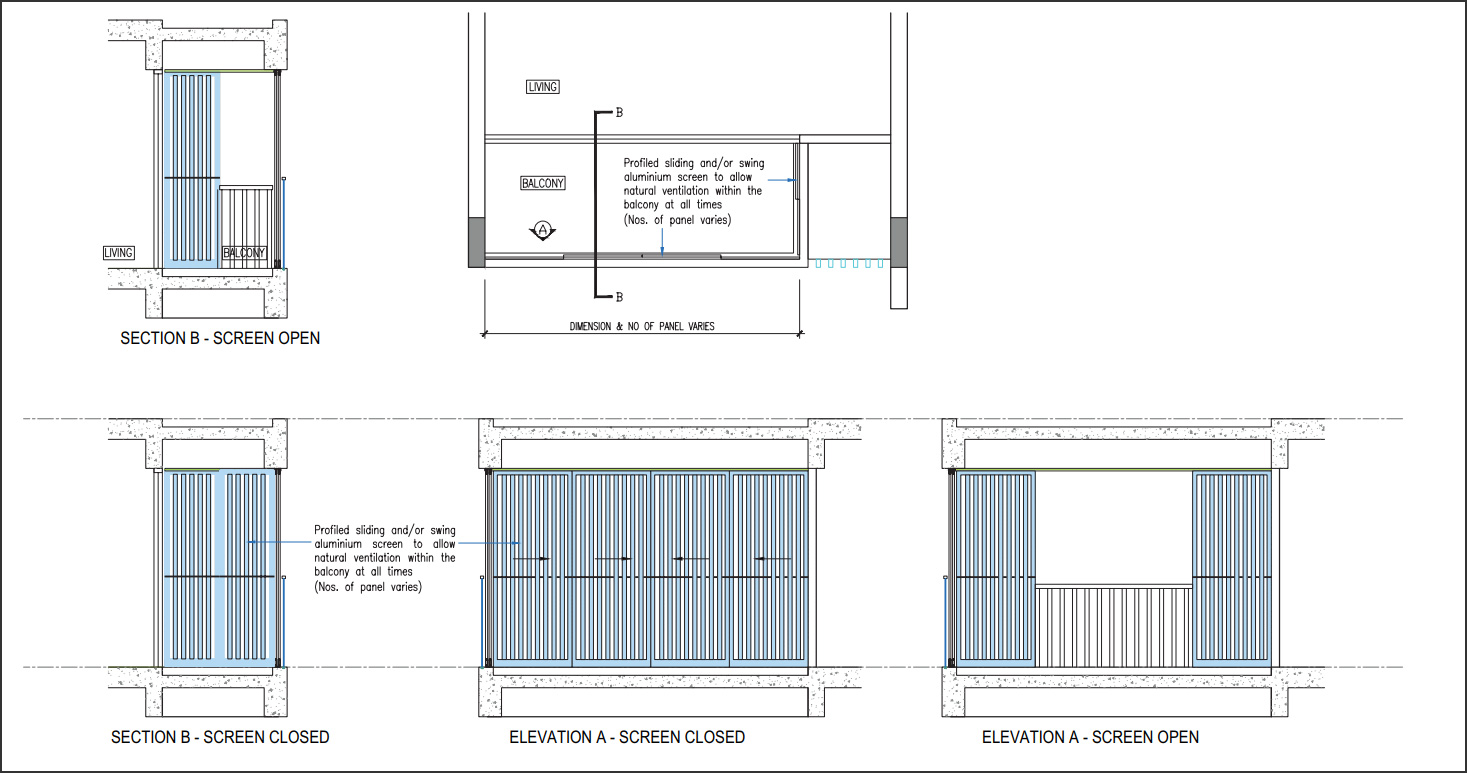 ---