Wilshire Residences Site Plan
The site is conveniently located along Farrer Road, a major access channel to Orchard Road and the CBD. With popular destinations of Botanic Gardens, Dempsey Hill and Holland Village within a stone's throw away, the design proposal intends to depict the concept of Modern Tropical Design/ Authentic Urban Living Redefined.
The site area is 3,635.30 sqm with planning parameters that dictate a 12-storey height control sitting on undulating terrain with land profile difference of more than 10 metres.
Legend:
Grand Arrival (Basement 1)
Guard House (Basement 1)
Family Pool
Family Pool Deck
Sun Deck
Cocoon Garden
Pool Deck
Swimming Pool
BBO Pavilion
Patio Garden
Pebble Walk
Kid's Playground
Fern Garden
Cozy Lawn
Grand Waterfall Walk
Waterfall Sensory Spa
Outdoor Fitness Lounge
Hammock in the Woods (2" storey)
Banquet Lawn (2" storey)
Forest Walk (2" storey)
Experiential Walk (2" storey)
M Plumeria Court (2" storey)
Private Parcel Locker (Basement 1)
Bin Centre (Basement 1)
Substation (Basement 1)
Exhaust Air Duct (Basement 1)
Generator Set (Basement 1)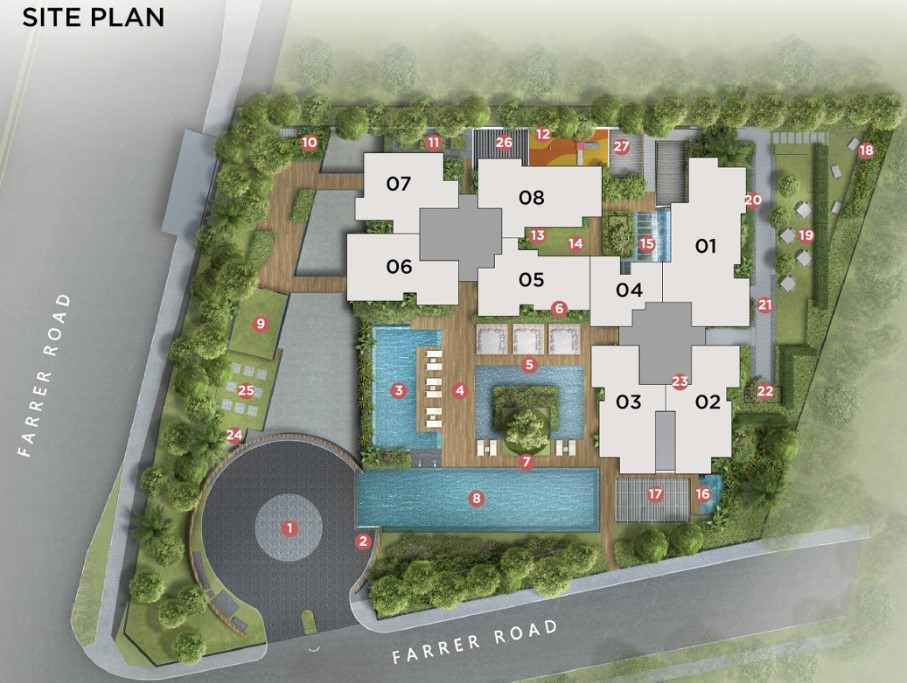 ---
Legend:
Flower Sanctuary
Chess Corner
Maze Garden
Rooftop Pavilion
Meditation Lawn
Sensory Trail
Reading Lounge
Yoga Deck
Viewing Lounge
Water Tank
---
The Building
The 12-storey building with 4 units spread respectively on 2 lift cores. The typical floor plate is proposed to accommodate 85 apartment units from 2nd to 12th storey and a roof terrace. A variety of views; East towards Botanic Gardens, South-east towards Dempsey Hill, West towards Holland Village and North towards Victoria Park.
As a massing strategy, the 2 towers make use of the terracing terrain to lift its base upwards with one tower rotating sideways to connect to the other in order to create larger communal spaces at various levels (of 1st, 2nd storey and roof terrace) to generate visual relief and interest.
The façade of the towers is kept simple and unassuming to complement the landscape design.
The towers seek to align most of the apartment units in North, South and East orientation with four stacks facing the 1st storey swimming pool deck and communal facilities. Corner units are generally larger, while the 1-bedroom type facing North and largest units are 4-bedroom plus guest which are East-facing towards Botanic Gardens.
All the units are optimised with side by side living and dining layouts with corresponding balcony configuration and all bedrooms are afforded a wall to wall view. It is a prominent design feature in the layouts to provide an enlarged master bedroom with corner curtain-wall window detail. Notably, all the apartment layouts are planned with clear zoning of living spaces and resting spaces, which respond to more open and more private areas respectively. Living spaces lead out to balcony areas expanding space for entertainment. The guest rooms are designed with the flexibility to amalgamate with the Living / Dining areas to form an even larger space.
The units at the topmost residential floor enjoy a truly double-volume living within the unit. A two-level basement parking is proposed which raises the first storey level above the busy Farrer Road to bring respite and enhance the whole landscape experience. A unique entrance welcomes the residents and visitors directly into the 1st level of the basement where the main drop off with skylight is located which links residents to the residential lift lobbies.
---
The Landscape
This design configuration affords the 1st storey the provision for a 25m swimming pool and carefully selected facilities to display minimalist resort-themed landscape design to set-apart this development from the surrounding ones.
Chic sofa seating, dining spaces, spa nooks, outdoor fitness/gym invites the residents to embrace the almost care-free setting. A different experience on the 2nd storey landscape awaits the residents where tranquillity takes priority with the pebbled walk, interspaced hammocks and reading pavilion. The roof terrace draws a different audience with its 2 pavilions and the many landscaped lawns and viewing deck towards Botanic Gardens.
---
---
Wilshire Residences Facilities
---