Altura EC - Relax and calm your mind
Altura EC is a luxury and high-end project that attracts many homebuyers this year. Located on a land of 12,500m2 and estimated to bring 375 exclusive apartments. This project is expected by extremely delicate landscape design and breath of nature, along with facilities that fully meet the needs of a resort.
Altura Ave 8 EC is designed as a green space combining modern elements. The landscape close to nature was created so that you can establish a more harmonious life, before the busyness and smog of the bustling city, this is the place for you to find true peace. From kid-centered safe and fun activity areas to outdoor swimming and jogging areas to creative recreation spaces for any time of day.
To sum up, Altura Condo makes you feel purified in the most relaxing way. It provides you with an integrated place for self-development and wellness to create a holistic, energizing environment for you and your loved ones. Believe it, this is a good investment for your family and yourself, and this apartment is the choice not to be missed right now.
Quickly check the available units at Altura EC today, this is an attractive and sought-after location so it sells out quickly!
Altura Site Plan
Facilities Thoughtfully Curated For Sensorial Experiences
Across the grounds, revel in amenities designed to create moments for one & for all – whether for gathering & celebration, or calm & contemplation.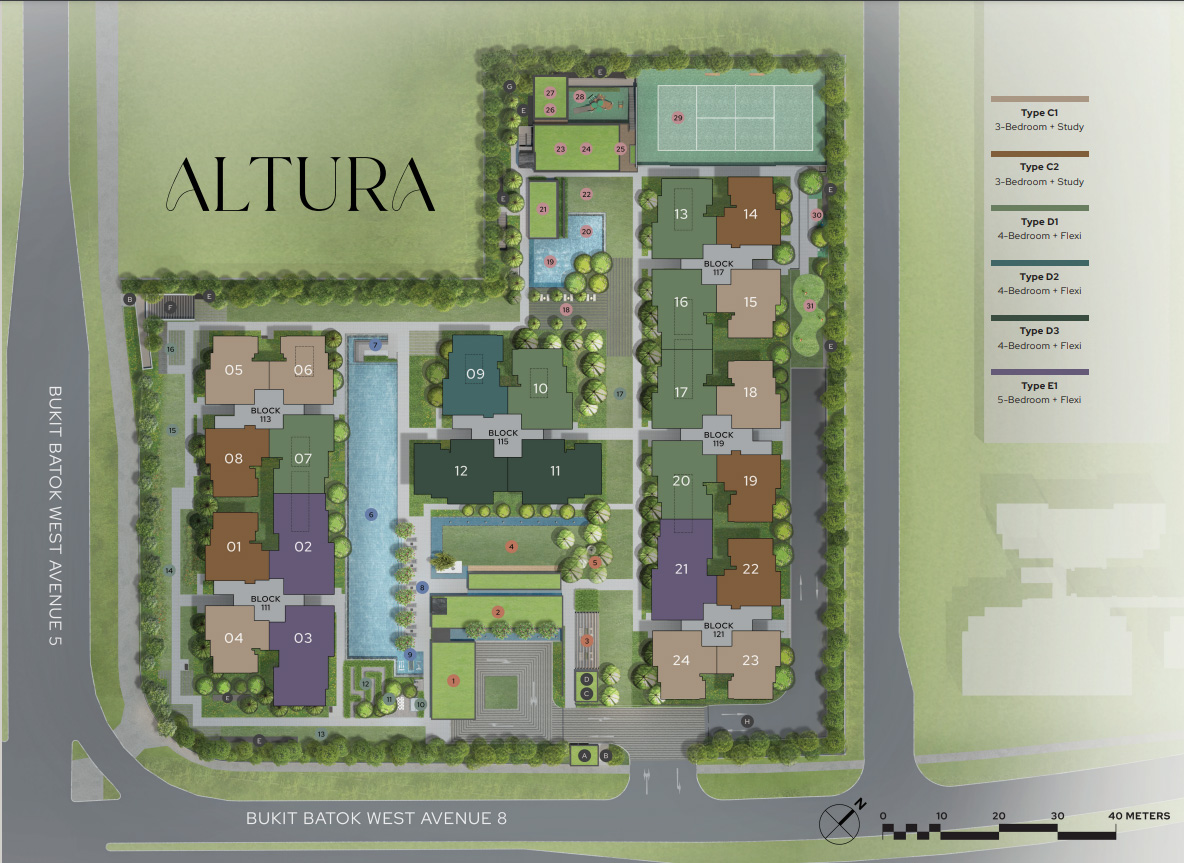 The Club
1. Drop-off

2. Reading Club

3. Social Club

4. Altura Meadow

5. Glamping Ground (2 tents)
The Lagoon
6. 50m Lap Pool

7. Conversation Pit

8. Pool Deck

9. Aqua Gym
The Green
10. Swing Garden

11. Chess Garden

12. Maze Garden
13. Soothing Meadow

14. Canopy Garden

15. Tranquil Meadow

16. Reflexology Garden

17. Family Alley
The Boutique
18. Family Deck

19. Bubble Pool

20. Splash Pool

21. Altura Grill

22. Family Meadow

23. Altura Club I & II

24. Altura Gym (2nd floor)

25. Yoga Terrace (2nd floor)

26. BBQ Pit I & II (2nd floor)
27. Steam Room

28. Playground

29. Tennis Court

30. Forest Fitness

31. Forest Putting
Resources & Services
A. Guard House

B. Access Gate 1 & 2

C. Management Office

D. Accessible Restroom

E. Ventilation Shaft

F. Genset

G. Bin Centre & Substation (at basement)

H. Driveway to Basement Carpark
GROUNDS & FACILITIES
A Paradise Of Endless Possibilities

A Sanctuary Made For True Luxury
This is Altura. An abode made for life as it should be. Designed with open spaces and intimate nooks across a tranquil landscape, immerse in the utmost privacy, calm, and contemplation.
A Landscape Expertly Crafted For The Utmost Indulgence
Across grounds brimming with idle rejuvenation, lie four curated zones of respite & relaxation.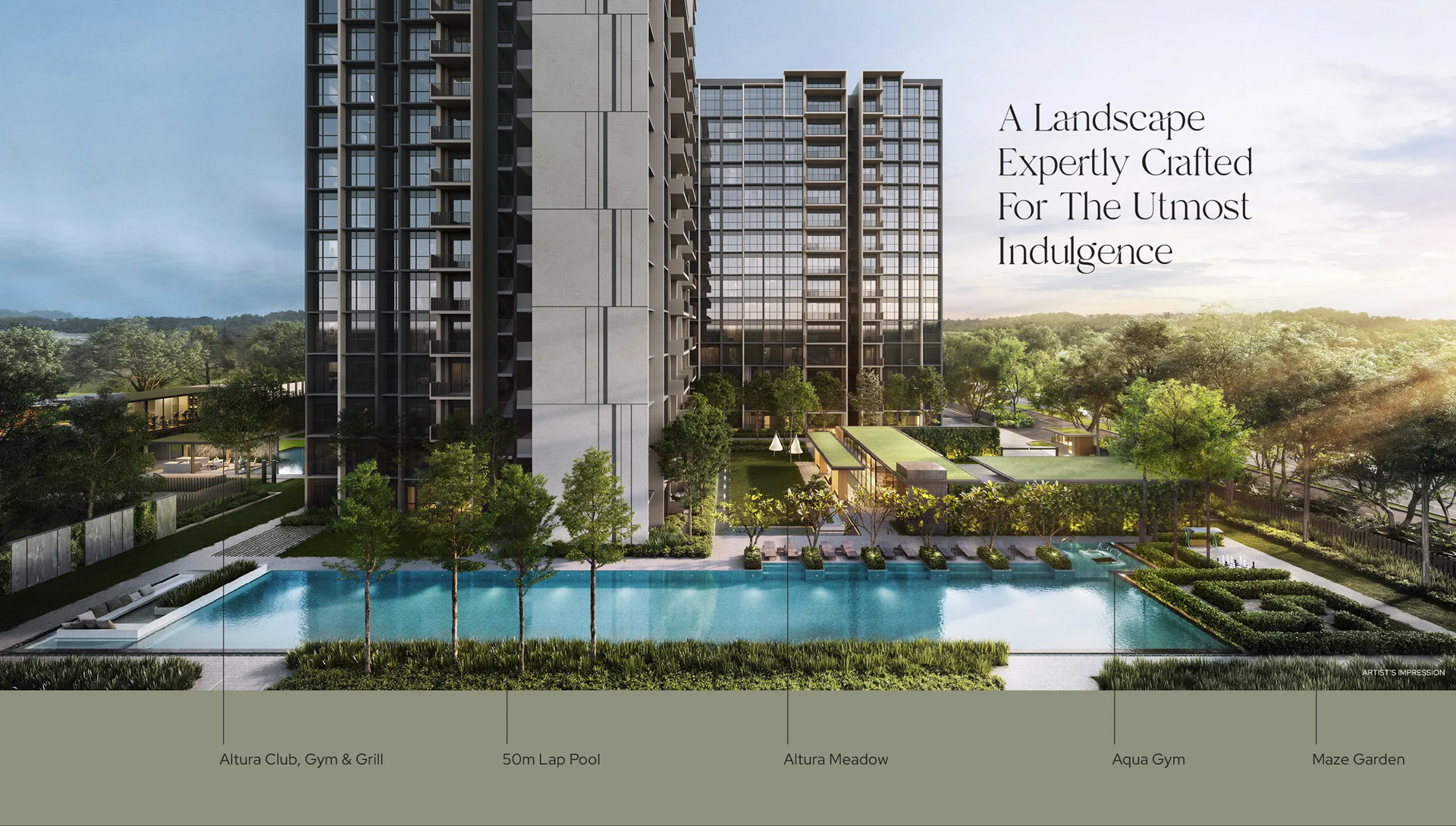 The Club | The Boutique | The Lagoon | The Green
The Club
Be greeted by a verdant welcome home, with the Altura Meadow & Glamping Ground just beyond the drop-off.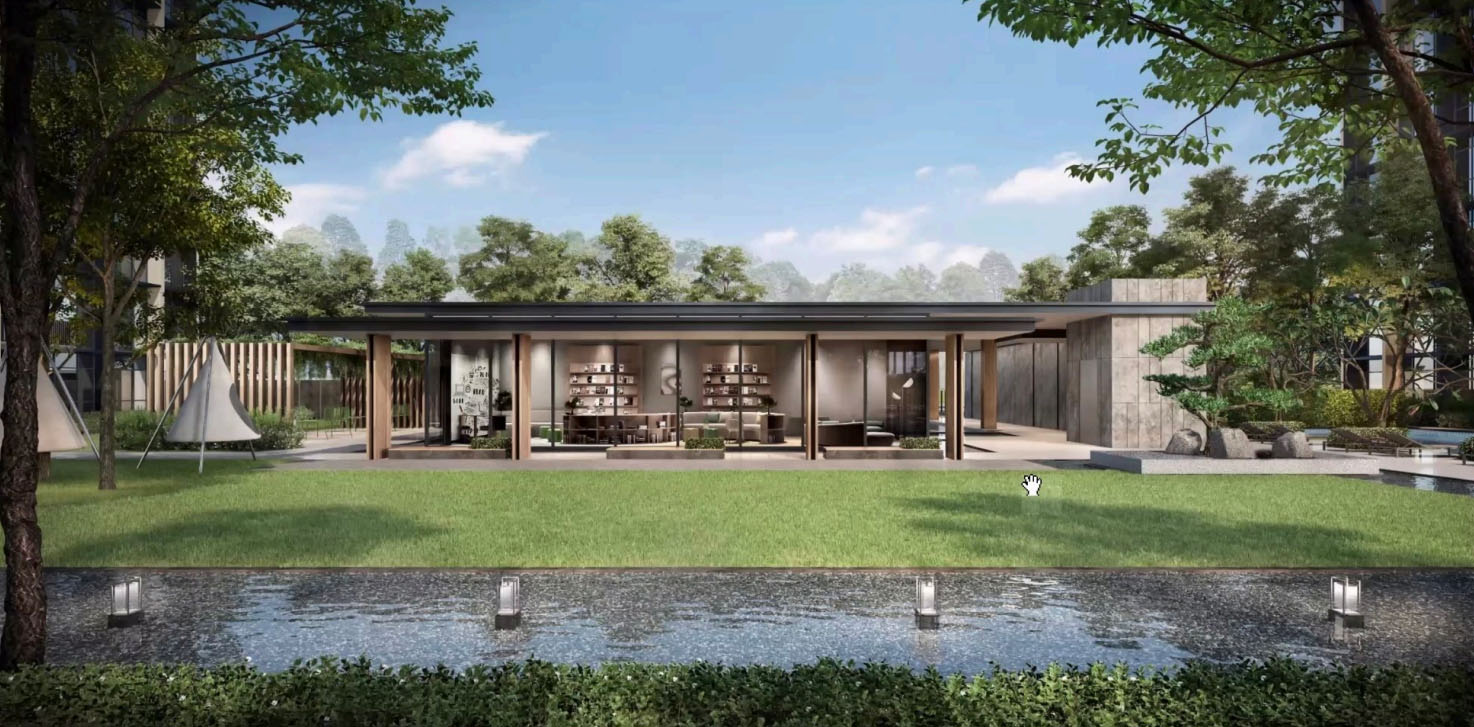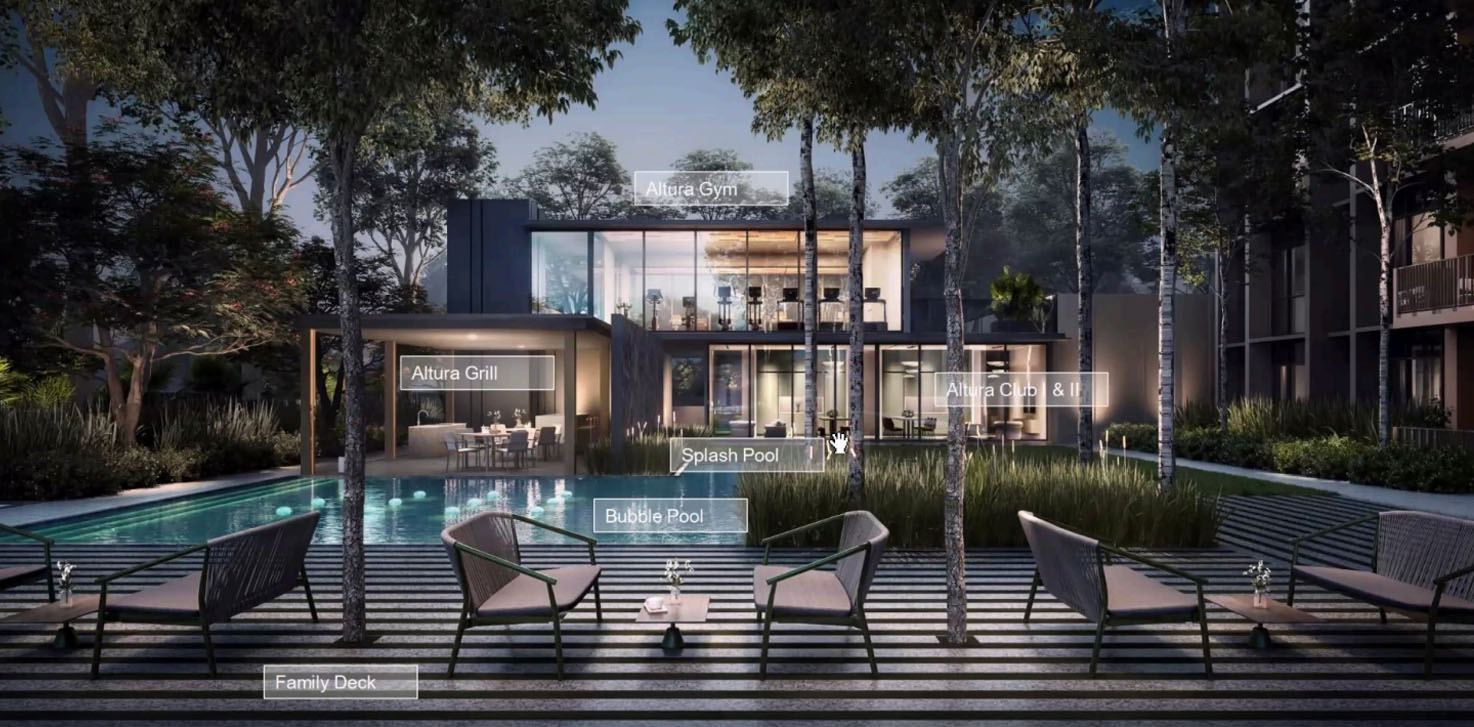 The Boutique
Come together under the sky for a myriad of indulgences – from the Altura Grill to the Family Deck.
The Lagoon
Get some laps around the 50m Lap Pool & Aqua Gym, or simply soak up the sun & air in the Conversation Pit.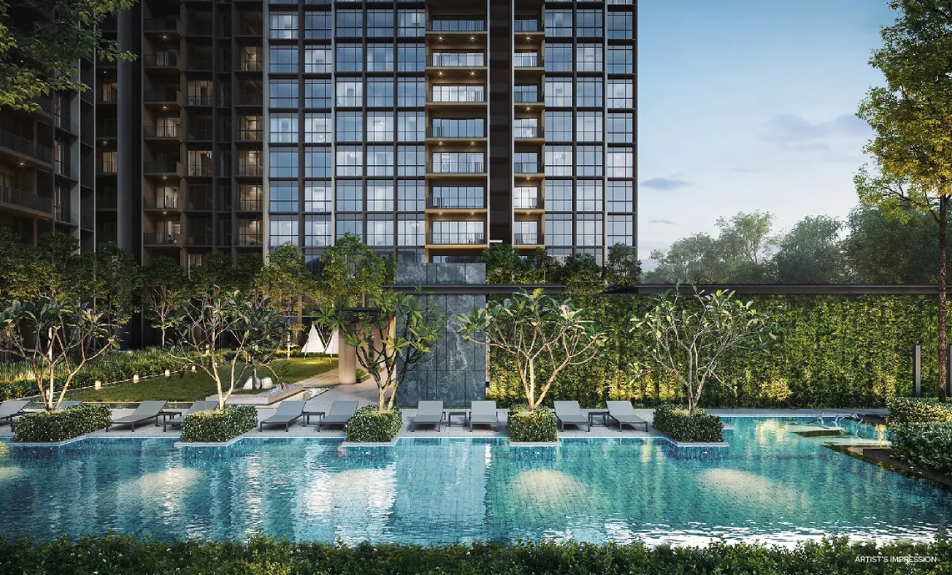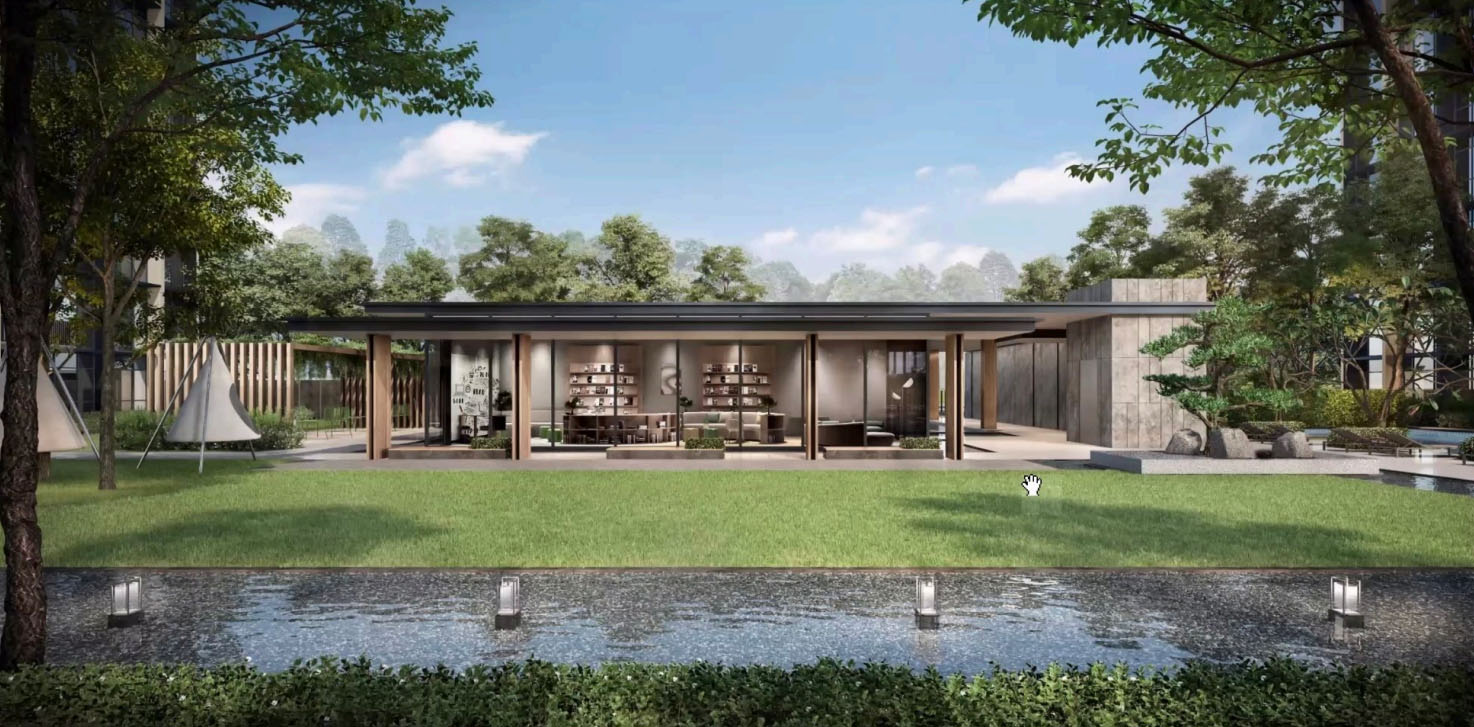 The Green
Have your pick of pastures for basking in natural wonder, from the Family Alley to the Canopy Garden.
Spaces Meticulously Designed For Moments To Linger
Find spaces consciously made for recreation, revelry, or simply to recline & watch the world.

HOME & INTERIORS
An Abode Of Adept Assurance
A Spectrum of Natural Comforts
A home made for life as it is intended is a space that assures comfort and ease. Step in everyday to your oasis of respite from the bustle of the city, with interiors that effuse modern elegance and soft serenity.
Day To Day Routines Made Delightfully Seamless
Everyday spaces & appliances that make for daily decadence.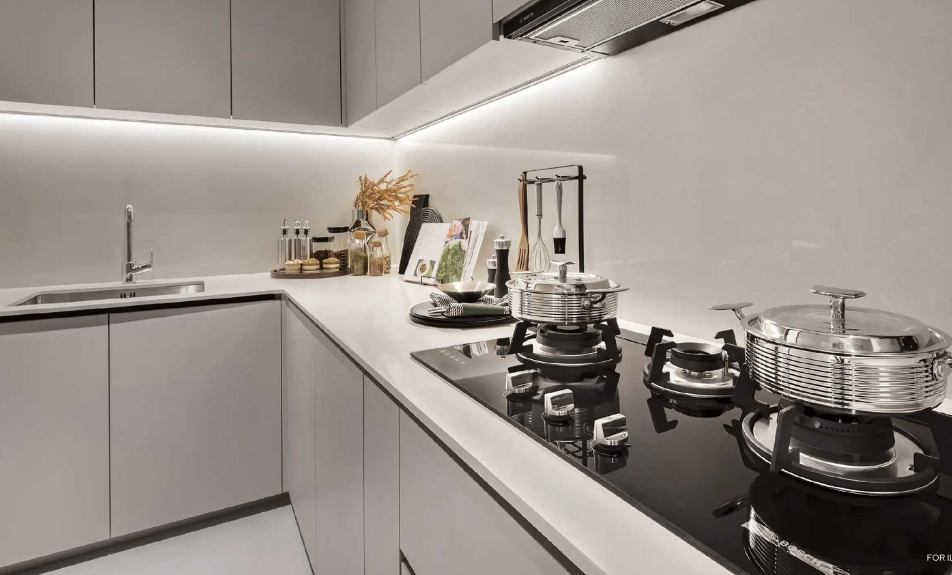 Adept Appliances To Prep & Dine With Flair
Everyday meals should come easy. Kitchens are fitted with ovens, gas hobs, and ventilation hoods from Bosch, along with Franke sinks and Hansgrohe faucets.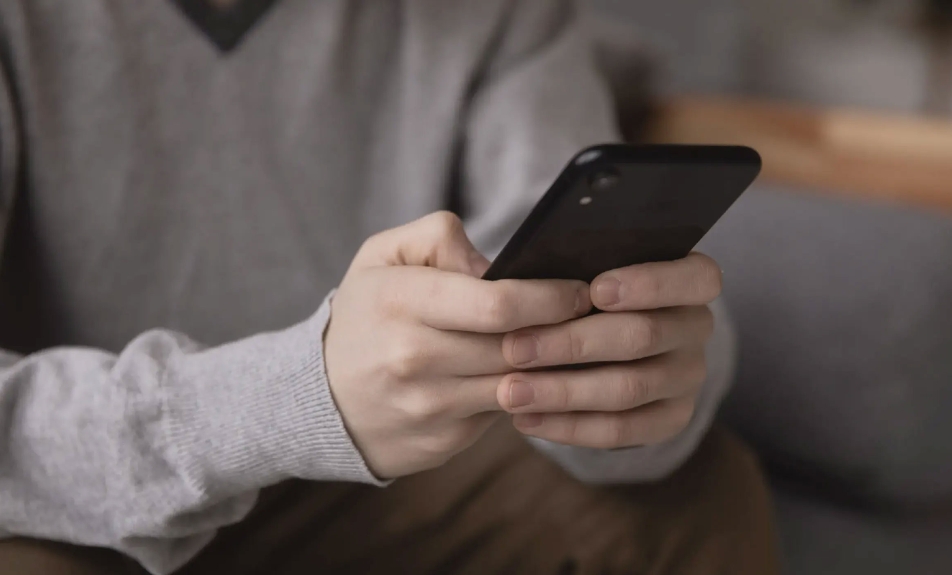 Relax With Smart Remote Control
Your own virtual concierge is at your fingertips with a one-stop smart platform – enabling easy booking of facilities, fuss-free maintenance payments, & an array of home services.
Creating A Brighter, Better Home For All
Fostering a thriving lifestyle through sustainable practices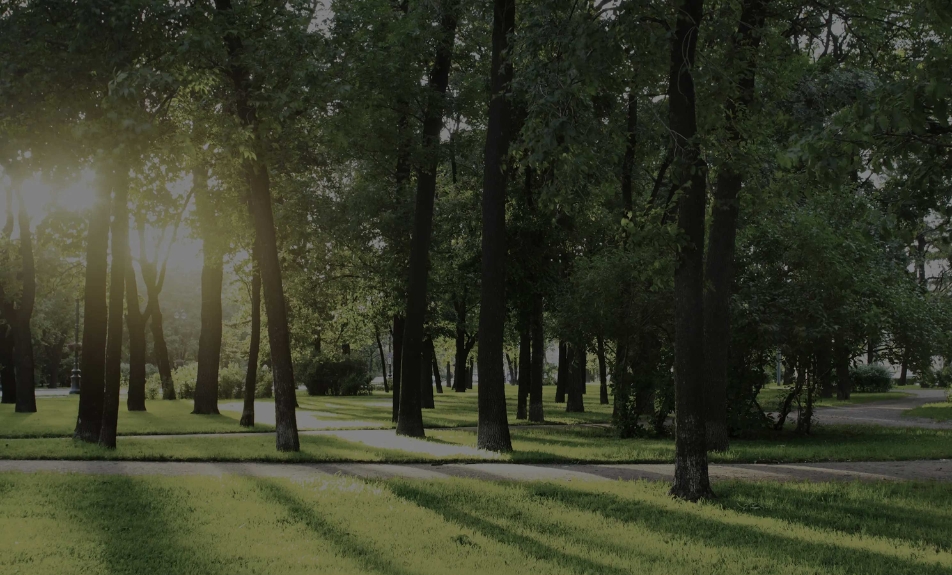 Cool & Comforting Ventilation
Altura's architectural design artfully reduces solar heat gain. Kitchens, bathrooms, & common areas are open to ample natural air for cool, breezy everydays.
Energy & Environmental Efficiency
Energy efficient air-con systems are used throughout the development, together with LED fittings, motion sensors & consumption-saving lift systems.
Serviced With Solar Power
Installed on the development roof tops, solar panels offset the power consumption of communal areas & amenities, achieving cost savings.
Nurtured With Nature
Seamless access to open, natural spaces & communal areas with conscious greenscaping of diverse flora provides a home environment for total well-being.
Conserve Whilst You Consume
All apartments are equipped with fittings that aid in reduction of water wastage.
Commute With Eco Ease
Greener, healthier daily routines are effortless, with allotted EV chargers & bicycle lots.