Here life is the perfect balance of nature and contemporary living. You can enjoy a plenty of interesting outdoor activities when living nearby the beach. For instance, take a walk, ride a bike with your lovers along the beach side or go fishing in Mainland Tropical Fish Farm. In addition, Wild Wild Wet and White Sands are just minutes away from your home, where your family can have many great moments in life together.
Furthermore, Casa Al Mare is also the pretty ideal place for families has young children. A number of primary and secondary schools are in the vicinity. Some within walking distance. Tertiary institutions and international schools are well represented too. Pasir Ris is home to the Overseas Family School at Pasir Ris Heights, and Meridian Junior College. About the connectivity, this condo location is not as isolated as it appears at first glance. It is just 1.2km or 3 bus stops to Pasir Ris Central and MRT station. From there it's about 30 minutes by train to Raffles Place station.
Casa Al Mare Location Map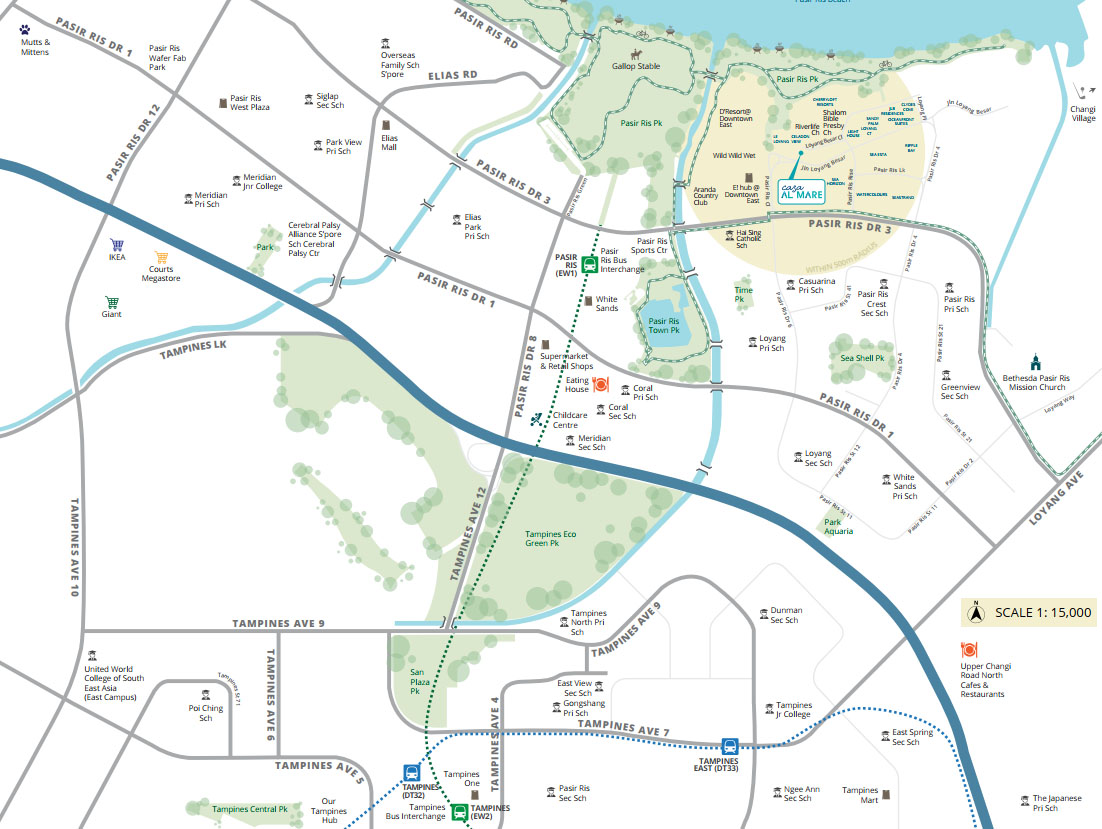 ---
Your Freehold Home By The Sea
BEACH
Let the gentle breezes cool you as you relax by the shore.
PLAYGROUND
Let imagination and creativity run free as your children explore while having fun.
BBQ PIT
Savor the food and company as you gather to fire up the grill
KAYAKING
Soak in the tranquility of the surroundings as you paddle out to sea.
GALLOP STABLES
Step out of the ordinary, and ride with majestic horses and ponies.
BICYCLE TRACK
Unwind among the lush greenery as you ride along the paths of Pasir Ris Park.
PRAWN FISHING
Take it easy by the pond as you net a few.
ATHLETICS TRACK
Discover the benefits of fitness among nature as you maintain a healthy pace of exercise.
Ease Into Everyday Work And Play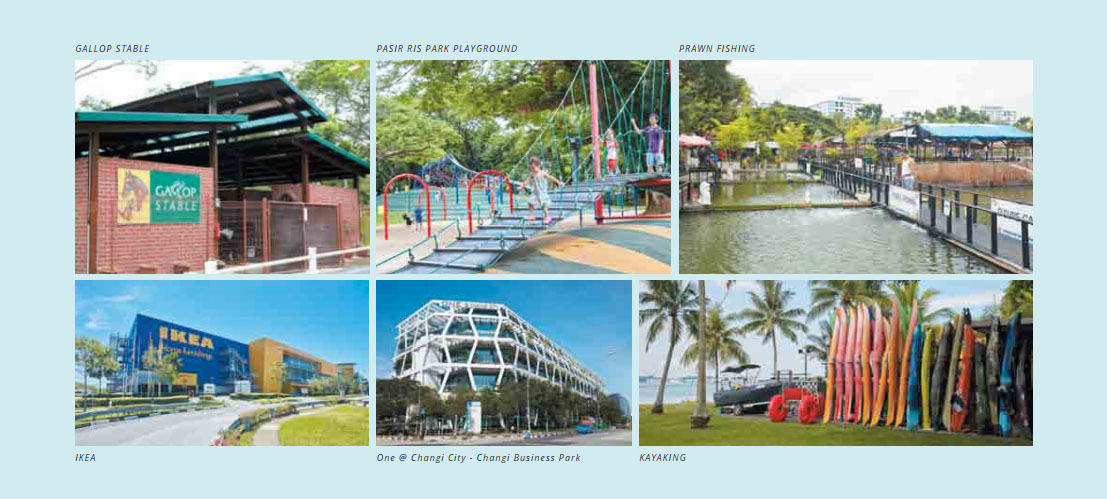 Whether for work, leisure, or your family's future, your neighbourhood is the centre of your universe. Changi business park is a short drive from home, while Changi airport is an almost equally convenient distance away. Excellent educational resources are offered with the close proximity of Hai Sing Catholic School and pasir Ris primary School. and entertainment and retail centres like downtown east, Wild Wild Wet and White Sands are just minutes away for family fun for all ages in the neighbourhood.