Cashew Green - Keep your mind calm and peaceful
Cashew Green is being done by Far East Organization and it will be finished in 2025. The development has 19 units; 11 terrace units, 4 semidetached units, and 4 corner units. All the units have car parking and other facilities. Furthermore, 4 swimming pools are also available in the development. Above all, the development has a theme of greenery and gardens. Hence lifestyle in the Cashew Green is close to nature which ensures peaceful, quiet and luxurious life at affordable prices.
The name of Cashew Green @District 23 indicates that the biggest unique feature of the development is going to be greenery and gardens. The theme of the development is "bringing nature into your home". Hence, the architect has designed every unit in a way that the boundaries of indoor housing and outdoor nature are so blurred that it gave the ultimate experience of garden home. This is the biggest unique feature of this development. Furthermore, the development will have four swimming pools and wide car parking spaces for every unit. Moreover, the development is designed in a way to cater the need of any family who want to spend the luxurious lifestyle.
Each residential unit of Cashew Green by Far East Organization will have their own two private car park lots. Every unit will also have a barbecue pit perfect for family gathering or a simple family barbecue meal. The Corner Terrace Homes will come with its home lift system and swimming pool. Since the residence is close to nature, there's an air well which will allow the cool breeze to enter your home adding more to the relaxing nature ambience.
Hurry up and check out the available units at Cashew Green today before they are sold out, this is an attractive and sought-after location so it sells out quickly!
Cashew Green Site Plan
Cashew Green Facilities
A GARDEN WITH A HOME

At Cashew Green, boundaries between indoor and outdoor spaces are made seamless. Every residence is thoughtfully designed with a garden environment in mind, bringing the beauty of nature right into your home.
A REFINED, ESTABLISHED NEIGHBOURHOOD
Imagine a world that gives you the privilege of waking up every day to the soothing embrace of nature - Cashew Green. Nestled in an exclusive and prestigious enclave surrounded by many Good Class Bungalows, Cashew Green is set within the vicinity of Dairy Farm Nature Park, Bukit Timah Nature Reserve, and the Central Catchment Nature Reserve, which contains some of the country's richest forests when it comes to biodiversity.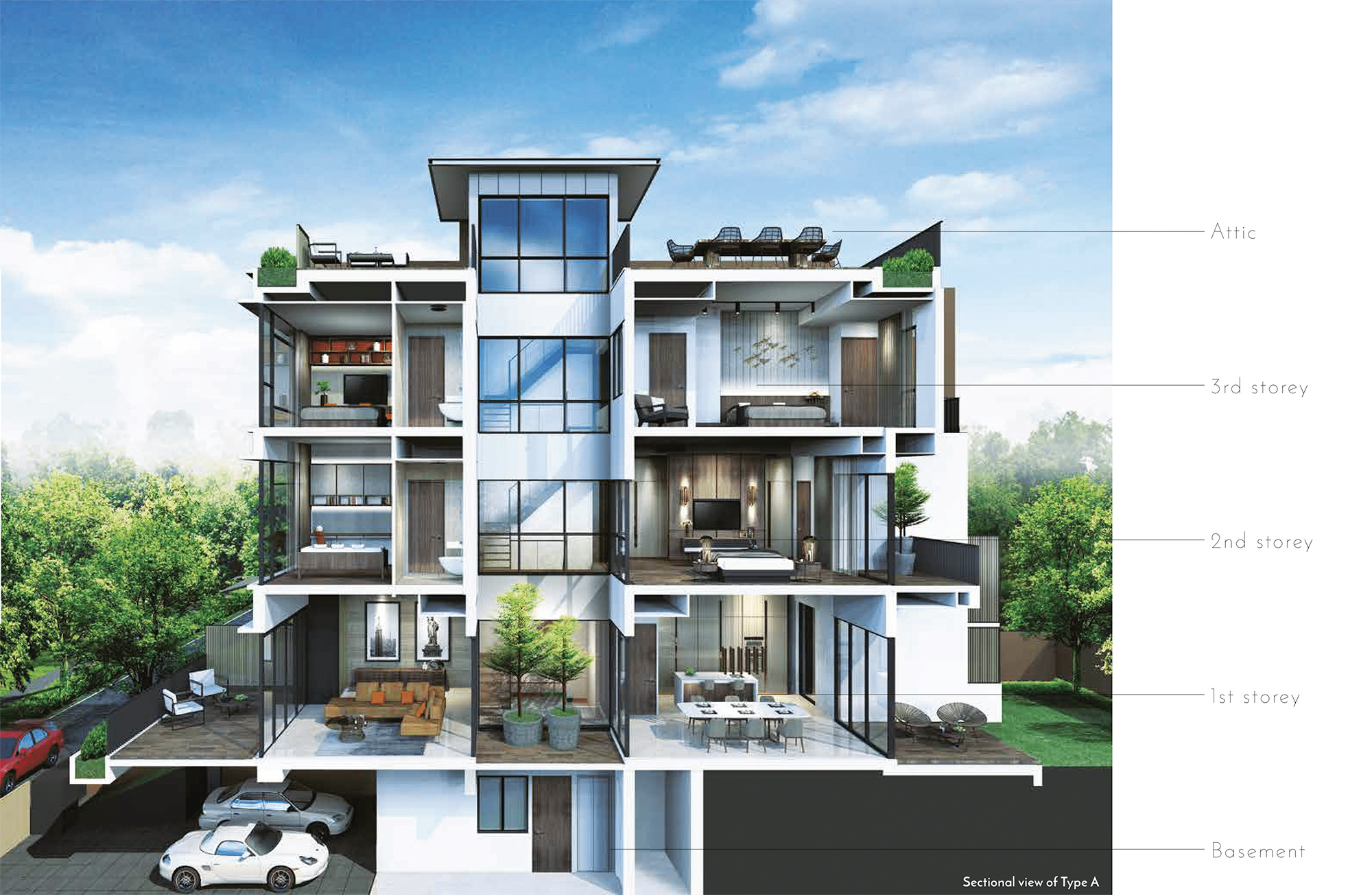 LEVELS OF FINE LIVING
THE BEAUTY OF SPACE
Cashew Green offers you thoughtful and luxurious living spaces. A majority of the residences is composed of a basement, three storeys of living space and an attic. The basement boasts of a car porch that can fit 2 cars and even a tandem lot for your 3rd car. At the 1st storey, be greeted by an elevated roof terrace garden that extends your living space to the outdoors. A unique inner courtyard allows your home to be bathed in daylight.

VERSATILE SPACES TO SUIT YOUR NEEDS
A luxurious master bedroom awaits you at the 2nd storey, offering the best of stylish modern comfort. Indulge in generous wardrobe space. Find fittings and finishes known for their quality and style. The 3rd storey houses more bedrooms to accommodate the rest of the family. These spaces are highly versatile and can be transformed into a study room, music room or playroom, depending on your needs. Every 5-bedroom unit has been created to perfectly suit multi-generational living with its generous spaces and interactive communal areas.
Master bedroom
6m L-shaped wardrobe
2nd bedroom
3rd bedroom
4th bedroom
5th bedroom
REDEFINE THE ART OF ENTERTAINMENT
Built for entertainment, every roof terrace comes with a mobile BBQ pit that is excellent for gatherings. An airwell provides for natural ventilation and serves to bring the light in.
LANDED LUXURY
All corner terrace units come with a private lift and swimming pool.

Mobile bbq pit
Sun deck
Airwell
Private lift
Swimming pool