Premium life from the basics
Irwell Bank Residences brings a rich living space and makes your life more lively. Surrounded by reflective waters and intimate foliage, the floating garden brings you closer to nature as you enjoy the feeling of being at home. Start your day with a swim or work out in the gym.
Living at Irwell Bank Condo, residents will have the opportunity to immerse themselves in nature and at the same time enjoy a relaxing lifestyle outdoors. A children's pool and tennis courts are also nearby. Return to the home of a modern, tranquil setting. With infinite access to the Gym and Fitness Corner, it's never been easier to keep your health at its best.
Irwell Bank New Condo can enjoy new heights of luxury with secure parking and private lift access to your apartment. You and your family can relax by the infinity pool and kids, or exercise at the tennis court and fitness area. The good service facilities at the new apartment building will satisfy even the most demanding people. If you love and have a desire to own this apartment, quickly book a showflat reservation today with us.
To continue, please take a look Floor Plans in the next page and require detailed information and presentation, contact us today!
Irwell Hill Residences Site Plan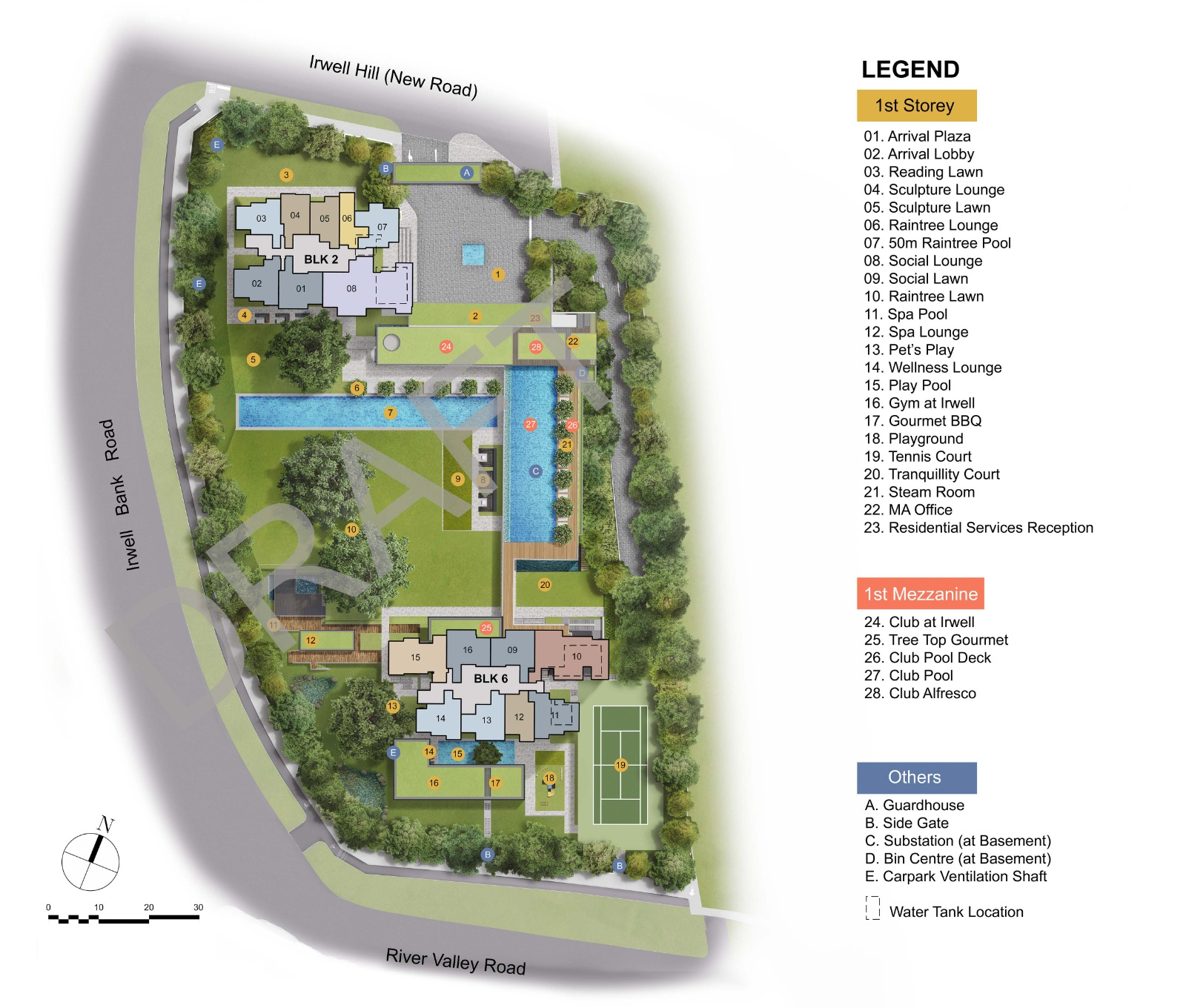 LEGEND
1st Storey
01. Arrival Plaza
02. Arrival Lobby
03. Reading Lawn
04. Sculpture Lounge
05. Sculpture Lawn
06. Raintree Lounge
07. 50m Raintree Pool
08. Social Lounge
09. Social Lawn
10. Raintree Lawn
11. Spa Pool
12. Spa Lounge
13. Pet's Play
14. Wellness Lounge
15. Play Pool
16. Gym at Irwell
17. Gourmet BBQ
18. Playground
19. Tennis Court
20. Tranquillity Court
21. Steam Room
22. MA Office
23. Residential Services Reception
1st Mezzanine
24. Club at Irwell
25. Tree Top Gourmet
26. Club Pool Deck
27. Club Pool
28. Club Alfresco
Others
A. Guardhouse
B. Side Gate
C. Substation (at Basement)
D. Bin Centre (at Basement)
E. Carpark Ventilation Shaft
Water Tank Location
Irwell Hill Residences Facilities
Irwell Hill Residences takes its name from the address it is sited at. By association with Irwell Bank Road and its immediate surroundings, it is redolent of prestige. The choice of including 'Hill' in the name also connotes a sense of elevation.
✓ Brand New Iconic 2 towers of 36-storey residential development in District 9.
✓ Units are generally facing north-south orientation.
✓ Designed by awards winning Architect – MVRDV (Concept Architect) and ADDP (Principal Architect).
✓ The two towers are positioned apart and staggered to avoid overlooking and to maximise views from each unit.
✓ Wide range from studio apartments to 4-bedroom Premium units and 3 exclusive Sky Penthouses.
✓ Curated communal spaces with expansive landscape cater for work, life, play and fitness.
✓ Provision of luxurious fittings and branded equipment.
✓ Provision of Premier Residential Services.
✓ Provision of Smart Home features.
✓ Unique landscape that sits within multi levels, with the pool, boardwalk, spa, etc