Experience A New Level Of Indulgences Kopar At Newton
Kopar At Newton is exclusive access to the condominium's round-the-clock barbecue pit, equipped gym and beautiful swimming pool. Each residential unit come decked with generous spaces and offers breathtaking views of the city skyline. A sprawling water feature at the arrival driveway sings a splashing medley aural treats your ears certainly wouldn't mind. While you immerse in melodic splendour, rest your eyes upon a wall of artistry, soak in the overflowing abundance of life. Enter a world where you can truly relax inspired by closer connections in the home, the architecture is designed with great spatial connectivity but still offers a free response.
Kopar At Newton Condo is designed with you in mind, with luscious landscaping that brings you close to nature, and elegant homes for an exclusive, discerning lifestyle. The relaxation pavilion is perfect for hosting a special gathering for family and friends. Catch up over an outdoor dinner, while the kids have fun on the grand lawn. The kids' wading pool is nearby too, as is the tennis court. Arrive home to a modern, tranquil setting.
Kopar At Newton Site Plan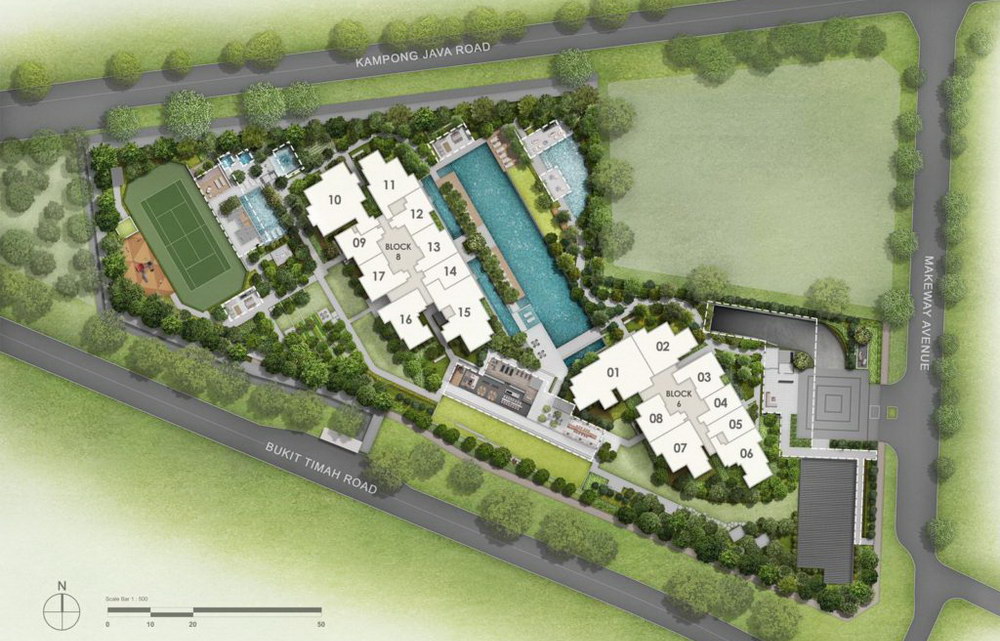 ---
Kopar At Newton Facilities
Distinctive Residences For A Distinguished Life
Nestled in the prestigious Scotts-Newton enclave, Kopar At Newton is a rare modern sanctuary focused on giving you the best possible quality of life. Every design feature is carefully considered, spaces both inside and out are refined and liveable, the use of nature cleverly creates a sense of calm and elegance. This is truly a home for the discerning.
Inspired by the Legacy, Essence, Allure, and Purity of Copper.
Kopar At Newton is a prized collection of urban luxury residences inspired by the ageless appeal of copper. From being the first metal to be discovered some 10,000 years ago, copper has withstood the test of time to become one of civilization's most enduring and essential elements. Symbolizing beauty, value, generosity, warmth, comfort, and life, copper has remained our constant companion.
Curated Lifestyle Experiences
Kopar At Newton delivers curated moments and experiences that appeal to and appease the senses. These experiences, covering social, wellness and vitality, are brought to life through exquisite design, sensual materials, refined craftsmanship and close attention to detail.
---
STELLA - SOCIAL.
STAR OF THE NIGHT. ALLURING, CAPTIVATING, MESMERISING.
Crafted to Impress
The centerpiece of Kopar At Newton is its majestic clubhouse, Stella. The stunning triple volume space is designed to impress, with luxurious touches and generous features. Here, you can host a party of close friends and associates. Or simply enjoy a drink to yourself.
Social Spaces
With gorgeous views to the grand lawn, Stella has a variety of both indoor and outdoor spaces to entertain and socialize. The Connoisseur is where you can engage a private chef for a cosy dinner party; The Sommelier is the perfect setting to savour a bottle of vintage wine, and The Courtyard is designed for a delightful outdoor get-together.
---
AURA - WELLNESS
A SANCTUARY FOR REJUVENATION. SOOTHE, CALM, GLOW.
A Sanctuary of Serenity
Escape to another world, away from the hustle and bustle of the city. Relax to the soothing sounds of flowing water and the poetry of the calming landscape. This is your private sanctuary to restore, recharge and rejuvenate.
One with Your Senses
Indulge in four holistic spa experiences. The Hot Spa, Cold Spa, the Hydrotherapy Pool, and the Microbubble Spa with oxygen-rich nanobubbles to enhance your health and beauty. Enjoy peace of mind as you let go of your daily stresses.
---
VITA - LIFE
VITALITY AND VIGOUR. ZEST AND ZEAL FOR LIFE
A Contemporary Oasis
The Vita zones are designed for life's true pleasures. Enjoy a dip in the pool or indulge in treasured family time.
Home Within Elegant Gardens
The timeless architecture of Kopar At Newton is complemented by modern, refined landscaping. Elegant gardens frame beautiful waterscapes. Take a stroll along the intimate Forest Walk, or be enchanted by the song of birds. This is a home in nature.
---
The Residences
Bespoke Services
Live Smart
A smart home system enhances the security of your residence, while a host of features lets you tune your home environment remotely and an app allows you to book facilities conveniently.
Live Luxe
Luxury is in the details. A beautifully curated material palette elevates the enjoyment of life, while branded fittings and appliances add to the elegance and prestige of Kopar At Newton.