When you come to Margaret Ville, at the entrance, there are arrival court, lobby lounge, and private resident's side gate are ready to welcome you. You can enjoy the high quality of life here. For instance, having a happy party at Alfresco Dinning Pavilion, relaxing your mind and your body at pool deck, hydrotherapy pool or watching for kids playing at children's jet pool. Moreover, you and your lover can improve health together by spending time in an active gym. Just enjoy the interesting life by your way.
More detail of Site Plan & Facilities will be updated soon. Please keep contact with us to update the latest information.
Margaret Ville Site Plan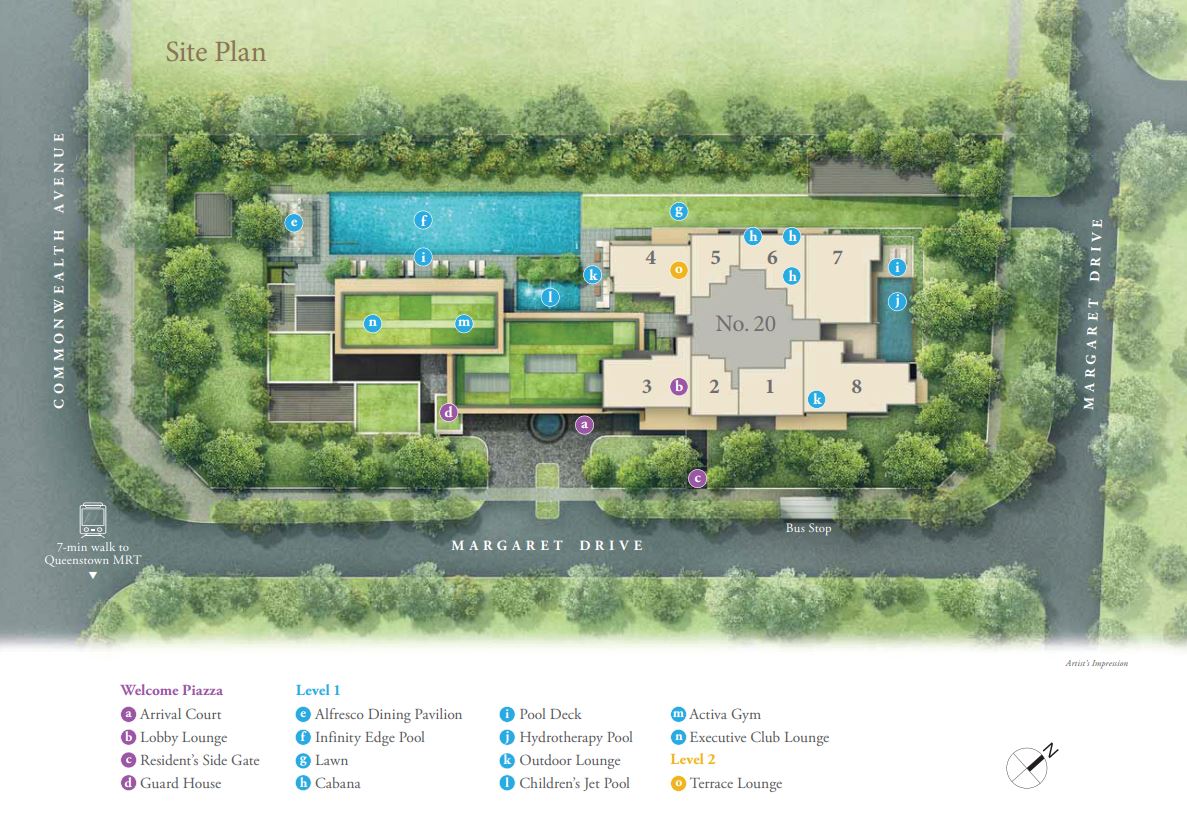 ---
A panoramic view that emanates beauty beyond compare
A city skyline towers over a serene spread of nature to welcome you every time you come home to your lavish abode. Take in an unforgettable vista with unhindered views of the never-ending horizon and the mesmerisingly lush Bukit Timah Hill. The 40-storey tower flaunts an understated form, accentuated by a rhythmic series of horizontal champagne gold fins that contrast elegantly against the timeless greys and neutral shades of the elegant architectural splendour.

---
A glorious welcoming fit for the artful connoisseur in you
Coming home to Margaret Ville is an experience designed to inspire a whole new level of awe – from the moment you reach the stunning entrance of the residences, to the time you fall back into the restorative depths of your well-appointed apartment. The grand marble entryway is a masterpiece that will fill your heart with wonder. As you make your way towards your doorstep, you'll breeze by the concierge desk. The exclusive service caters to the individual needs of every resident, giving you unlimited ease and infinite peace of mind.
Every experience an exquisite surprise
The Lobby Lounge is a private and privileged space for esteemed residents and guests. As you take in the marvels of its tastefully ornamented interiors, a sense of contentment washes over you – an affirmation of aesthetic compatibility and a reflection of your taste for the sublime.
---
Rejuvenate by glistening waters and plush greenery
Seek ultimate calmness and serenity at the landscape deck, a tranquil oasis surrounded by an abundance of flora and outfitted with state-of-the-art facilities for your every need. Activa Gym has a variety of equipment to complete your fitness routine. Cool off in the Infinity Edge Pool, have an indulgent soak amidst the hydro-massage facilities in the Hydrotherapy Pool, or just sit back and relax at the Pool Deck. At the Executive Club Lounge and Alfresco Dining Pavilion, you can celebrate unforgettable moments in an exclusive, comforting atmosphere – elevated in the company of nature and the vastness of the wide, open spaces around you.
---
Flourish in the delicate embrace of modernity and grandeur
A heightened sense of cosiness and elegance envelops you every time you step into your finely furnished home. Natural light fills your apartment, illuminating it from wall to wall to create an open and spacious ambience. The stylish abode is a projection of your penchant for the finer things in life. This is encapsulated in the quality, luxurious finishes, and the marble flooring in the master bathroom, and living and dining areas that add touches of understated class.
Fashion meets function in the integrated storage spaces for every unit. Wardrobes feature smart compartmentalised storage for easier organising, in addition to spacious shelves that can accommodate any substantially sized items. Overhead storage space is a creative and innovative way to keep any large belongings – a feature that is newly conceptualised and unique to Margaret Ville.
---
---
Feast your eyes on sleek living spaces that monumentally enhance your quality of life through cutting-edge devices and innovative design. The kitchen is thoughtfully designed and carefully constructed to fulfil your culinary desires. Top-of-the-range appliances from the likes of award-winning brands such as Miele and Fisher & Paykel take your home to whole new levels of culinary superiority. All kitchens come fully equipped with a top-grade hob, oven, refrigerator, and washer cum dryer, while bathrooms are embellished with exceptional furnishings by Hansgrohe and Laufen.
---
---
The pinnacle of sophisticated living in your Smart Home
Technology plays an instrumental role in nurturing a safe and comfortable environment at Margaret Ville. With Smart Home features, you can rest assured that a reliable security system has been implemented to the fullest degree. Customisation of scalable solutions make every living space one-of-a-kind and incredibly versatile, giving you the unsurpassed flexibility of transforming your home to suit any mood or occasion with the touch of a button.
---
---