CanningHill Piers - new launch condo by Capitaland and CDL raises revenue 77% worth over $1.18 billion
.
A new launch condo - CanningHill Piers is well-known as a mixed-development by a joint venture of City Developments Ltd (CDL) and CapitaLand Development. The developers announced that 538 out of a total of 696 units in the project were sold. Therefore, the sales was up to 77%, with total sales valued at over $1.18 billion. Average selling prices achieved was around $3,000 psf.
The sole super penthouse of this new launch condo has an area of 8,955 sq ft, which was sold for $48 million ($5,360 psf), just 4% below the $50 million ($$5,583 psf) price tag. The buyer is believed to be a Singaporean businessman, although the developer declined to comment. The super penthouse of CanningHill Piers is located on the topmost level of the 48-storey residential tower and is said to have "unmatched panoramic views of the city and the riverfront".
Most of buyers of this new launch condo for sale is Singaporeans, which accounts for 81%, while the remaining 19% comprising Permanent Residents and foreigners mainly from China, Malaysia, Indonesia, Australia, South Korea, USA, UK and others.
Find out more detail information about CanningHill Piers here!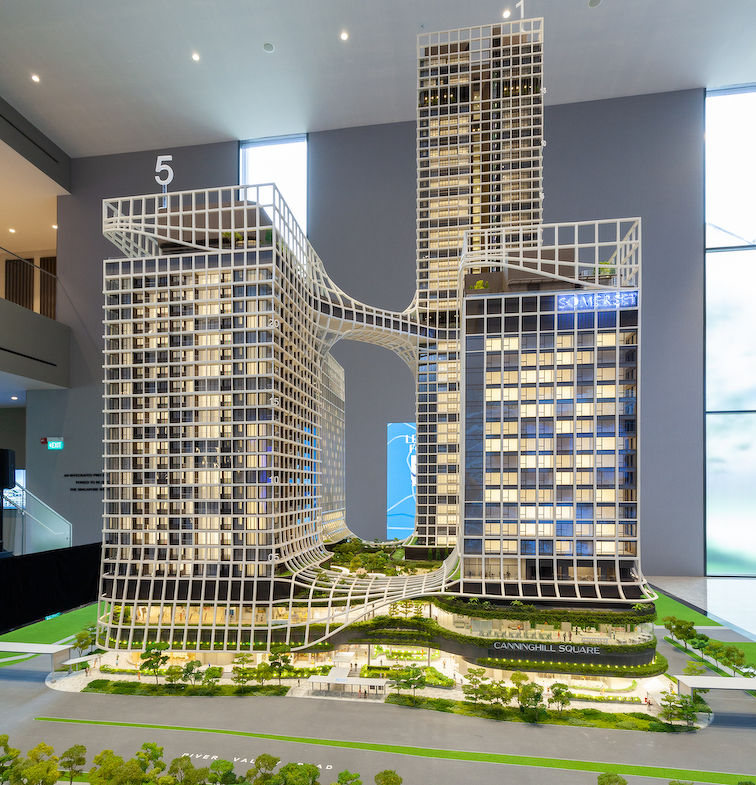 CanningHill Piers - a new launch condo with distinctive design by the renowned Bjarke Ingels Group
CanningHill Piers becomes the best-selling new launch condo in the Central Area this year, according to the developers in a joint statement. All unit types were said to be well received, with selected stacks fully sold.
The Price Guide of new launch condo - CanningHill Piers and the comments from the experts
Ismail Gafoor, CEO of PropNex said that family members, either siblings or related parties were picking up two or more units, probably on the same floor. Ken Low, managing partner of SRI said that strong sales momentum was seen throughout the first day of launch, they had known that the one-bedroom and one-bedroom-plus study units would sell well, but there had been strong take-up for the two-bedroom and three-bedrooms as well. Meanwhile, a whole stack of four-bedroom units were fully sold, demonstrating that buyers were willing to pay a premium for the view.
The new launch condo - CanningHill Piers has the consumption was strong for the one-bedroom units with sizes from 409 to 560 sq ft at prices from $1.16 million ($2,836 psf). Almost all 328 units are believed to be sold. PropNex's Gafoor shared that many had been purchasing these units from an investment angle as the entry price was very appealing to investors.
Two-bedroom units in this new launch condo for sale account for 203 units (29%), with sizes from 732 to 883 sq ft. These units are priced from $2.12 million (about $2,900 psf). Three-bedders with 80 residential units have sizes from 893 to 1,313 sq ft.
In addition, four-bedroom units have a total of 60 units, with the area from 1,755 to 1,959 sq ft, and prices of four-bedroom premium units from $5.22 million. Five-bedroom units have areas of 2,788 sq ft, consist of 20 units and are priced from $8.1 million ($2,905 psf). There are also four sky suites sized from 2,874 sq ft.
Stay tuned for the latest news of new launch condo in Singapore and remember to follow our website to not miss any attractive thing!