CDL & MCL Land co-secured a green loan of S$847m for 2 new condo projects
.
According to the latest information on Tuesday (August 31, 2021), City Developments Limited (CDL) and MCL Land have secured the green loans up to S$847m for 2 new condo projects. This will be used to fund the development of two newly launched Government Land Sale (GLS) sites at Northumberland Road and Tengah Garden Walk.
Also according to this statement, they also specified how the green loan will be used for 2 new condo projects. Specifically, a 4.5-year green loan of S$429 million, funding new development at Northumberland Road, provided by DBS loan advisors. While a 4.5-year green loan of S$418 million will be used to finance the upcoming EC at Tengah Garden Walk, provided by the loan advisor UOB.
If you are interested in new condo projects coming soon, visit here to discover interesting and being expected projects in this year, especially EC projects.
Two new condo projects with green loans in this years
The loans of new condos for sales are green loans based on the Singapore Overnight Rate Average (SORA) for both joint venture developers, meaning the developer will develop the projects with the form of joint venture 50-50. Therefore, they will develop two projects in the form mentioned above. CDL and MCL Land said in a joint announcement that both parcels of land represent some of the largest green loans in the SORA-based real estate sector to date, and also mark the company's first SORA-based green loan both developers.
Northumberland Residences - New mixed development at District 08
Image of New Condo Projects Northumberland Road GLS site. Source: Internet.
The 8,732.9 sqm site at Northumberland Road will be developed into a mixed-use development, comprising 407 residential units and commercial retail space on the ground floor. Northumberland Residences is located in a central location with good connections, is one of the prime locations most sought after by investors in District 08, estimated TOP in 2026.
This new condo projects will feature green features during development including energy-saving accessories such as LED lighting and five-ticks air conditioning system as well as a transport system. compressed air discharge. These are all environmentally friendly features as well as minimizing the dangers of waste and air pollution.
Tengah Garden Walk EC - The expected new condo for sale
Tengah Garden Walk EC will be the first launched apartment in Tengah town - one of the areas to be strongly developed in the future.
On the other hand, the 237,032 sq ft site at Tengah Garden Walk will be developed into a 628 unit EC project. This highly anticipated new project will incorporate green features including "solar photovoltaic systems to replace 30% of energy consumption generated from the common areas and a passive facade design that encourages ventilation and a reduction in overall heat gain".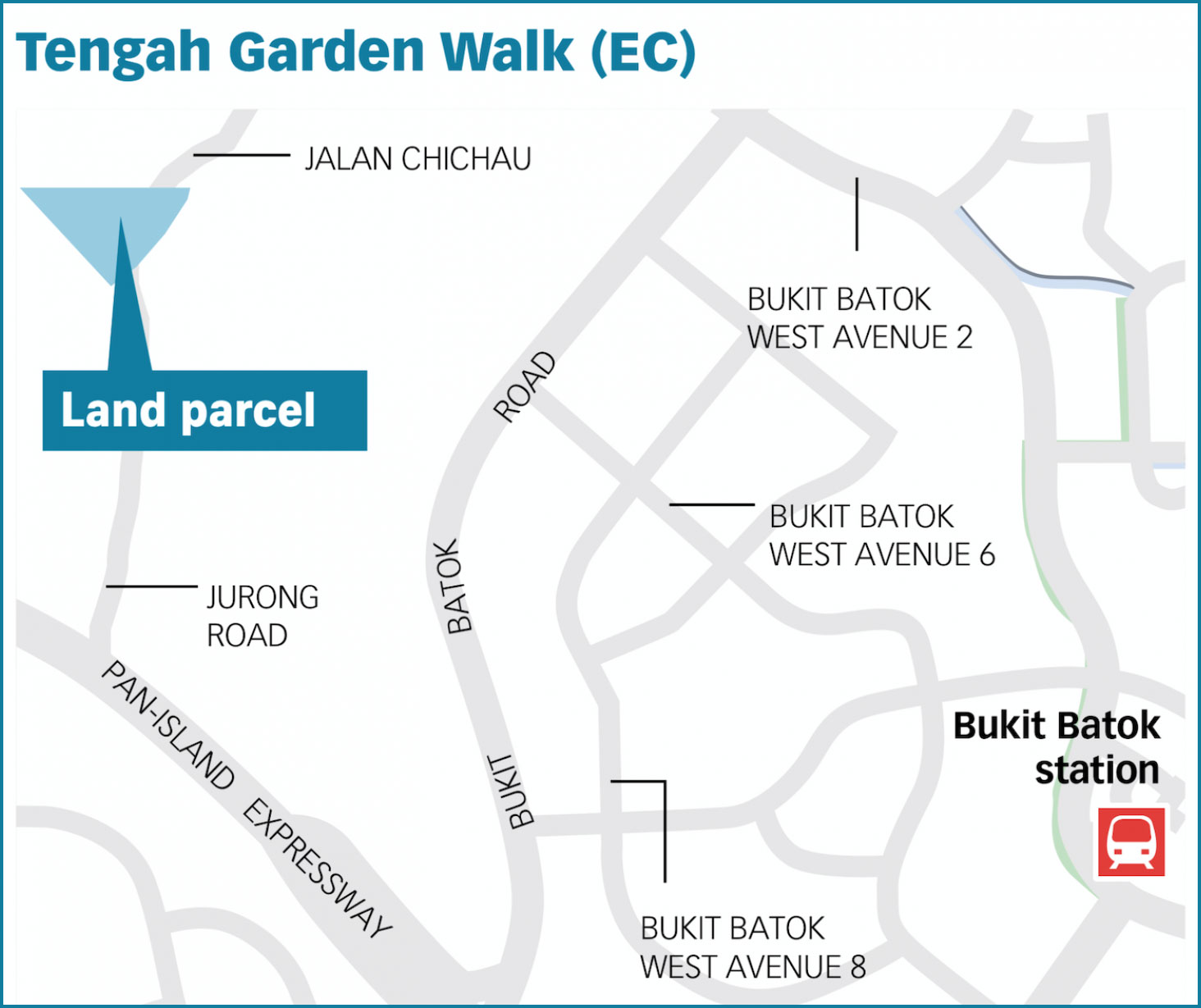 Image of New Condo Projects: Tengah Garden Walk EC Location Map. Source: Internet.
For more detailed information about the Tengah Garden Walk EC project, please refer to the content here, stay turn to not miss new news from the project because we are constantly updating!
CDL & MCL Land aspire to be a green developer in Singapore
According to Sherman Kwek (CEO of CDL group) said that CDL will work closely and make efforts together with MCL Land "to explore innovative green building solutions and technologies for their joint new condo projects". He noted that CDL, the first green bond issuer by a Singapore company in 2017, has secured more than S$3 billion in sustainable financing to date. This includes green loans, green bonds and sustainability linked loans.
In addition, according to Tan Wee Hsien (CEO of MCL Land) also added that they "aspire to become a green developer". He added "As we aspire to be a green developer advocate, we look forward to working collaboratively with our JV partner CDL towards a low-carbon future with our upcoming projects".
MCL Land is a wholly owned subsidiary of Hong Kong Land. And Mr. Tan stated that it is trying to keep up with the parent company with its "commitment to sustainability" and "to date, Hongkong Land has secured sustainability-linked loans of US$1.9 billion in the region and recently issued its US$500 million inaugural green bond and a HK$375 million green bond".