GLS site at Ang Mo Kio Ave 1 attracts highest bid being $1,118 psf of 15 bids
.
Tenders of two government land sales (GLS) sites closed on May 25. The larger site is a executive condominium (EC) with site area 237,029 sqft at Tengah Garden Walk. And the other one is a 99 year lease of 136,479 sq ft, at Ang 1st Avenue Mo Kio.
The site at Ang Mo Kio Avenue 1 attracted 15 bids and of those, the highest bid of $381.38 million ($1,118 psf per plot ratio) went to United Venture Development - a joint venture based on a 60:20:20 (JV) ratio between UOL Group, Singapore Land Group , and Kheng Leong. By looking at the bids for this land, it explains the attractiveness of land parcel that is very close to the MRT station. The level of bidding among developers showed their confidence and any restriction induced by the pandemic is temporary.
Ang Mo Kio 1 Residences - The most anticipated launch at D20
Ang Mo Kio 1 Residences is located in District 20 Singapore, it it will development include the 9-storey and 370 units. A 99-year leasehold property on Ang Mo Kio Avenue 1, across from Bishan-Ang Mo Kio Park. This plot is near the Mayflower MRT station on the Thomson-East Coast Line. The project has all amenities and facilities needed for a luxurious lifestyle.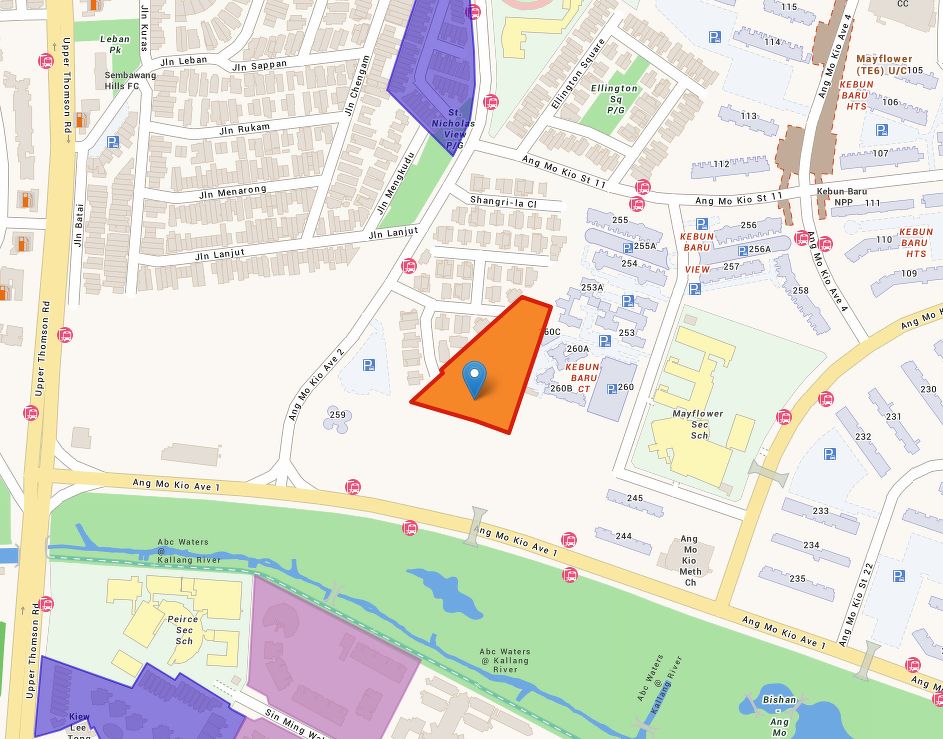 There was stiff competition among developers to secure the GLs site at Ang Mo Kio Avenue 1, which ultimately attracted 15 bids at the close of bidding. (Photo: URA Space)
Connection and Amennities at Ang Mo Kio 1 Condo
New project at Ang Mo Kio Avenue 1 will benefit from its proximity to the Mayflower subway station on the Thomson-East Coast Line, which is due to open later this year. "This optimistic top bid exceeded expectations and at $1,118 psf ppr, possible sales prices for units here when ready to launch could start from $2,000 psf to $2,100 psf." Leonard Tay, research team leader at Knight Frank Singapore, said.
Ang Mo Kio 1 New Launches own a prime location at D20, given the place boasts its own sophisticated railway transport system. Right from the stretch of the busy lane of Avenue 1, you can access different bus stations within the neighbourhood areas such as Block 333, Block 331, Block 315, Block 310, Block 248, Block 246, Block 223, Block 220, Tech ghee Ct, Golden Hill East and Ang Mo Kio Swimming Complex. These buses will smoothly bring to any of your desired destinations – Bus 761, Premium bus 761, 262, 169, 166, 165, 136, 132,133, 71.
Ang Mo Kio Avenue 1 New Condo has all the amenities and facilities needed for a modern urban luxurious lifestyle. Shopping hubs, recreation centres, dining out places, health and wellness, entertainment and religious interest painted the whole community. It's the perfect place to invest and soon there will be investor interest and demand.
Discover Ang Mo Kio1 condo's information today!!
The second highest bid of $358.88 million came from Titus Civil SG, and was followed by a joint bid of $353.33 million from Far East Civil Engineering, Fortune Harmony and Sekisui House. Hoi Hup Realty, Sunway Developments and Oriental Worldwide Investments also submitted a joint bid of $335.9 million.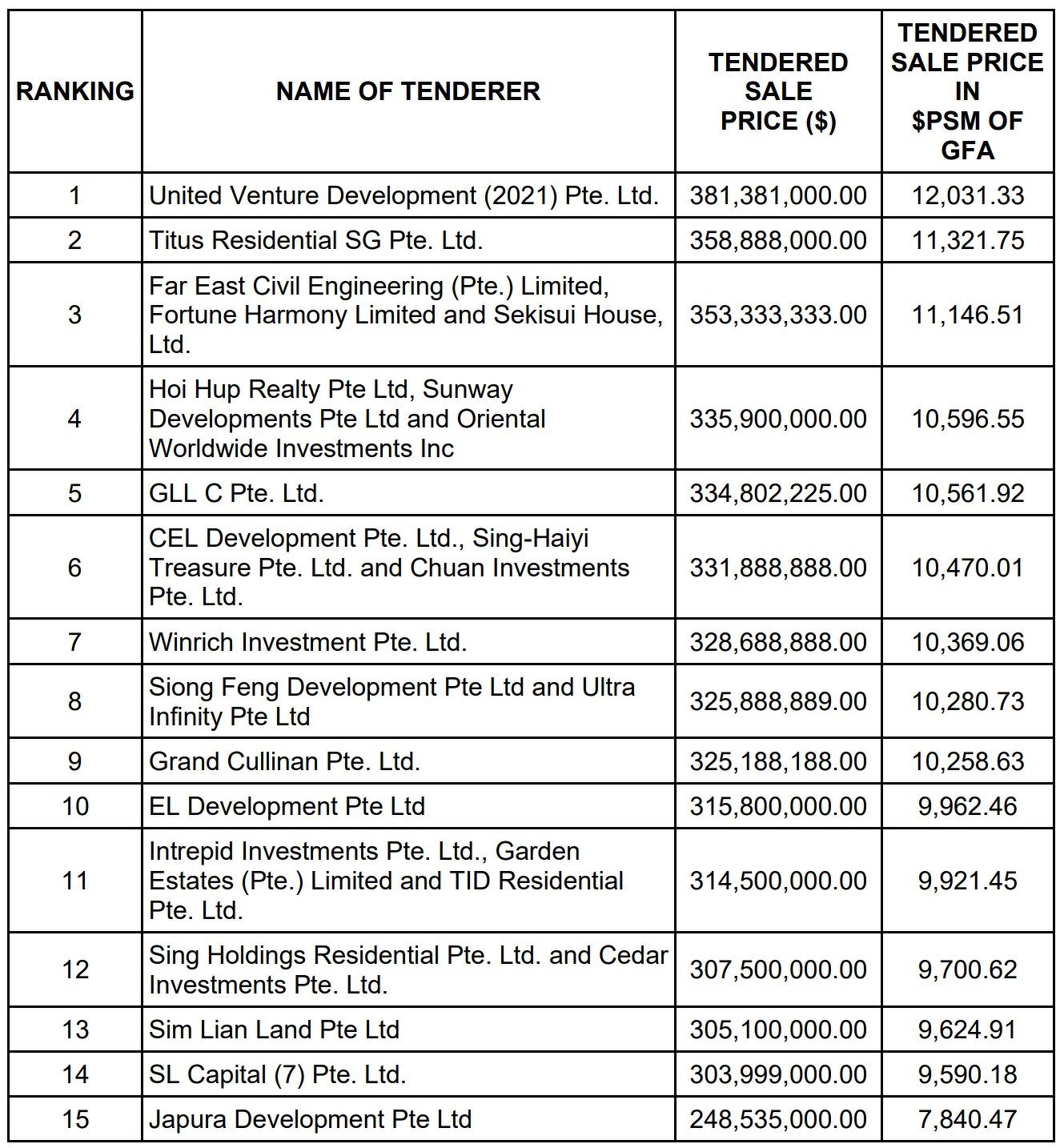 According to Mr. Mark Yip, CEO of Huttons Asia, Residential land for redevelopment in Ang Mo Kio tends to attract many bidders. For example, Thomson Impressions had 18 contractors in 2014, The Panorama had 12 contractors in 2013, and Centro Residences attracted 14 contractors in 2007.
In addition, Mr. Mark Yip also added: "Based on the number of bids and the bid price, the competition for this prime location is fierce and "developers are forced to bid more than $1,000/psf per lot for a chance to protect (site)"
Following that, the EC site at Tengah Garden Walk attracted seven bids and the highest bid was $400.32 million (US$603 rate per lot) from Taurus Properties SG. The company is believed to be a joint venture consisting of City Developments Ltd and MCL Land.
The second highest bid was $400.19 million from CSC Land Corporation (Singapore), followed by a bid of $382.88 million from QJ-OS and Santarli Realty. Hoi Hup Realty and Sunway Developments also teamed up to submit a bid of $379.1 million.
This time, Mr. Mark Yip said that the Tengah Region has never launched any EC before and it is a relatively untested place for new EC development. Even so, the GLS site has also garnered a healthy level of engagement from developers who will be taking advantage of the planned HDB upgrade pool.
Ultimately, Nicholas Mak (head of research & consulting at ERA Realty) adds that based on the highest bid, this makes this land the most expensive land price for an EC parcel and project projects can be launched for around $1,200/m2, which is higher than the average launch price of new EC projects launching in the market.
Singapore's real estate market is always vibrant and attractive with many profitable investment projects, so always visit Launches.SG for the latest information. Discover more projects here!!! Please leave your contact to receive a consultation and don't hesitate to Contact Us if you have any queries.
Fill In The Contact Form Here!!!