New condo launches sales slip by 23.6% month-on-month in August
.
According to URA, sales of new condo launches fell 23.6% month-on-month (MoM) in August. Specifically, only 1,215 units were sold during this period, down from 1,591 units in July. This activity also extended to sales including luxury apartments, which fell 24.3% month-on-month to 1,322 units, from 1,746 units sold in August.
For new condo launches that you want to learn more about, check the information and available units at All Projects item, you will get the information you want because we are constantly updating!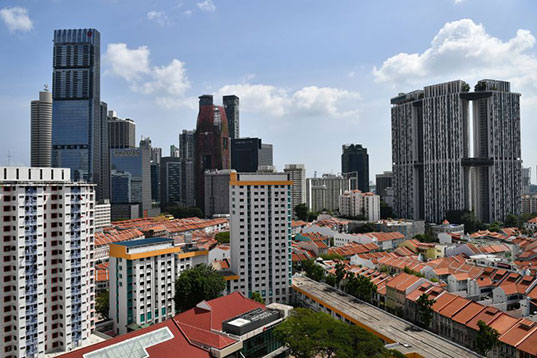 Analysts have heralded this as a quieter period for the property market besides new condo projects. According to Christine Sun, senior vice president of Research & Analytics Orangetee, this is an example of a lull in the market. This means that new product launches are kept to a minimum and demand will target existing properties.
Ms. Sun also added that the 138 Klimt Cairnhill units and the sold units of Watergardens at Canberra were the only projects launched in August. The number of new homes on the market has dropped significantly as owners. Investment launched only 836 units (excluding EC) for sale, down 24.3% from 1,104 units in July and 47.2% down from 1,582 units in August last year.
Which new condo launches are the best-selling in August?
According to statistics, the best-selling project in August is The Watergardens, which can sell 60%, equivalent to 268 out of 448 units. Its total units cost an average of $1,469 per square foot (psf).
Inspired by the concept of "living in a water garden", The Watergardens is one of the new condo projects with impressive design and close to nature. Lush gardens and outdoor grounds, lawns, pools and features contain the water element. This project has a site area of ​​296,722 sqft and a Gross Floor Area (GFA) of 38,593 m2. With technology and design at the forefront, The Watergardens at Canberra have been designed with a wide range of options from 2 Bedroom, 2 Bedroom Premium to 4 Bedroom and 4 Bedroom Premium apartments.
This project also has excellent connectivity, close to the latest Canberra MRT just 3 minutes walk, connecting you with the surrounding area and all parts of Singapore via the North-South line. Getting into the city center has never been easier, with the upcoming North-South Expressway shortening the journey to just 20 minutes.
If you are interested in The Watergardens and want to learn about one of the hottest new condo launches today, check it out before the remaining 40% of its units are sold out.
The Watergardens has sold 60% of the existing units which means about 268 units sold.
Additionally, other top seller condo is Normanton Park with 131 units selling for an average price of $1,828. About Normanton Park, this is a 99-years leasehold condominium which is located at Normanton park in District 5. This condo has a site area of 661,005 square feet and it's made up of 13 residential blocks of 488 apartment units. It is known that this project has a fairly stable connection, can be easily reached here via Kent Ridge MRT, about 1km away and known as the nearest MRT station to the apartment. Residents can easily move to Haw Par Villa MRT which is 1.1km from the building and Pasir Panjang MRT which is 1.2km from the apartment.
Ms. Sun also said that in the context of not having many big sales, demand has been concentrated on the current sales. Projects in the suburbs and suburbs continue to find favor among buyers due to their affordability and spaciousness. Other best-selling projects are Normanton Park, The Florence Residences, Midwood, OLA, Treasure at Tampines, Dairy Farm Residences, and Parc Clematis.
Sun also said that developers had a look at the end of the month in which newly launched projects such as Canninghill Piers at River Valley Road and Perfect Ten at Bukit Timah Road are expected to boost performance.
It can be seen that the slow sale took place at the beginning of the year and due to the influence of the pandemic. After that, the reopening of selling was also boosted with the hope of partially recovering the market's demand.
Tricia Song, Head of Research, Southeast Asia, CBRE echoed this sentiment. She points out that the launch of projects, as well as the influx of foreign demand, are factors for this positive outlook. She said that they are expecting strong new home sales in the next few months, although it will mainly come from ongoing projects with a large number of openings for the rest of the year. Per the report, Parc Greenwich EC moved around 65% or 322 out of a total of 496 units during the launch weekend on September 11 and 12.
In the higher-end segments, Canninghill Piers, a residential area in the Liang Court redevelopment, scheduled to launch in Q4 2021, may also continue to be interested in integrated developments.
"Now that more than 80% of the population is vaccinated, the Government of Singapore established a Vaccinated Travel Lane with Brunei and Germany in September (a pilot program to further relax border controls). This is a development in favor of the return of foreign demand. Furthermore, as Singapore transitions to endemic areas, restrictions that weaken gallery views will no longer be the norm for developers' sales. Therefore, we expect momentum in the housing market to continue to be positive," said Song.
Discover the details of Canninghill Piers project today if you are interested in the hot new condo launches today!