New launch condo: Some attractions of The Reserve Residences by Far East Organization that you can not skip
.
Situated in the foothills of Bukit Timah Nature Reserve, The Reserve Residences is the anticipated new launch condo with plenty of attractions. This project is thoughtfully managed and features a dynamic mix of residential, retail, service, community and public spaces; a well integrated urban community node in Jalan Anak Bukit will contribute to the vibrancy of the existing area. This development sits on 3.22 hectares of luxury land, located at the intersection of Upper Bukit Timah and Jalan Jurong Kechil Roads, making it a prominent future landmark with excellent accessibility.
Compared to others new launch condo, this project is impressive by its favorable location and integrated MRT station below the commercial area. Specifically it will include Residential, a development complex that will feature an integrated transport hub with a bus interchange on the second floor, with residential and commercial spaces on the first three floors. first. The new Beauty World bus interchange will have an underground pedestrian route connecting to the Beauty World Metro Station on the Downtown Line.
If you are interested in this new launch condo, discover more about The Reserve Residences by Far East's project details here to be among the first to know about exclusive project news and information!
New launch condo: Image of sketches of The Reserve Residences
New launch condo: The Reserve Residences with its strategic location and convenient connections make it easy to reach your destination.
Rated as a new launch condo with preferred connectivity, The Reserve Residences is also well connected to the main PIE/BKE highways via Jalan Jurong Kecil and towards AYE via Clementi Road. Getting around is easy with great connectivity and accessibility by public transport or by driving. With Bukit Timah Nature Reserve as the backdrop, this development will provide an attractive habitat that promotes an active lifestyle with nature. A series of pedestrian-friendly and barrier-free pedestrian-grade pedestrian networks will provide a comfortable walking experience and seamlessly connect from the project to the nature reserves and parks. surrounding amenities.
In addition, this project will be close to many amenities. There are many shopping malls in the vicinity, including Beauty World Plaza, Beauty World Center, Bukit Timah Shopping Center and Bukit Timah Plaza. There are plenty of local delicacies nearby, as Bukit Timah Market and Food Center are right across the street. In terms of education, good elementary schools include Methodist Girls' School (Elementary), Pei Hwa Presbyterian Primary School and others. For high school, we're also close to top schools like Methodist Girls' School, Hwa Chong Campus and others. Therefore, you can rest assured that your child's educational needs will be fully met.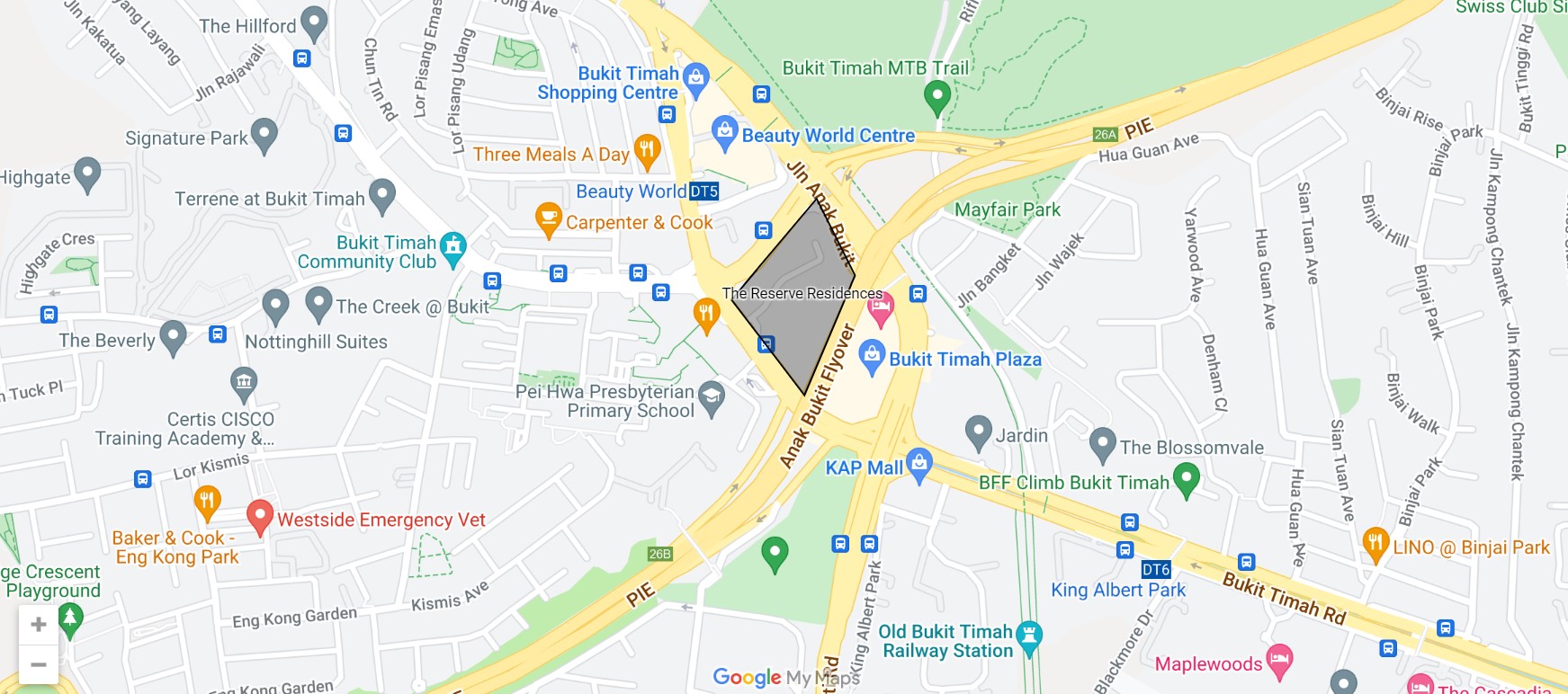 New launch condo: The Reserve Residences Location Map
For more latest news on New Launch Condo and don't forget to follow our website and get the chance to live in these amazing luxury residences!