New Launches News: Ultimate new generation of landed homes
.
Special Advertising Feature
Strategically located in a rare, tranquil location in the north-east region, Nim Collection by Bukit Sembawang Estates offers residents with utmost luxury and privacy, as well as convenience.
In land-scarce Singapore, private landed properties are considered an exclusive investment as they make up only about five percent of the total number of residential households in Singapore. Therefore, owning one is truly a luxury.
While the allure of a landed property lies mostly in it being a reliable investment, the idea of "landed" living is also one that holds much appeal for its promise of expanse, allowing those with bigger families to live together under one roof.
If you're a home buyer looking to upgrade to a landed property to accommodate your growing family, or an investor looking for good opportunities, look no further than Nim Collection, a luxurious landed 5-bedroom ensuite development offered on a 99-year lease, located at the fringe of Ang Mo Kio town and Seletar Hills.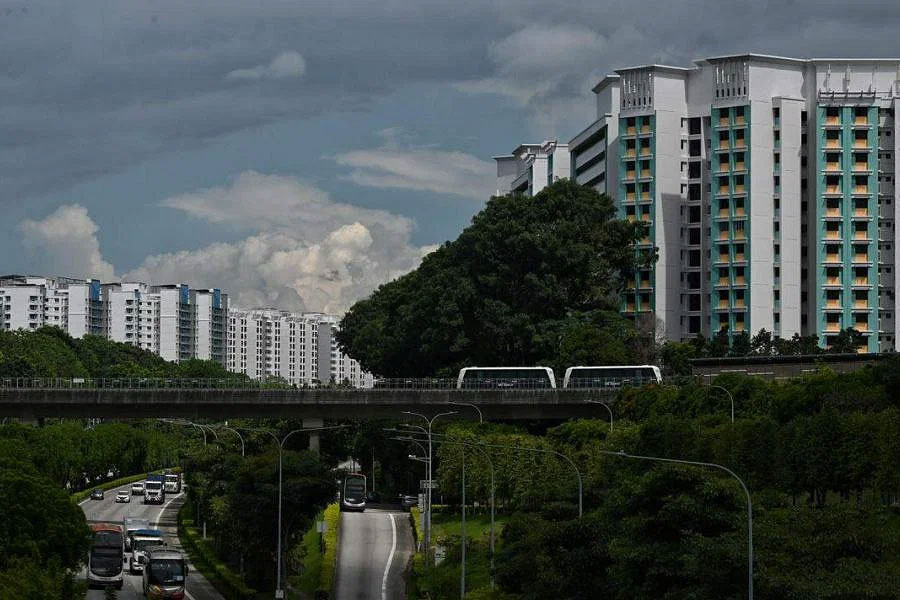 Strategically located along Nim Rise off Ang Mo Kio Avenue 5, the 47-unit (phase 1) development comprising 45 terrace houses and two semi-detached houses is ideal for multi-generation living as each unit boasts a spacious land area. The land sizes for terrace houses range from 1,615 sq ft to 3,079 sq ft, while the semi-detached houses are significantly larger, about 3,014 sq ft to 3,358 sq ft each. The luxury of space with built-up area from 4,252 sq ft to 5,425 sq ft.
Product positioning
For those who seek flexibility in terms of how they wish to design their homes, they would be pleased to know that Nim Collection is one of the pioneering developments to explore the new envelope control landed housing guidelines, which will give owners more free play in internal layering of configuration of the property while preserving control over the maximum height. For example, owners can now 'layer' their homes more creatively to bring in more natural light and ventilation. With these new guidelines, floor-to-floor heights will no longer apply.
Designed by W Architects, a President's Award Design Winning Firm, Nim Collection's unique architecture, which has been carefully conceptualised and smartly designed, not only provides ample space for those living there, but the development looks stunning. From the exterior, the façade core features an eye-catching stacked terracing garden, which perfectly contrasts the main body made up of a series of angled cubes. This lovely contrast, paired with the repetition of the terrace houses, lends a charming character to this estate.
Car porch roof Nim Collection
Nim Collection's units feature a spacious rooftop chill-out area.
Premium fittings and appliances
Aside from sporting a modern and sophisticated design, every unit has also been equipped with a smart home system and a slew of high quality fittings and appliances, promising residents an unrivalled living experience. In all five bedrooms, the developer has chosen Ximula wardrobe systems and Daikin air conditioners, while the dry and wet kitchen has been fitted with appliances from Brandt and De Dietrich. The bathrooms, on the other hand, display sanitary wares from renowned German brands: Duravit and Grohe.
Investment potential
The allure of Nim Collection is further enhanced by its proximity to nearby industrial clusters such as Woodlands Regional Centre, Seletar Regional Centre, Punggol Creative Cluster and Learning Corridors, and the upcoming Seletar Aerospace Park.
The underway Seletar Aerospace Park, which is envisioned to be a world-class dedicated aerospace regional facility, is expected to create about 10,000 jobs upon its projected completion in 2018, while the Woodlands Regional Centre, which is part of a larger commercial belt called the North Coast Innovation Corridor, will house the first business park cluster in Singapore's northern area.
Envisioned to be a commercial hotspot, the North Coast Innovation Corridor, which in tandem with the future cross-border rail link into Malaysia, will spawn a new generation of modern factories and innovation centres that will stretch from Woodlands Regional Centre, with more than 700,000 sq m of modern commercial space and more than 100ha of developable land. This will stretch to the Gambas area, and continue towards the east to Yishun, past the Upper Seletar Reservoir, into the Seletar Aerospace Hub, and will continue towards the east to join the Punggol Creative Cluster and Learning Corridor.
Utmost convenience
Thanks to the development's strategic location, residents can enjoy easy access to an array of amenities including shopping malls, schools and several transportation links.
For shopping and entertainment pursuits, residents can head to nearby shopping malls including NEX, Seletar Mall, Ang Mo Kio Hub, Hougang Mall and Greenwich V, which are well equipped to meet everyday needs.
Families with school-going children will appreciate the development's proximity to several reputable schools such as Nanyang Polytechnic, Anderson Secondary School, Rosyth School, Ai Tong School, Nan Chiau Primary and High School.
To get to other parts of the island, residents can utilise various transportation links including Ang Mo Kio MRT station and Yio Chu Kang MRT station. And for those who drive, they can make use of the Central Expressway to get to the city in just a couple of minutes. Furthermore, once the highly anticipated North-South Expressway is up in 2020, the Land Transport Authority says that motorists travelling between the North and the city can expect to save up to 30 percent of their travel time during peak hours.
A bevy of recreational facilities
Residents of the Nim Collection can enjoy free access to an array of recreational facilities at Nim Meadow Park, such as a children's playground, plaza, field and fitness corner.
Adapted from Propertyguru, March 14, 2018.
---
For more latest news on New Launch Condos and don't forget to follow our website and get the chance to live in these amazing luxury residences!