URA new launches: Tender for One-north Gateway site; Hillview Rise and Dunman Road sites up for application simultaneously
.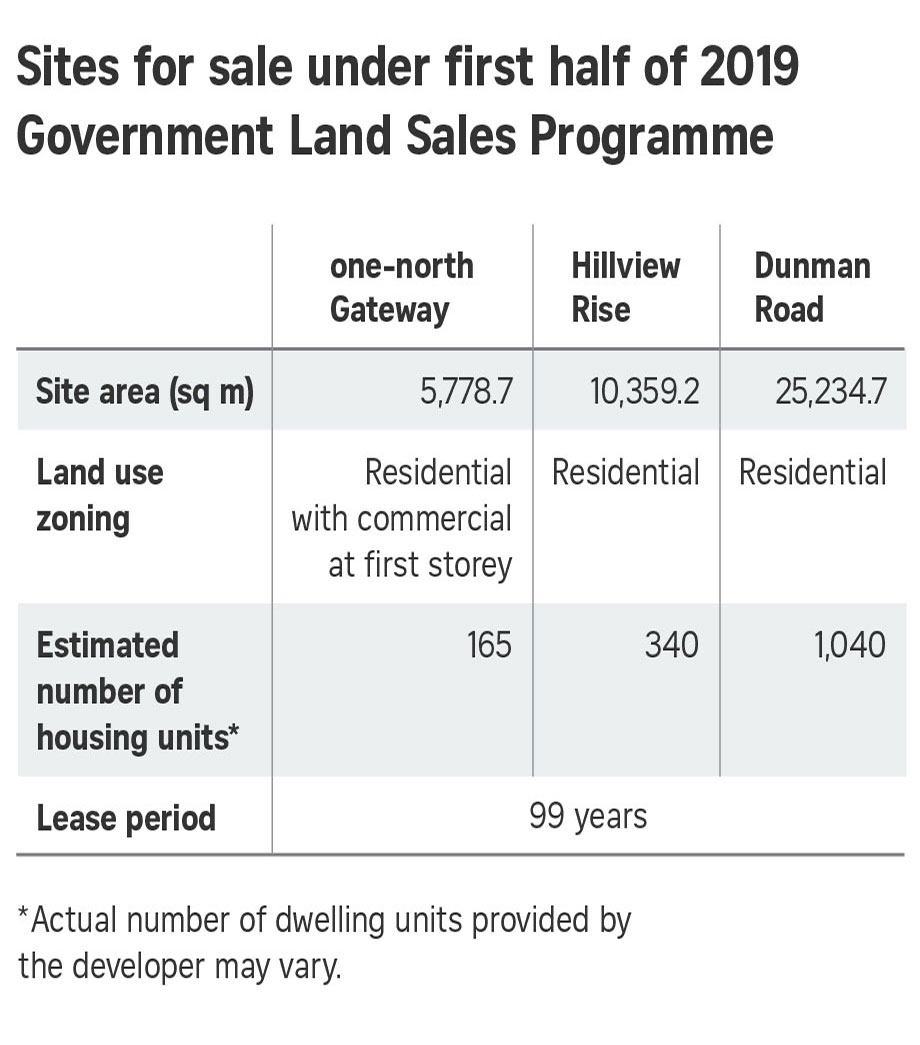 On Thursday (June 27) the Urban Redevelopment Authority (URA) announced that it has released three new sites for sale, which are part of the first half of the Government's 2019 Land Sale Program. And all three of these sites are 99 year leasehold projects.
One North Eden (as known One-North Gateway) is launching for sale on confirmed listings, and it is part of JTC's effort to bring more residential space to the property on one north side. This could meet housing needs and enhance the area as a mixed-use business district.
Located in the strategic District 5, One North Eden Condo is very accessible to to Buona Vista MRT (EW21 / CC22) And One-North MRT (CC23) which is less than 6 min walk.
Zoned for residential and commercial areas on the first floor, One-North Gateway New Launch covers an area of ​​5,778.7 m2 and has a maximum gross floor area (GFA) of 14,447 m2.
The height control for the first two floors is 23m to 25m above mean sea level (AMSL), while the overall height control for the building is 61m to 87.5m AMSL. Also according to URA announced, this new project is estimated to bring about 165 housing units.
The bidding for the land at One-North Gateway will close at 12 noon on September 5, 2019. Bidding for this land will also be done along with two other parcels of land, one in Tan Quee Lan Street and one in Bernam Street.
Additionally, two residential sites in Hillview Rise and Dunman Road, located near the Hillview and Dakota subway stations, are included in the fallback list. However, both sites are now simultaneously available for registration. The land plot in Hillview Rise has an area of ​​​​10,395.2 m2 and the maximum GFA is 29,107 m2. Its maximum building height is 120m AMSL and the site is estimated to have about 340 housing units.
Meanwhile, Dunman Road site has an area of ​​25,234.7 m2 and the maximum GFA is 88,322 m2. The maximum height of the building is 64m AMSL, with the area expected to yield approximately 1,040 housing units, according to URA estimates.
Conveniently located along Dunman Road in the coveted 15th District, Dunman Residences is just a stone's throw from the Dakota subway station. Residents will be instantly connected to every part of Singapore, especially as the Circle line is dotted with interchanges with every metro line. In addition, Dunman Road New Condo is located near many convenient areas to meet your daily needs. Kallang Wave Mall, Paya Lebar Square, Paya Lebar Quarter, I12 Katong and Parkway Parade are sure to meet all your needs, from daily necessities to entertainment.
Continue to visit to see the latest information and photos of Dunman Residences here. We are constantly updating to give you the best experience. Thanks for your attention!