Phoenix Residences offers residents a unique living space to mingle with nature and immerse themselves in the outdoor lifestyle. You can completely relax and enjoy a wonderful weekend with your family at the facilities provided. Refresh your emotions and body in the pool, take a stroll around the lakeside garden or spend time exercising like jogging, cycling and swimming. It is a perfect example of modern and comfortable living here.
Phoenix Residences Pool
Phoenix Residences Bukit Panjang is the perfect place to hold a special gathering for family and friends. Catch up to the picnic, while the children have fun on the vast lawn. Surrounded by aquariums and floating gardens bring you closer to nature as you immerse yourself in the happiness of the house. The apartment is designed to suit every family, with beautiful views bring you close to nature and elegant houses for a unique, sophisticated lifestyle.
Take a virtual tour at Phoenix Residences Typical Unit Layouts to find your best units mix. Do not miss!
Phoenix Residences Site Plan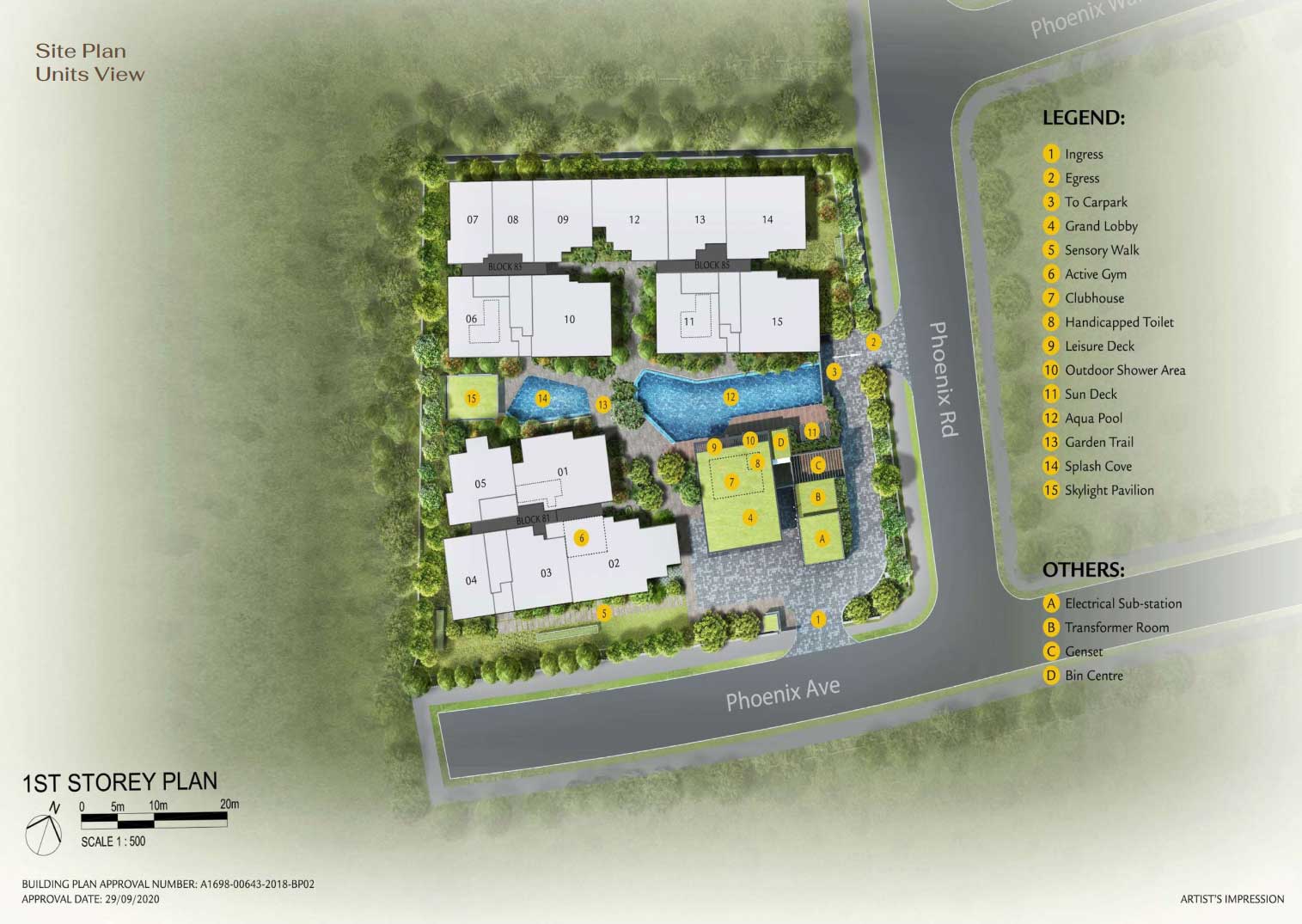 LEGEND:
1. Ingress
2. Egress
3. To Carpark
4. Grand Lobby
5. Sensory Walk
6. Active Gym
7. Clubhouse
8. Handicapped Toilet
9. Leisure Deck
10. Outdoor Shower Area
11. Sun Deck
12. Aqua Pool
13. Garden Trail
14. Splash Cove
15. Skylight Pavilion
OTHERS:
A. Electrical Sub-station
B. Transformer Room
C. Genset
D. Bin Centre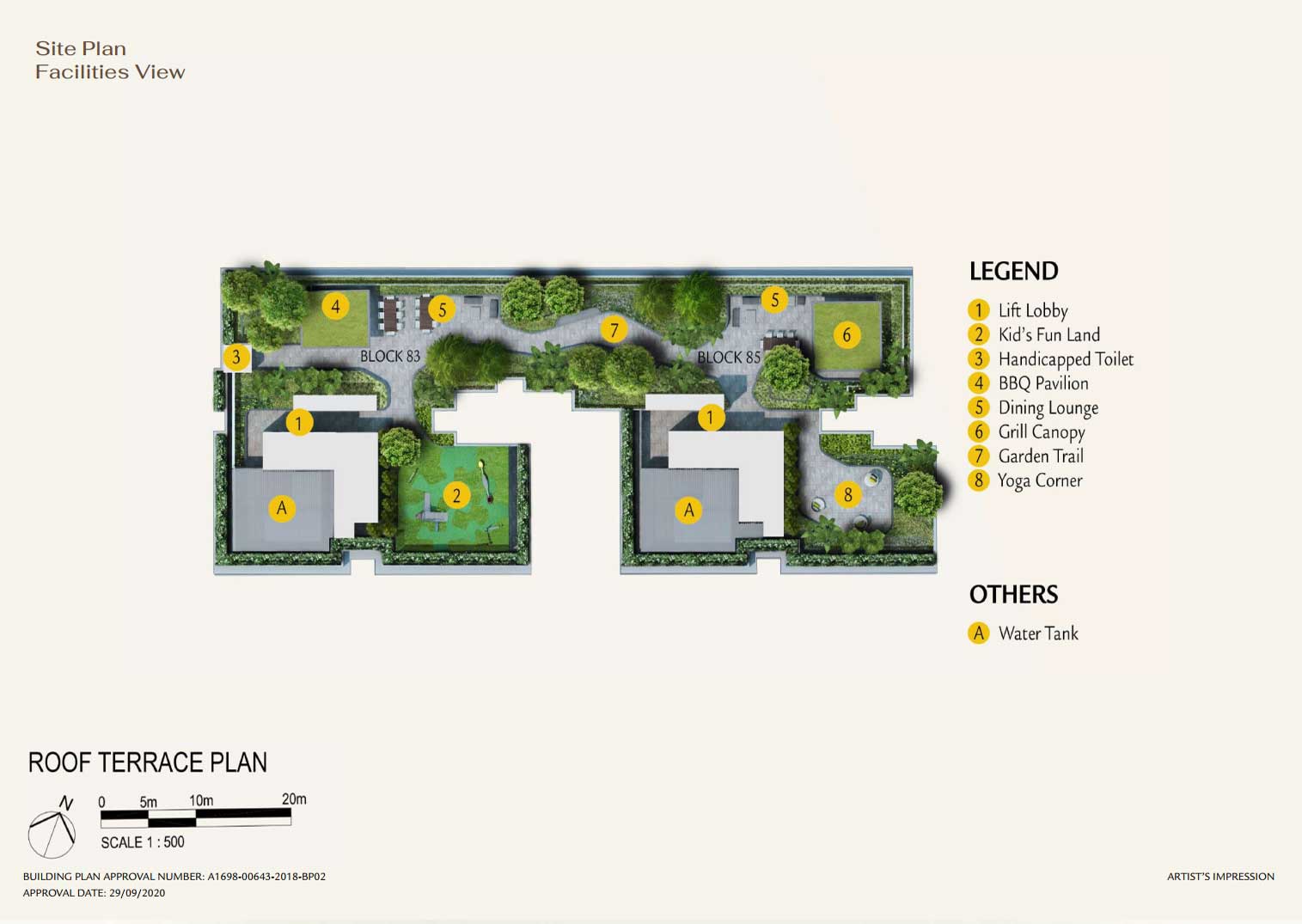 LEGEND
1 Lift Lobby
2 Kid's Fun Land
3 Handicapped Toilet
4 BBQ Pavilion
5 Dining Lounge
6 Grill Canopy
7 Garden Trail
8 Yoga Corner
---
Phoenix Residences Architectural & Design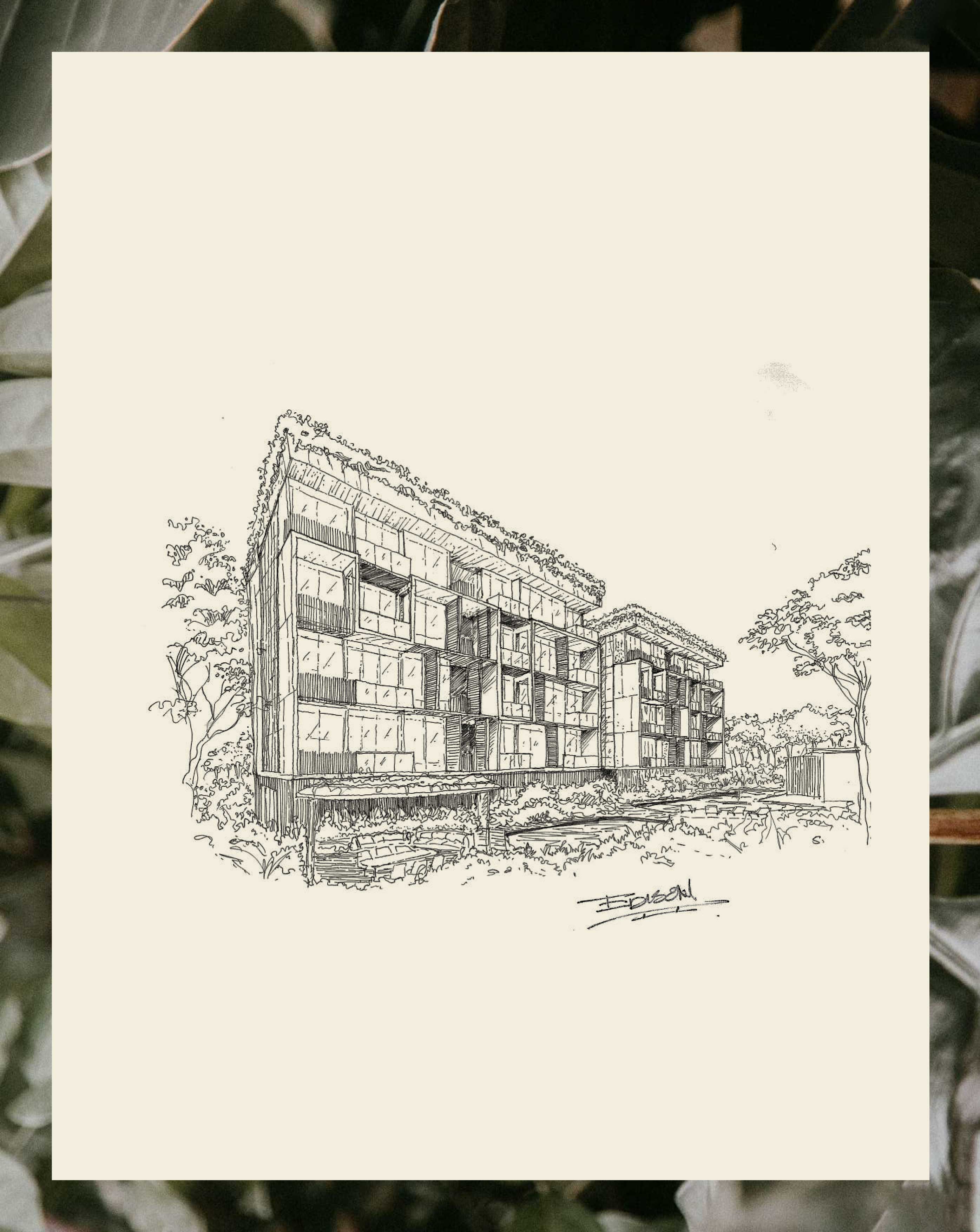 Contemporary Haven in Condominium Living
Host to 74 exclusive units, Phoenix Residences is designed with the occupants in mind, someone who is looking to escape the hustle and bustle of the fast-paced city, to seeking relief in the tranquillity and a touch of modern living lifestyle. The architectural style takes cue from natural elements to form a calm & collective composition.
The architectural plan features 3 distinct blocks and an extensive roof garden, providing green relief for residences wherever possible. These informal spaces encourage spontaneity and informal social gatherings, displaying zest and energy culminated through the architecture.
The grand drop-off, featuring with a series of architectural fins and layers of landscaping, humbly welcomes residents and guest. As the residents and guest wander through the development, their experience is heightened as they are treated to the plentiful communal facilities dispersed throughout the development. From the warmth exuding from the family pods to the chatter of activities in the clubhouse, the sense of familiarity that comes with a cosy residence is an unquantifiable lifestyle experience that detached urbanites yearn for.
Ar. Ng Hoe Theong
Director
AGA Architects
Phoenix Residences Facilities
Come home to the best holiday of your life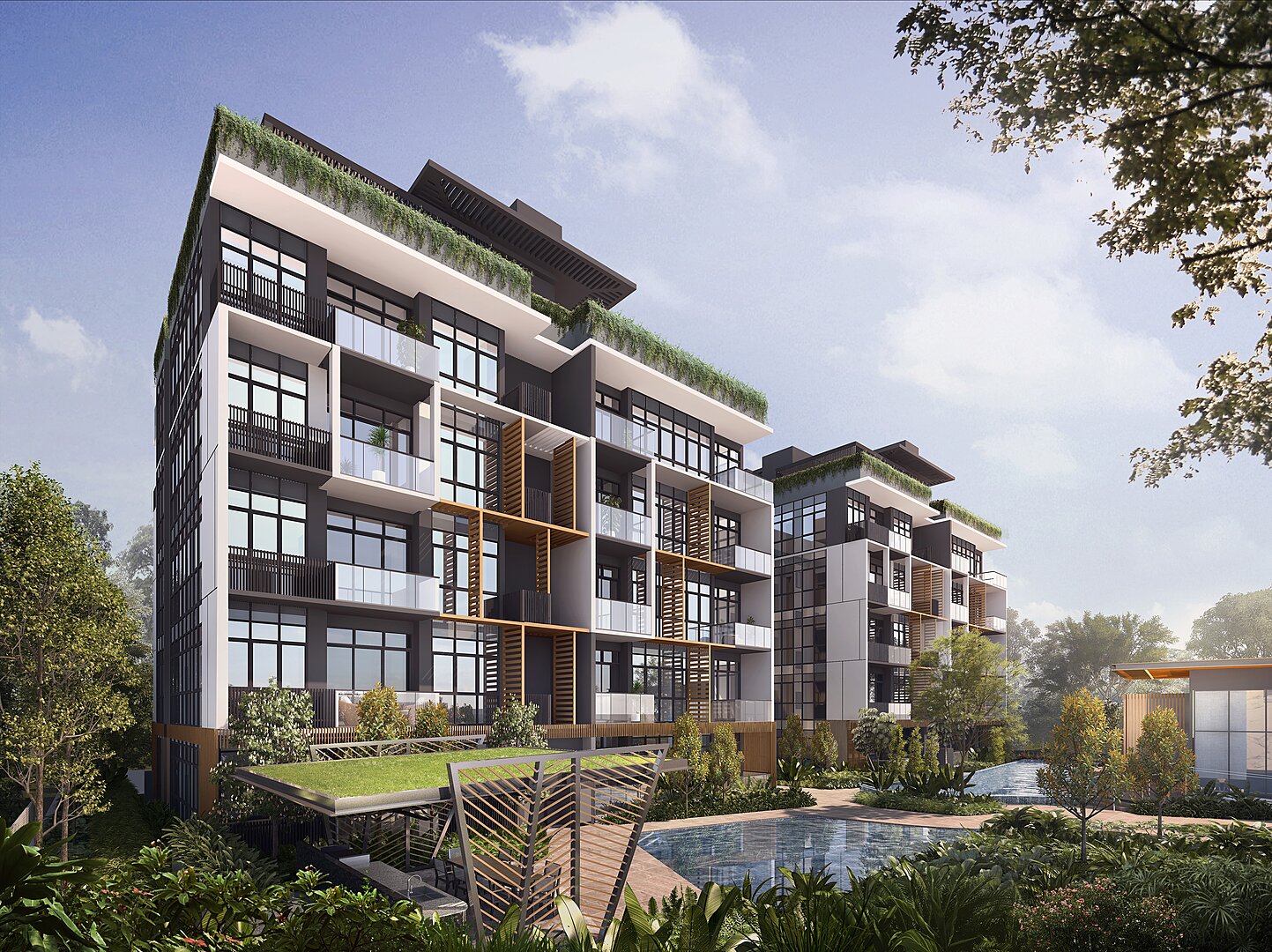 Hotel Luxury
Coming home to the residences feels more like visiting an exclusive, lavish accommodation. The warm reception, intricate details that lead into the suites, and sleek linear fixtures are luxury at its finest. We paid attention to every nicety and took care of every last cranny so you can saunter down the ornamented residences, to find yourself in an oasis that is wholly yours.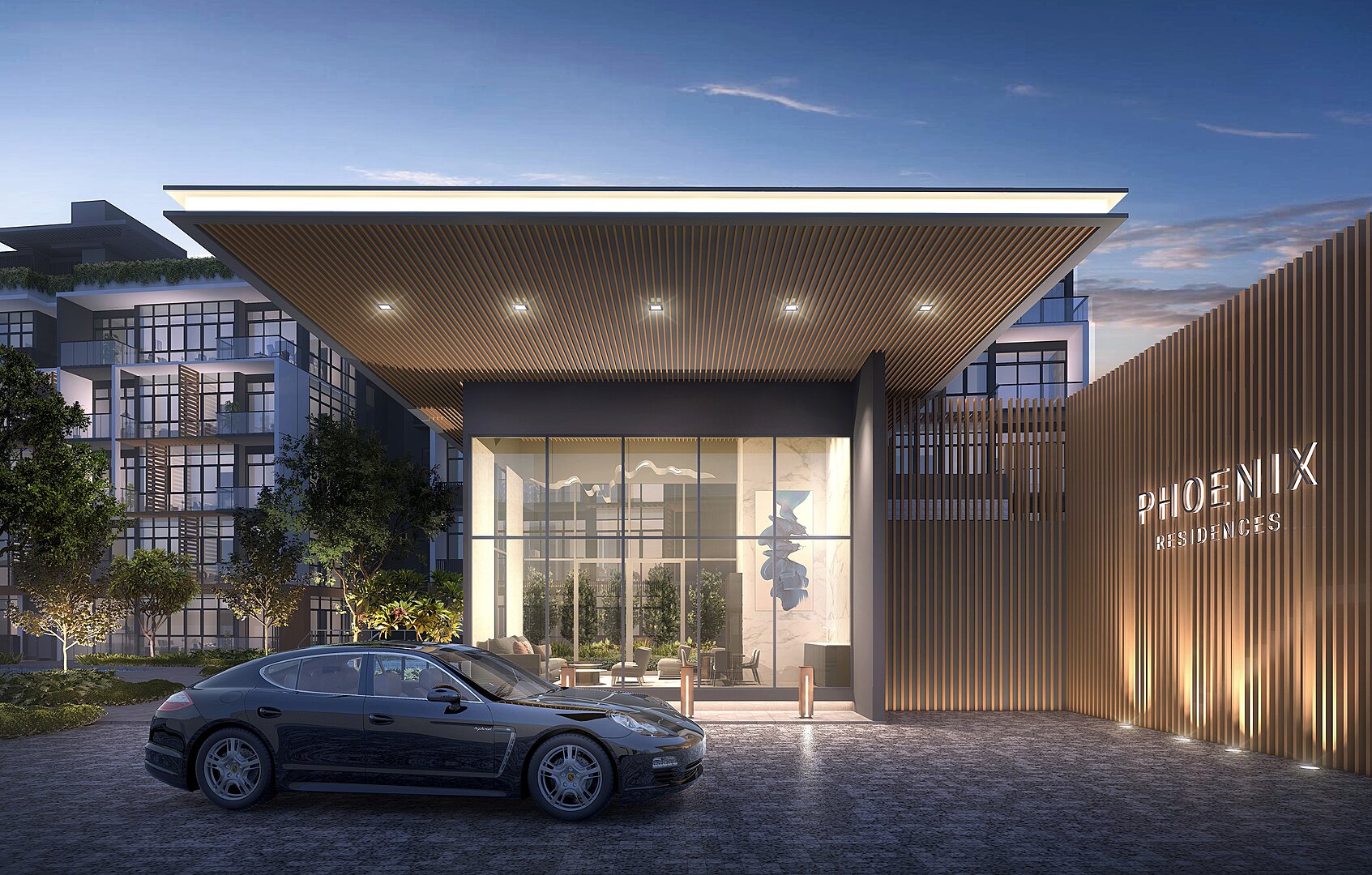 Home Holiday
It is time to unwind and restore. Lay down the day's work, kick those shoes off and take a dip in the pool. Providing quality respite from busy city life in the finest that nature has to offer, this is your everyday vacation — an abode that greets you with a quiet solace. Take a breather, you are home.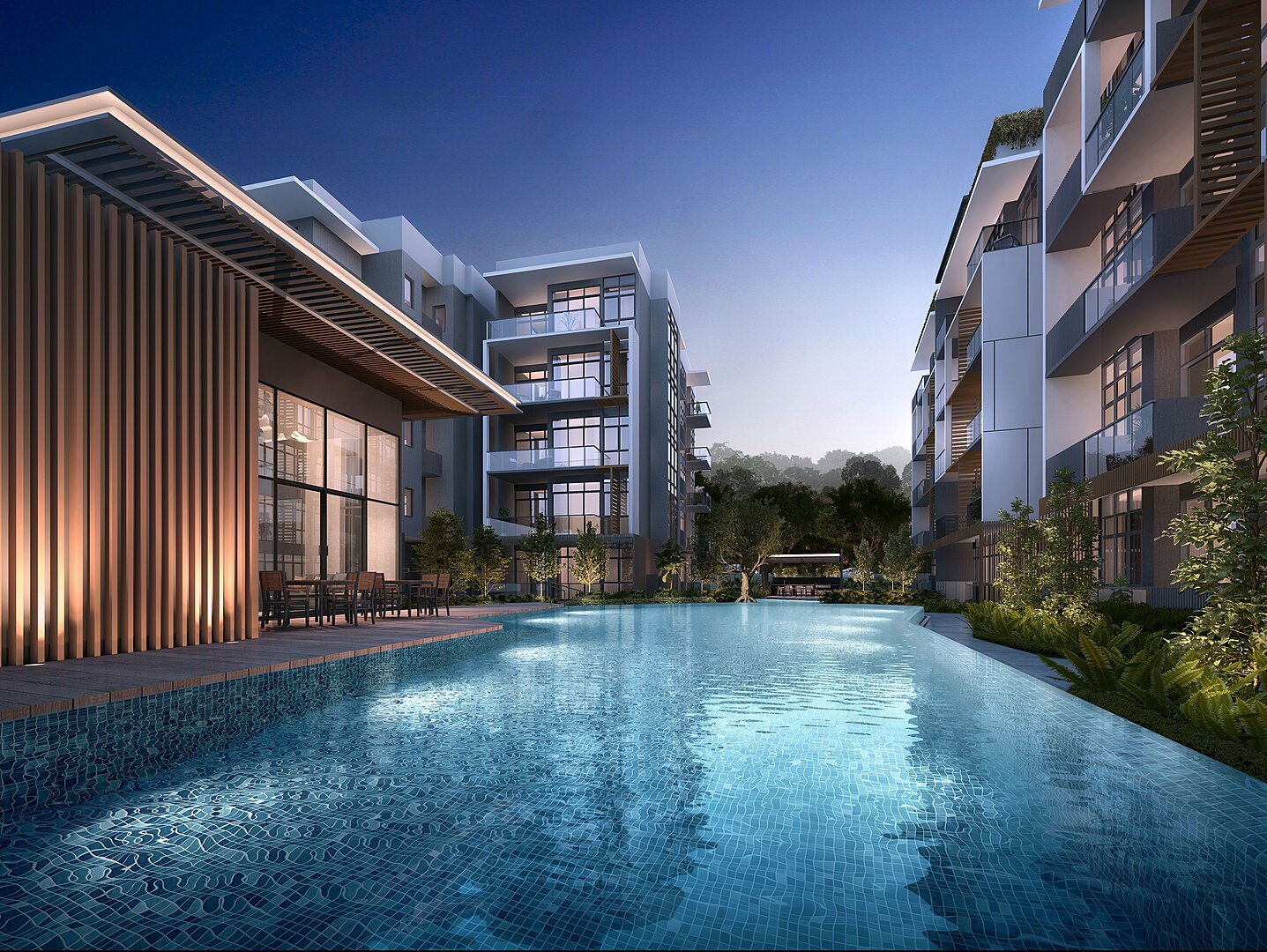 ResortLiving
A home is where love resides and memories are created. Dotted with luscious green and tranquil blue, moments with your loved ones will be coloured a mellow tint of aqua. Children will remember sunsets through the leaves, snuggles at dawn upon the elevated gardens and the smell of morning dew with thawed earth. The comfort of resort living is the familiarity of its elements, the natural draw of its parts. Feel at home here, rooted and grounded in humble nature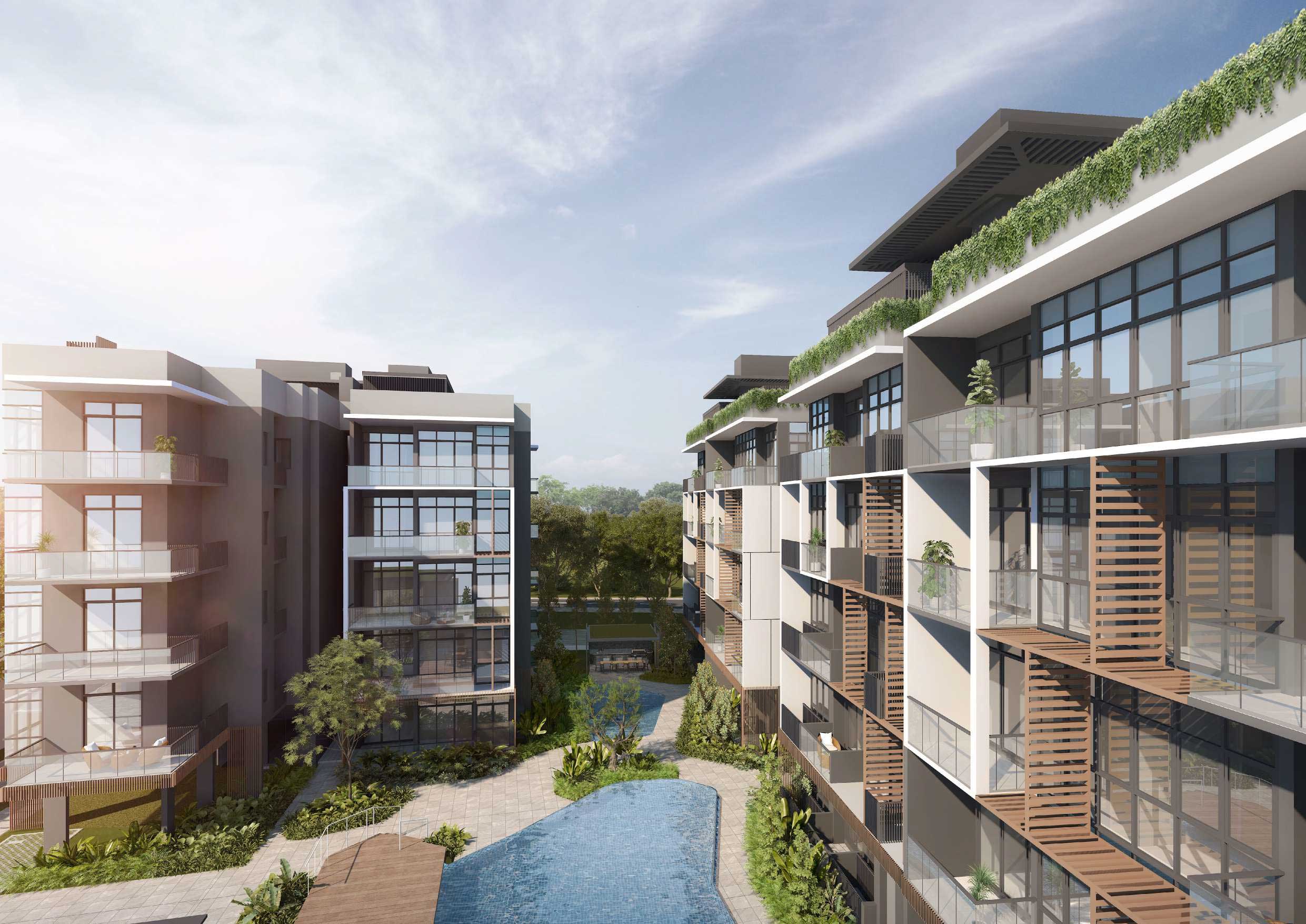 Hostess with the Mostess
Gather your loved ones for delightful luncheons and cosy dinner parties. The Clubhouse extends into the Leisure Deck and Aqua Pool to comfortably accommodate your extended family and the children who are always looking forward to splashes and fun. Parents chatting in the Skylight Pavilion can also keep the young ones in view while they play in the Splash Cove, all in a cosy recess at the end of the residences.
For a fancy celebration, consider having steak at the Rooftop Grill Canopy to enjoy an unhindered view of the neighbouring greenery, wine glass in hand.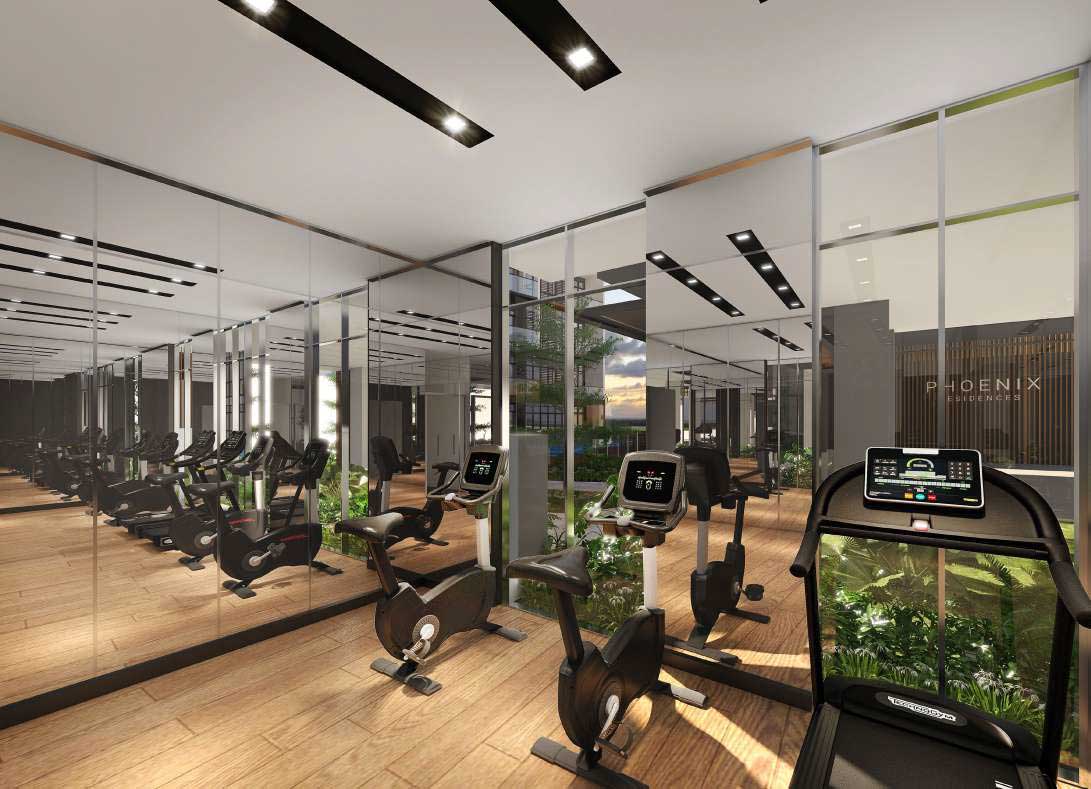 Welcome Home
Coupling resort comfort with hotel luxury, this is your personal sanctuary tucked in a private cul-de-sac. With unhindered views of extensive greenery, relax and rejuvenate in a restful enclave fringed by quiet hillscapes. Dream in hectares that abound...
The Residences
Living intimately with nature, an organic mood lighting is cast on our grounds – Komorebi, the shifting illumination of sunray as it filters through the foliage, an interplay of light and shadow. This sets the backdrop to our collection of private alcoves tucked in extensive greenery so you can have mindful moments of solitude right at your doorstep. Take a walk around the residences and you could find a personal hideaway in an exclusive lounge encircled with botanicals, great for a lazy afternoon with tea and books as companions.
Apart from private retreats, there is an abundance of shared spaces throughout the development. The Kid's Fun Land allows for weekends of family fun in the comfort of home while the Garden Trail makes for charming evening strolls with a partner as the sun sets. Let home be your favourite place to be.