VVIP Entry to enter and view Showflat!
Revitalise your mind and body with pampering facilities freely available at your convenience. Unwind by the Lap Pool or bask in the warmth of the sun at the Sun Deck and BBQ Area. Stroll along the Children's Pool and be enchanted by the delightful sound of children's laughter. With infinite access to a Gymnasium and Fitness Corner, keeping your health in tip-top condition has never been easier.
At this exclusive sanctuary, you can head to the Sky Terrace in your own private lift to bask in the breathtaking city panorama. Take time to mingle with friends and neighbours. Enjoy some quality me-time at the seashore inspired party deck located on the ground floor. Sengkang Grand by Capitaland providing easy lounging and entertainment options for relaxing evenings or balmy weekends.
Home is not only where you live, it's where they understand you. Living in Sengkang Grand is more than an assent to living well, it is the luxury of knowing everything is taken care of. Continued with Floor Plans to be update the latest related.
Sengkang Grand Residences Site Plan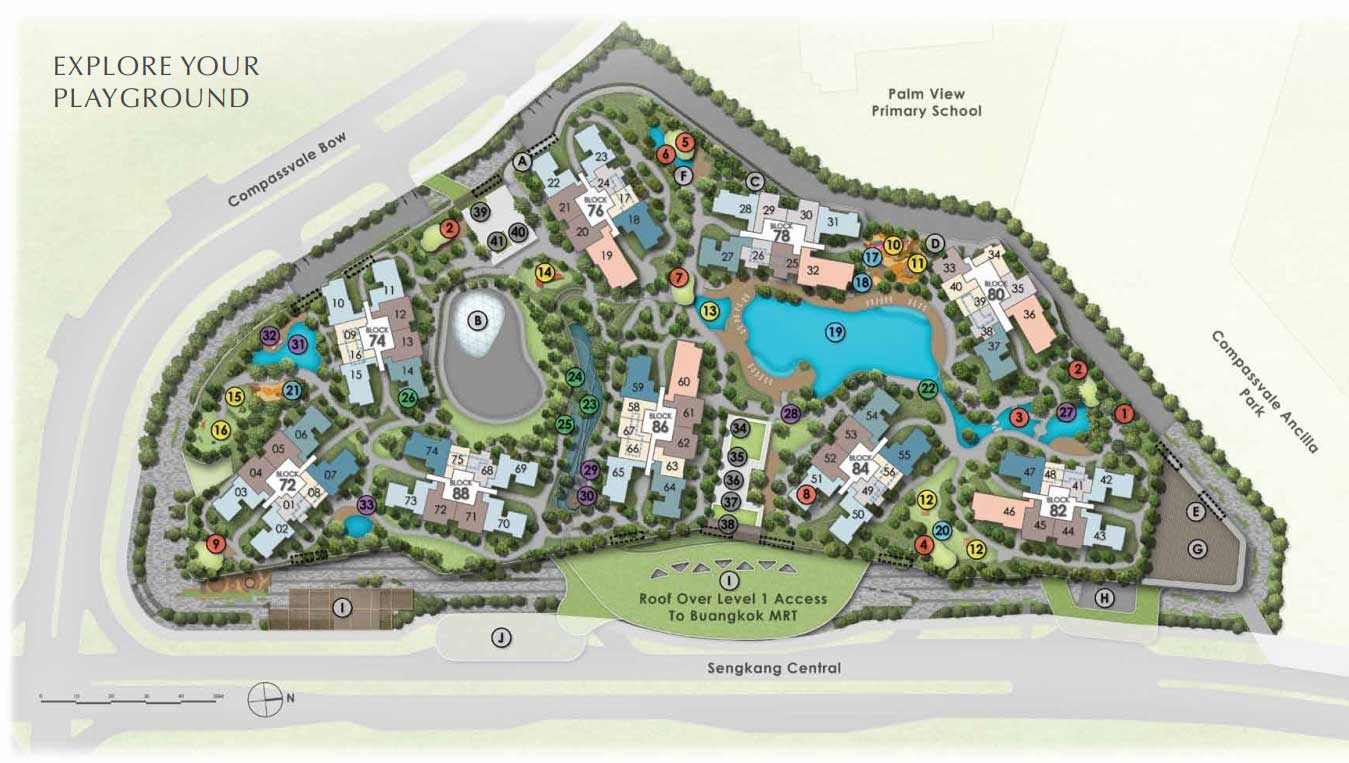 Explore Your Playground
Recreation Club
1. Circle Lounge M
2. BBQ Pavilion
3. Aqua Pod
4. Social Pavilion
5. Poolside BBQ Pavilion
6. Dip Pool
7. Welcome Pavilion
8. Teepee Gardening
9. Gourmet Pavilion
Adventure Club
10. Trampoline Thrill
11. Tower Tree Slide
12. Playhouse on Lawn
13. Kids' Play Pool
14. Mini Golf
15. Animal Sculpture Playground
16. Pets' Play
Fitness Club
17. Reflexology Path
18. 3G Fitness
19. 50m Lap Pool
20. Yoga Lawn
21. Parkour Gym
Sensory Club
22. Five Senses Garden
23. Cascading Water Feature
24. TreeTop Walk
25. Water Weir Wall
26. Misty Gorden
Wellness Club
27. Spectrum Spa Pool
28. Hammock Lawn
29. Aqua Hammock
30. Floating Tea Deck
31. Wellness Spa Pool
32. Swinging Day Bed
33. Bubble Leisure Pool
Main Clubhouse
34. Gymnasium
35. Arrival Lobby
36. Changing Rooms
37. Nursing Room
38. Main Function Room
Social Clubhouse
39. Social Function Room
40. Changing Room
41. Social Lounge
Others
A. Green Highline Access Gate
B. Skylight of Sengkang Grand Mall
C. Bin Centre (Level 1)
D. Substation (Level 1)
E. Genset (Level 3)
F. Guardhouse (Level 3)
---
Sengkang Grand Residences Facilities
A Cascade Of Limitless Pleasures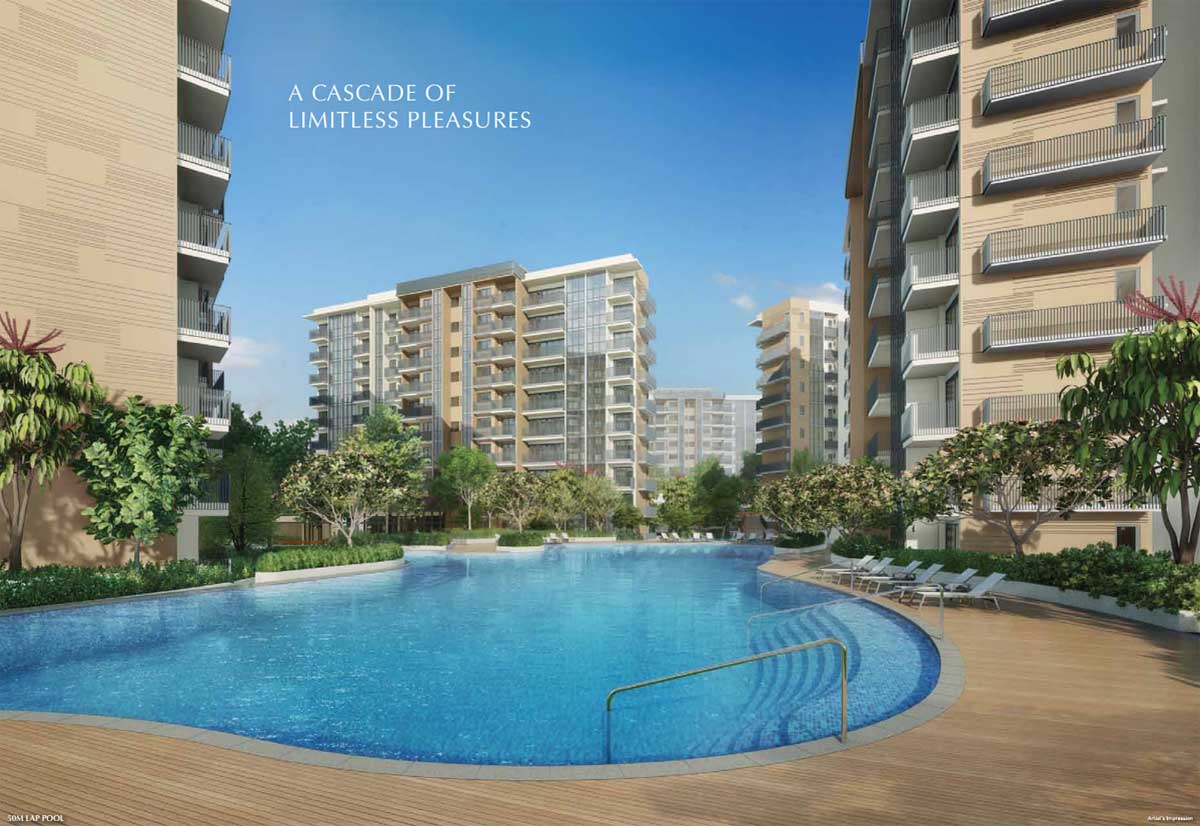 The Good Life Beckons With A Myriad Of Themed Lifestyle Clubs
Welcome to a collection of delightful clubs at Sengkang Grand Residences. There are five themed clubs to explore, each with its own immersive facilities to choose from for hours of fun and excitement.
Come together at the Recreation Club, where you can dine under the stars at the Gourmet or Poolside BBQ Pavilion, and partake in community gardening at the Teepee Gardening area. Then, entertain the little ones at the Adventure Club, which features the Trampoline Thrill, the Tower Tree Slide and the Playhouse on Lawn.
Have furry friends? Keep them active too at the entertaining Pets' Play.
An adrenaline rush awaits at the Fitness Club, where you can plunge into the 50m Lap Pool and tone up at the Gymnasium overlooking the pool. Rejuvenate the mind and soul at the Wellness Club with its relaxing Aqua Hammock and colour-changing Spectrum Spa Pool. At the Sensory Club, take a stroll by the scenic TreeTop Walk or the Five Senses Garden.
There are also two Clubhouses with function rooms, perfect for all kinds of social gatherings
---
Splendour Illuminates Every Space
With 680 exclusive units across nine residential towers, ranging from 1-bedroom + study to 4-bedroom premium + flexi units, every home is optimally designed for you and your family. Each unit is decorated impeccably in a clean palette of pleasant tones and natural textures. Shape your home however you fancy, with expansive and adaptable living spaces that invite you to be creative with your interior design aspirations.
Luxury Is In The Detail
Cook up home-made feasts in your fully-equipped kitchen with appliances from De Dietrich such as a cooker hob, hood, oven and refrigerator. A twoin-one washer and dryer, also from De Dietrich, wrings out the hassle in doing laundry. Freshen up as you wind down in the bathroom furnished with branded fittings and wares from Hansgrohe and Duravit.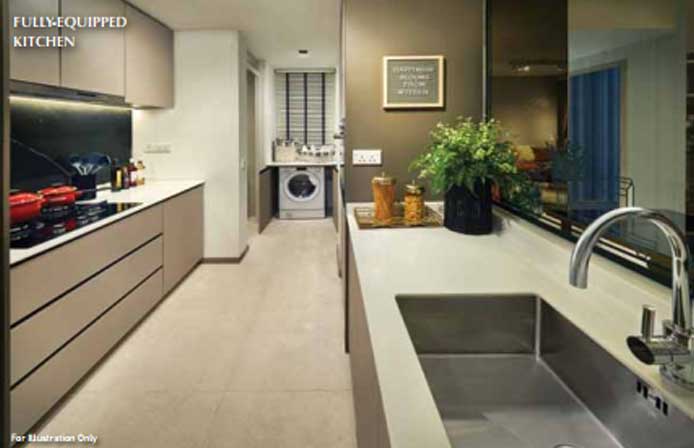 An Eco-Conscious Array Of Green Features
Live your best life while minimising your impact on the environment. These green features will ensure you reduce your carbon footprint without reducing your comfort.
Environmental Quality And Protection
Extensive use of environmentally friendly and sustainable materials certified by Singapore Green Labelling Scheme.
Achieved Green Mark GoldPlus award.
Low volatile organic compounds paints for all internal walls to ensure healthy indoor air quality.
Water-Efficient Features
Water-efficient sanitary fittings in all residential units.
Use of water-efficient auto-irrigation system for major landscape areas.
Other Green Initiatives
Provision of bicycle parking lots to promote green transport and healthy lifestyle.
Provision of Green highline, connecting the residential blocks to Compassvale Ancilla Park.
Provision of End-of-Trip facilities, providing cyclists with facilities that will encourage green transport usage.
Siphonic rainwater discharge system on the roof.
Energy-Efficient Design
Buildings' orientation provided for good natural ventilation in the common areas and residential units.
Building façade designed with good performance glazing to reduce solar heat gain. Balconies provide the residential units with deep recesses, providing shade.
Energy-Efficient Features
Energy-efficient air-conditioning system for all residential units.
Efficient lighting design by use of LED and provision of motion sensors in common areas.
Energy-efficient lifts with regenerative drive, VVVF (variable voltage variable frequency) drive and sleep function mode.