Sky Eden @ walking distance to Bedok MRT station
Sky Eden is located at 799 New Upper Changi Rd, Singapore. The project is an upcoming mixed-use development nested in the heart of District 16. Within a 6-minute stroll to Bedok Mall providing access to retail, and dining amenities. Along with countless conveniences waiting for you nearby. As a development complex, you can shop and eat from many stores without leaving the residential area.
Sky Eden (Former Bedok Point) 's strategic district within a mere 5-minute walk to Bedok MRT station, convenience here is unmatched. The developer of this project will take advantage of the unmatched convenience to develop comfortable units suitable for families. Convenience-wise, Sky Eden is one of the places to make your home. Everything is right nearby from malls, eateries, and the residents enjoy excellent connectivity. Also nearby Bedok Mall is accessible under a 5-min walk giving you access to more shops, restaurants and entertainment. Bedok Sheng Siong Supermarket, Bedok Shopping Complex, and Djitsun Mall Bedok, etc.
Sky Eden Residences is also a great destination for families looking for a new home. Finding a school for your child is worry-free living here, with options ranging from preschool to collage. Ping Yi Middle School, Fengshan Primary School and Red Swastika School are within sight. And as a gift for nature lovers who live at Sky Eden @ Bedok there is something to love about this neighborhood. Bedok Reservoir Park and East Coast Park are easily accessible, providing residents with fun spots perfect for a weekend away.
Check out the modern and special facilities of Sky Eden Facilities to get more interesting information!!!
REGISTER WITH US FOR MORE INFO
Sky Eden Location Map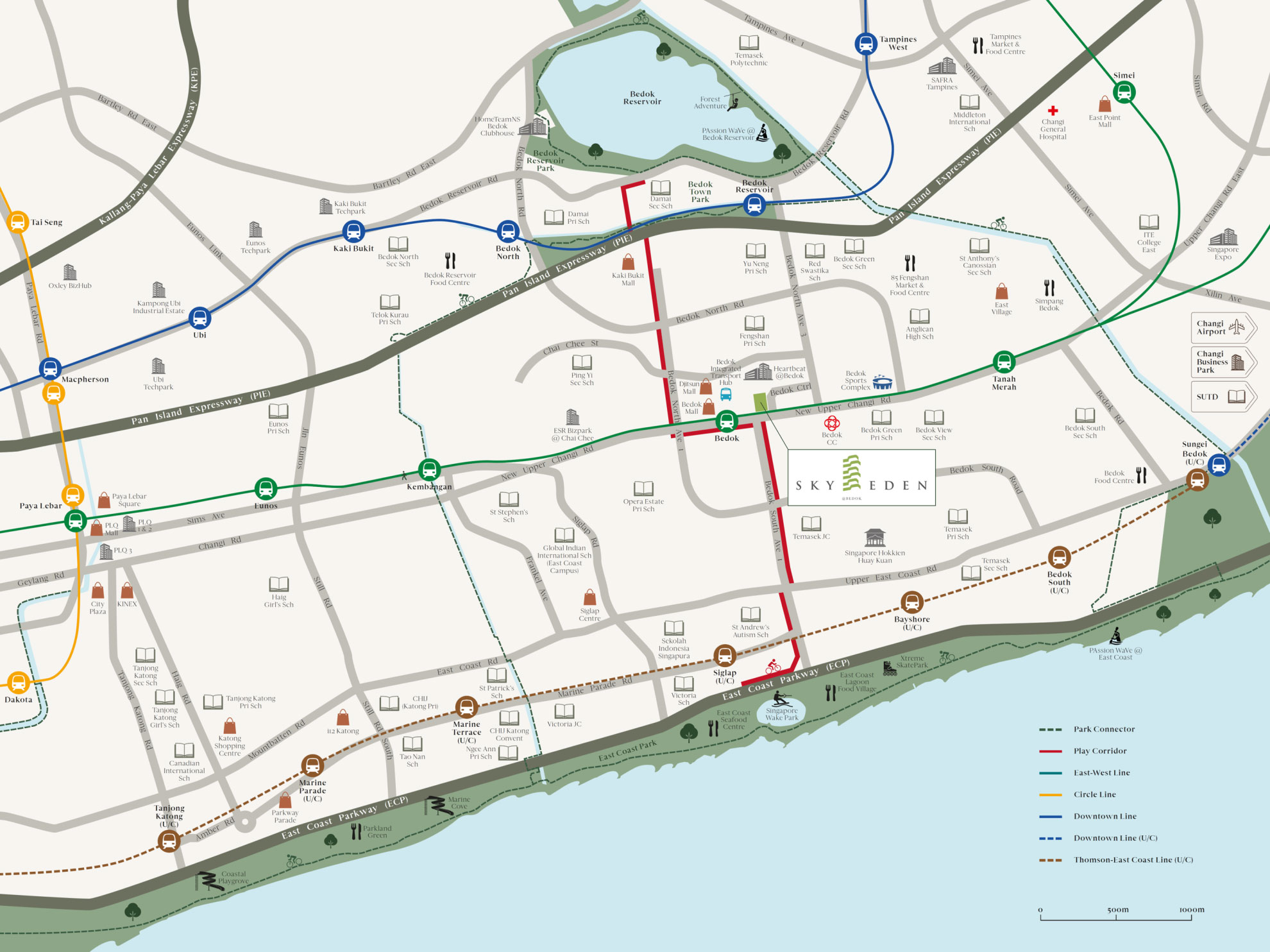 ---
A BACKDROP OF MORE AMENITIES AWAITS
---
RIGHT AT THE HEART OF BEDOK CENTRAL
Living centre-stage in Bedok means you get more than just access to conveniences. The amenities that the neighbourhood enjoys now revolve around you instead. Banks, hawker centers and supermarkets are all within proximity while eclectic stores such as a Record Shop and Skate Outlet are like hidden gems unearthed, specially for you.
---
RELAX IN A HEARTBEAT
What better way to immerse yourself in the neighbourhood than at the heart of it all? Heartbeat@Bedok, which features a 3-storey library and a polyclinic, is a town-level community avenue aimed at promoting active and forward-looking lifestyles. Complementing the lush and tranquil settings back at home in Sky Eden@Bedok. Thanks to an ActiveSG Sports Centre, the community enjoys access to facilities including an indoor sports hall, sheltered tennis courts and an Active Health Lab. Those in their twilight years can call upon the trusted services of an NTUC Silver Circle Senior Care Centre.
---
FOOD FOR THOUGHT AND THE SOUL
The neighbourhood of Bedok is every foodie's paradise, with an endless array of gastronomical delights that will keep you happy and full, from dawn to dusk. Local hawker fare is easily found in every corner of the estate, while late-risers are warmly welcomed for brunch at the numerous cafes. And as darkness begins to fall, you may even slip away for a happy hour or two.
---
EXPLORATIONS AS BOUNDLESS AS THE SEAS
MORE EXCITEMENT UNFOLDING IN THE EAST
Thrill-seekers can revel in an exhilarating selection of activities over at the recentlycompleted HomeTeamNS Clubhouse, while jet-setters can get excited come 2030 as the new Terminal 5 at Changi Airport is slated to handle up to 50 million passengers a year.
Under URA's Master Plan to revitalise the east coast, Sky Eden@Bedok reaps the same added conveniences and amenities that the upscale Bayshore Precinct enjoys. Supplementing the wealth of green spaces will be the inclusion of a new linear park with heritage sea walls and a sea pavilion, while connectivity to the ever-popular East Coast Park is enhanced with a 4km Outdoor Play Corridor that starts from Bedok Reservoir. And to protect Singapore's coastline, a "Long Island" along the south-eastern coastline from Marina East to Changi would see coastal protection measures integrated with future land reclamation. Future developments could include residential homes, parks, recreational spaces and a new reservoir.
---
POISED FOR BUSINESS