The Ramford comprise a new heigh of relaxation and rejuvenation with a myriad of luxurious facilities such as swimming pool, lap pool, fitness and yoga, gym and spa, clubhouse, guard house, BBQ pits, dining pavilion, functional room, leisure garden and more.
Kindly take a look at typical unit layouts to find out your dream home!
The Ramford Site Plan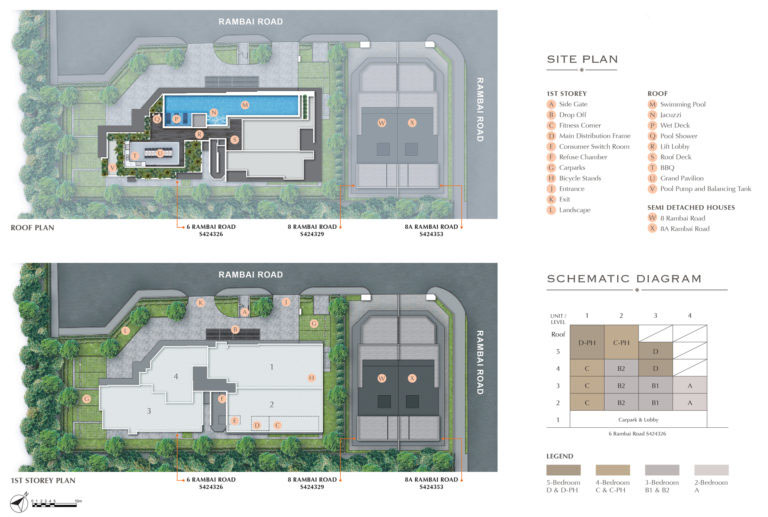 ---
Uniquely urban, classically english, quintessentially Ramford
Distinctively designed to create a living environment to meet the needs of your modern family, The Ramford's flexible layouts provide bespoke two- to five-bedrooms with functional living space that's right-sized for every lifestyle needs.
---
Unwind in your private sanctuary
From ambience to aesthetics, bask in the exclusivity of resort facilities to soothe the senses far from the hustle and bustle of the city. Residents can retreat to a private recreational Sky Deck complete with a linear Swimming Pool, Jacuzzi and Grand Pavilion with BBQ designed to indulge you and your guests.
---
A spatial openness to create your style, your way
This is your space, your canvas. Big and flexible enough for you to configure the living space that best suits your modern family needs. For most of our units, you will have a choice of the following layouts:
S - Standard layout. Where you can have a dedicated space for work or study.
K – Extended Kitchen layout. Great for food preparation, as mini bar area and social space for gathering.
U – Utility Room layout. For that extra storage space to house your collectibles.
---
Every detail is considered for your comfort
The premium finishes and clean lines present residents with an amazing master bedroom complete with walk-in wardrobe fitted with ambient lighting and en-suite bath furnished with branded fittings, creating an atmosphere of timeless sophistication and relaxation.
---