Explore around The Reef @ King's Dock
The Reef @ King's Dock is strategical located at Harbourfront Avenue, District 4 Singapore. This iconic development is situated across Sentosa, which is home to Resorts World Sentosa, Universal Studios Singapore and many other enticing recreational venues. The Harbourfront MRT Station and Vivo City, one of Singapore's largest lifestyle destinations, are just a stone's throw away.
Keppel Bay Residences is also close to Mount Faber, Keppel Club Golf Course and Labrador Park. It is also right across Marina at Keppel Bay, which features 168 berths. Homeowners can enjoy lifestyle facilities that include a clubhouse with a member's lounge, restaurants, recreational amenities and leisure charter services to access neighbouring islands. From having VivoCity in the precinct, the largest shopping mall for your retail therapy to Asia's lifestyle destination in Sentosa, a sunny island bustling with a myriad of activities such as Mega Adventure Park, along with the sandy beaches and Resorts World Sentosa that is home to multiple world-class attractions with the likes of Universal Studios Singapore, the Marine Life Park and many others more for you to explore!
District 04 also features many schools that are located near to Harbourfront Avenue Condo. Some of the schools that are located at The Reef Harbourfront Avenue location include: Blangah Rise Primary School, CHIJ St. Theresa's Convent, Radin Mas Primary School, Chij (Kellock), Gan Eng Seng Primary School, Zhangde Primary School, Cantonment Primary School. There are also plenty of nurseries and pre-school facilities nearby to cater to kids who are going to primary schools and needs additional enrichment classes.
Embrace the opportunity to have it all within reach. Continued with Facilities now!
The Reef At King's Dock Location Map
LIVE AT THE CENTRE OF IT ALL
Enjoy unrivalled connectivity and convenience when you call The Reef at King's Dock your home. Singapore's largest mall, VivoCity is right next door, and you're steps away from not just one but two MRT lines.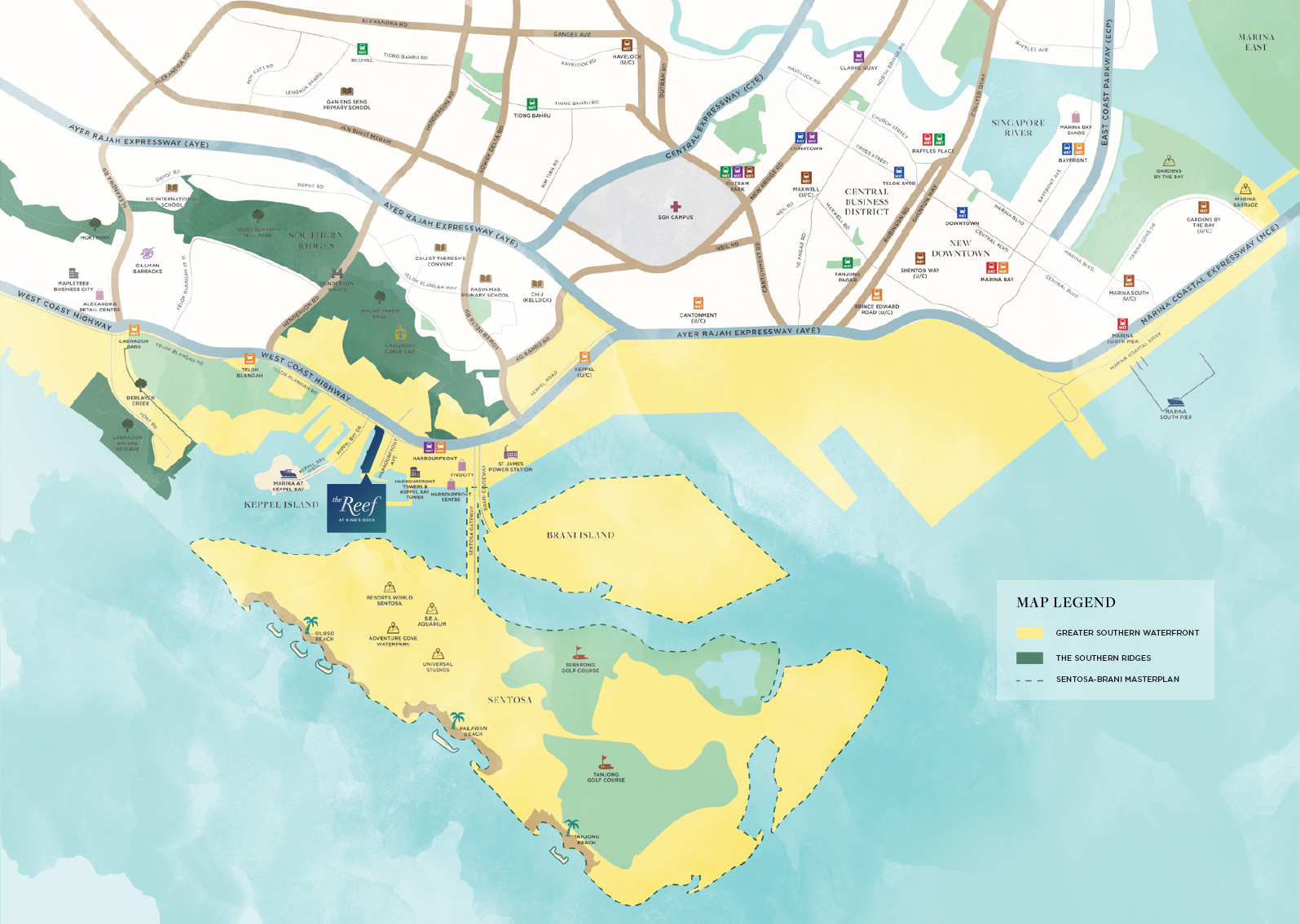 ---
COME HOME to A LANDMARK EVERY DAY
WHERE THE past, present and the future CONVERGE
With its rich history, King's Dock has been key to the island city state's history. Home to a landmark development, King's Dock is set for a promising future.
1848: DISCOVERY OF A PROMISING HARBOUR
Sir Henry Keppel discovered a promising harbour, with waters deep enough to receive large ships and vessels, and natural terrain that protected these ships from the elements. 'New Harbour' was completed in 1886, welcoming ships from all over the world.
1913: MARITIME HOTSPOT
King's Dock, where The Reef is currently situated, was revealed to the rest of the world. The dock was the second largest in the world, and the largest dock East of the Suez when it opened. By the 1950s, together with three other docks in the vicinity, King's Dock was instrumental to the economic prosperity of Singapore
1975: TRANSFORMATION INTO A WATERFRONT HUB
Singapore's founding father, Mr. Lee Kuan Yew, declared Singapore as "one of the great centres of ship repairing between Europe and Japan", a feat made possible by the role King's Dock played.
1990s: HARBOUR FOR A NEW MILLENNIUM
By 1999, Keppel Shipyard moved its operations out of Keppel Harbour. And so began the transformation of the harbour into a prime waterfront precinct oering luxury homes.
2000s: REJUVENATION OF THE HARBOURFRONT PRECINCT
In 2002, Mapletree and Keppel jointly developed Harbourfront Towers and Keppel Bay Tower. Subsequently, Mapletree rejuvenated the ageing World Trade Centre and its adjacent exhibition halls into a thriving business and lifestyle destination. Inspired by its waterfront location, VivoCity officially opened in 2006, offering a vibrant mix of retail and lifestyle concepts.
THE FUTURE
A NEW GATEWAY TO A WORLD OF LEISURE
The Reef at King's Dock stands proudly within the Greater Southern Waterfront and sits right on the edge of the upcoming Sentosa-Brani entertainment and lifestyle district. Residents will enjoy unparalleled access to pristine beaches and an entire island filled with theme parks, nature trails and more.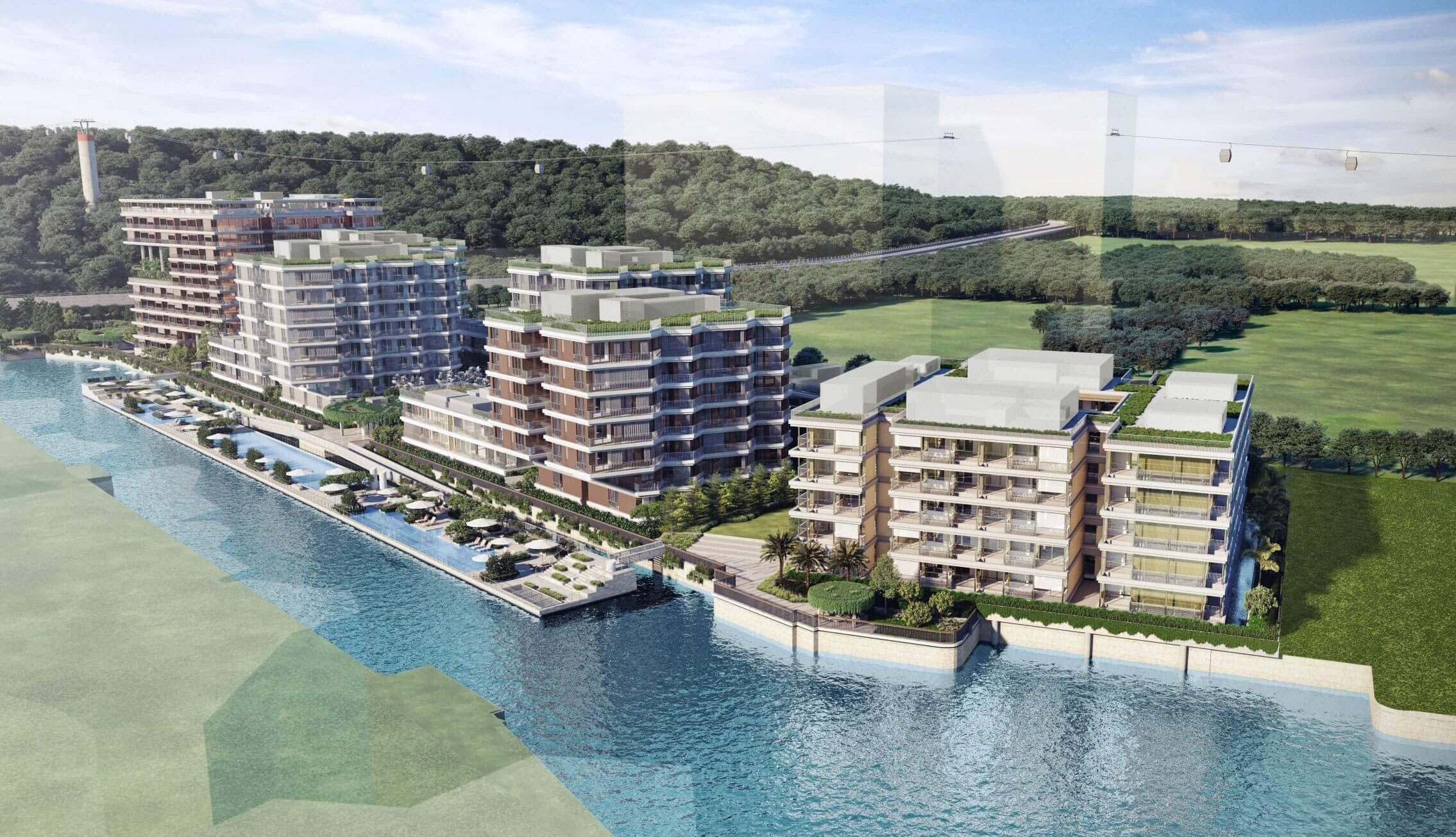 ---
YOUR GETAWAY HOME. YOUR GATEWAY TO THE WORLD.
Enjoy unrivalled connectivity and convenience when you call The Reef at King's Dock your home. Singapore's largest mall, VivoCity is right next door, and you're steps away from not just one but two MRT lines.
RESORTS WORLD SENTOSA
Families will be delighted at how close the integrated resort is. With the Universal Studios Singapore™ theme park, S.E.A. Aquarium™, Adventure Cove Waterpark™ and Trick Eye Museum Singapore just across the water, you'll be primed for endless excitement.