Ang Mo Kio 1 - An Attractive Development In Prime Location
Ang Mo Kio 1 is located in district 20, belongs to Ang Mo Kio Avenue 1 area. This condominium development provides all the essential needs of residents with extremely abundant surrounding amenities. Going back and forth from Ang Mo Kio Avenue 1 Condo is very simple and easy. With subway transport system such as Bright Hill MRT Station or North-South Line subway - Ang Mo Kio MRT station, you just have to take only a 20-minute walk from Ang Mo Kio Community Centre. Moreover, the upcoming Mayflower MRT station also help the movement of residents become more convenient, they can go anywhere they want within a few minutes.
Living at Ang Mo Kio 1 Residences is so suitable for families that parents can have bounteous choice for their children to get a high quality and reputable schools. There are a myriad of school for all ages from kindergartens to universities such as CHIJ St Nicholas Girls' School, Mayflower Secondary School and Eunoia Junior College, etc. With only a few minutes drive, parents can take their kids to all of good education system without traveling far away.
Living at Ang Mo Kio 1 Condo position is connected to numerous other recreations. That combines places where health is the top priority such as Bishan-Ang Mo Kio Park, Ficus Green, Bishan Park,... or big shopping malls that supply most of the demands of residents such as AMK Hub, Broadway Plaza, Bishan North Shopping Mall,...
Latest Ang Mo Kio Site Plan is released. Discover the Site Plan & Facilities now!
AMO Residence Location Map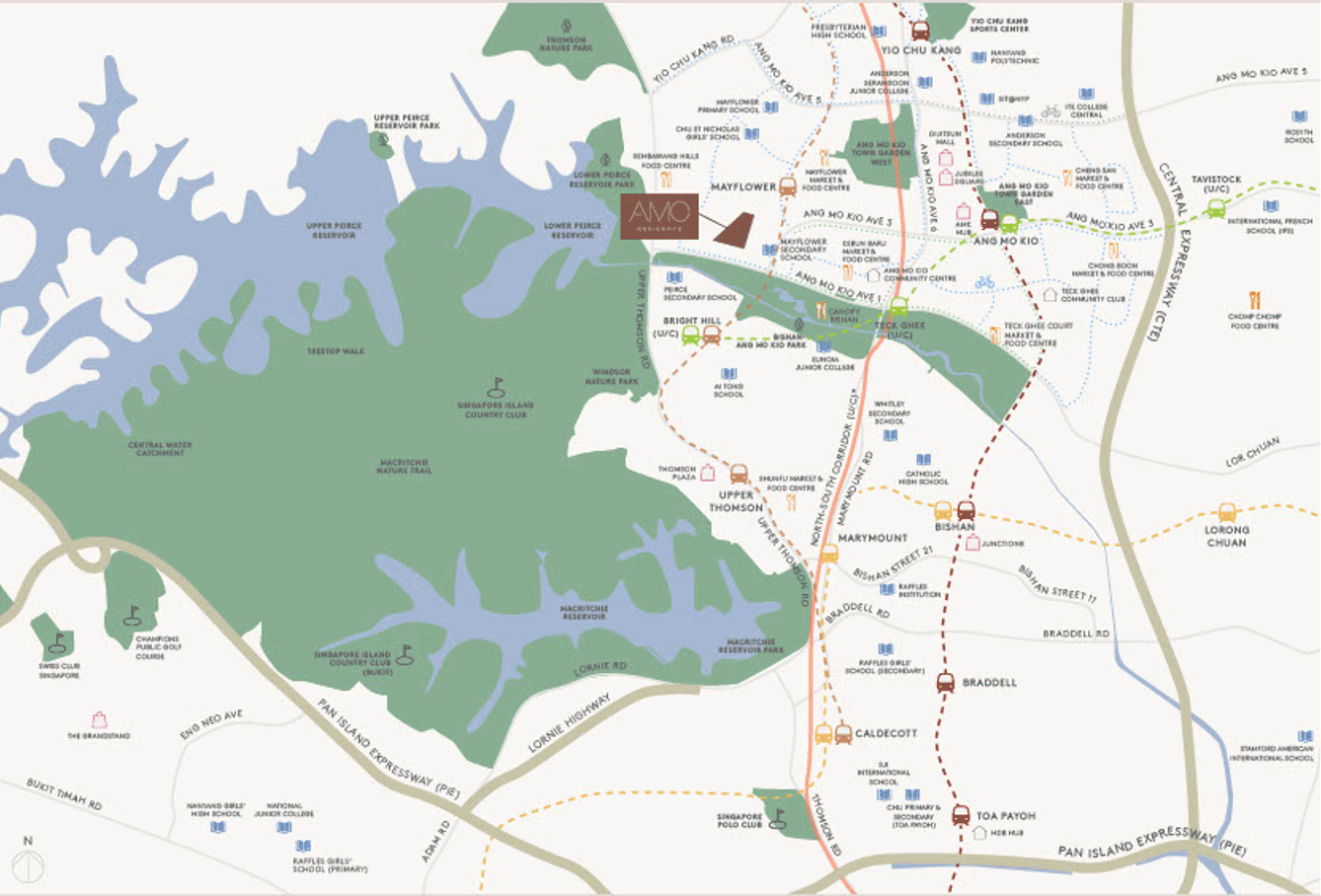 Explorations, Experiences, & Everyday Conveniences
Celebrated institutions and necessary amenities are abound, making home truly the centre of all you could need.
AROUND THE NEIGHBOURHOOD
Into The City's Pioneering Walking & Cycling Town
With a 20-km* looped network surrounding the Ang Mo Kio estate, you're always just minutes from any cycling path or park connector – leading you to routes of exploration, experiences, and everyday conveniences.
Within the city so vast, we all seek a place to call our own. Witness the things greater than all of us, in a home that rekindles you with yourself.