Copen Grand is designed for modern living set against a backdrop of a lush landscape where one can enjoy the finer things in life. From function rooms that are equipped to host meetings and conferences, to a plethora of facilities designed for lifestyle wants and need Relax in the soothing waters of the Spa Pool, Club Pool, or the 50m Infinity-Edge Raintree Pool, surrounded by lush greenery. Entertain friends and loved ones at the Tree Top Gourmet, or walk your precious puppies at Pets' Play.
Secure your best home selection now via go with Floor plans. All your unit are designed luxurious and smart.
Copen Grand Site Plan
Everything you love, from sun-powered fun to daily gym time.
Your dream home at Copen Grand grants you year-round access to an eco-friendly range of lifestyle facilities and social spaces – all part of the blueprint to live, work and play with ease.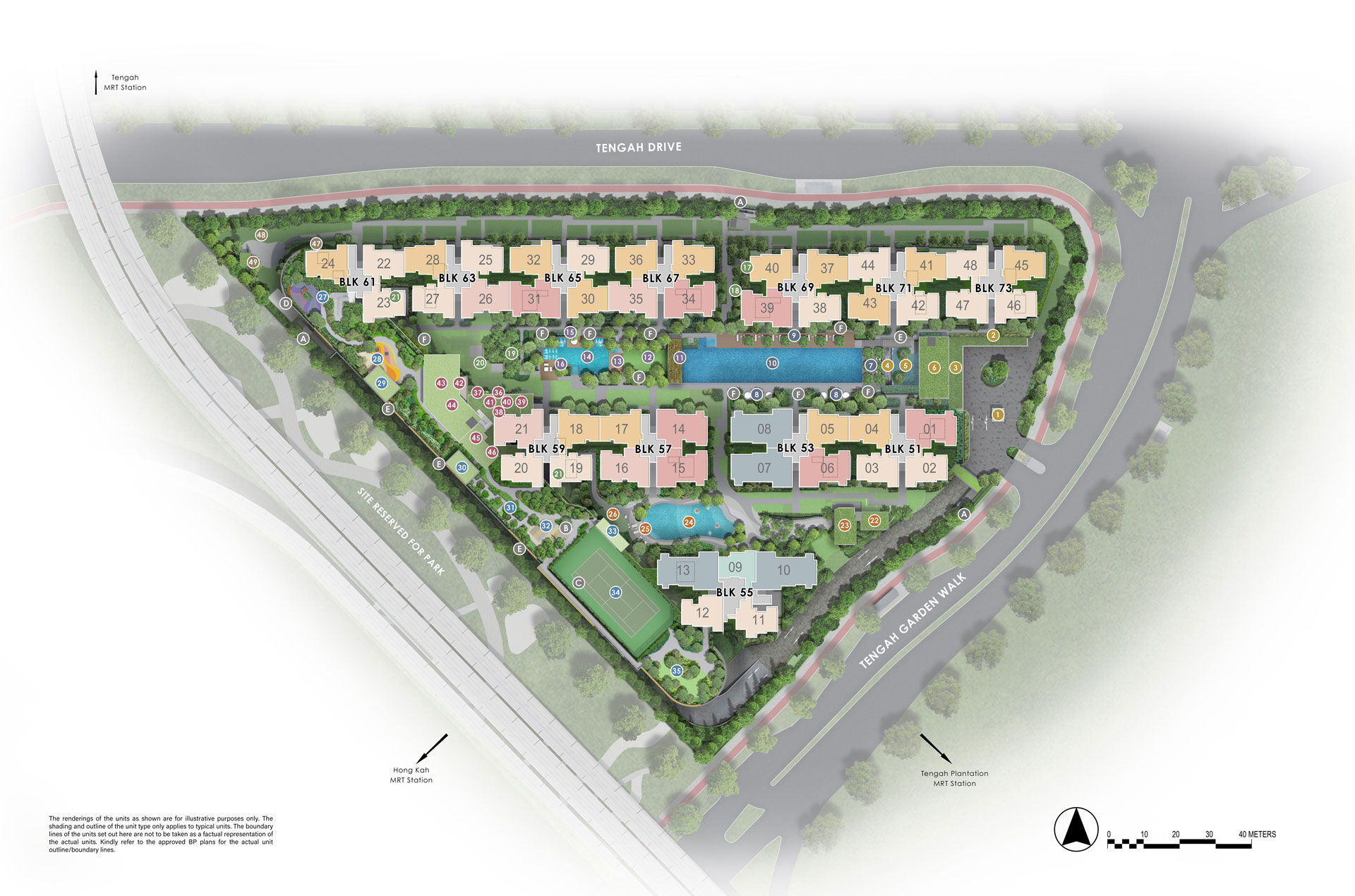 ARRIVAL CLUB

Basement
01. Guardhouse
02. Arrival Lounge
03. Welcome Lobby
04. Water Cascades
05. Sunken Watercourt
1st Storey
06. Arrival Clubhouse
WELLNESS CLUB

1st Storey
07. Canopy Lounge
08. Pool Lounge
09. Pool Deck
10. 50m Lap Pool
HYDRO CLUB

1st Storey
11. Floral Canopy
12. Central Lawn
13. Yoga Deck
14. Hydro Pool
15. Hydro Pool Lounge
16. Hydro Pool Deck
Garden Club

1st Storey
17. Chess Corner
18. Scented Garden
19. Lush Garden
20. Exercise Lawn
21. Fern Garden
Kids Club

1st Storey
22. Family BBQ Pavilion
23. Kids Clubhouse
24. Play Pool
25. Kids Pool Deck
26. Play Lawn
Leisure Club

5th Storey
27. Kids Play
28. Toddlers Play
29. Leisure BBQ Pavilion
30. Garden BBQ Pavilion
31. Herb Garden
32. Fitness Corner
33. Sports Pavilion
34. Tennis Court
35. Leisure Garden
Recreation Club

1st Storey
36. Co-Working Space
37. Study Pods
38. Changing Room with Steam Room
3rd Storey
39. Entertainment Room
40. Games Room
41. Music Room
4th Storey
42. Gymnasium
5th Storey
43. Copen Clubhouse 1
44. Copen Clubhouse 2
45. Yoga Studio
46. Dance Studio
Pets Club

1st Storey
47. Pets Corner
48. Pets Lawn
49. Pets Pavilion
Ancillary

A. Side Gate
B. Bin Centre (Basement)
C. Substation (Basement)
D. Genset
E. Carpark Ventilation
F. Ventilation Shaft
---
NURTURING NATURE FOR YOUR ENJOYMENT
Living smart and sustainably comes easy at Copen Grand, where you can enjoy an array of eco-luxury facilities within the development. It's no wonder then, Copen Grand is the first BCA Green Mark Platinum Super Low Energy executive condominium in Singapore.
At the centre of this nature-inspired development stands an iconic multi-storey clubhouse, featuring the Copen Clubhouse that cascades down to co-working spaces and family-friendly pools, all thoughtfully designed with you and your loved ones in mind.
Harnessing solar power for the common good
Co-creating precious moments amid nature's creations
COLLABORATING WITH MOTHER NATURE TO MAKE GREEN EVEN GREENER
When life gives you abundant sunshine, make full use of it. Renewable energy adoption at Copen Grand comes in the form of photovoltaic systems that tap into solar power, providing partial energy replacement for the clubhouse, function room, swimming pool and gymnasium. Additionally, power up sustainable transport at your convenience with EV charging stations.
Rounding it off are nature-themed recreational spaces, lush landscaping and a tennis court that offer the potential of joy-filled family memories at every turn.
EVERYTHING YOU LOVE, FROM SUN-POWERED FUN TO DAILY GYM TIME.
Your dream home at Copen Grand grants you year-round access to an eco-friendly range of lifestyle facilities and social spaces - all part of the blueprint to live, work and play with ease.
GET INTO THE FLOW OF SUSTAINABLE, LUXURIOUS LIVING
There's nothing quite like going about your day amid a spacious environment. That's why your home at Copen Grand has been thoughtfully designed to maximise the use of space and aligned in a North-south facing orientation, to provide better cross-ventilation. So you can live more comfortably with enhanced freedom of movement.
Living the fine life is now easier and more sustainable at Copen Grand. Each unit comes decked out with its own suite of quality fittings, carpentry, and branded kitchen appliances.
The thoughtfully conceptualised layout is complemented by the incorporation of smart technologies in the home with the ability to monitor energy usage. From a smart home gateway with remote surveillance to smart voice assistant, your vision of a well-appointed 2-bedroom+study to 5-bedroom home is within reach of being reality.
Adopting smart technology to keep energy costs low
Inviting the wind to cool your home naturally
---
WHERE GREEN DESIGN
Copen Grand has been conferred the Green Mark Platinum Super Low Energy by BCA under the newly launched Green Mark (GM2021) Criteria with the Health and Wellbeing, Whole Life Carbon and Maintainability Badge. With these accreditations in place, your home is now a place where you can enjoy all-round efficiency with green features incorporated into your everyday life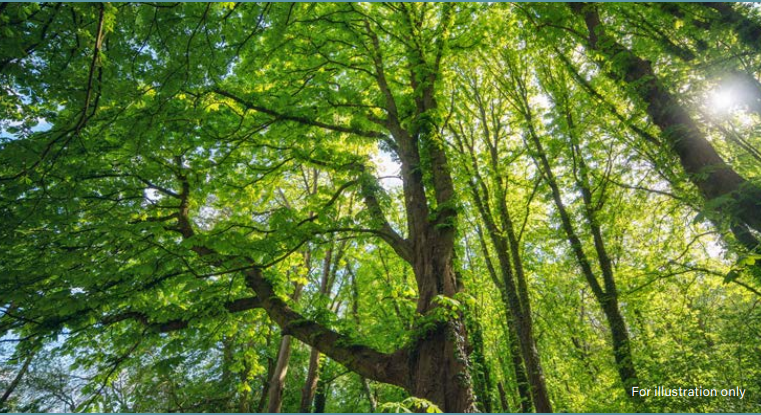 MEETS SMART TECHNOLOGY
Take everyday conveniences to the next level, be it daily appointment and weather updates from your smart voice assistant, smart air conditioner control for remote access of your room's temperature, or enhanced house security with a smart digital lockset and camera.
When you can count on your smart home to take care of the details, you can go about your daily life with ease and assurance.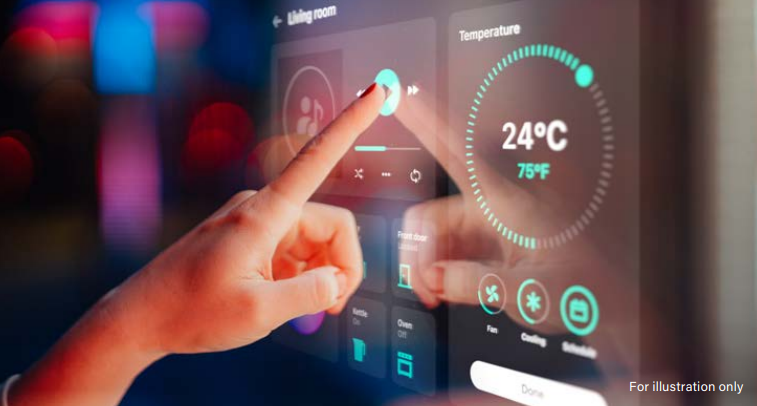 Passive Cool Design Architecture
Copen Grand is designed to minimise direct west-facing units
Units are designed with adequate openings to obtain high cross-ventilation rates within units
Units are designed with balconies and feature a good selection of glass specifications to minimise heat gain within
Environmental Quality and Protection
Use of environmentally friendly products certified by approved local certification bodies for all internal finishes both within units and in common areas
Use of low Volatile Organic Compounds (VOC) paints for internal walls to reduce indoor air pollution
Careful material selection to reduce the overall embodied carbon of the development, minimising the carbon footprint
Water Efficiency
Water-efficient fittings are provided for all units
Energy Efficiency

Energy-efficient air conditioners for all units
Energy-efficient lighting at communal facilities
Provision of demand control strategies for lighting and air conditioning at communal facilities to minimise energy wastage
Energy-efficient lifts with Variable Voltage Variable Frequency (VVVF) drive, sleep mode and regenerative power feature
Provision of renewable energy to offset partial common area consumption to be self-sustainable
Other Green Features
Lush greenery and water bodies within the development to reduce heat gain into the building
Pneumatic waste collection and disposal system
Provision of bicycle lots at basement to promote green transport and healthy lifestyle
Good access to bus stop with sheltered walking pathways leading to the entrance/exit
Smart community application for residents to book the facilities and provide operational feedback
Smart Home
Smart Home Gateway
Connects all smart appliances, allowing you to remotely control them via the Smart Home App on your mobile device
Smart Surveillance
Enjoy the added security of remote surveillance with smart camera at home
Smart Air Conditioner Control
Hot day? Turn on the air conditioning remotely and have the home cooled in preparation for your return. Check if you have forgotten to switch off
Smart Digital Lockset
Enjoy the convenience of locking and unlocking the door via mobile app, fingerprint, pin code, key or integrated access card
Smart Lighting Control
Lights up the foyer automatically for a warm welcome home or program the lights to come on when intruders are detected
Smart Power Monitoring
Easily keep track of your household energy consumption to keep up sustainable habits
Smart Voice Assistant (Using Google Home App)
Hands-free control of your smart home devices. A smart voice assistant means you can also ask about the news, weather, traffic; set reminders; play music; and more