One Bernam - All In A Development
One Bernam offers an attractive design layout that will leave a lasting attraction to potential apartment buyers. The floor plans are provided with a spacious floor area to allow future residents to move freely and conveniently in their homes. Each room in One Bernam units will be well equipped with home items that are carefully chosen to make sure that your home will bring the comfort and make residents to love to experience. There will be an elegant finishing is shown in each room. You will have elegant marble tiles, nice huge glass windows and a perfectly light fixture, that helps to make your home become an amazing and relaxing homey ambiance. Not only that, the balcony area will allows for an outstanding view of the neighborhood. With a total of more than 300 residential units, One Bernam promises to give future residents a luxurious and cozy life.
One Bernam is a perfect choice for investors as well as home seekers who is looking for a luxurious lifestyle. Learn more interesting information about the One Bernam Developer now!
One Bernam Interiors & Floor Plans
One Bernam Unit Distribution Chart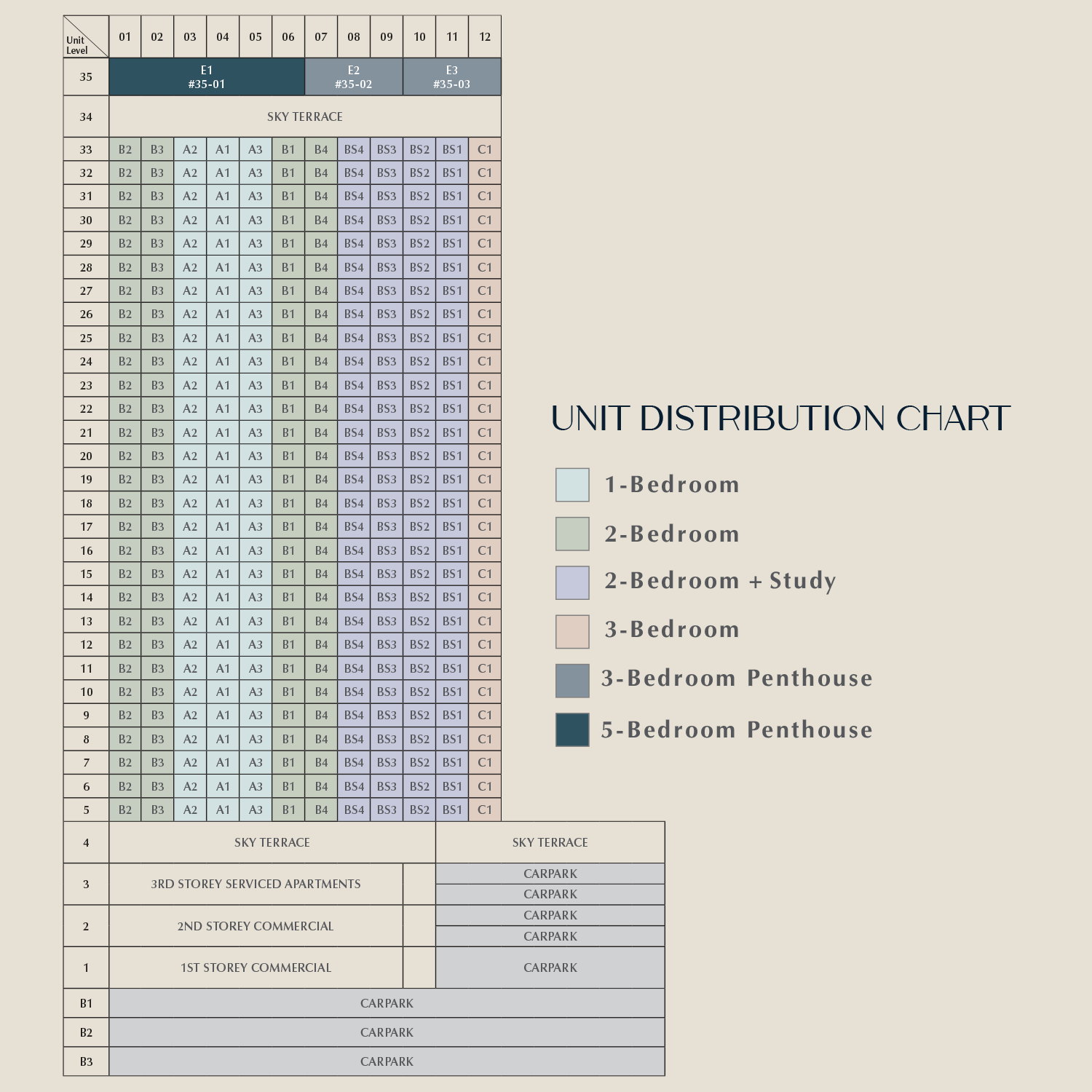 ONE VISION TWO COLLECTIONS
The pleasure of owning a home at One Bernam comes with its esteem as a jewel residence in an ambitious masterplan, limited to only 351 luxury homes. Make your personal choice from two luxurious residential collections – gilded gateways to relish everything that one of the greatest cities on earth has to offer.
DISCOVER THEIR WONDERS
THE PRESTIGE COLLECTION
One Bernam offers a splendid mix of one, two and two-bedroom + study sanctuaries of space, comfort and calm in the heart of a never-ending pulsating city. The Prestige Collection comes with homes of wide balconies and open sightlines to bring in plentiful natural lighting. Big in attitude, the units have well curated materials that reflect an unerring sense of refinement – from the elegant whoosh of an opening door, to the imperceptible swish of your feet on the floors as you navigate your way from one room to the next.
THE PALAZZO COLLECTION
Expansive three-bedroom residences, as well as three palatial penthouses – welcome to opulence in the city. These are the strings of gems on the crown of this prized property. They offer panoramic views that cannot be topped anywhere else. They are fitted with appliances befitting connoisseurs of luxury. With spaciousness comes lushness of materials, of course. The Palazzo Collection exists because of the imaginative, progressive, sophisticated, glamorous and well-informed insights of its residents. In celebrating this point of view – of the elite few – One Bernam has translated this collection into limited edition luxury homes of the highest pedigree.