Baywind Residences - 5 mins walk to upcoming Marine Terrace MRT station
Baywind Residences is located in the highly sought after marine parade area, Telok Kurau property. Less than 5 minutes walk to the upcoming Marine Terrace MRT station. Baywind Residences is well connected to major highways such as PIE and KPE and takes only about 10 minutes to Singapore Central Business District. Baywind Residences is less than a 5-minute walk from Marine Terrace MRT Station. Major highways such as KPE and PIE are only a few minutes' drive from the upcoming development. Grocery stores like Cold Storage and NTUC are all within walking distance and offer a wide range of dishes from delicious local treats, trendy cafes to on-site restaurants. Residents have the option of easily cycling along the parkway to East Coast Park.
Baywind Residences - Beach Road Prawn Noodles, Bruno's Bistro and East Coast Food Village are within a 2-minute drive of several restaurants. Within a 9-minute drive you will find shopping malls including Siglap Centre, PLQ Shopping Centre, Parkway Parade and Bedok Shopping Centre. It is for young families who want a District 15 address because of its accessibility to schools from preschool to high school within a 1-3 km radius. It is located at 93B Lorong N Telok Kurau. Tao Nan School, Odyssey Global Preschool, and Pat's School; CHIJ Elementary School (Katong); St Patrick's School, Haig Girls' School, and Victoria Junior College; and CHIJ Elementary School (Katong). Indian International School and Canadian Global School are two international schools nearby.
Baywind Residences offers a range of exciting connections offering various services such as education and entertainment. Just a few minutes away is a natural park that brings fresh air to residents. Visitors can experience the beautiful views and feel of nature in the nearby parks, including Telok Kurau Park. Reputable schools are also located nearby. These schools provide excellent educational services. Some schools such as Ping Yi Secondary School, CHIJ Katong Convent, Global Indian International School, St. Patrick's School and Rosemount International School.
Check out the modern and special facilities of Baywind Residences Facilities to get more interesting information!!!
REGISTER WITH US FOR MORE INFO
Baywind Residences - A Home Without Peer For A Life Without Compare
Baywind Residences Location Map
A NEIGHBOURHOOD TEEMING WITH LIFE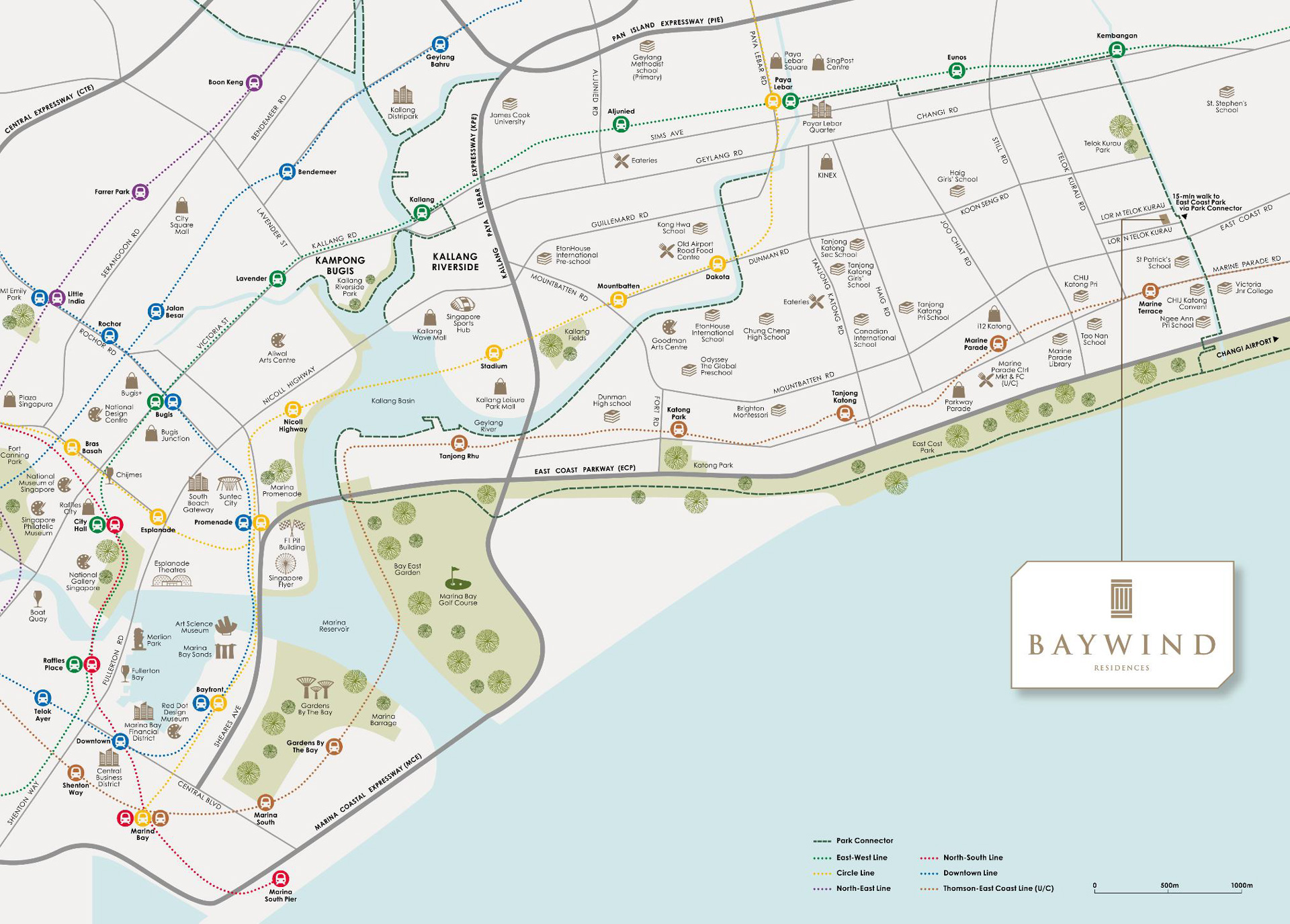 500M RADIUS MAP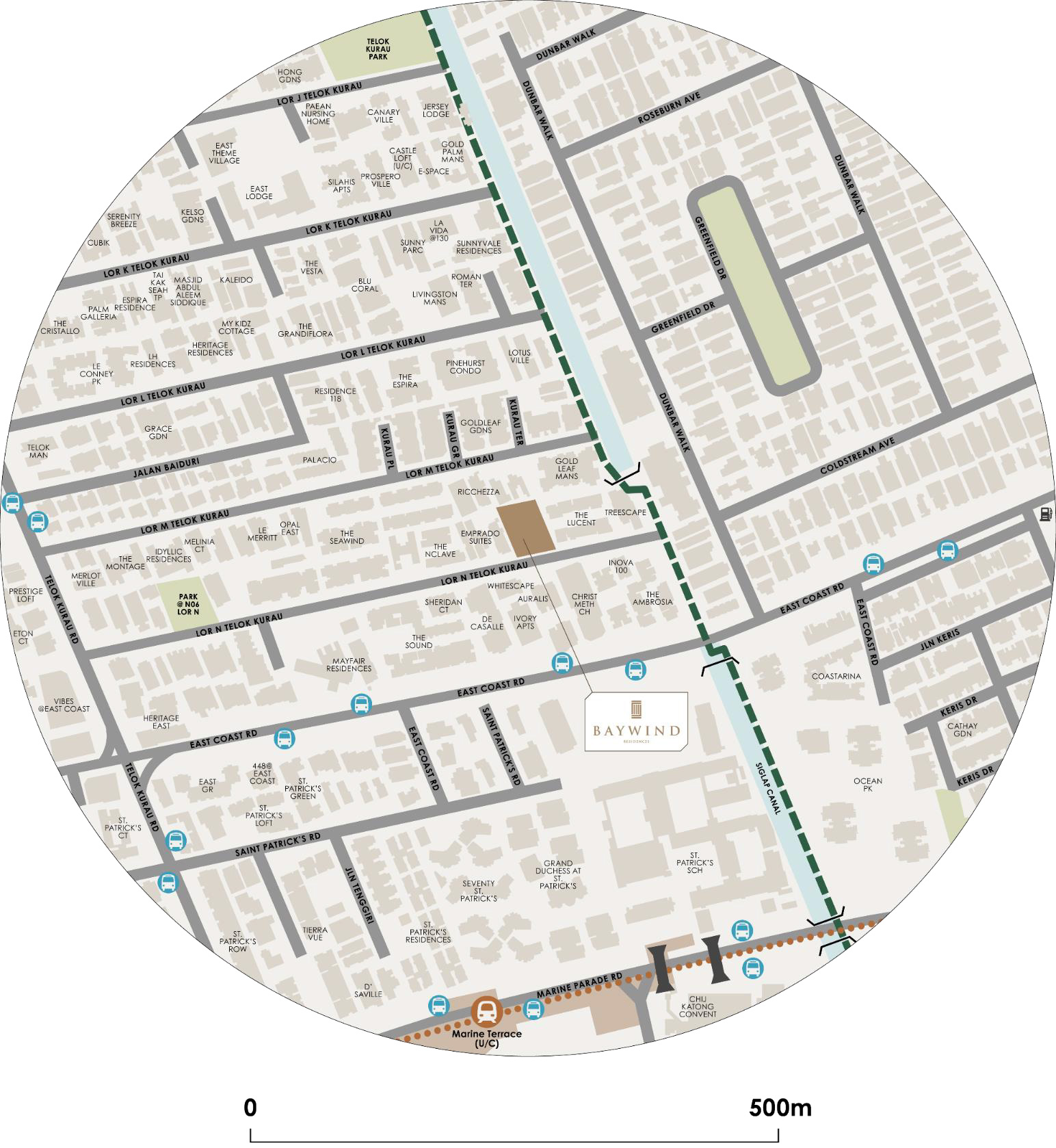 CONNECTIVITY
Marine Terrace MRT (U/C) - Walk 9 mins
EDUCATION
St Patrick's School - Walk 7 mins
CHIJ Katong Convent - Walk 9 mins
NATURE & LEISURE
Siglap Park Connector - Walk 1 mins
Telok Kurau Lorong N Park - Walk 4 mins
Telok Kurau Park - Walk 8 mins
*Timing are estimates may vary according to traffic conditions during the time of the day
AERIAL VIEW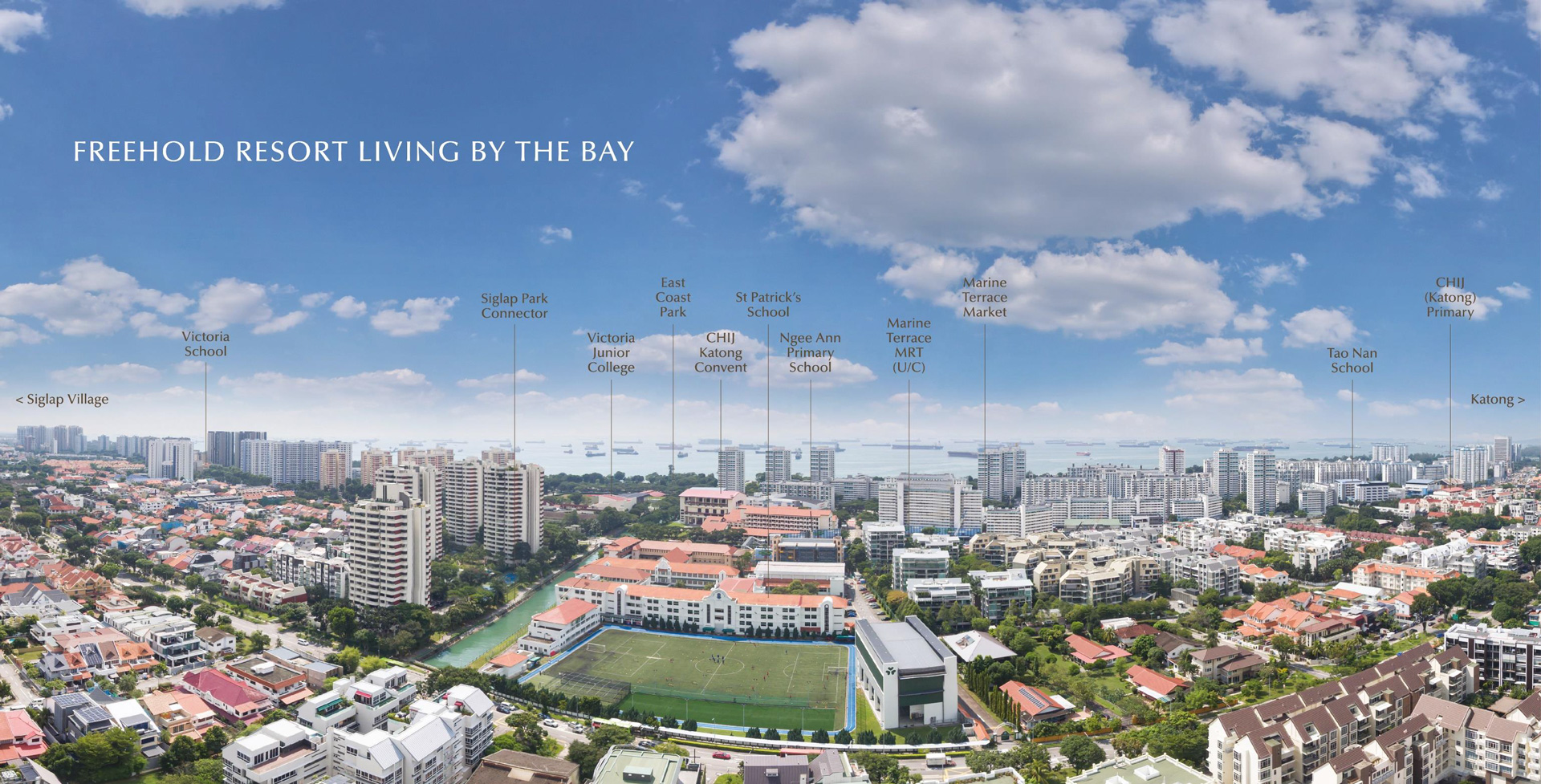 .
500M RADIUS MAP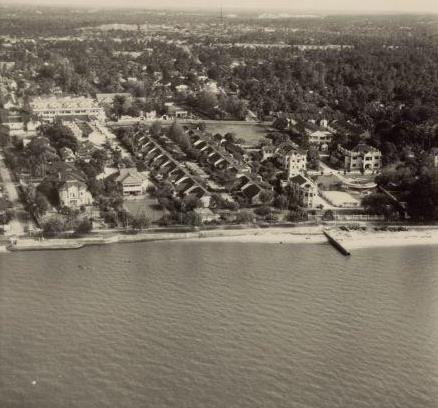 The word telok kurau is Malay for "mango fish bay" – telok means "bay" and kurau is "mango fish".
Since the 1960s, Telok Kurau has been a sleepy and tranquil suburbia in Katong, known mostly as a residential enclave.
The charm of this area has been attributed to the presence of unimposing buildings: a mix of modest bungalows, terrace and semidetached houses as well as low-rise apartments that exist among coffeeshops and small businesses. Despite the thronging urban development in nearby Katong, the Telok Kurau area has managed to retain its charm.
ARCHITECTURE INSPIRATION

The laid-back lifestyle transcend through time and remains ever so present in the modern setting. As a nod to the old, the architecture looks to the shophouses that run along the streets to capture the atmosphere of nostalgia. By deconstructing the façade features of the shophouses, it is then reinterpreted in the form of screens that permeates through the development.
ARCHITECTURE DESIGN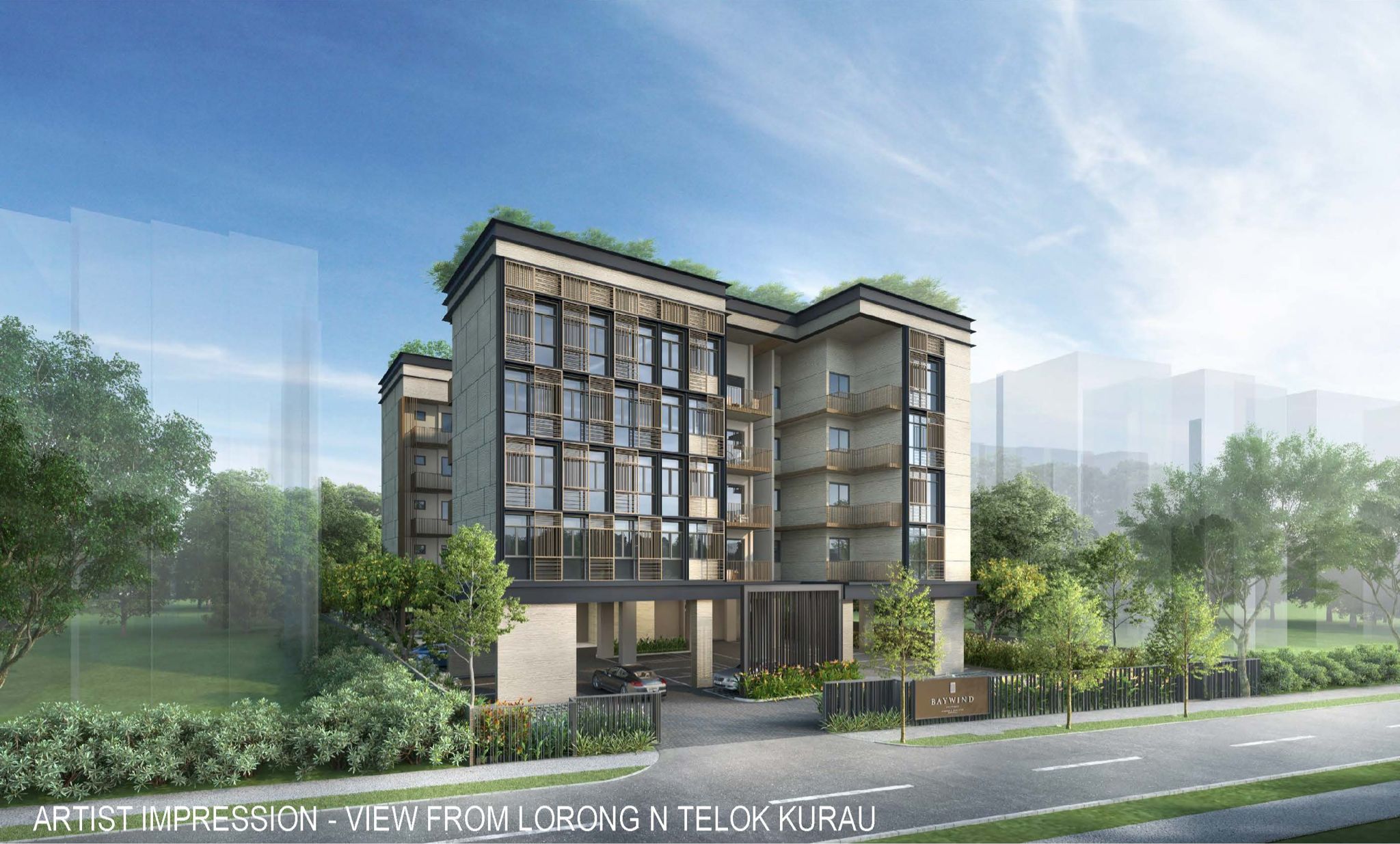 TAKING A LEAF FROM HERITAGE
Located along the historical shorelines of a mango fish bay, the development aspires to allude the memory of the sea breeze enjoyed from within the homes. Earthy tones and natural materials that induce the senses are specially curated to spruce up the bayfront living experience. Vertical lines, reminiscent of the shopfront landscape that surrounds, are ever-present throughout the development. Intricately prompting connectivity and sequence of spaces where home is a space that creates fond memories, and the union of human relationship is celebrated.
LIFESTYLE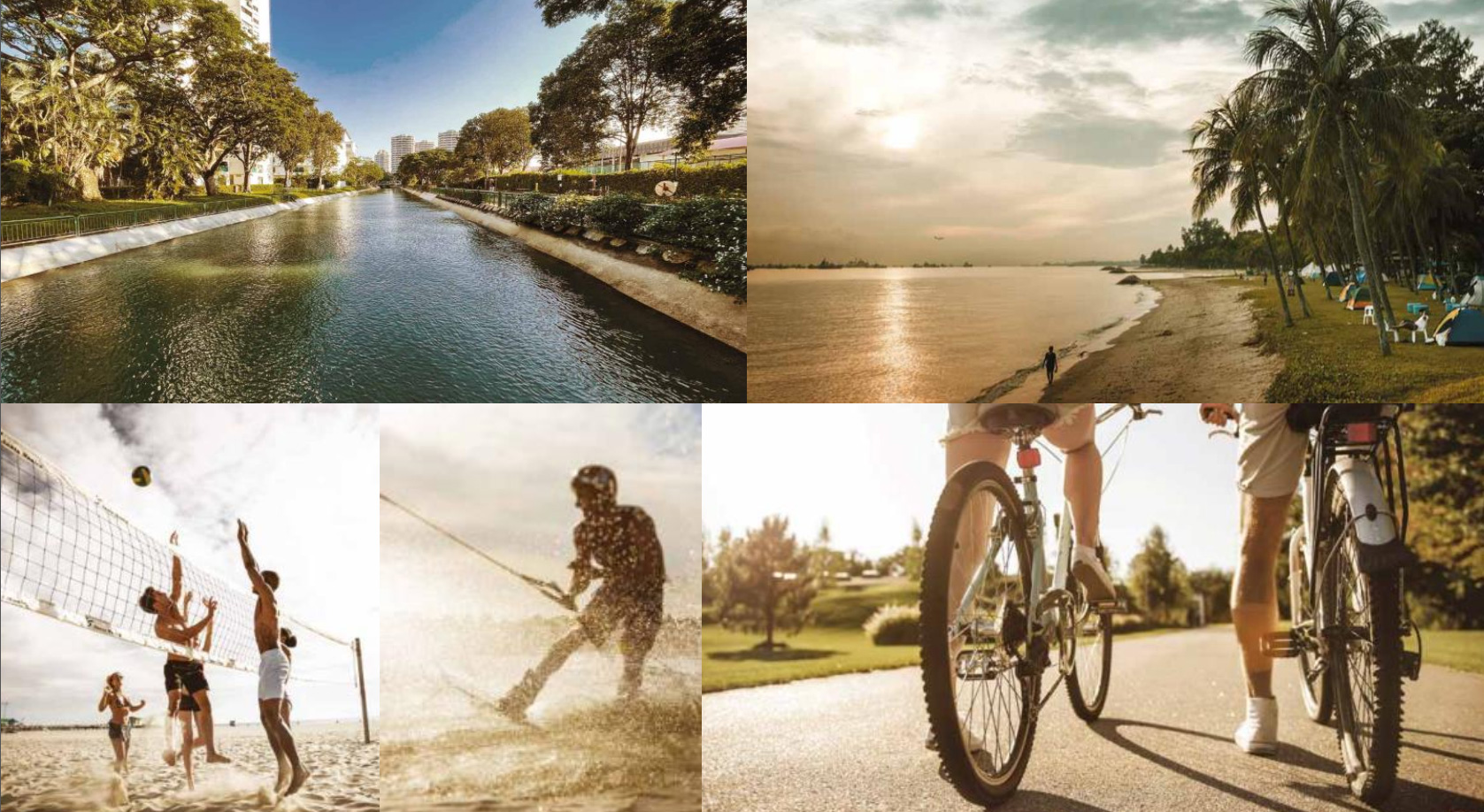 ACCESS ROUTE