Latest summary 2019: List Of Unsold Condominium Units In Singapore
.
Currently, according to the latest statistics on real estate situation in Singapore, by 2023, 56,803 apartments are expected to be unsold. It can be seen that housing supply is at a high level, and there are too many options, this will be a worrying issue.
Due to the robust en sales that took place between 2017 till the 1st half of 2018, homebuyers and investors will likely be overwhelmed by the huge number of new launch (or uncompleted) projects which are available in the market right now.
According to the Urban Redevelopment Authority (URA) of Singapore, the total number of uncompleted private homes (excluding executive condos) in the pipeline works out to be a whopping 53,284 by the end of Q1 2019.
In Q4 2018, the number was 51,498 – which means another 1,786 uncompleted homes have been added on to the impending supply.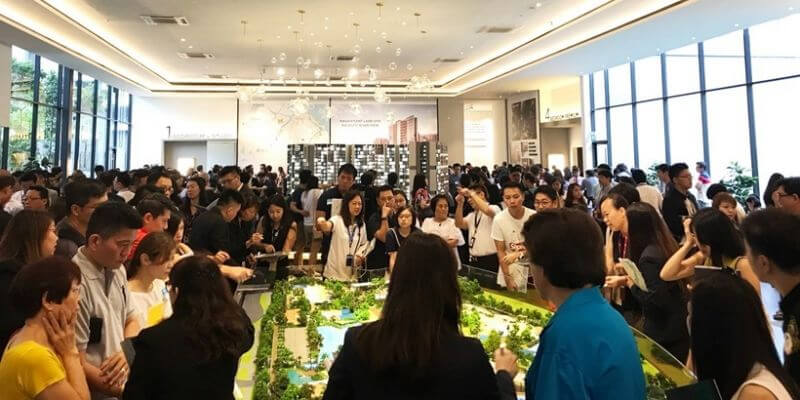 The worrying part is that the take-up rates are not growing as fast and the supply piles up. By the end of Q1 2019, the number of unsold condo units tallies up to 36,839 – which is 2,015 units more than Q4 2018.
If you were to include the number of unsold executive condo units as well, here's how the supply numbers will look like for the next couple of years.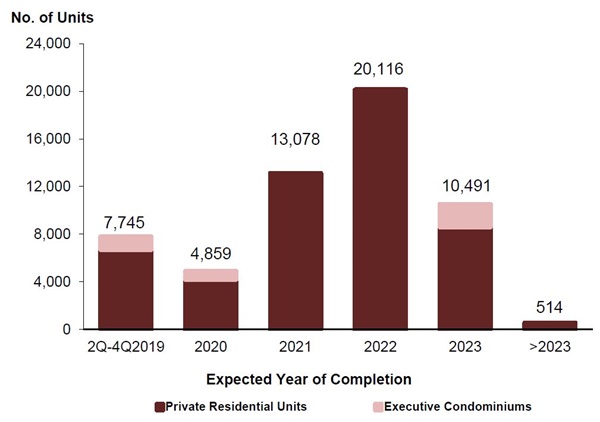 Total Number of Unsold Condo Units in Singapore till 2023
In case you are wondering why was there a 'craze' in the collective sale market and the period when homebuyers and investors were on a buying spree, here's a chart from URA showing the total number of unsold condo units since 2Q 2014.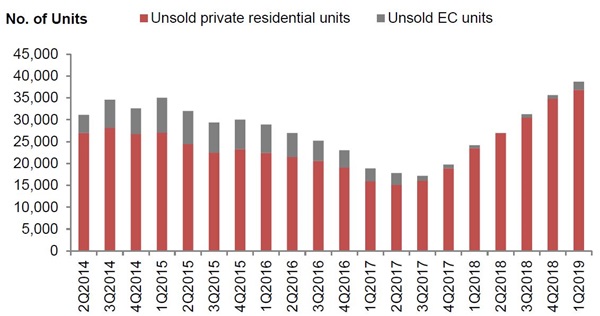 Total Number of Unsold Condo Units in the Pipeline
The supply of private homes and ECs was at the lowest points from the start of 2017 and when supply is heading south and demand is heading north, it's natural to trigger more buying interest at this point of the trend and it's possibly the best time to hedge onto the next upcycle.
However, the government has put a stop to this frenzy by introducing a new round of property cooling measures back in July 2018 and reducing the land supply in the latest government land sales (GLS) programme. Thus, it's very likely that we will see a repeat of 2014 – 2016 when the property market was filled with unsold condo units.
That was actually the time period when developers were very conservative with their price points and dare not make significant price increments. And obviously, that was perhaps the best time for buyers to enter the market before the next uptrend (when housing supply runs low again) – which will likely be after 2022.
The list of unsold condo units in Singapore
With an impending surge of private homes in Singapore before 2022, we have prepared a list of unsold condo units in Singapore for 2019 and it will be updated monthly. We believe this will help you to source out the best deal during this relatively lull period.
Instead of looking at the full list of unsold condo units in Singapore (updated on 18 November 2019), I've broken it down into the 3 different regions or localities:
Core Central Region or CCR (downtown central and high-end districts)
Rest of Core Central Region or RCR (city fringe locations)
Outside Central Region or OCR (mainly mass-market and suburban areas)
The list consists of developer sales for the whole of October 2019. It is sorted accordingly to the average psf price based on the number of units sold within the latest month.
We suppose that it's a good indication of the price range for each of the condo projects and what homebuyers and property investors are paying for.
The future development will be very well connected with numerous areas around Singapore.
Considering that the Government has a future plan to develop more areas along the riverbank, the choice to stay at Rezi 24 could mean a lot of new opportunities and possibilities. In the other hands, 10 km along the river will be converted, so residents will enjoy more convenient entertainment space, more gardens and this will be the ideal area to relax with family and friends.
Rezi 24 Connectivity is ideal for families's life. Here are some great connections you should keep in mind:
The Aljunied MRT station is just 9 minutes walk away. There is also the Mountbatten MRT and Dakota MRT - 10 minutes away from the building
Nicoll Highway, PIE, KPE, and ECP expressways will serve their purposes well.
Marina Bay Golf Course by driving for only 8 minutes.
At a 5 minutes drive to discover the Singapore Sports Hub and the MBS and Gardens by The Bay are just 9 minutes away.
The Paya Lebar Square is just 1 MRT station stop away from home.
The City Plaza, KINEX, and Singpost Center are some of the amenities you will find in the area.


If you would like to receive the full monthly-updated list of unsold condo units in Singapore and other updates via email, simply just indicated your interest by using the form below.
Final Word
Let's face it – when the Singapore property market was experiencing a downturn back from 2014 to 2016, many homebuyers or investors were thinking that the market was going to crash and thus hoping to rip a good deal (or a cheap one) from sellers or developers. Unfortunately, that did not happen as frequently as most would hope for.
In fact, by looking at the current price points of these developments with unsold condo units in Singapore, you will never be able to find anything that matches the price points which were seen in 2014 – 2016.
We are not saying that all of these unsold condos listed are all good buys, but it certainly helps if you study this list over time as we continue to update it.
Continue viewing Rezi 24 - a Freehold development in the proximity of the beautiful Kallang River. At the same time, pick the one that matches your own requirements and one that fits you. And if you need help or real-time update of the condominium of your choice, you can always reach us at (+65) 8100 0364 or drop us note using the contact form here.
Thanks for reading and please help to share if you find this article useful!